When you need maximum productivity and quality in your organization, it's not possible to restrict the team into a physical one. You may have an office with a few employees, who work in-house. Apart from that, you will have to employ freelancers and other employees who work remotely. We believe, the biggest challenge here is team management. That is, you need to keep all your team — that belong to different departments — in synchronization.
In other words, without having an optimal Team Performance, your organization can be in chaos. There are many tools that may help you, and project management software seems to be quite effective. In this article, we will tell you how you can improve team performance using project management software. It has to be noted that we're not referring to any particular software here. Rather, you can better team performance if your team is using any of the effective Project Management Software.
What is Project Management Software?
In the laymen terms, it's a piece of software that you can use for managing your projects. Although this type of software is made for organizations, individuals also can use it. You should not be blinded by the term used here, Software. Most of the Project Management Software do not want you to install any program. They are powered by Cloud and you can access the platform from any current web browser. That said, there may be a few dedicated apps for Android and iOS.
Today, you can find a wide variety of project management tools in the market, and some of them come with additional features too — Taskworld, for instance. It's just that you need to find the right software for your needs, be it free or premium. Also, if you ask us, we recommend going for a project management software that enables intra-team communication as well. By doing so, you can make sure that all-team communication is simplified.
How a Project Management Software Can Help — the Benefits
As we mentioned earlier, the number of features depends upon the project management software that you are using. Still, if you have one of the standard services for the purposes, you can expect the benefits we've listed below. Shall we have a look?
Managing your tasks using Visual Taskboards is way better than sticky-notes and handbooks. You can easily include options like checklists, comments, tags, labels etc. Also, it's completely up to you to assign tasks to a person or many. Just think of this scenario: you can access all the tracks from different devices and keep track of them with efficiency. Some software also offers workflow templates and task templates. They are quite helpful too.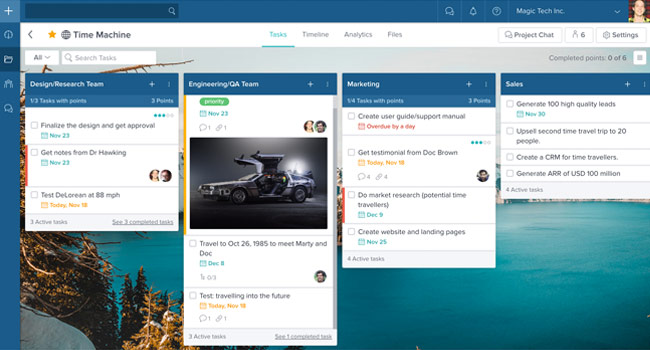 Better Team Communication
As said earlier, your organization may consist of employees who work in-house and remotely. One project management software helps you to streamline intra-team communication. Things are going to be fine even if your business has multiple teams to work with. Everything can be managed via direct messaging, comment system for tasks and the collaboration space where real-time editing is possible. Every employee will have an intuitive dashboard that gives enough information.
Collaboration at its Best
Collaborative creation is so common in the world of project management. In most of the services, you would have this feature available. Team members can take part in brainstorming and collaborative writing — even if they are miles apart. This is something that can bring team morale to a higher level. All the features will be available in different devices too. Therefore, upgrading to an online project management software would help you enhance in-team collaboration, especially if you have people working remotely.
You would not have to depend upon different websites for taking care of your organization. This is actually offering the benefits for both employers and team members. Instead of using different services for chats as well as document sharing, everything will be available via a single platform. The last time we checked, most people love this set-up, where they have everything accessible in a single click. And, this is undoubtedly one of the biggest benefits of using a project management software.
Wrapping Up
Well, these are some ways how project management software can improve your team performance. Though it may take some time, you can see the impact of these tools in terms of profit and team morale. Above all, to have a well-communicating and well-organized team is to have a great deal of brand identity and business culture, you know!