Wondering if you could utilize the Android Operating system for PC? Well, you have come to the right place on the Internet. It is certainly possible for you to have Android running on your PC. We have tried and tested some best Android OS for PC but it is very tough to get the same seamless experience on PC when compared to an Android smartphone.
Here, we will be discussing the best ways by which you can use the Android OS on PC. Do note that there is no full-fledged Android OS for PC, the ways or methods mentioned here would only help you run it on your PC to help you achieve basic tasks only.
Table of Contents
Is there a Problem Installing Android Desktop OS?
Yes, installing Android OS on your PC is not a hassle-free process. And, you should take note before proceeding any further.
Here's why:
When compared to full-fledged desktop OSs, Android as desktop OS lacks a lot of functionality. For instance, you can't really manage the printers and it also does not support keyboard-centric interfaces like other desktop OSs do. Moreover, it does not support quite a few advanced desktop-centric technologies considering that you may have high-end hardware equipped.
In a nutshell, Android desktop OS will give you an incomplete desktop experience. So, you should consider running the Android OS through some emulators or as virtual machines using VMware.
Best Android OS for PC
Bluestacks
Bluestacks is an Android emulator to run apps and games on your PC. It is our best bet if apps and games are the only stuff you care about when running an Android OS for PC. It is the easiest and most reliable method among all the others that we are going to discuss in this article.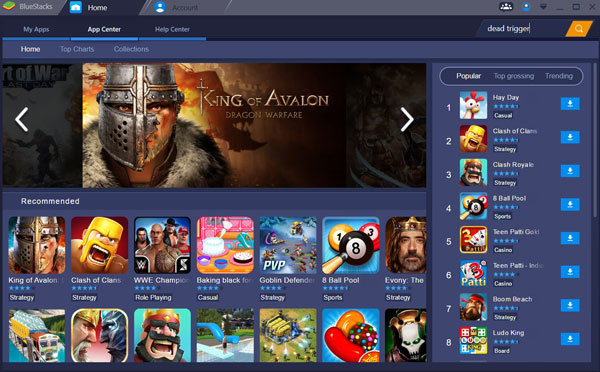 You just need to head over to their official site and download the setup file. There's no advanced setup needed, you are just a click away after installing it. Also, with Bluestacks, you don't need to worry about your hardware configuration, it will detect your configuration to optimize the performance as per the requirement automatically. You need to simply focus on trying out the apps and games without worrying about the configuration.
Android x86 Project
Android x86 is one of the most popular projects to realize as the Android OS for PC. It is an unofficial initiative by a group of developers (now grouped as a big community) to port Android OS for PC. It is based on AOSP with a few tweaks to make it compatible with the PC hardware (or architecture). You should be good to go if you have an Intel-powered machine. We are not sure about AMD-based chips for Android x86. Although, they are working to enable OpenGL ES hardware acceleration for Intel/Radeon/Nvidia/ (pstglia, mauro) and virgl(robh) GPUs as mentioned in their roadmap.

But, how do you install this on your PC? Is it the best Android OS for PC? Just as you would do for any other OS, you need to download the ISO file from the download section of their official site and look for the correct ISO file (32-bit or 64-bit) and then initiate the download.
It is very easy to have it installed. You can use the ISO file to directly run it live from the USB drive or you could have it installed through VMware. It does support dual boot but we would not recommend having it installed on your production PC (unless you have a PC specifically for experiments and stuff). You should definitely contribute to the project (or donate) if it worked for you just fine – because this is a very promising project which could make Android OS as a full-fledged OS for desktop possible very soon. The Android x86 project is based on Android Nougat 7.1 and Android Oreo.
Pheonix OS
Pheonix OS is based on the Android x86 project (somewhat) and another best Android OS for PC option. However, it has been customized for a different user experience and comes baked in with known bloatware (in the Chinese language – that's the origin of it). If you do not mind the added bloatware it should be fine to use on a desktop. However, considering a lot of modifications have been made here, we would not recommend doing something important while having Pheonix OS installed.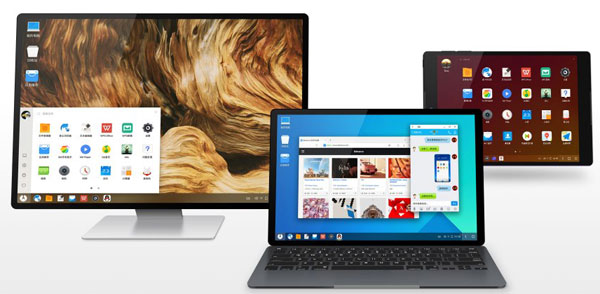 Pheonix OS may prove to be one of the best Android desktop UIs. All things considered, you should try installing it as a virtual machine because it isn't very secure to access your emails or perform a transaction – it is only useful if you like to experiment with it with no sensitive information associated.
Samsung Dex
Samsung Dex is a very professional alternative if you are looking to have Android desktop experience at your workplace. If you are wondering about how to install Android on PC or laptop, this isn't going to cut it. You just need to get the Samsung Dex dock station for 150 USD and get going. You may utilize it at home but it would prove to be an inconvenient thing where it would require you to have a spare monitor, mouse, and keyboard – only for Samsung Dex. In either case, it would also be annoying for you to disconnect your existing monitor, keyboard and mouse from your desktop PC to use it with Samsung Dex.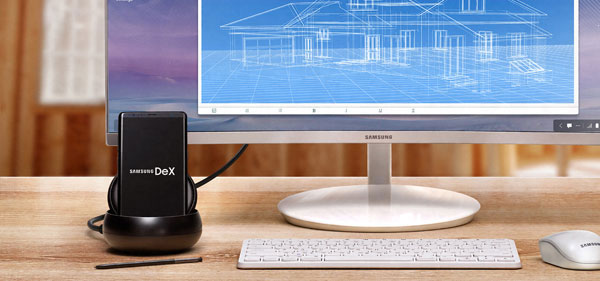 So, it feels like a viable solution for corporate usage where the company only needs monitors, keyboards, mouse, and Bluetooth speakers to be assembled without worrying about the system – which will be essentially replaced by the Samsung Dex coupled with a Galaxy S8/S8+ or Note 8 smartphone. Samsung Dex provides a polished user interface with a lot of functionality. You get HDMI, USB 2.0, USB Type C and Ethernet ports available on it.
Of course, we would recommend this if you already own a Galaxy S8/S8+ or the Note 8. The 150 USD investment to get one of the best Android OS for PC is definitely worth it – unless you are okay with experimenting crazy stuff with Android x86 project.
Wrapping Up –  Android OS for PC
You may find a lot of Android distros available for PC. But, only a few of them (the ones mentioned in the article) does the trick being the most tried and tested methods to get the Android operating system for PC. If you are someone who does not like handling an ISO file with a virtual machine setup, Bluestacks or Samsung Dex is the way to go. If you are alright using virtual machine setups, you can try either the Android x86 project (recommended) or the Pheonix OS.
Let us know your thoughts on how to improve Android as a desktop environment, the best methods you follow, and some interesting Android desktop OSs which we didn't know about in the comments below.