Here are 10 methods of converting YouTube to WAV music format. Many people prefer to listen to their music in WAV format, largely due to its uncompressed lossless format. In order to listen to YouTube music at its best, you need to convert your preferred YouTube videos to WAV format. The commonly used MP3 format uses lossy compression to reduce the file size to up to about one-twelfth of the original – so although it might sound OK, it is not as good quality as the original.
WAV is a lossless format that does not compress the file. Your music will sound just the same as if you were playing a CD. WAV is also preferred to MP3 for loops. MP3 is unable to create seamless loops, while WAV can – the WAV format creates totally seamless loops with no silence between them. Here are 10 ways you can use to convert YouTube to WAV.
12 Ways How to Convert YouTube to WAV
Table of Contents
1. Leawo Video Downloader
Leawo Video Downloader is yet the best solution to download YouTube videos to WAV. In addition to YouTube, it also supports downloading videos from 1000+ sites in various formats, like MP4, MKV, MP3, FLAC, etc. With advanced hardware acceleration technology, it can download videos in batch 6x faster.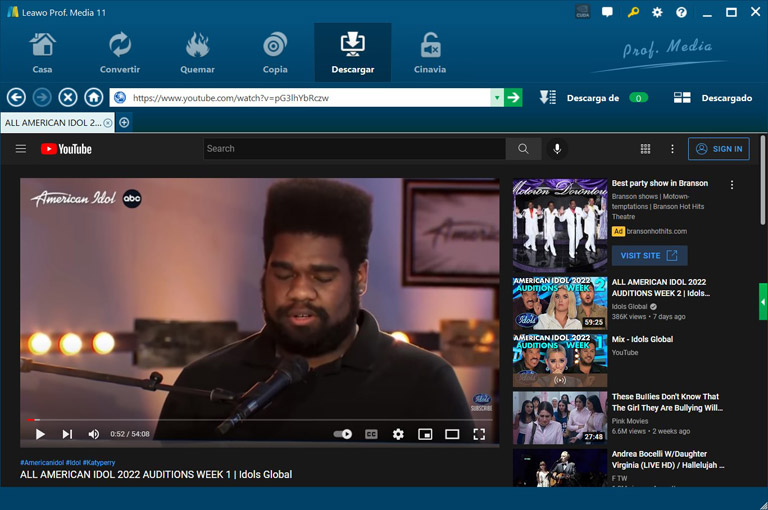 To download YouTube to WAV using Leawo Video Downloader, you can copy and paste the URL to the top address box, or directly search for what you want to download with the built-in browser. Then, several downloadable sources will be listed alongside. Click the desired one to download. What's more, you can use the in-program converter to convert and edit the downloaded video according to your needs.
Pros:
Support downloading from 1000+ sites
Support M3U8 link download
Support batch download with 6x higher speed
Easy to use
Rating: 5/5
2. VideoProc Converter
VideoProc Converter is a powerful YouTube video and audio converter that supports WMV, MP3, M4A, FLAC, MP4, WebM, etc. Endowed with the latest download engine, it can grab YouTube videos, playlists, lives, and music on your computer in a safe and fast manner. Apart from simple conversion, it enables you to cut, merge, adjust bitrate/sample rate/channels, modify metadata, etc.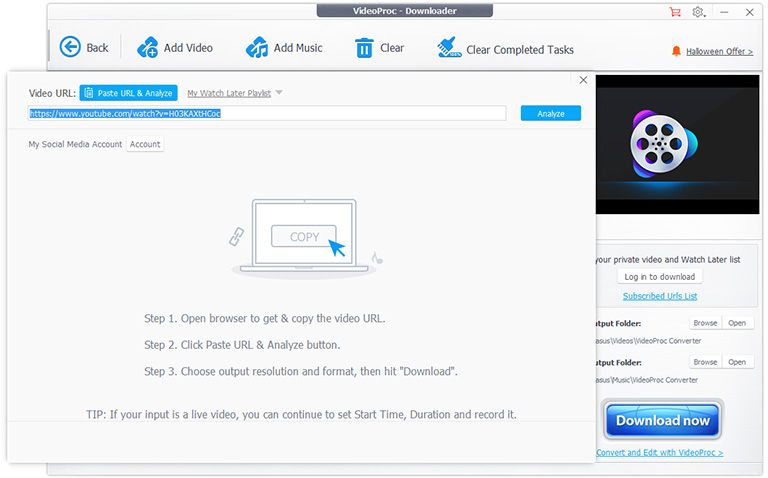 To convert YouTube to WAV, firstly, copy the URL of a YouTube video. Then open Downloader in VideoProc Converter, click Add Music, and paste the URL. After the link analysis, choose .wav in the file extension option. At last, start to convert YouTube to WAV. If you found no WAV option, you could save it in MP3 and convert it to WAV with the converting feature in VideoProc Converter.
Pros:
No-brainer to use all of its features.
Batch download, no ads, no limits on file size or quality.
47x real-time faster by Level-3 hardware acceleration.
Save videos, lives, M3U8, and audio files from 1000+ websites.
Download, convert, edit, and record in one stop.
Cons:
No shortcomings found yet.
Rating: 5/5
3. Online Video Converter
Online Video Converter is a simple solution to YouTube to WAV conversion. Not only that, but it also converts YouTube to AAC, M4A, MP3, OGG and WMA formats.
Online Video Converter can not only convert YouTube videos to WAV format, but also to a number of other formats such as MP3, M4A, WMA, OGG and AAC. First, go to OnlineVideoConverter.com and you will see the following screen: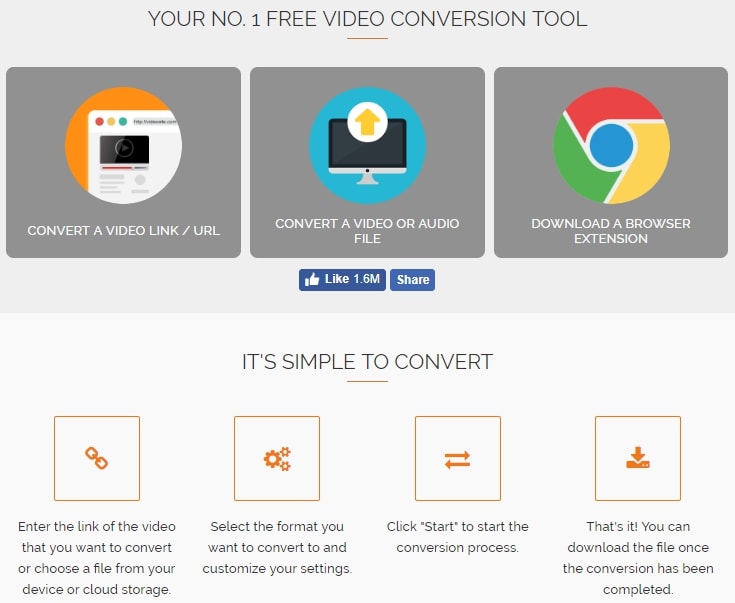 Click on the left-hand image, 'Convert a video link/URL', then paste your YouTube video link in the box provided. Choose the WAV Audio option. 'Start' should appear below the above screen – click that and when the conversion is complete the 'Download' button should appear. Click on that and it's done!
If you only want to covert part of the video then you can select the start and end points on the screen and then click 'Start'. This is a very easy YouTube to WAV converter to use, requiring no technical knowledge.
Pros:
You can convert to a number of different formats as explained above, and also FLAC.
Easy to use – just click the button!
Placed at #1 because there is no need to download – use it online.
Cons:
None that we could find. It works!
Rating: 5/5
4. Office Converter
Office Converter is free and very easy to use. It can be used online without installation, and there is no need to register as a user. You can batch convert a number of videos or just the one – it is simple to use either way.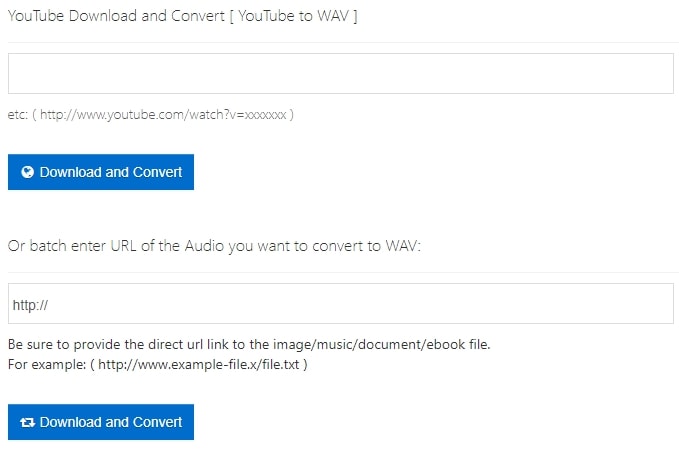 Enter the URLs of the file/files you want to convert from YouTube to WAV then click on 'Download and Convert'. It is as simple as that. If are using it free then your converted videos will be stored for 24 hours. If you are a subscriber, then they are stored for 30 days.
Pros:
Very easy to use – you hardly get simpler than this.
Free to use – although there is a subscription version if you want it.
Single or multiple video conversions from YouTube to WAV.
Rating: 5/5
5. iTube Studio: YouTube Videos to WAV Mac or Windows
iTube Studio for Mac and iTube Studio for Windows enable you to download YouTube videos and later convert them to WAV format. Both are free! However, if you use the YouTube videos to WAV downloader, you can download any YouTube recording in WAV format 3 times faster! It can also be used to convert 4K HD YouTube recordings directly to a WAV document.
If you are unsure about the technical terms, just go ahead and try it! You won't damage anything. You get more than just this type of conversion with this software as the following screen shows:
Downloads are fast and you can easily switch YouTube videos between formats. This software can be used to extract audio from video files, change the format of these audio files. iTube Studio can also be used to convert eBooks and documents to alternative formats.
Pros:
Free.
Easy to use.
Extremely versatile.
Multiple functions as explained above.
Versions available for Macs or Windows devices.
Rating: 5/5
6. Use XYDownloader
XYDownloader is an application that enables you to convert YouTube videos to a number of formats, one of this being WAV. All you need to is to make one click, and videos will be downloaded from YouTube and other website offering shared videos. The videos will be converted to the WAV format when downloaded. It also the preferred downloader for Adult videos.
Simply download the software from the XYDownloader site then download the free version. Now install the program with one click. Here is part of its opening screen:
You can copy the URL of what you want to convert, then paste it into the window provided, or click the 'Download' button to the right to download it into the converter. Make sure you have the slider "Download then Convert" showing on. That shows you a selection of video and music formats. Click the format you want (WAV in this case) then proceed. It's as simple as that.
Pros:
You can also use this software to convert to other formats (MP4, MOV and others).
Very easy to use.
Fast rate of conversion to WAV or to your chosen format.
Cons:
XYDownloader is unable to convert AAC files used by iTunes. However, it is possible to convert AAC to MP3 and then from MP3 to WAV.
This is our #4 method: it may have been #1 were it not for the WAV issue.
Rating: 4.9/5
7. Files Conversion
Files Conversion provides several options for YouTube to WAV conversions. Click Here and find this dashboard:
It is easy to use. Either select a file on your local storage directories or enter a URL for the location of the YouTube video. You can then choose from a number of file formats such as WAV, MOV, MP3, MVK, AVI, ASX and AMV plus others. You can also select the size of your video and set its quality as you want it.
Pros:
Easy to use – even children can use it.
You can convert your video file to any format: video or audio.
It is very user-friendly and offers you a great deal of flexibility in formats and appearance.
Cons:
This is not free – there is no free version available for 'Files Conversion'.
It is not an online application – it has to be installed on your device.
Rating: 4/5
8. Online Convert
Online Convert is another online converter that can convert YouTube audio format to WAV. It also converts to a number of other formats including AAC, AIFF, FLAC, MP3, MP4, OGG and WMA. Just click on the link above and you will see this screen: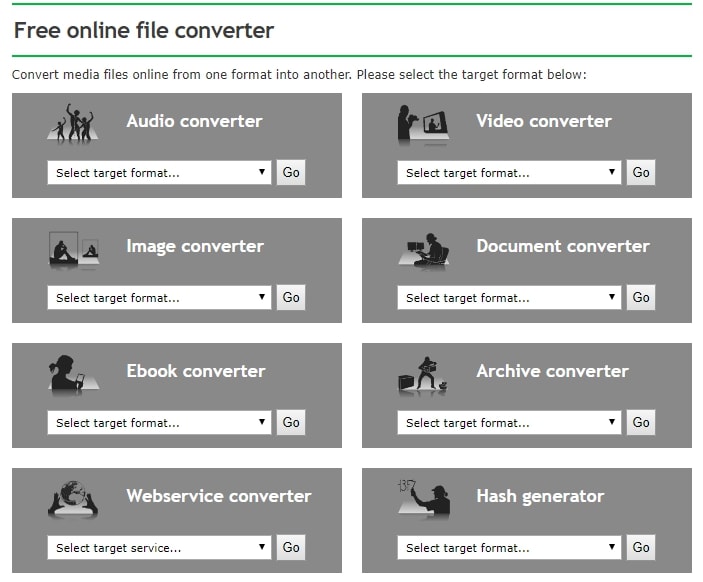 You can not only convert YouTube audio to WAV, but Online Convert also helps to convert YouTube into other formats as well, like AAC, OGG, WMA, FLAC, AIFF, MP3 and MP4. It is a free YouTube to WAV converter that commences conversion as soon as you upload your audio file.
Pros:
It is a free audio to WAV converter.
If you have uploaded some music videos, it can extract the music files from them.
This software can also convert documents and eBooks to your preferred format.
Cons:
It cannot convert MOV files.
Rating: 4.8/5
9. YouTube-TO WAV
The 'YouTube-to' sites comprise a number of different websites that can be used to download YouTube videos to certain file formats. To do this to the WAV format, you need to go to a specific site that offers this service. This site offers that service – it is not in the English language, but it works well nevertheless.
Click for Larger VersionEnter the link URL to your YouTube file, select which of the conversion options you want (WAV in our case) and it's done. As simple as that. You should have no problems, and this system works for conversions to WAV and the MP options: MP3, MP4 and MP4 HD. It is quick and effective, and a good option if you just want a quick conversion with no bells and whistles.
Pros:
Works well and is fast to use.
Dependable and online – so no need to download software.
Also good for MP3 – the format most cell phone users prefer.
Cons:
Other than not being in the English language, none that we could find.
Rating: 4.8/5
10. Docspal
Docspal is free and there is no need to register to use it. It can convert a number of different file formats to other formats, including YouTube to WAV and also documents and ebooks to other formats. Among the file formats, it supports are the popular WAV, JPEG, MP3, AAC, AC3 and WMA. Also FLV Flash format and iPod, iPad and iPhone mobile formats.
Either drag and drop the file to be converted or select it from your directories. Choose the original file format and the format to which it is to be converted then click on 'Convert Files'. It works, and like those above, it is simplicity personified. Simply select a file to be converted, state to which format and click to convert!
Pros:
It can convert any YouTube file using just the URL link of the YouTube files.
It is free to use.
No registration required.
It can also convert documents and e-books.
Cons:
The range of supported formats is fairly small.
The output quality is sometimes less than perfect.
Rating: 4.7/5
11. Bender Converter
Bender Converter converts your YouTube files to WAV plus other popular formats depending on whether you want video, audio or both converted. Among these are AVI, GIF, JPEG and MPEG.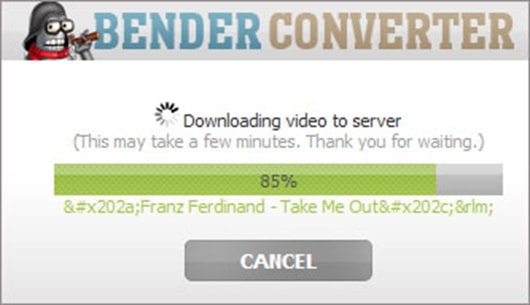 This YouTube to WAV converter is easy to use and can convert both video and audio formats. It is free of charge and well worth trying.
Pros:
Free.
Easy to use – no technical knowledge required.
You can use it on your tablet and mobile phone as well as on a laptop or other connected device.
Fat conversion and download rate. It works really quickly – you won't have long to wait for the format conversion to complete.
No registration required.
Cons:
Limited selection of conversion formats.
Otherwise, it works very well.
Rating: 4.6/5
12. YouConvertIt
Again, no installation needed for this. It can not only convert your YouTube files to WAV, but also to FLV, MP3, MP4 and MPEG formats. You can convert both audio and video files. One advantage that You Convert It offers is that you can use this converter to watch videos online.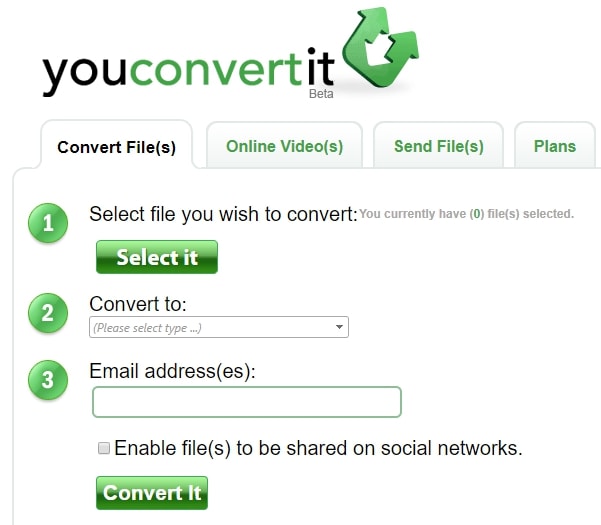 Simply select the file you want to convert, choose the converted format then provide your email address. Then click on 'Convert.It'
Pros:
No installation needed.
Enables you to watch online videos.
Free Cloud storage service available.
Social Network sharing.
Cons:
Download speed is poor.
Limited formats available. Although this is irrelevant for a YouTube to WAV converter, most of those above can converts to more formats should the need ever arise.
Rating: 4.6/5
YouTube to WAV: Summary
The above YouTube to WAV converters is our top ten. Yours may be different, but after testing each of them the above is our conclusion. There may well be others available. However, we based our scoring on cost (most are free), ease of use, the speed of downloading, and conversion and conversion time.
Although this is principally a review of YouTube to WAV conversion apps, we also took into consideration the wider range of formats available with each.
The applications I shared above do not have affiliate links. But Youtube Affiliate Marketing is a great side hustle to earn more money!