Android is the king of mobile OSes when it comes to customizations, theming, modding and tweaking your smartphone. One of the easiest ways to change the look and feel of your Android device is to download and use a Launcher app.
A Launcher is basically the Home screen and App Drawer component. Almost all OEMs have their own homebrew launchers, like Samsung's Touchwiz UX, Sony Timescape UI, HTC Sense, Motorola MotoBLUR UX, etc. These come pre-installed on the manufacturer's devices, but you can easily change them with a 3rd party launcher from Google Play Store.
In this post, we go through the best Launchers for Android, discussing their features, pros, and cons, device support and price.
1. Nova Launcher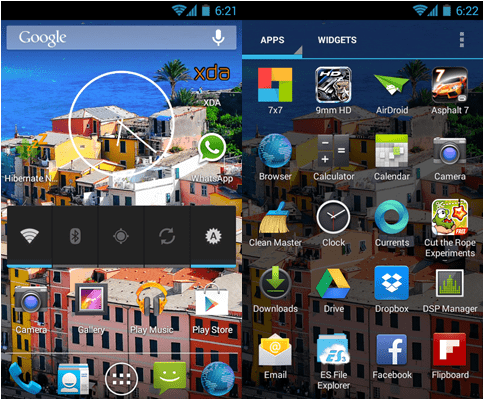 Easily the best Android launcher around, Nova is renowned for its small size, customizability, light RAM usage, and cool 3D effects. Some of Nova's distinguishing features are its unique gesture control, which allows you to launch apps, expand notifications, modify home screens via touch gestures. Also, Nova has the ability to hide apps, launch app activities, make tabs in app drawer, modify dock and folder look and have several 3D transitional animations to boot.
Nova is based on the stock Android Launcher, hence it retains the Nexus like the look and feels. But you can easily change it via numerous icon packs available in the Play Store. Nova Launcher is available in a feature-limited free version and a paid version.
Price: Free (Paid version available for 245 INR)
Requires: Android 4.0 ICS and above.
2. Apex Launcher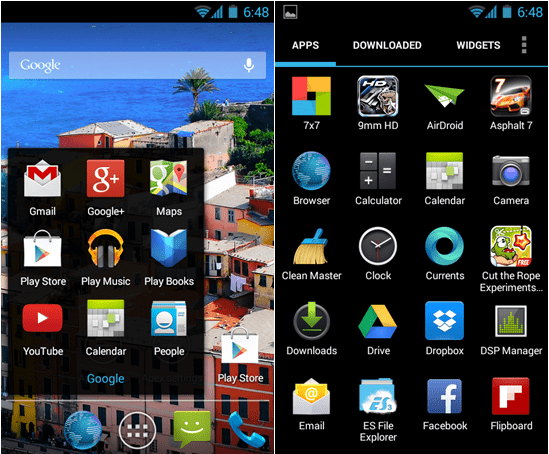 Apex is also a very popular launcher, similar to Nova in its feature set, based on the stock Android launcher like Nova. Apex is distinguished by its flexible theming options. It can mix and match elements of various themes, like, backgrounds from Theme A , icons from Theme B etc. Apex also has options to add 1×1 widgets in the dock, customizable icons, labels, and various transitional animations. Apex is quite light on resources, making it suitable for lower mid-range devices.
Apex is available in a feature-limited free version and a paid version.
Price: Free (Paid version available for 219 INR)
Requires: Android 4.0.3 ICS and above.
3. Go Launcher EX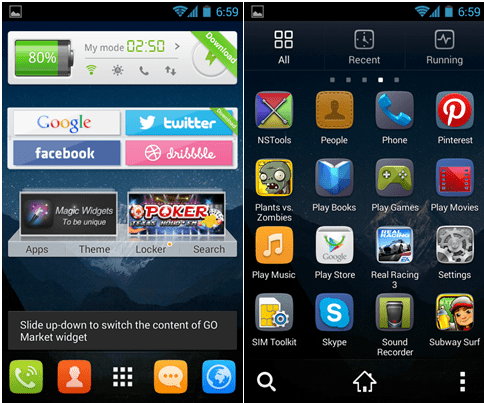 Who doesn't know Go Launcher? It's arguably, one of the most downloaded launchers in the Play Store, second only to Nova Launcher. Go Launcher is all about theming. Out of the box, it has themed icons for many apps, and has over 10000 downloadable themes in its directory. It has an inbuilt task killer, app hider, app locker, and something called 3D Core, which allows for advanced transition effects. Go Launcher comes with its set of 15+ pre-loaded widgets, with options to download a lot more themed widgets.
Another unique thing about this best Android launcher is the vast range of Android it supports, right from the old 2.2 Froyo to the latest 4.3 Jellybean. The only negative point is that Go Launcher is not as light as stock Android-based launchers, it consumes quite a bit of RAM, so it may not be suited for people with older and slower phones. Go Launcher also has a paid version, which removes the in-app ads, vertical dock, more 3D core effects, more gestures, and other features.
Price: Free (Paid version available for 340 INR)
Requires: Android 2.2 Froyo and above.
4. ADW Launcher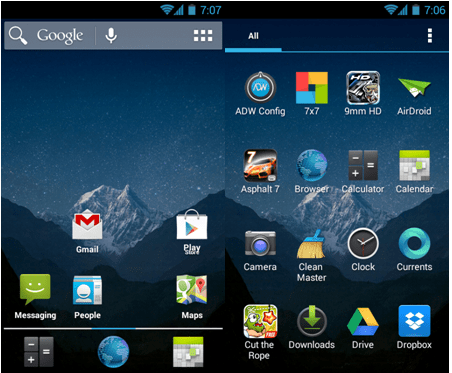 ADW is another stock Android-based launcher, except that it is not as stock in look and feel like Nova or Apex. ADW's distinguishing point is that it supports a vast range of Android versions, right from Android 1.6 Donut to Android 4.3 Jellybean. ADW is highly customizable, with thousands of icon packs, themes. It also allows you to mix and match several downloadable themes according to your liking. ADW has a configurable desktop layout, widget resizing for unsupported widgets, customizable docks, changeable text color, animation, size, unread notifications counter, etc.
ADW also has a paid version, ADW Launcher EX, which has a lot more features, including 10 app drawer styles, lots of desktop animations, and backup and restore for your custom layout.
Price: Free (Paid version available for 161 INR)
Requires: Android 1.6 Donut and above.
5. Action Launcher Pro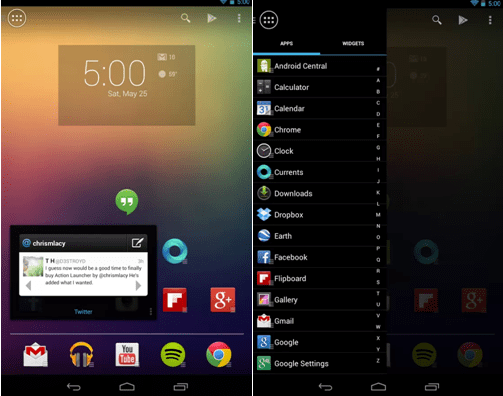 Action Launcher Pro is a different breed altogether. It does not have a traditional app drawer, instead, opts for a slide in the menu from the left side. Action Launcher is distinguished by 'Shutters', a unique way to access widgets. You simply make a shortcut on the home screen and swipe up on that to access the widget of that app in a small popup. Action Launcher also features 'Covers', an innovative re-think of the traditional folders. You create a folder and make it a cover. Then, when you tap on it, it opens the first app/shortcut in the folder, but when you swipe up, it shows all the content of the folder.
Action Launcher also has unique search capabilities, which allows you to search for Apps, Contacts, Music, Internet etc directly from your home screen, hence minimizing effort. Action Launcher can use icons packs for other launchers in order to theme itself.
Action Launcher is a paid app, with no free version, but considering its features, its price is justified.
Price: 225 INR.
Requires: Android 4.0.3 ICS and above.
6. Next Launcher 3D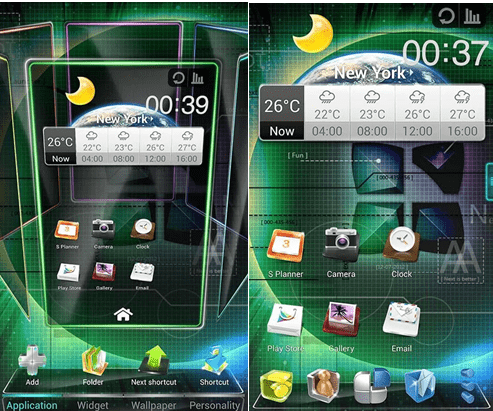 Next Launcher 3D is a relatively new offering from the team behind Go Launcher. It's a premium, paid launcher, full of 3D dynamic effects. Next Launcher features lots of 3D effects, making your phone look futuristic and super cool. It can easily be themed by downloading the several themes available at Google Play Store. Next Launcher is not only about 3D effects. It has very good app management system with touch gestures, both in the home screen and app drawer. The developer team also provides 3D Widgets, 3D Themes and cool Live Wallpapers, especially for Next Launcher users.
Next Launcher 3D is paid, with a free trial available. While the looks and cool effects sound nice, I still feel that the price is way too much.
Price: 953 INR
Requires: Android 2.2 Froyo and above.
7. Smart Launcher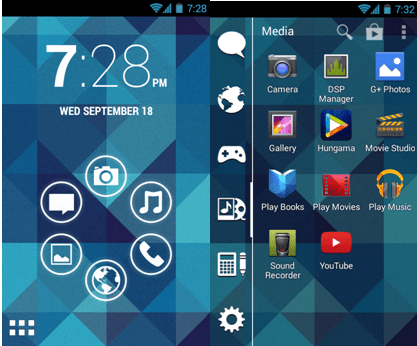 Smart Launcher is a new launcher on the scene. It's a simple, minimalistic launcher, light on the resources and small in size. Smart Launcher home screen is extremely simple, with no pages, only a simple clock, and some shortcuts at the bottom. Its app drawer features automatic categorization of installed apps into various categories like Games, Internet, Office, Media etc. You can re-arrange the apps manually too. Smart Launcher can be customized by icon packs meant for other launchers, as well as dedicated Smart Launcher themes. You can also hide installed apps from the menu, change app icons on a per-app basis. Smart Launcher has quite an extensive Android version support, from v2.1 Éclair to v4.3 Jellybean.
Smart Launcher also has a paid version, which has the ability to add widgets to the home screen, more transitional animations and color effects to modify your phone.
Price: Free (paid version available for 159 INR)
Requires: Android 2.1 Eclair and above.
8. Buzz Launcher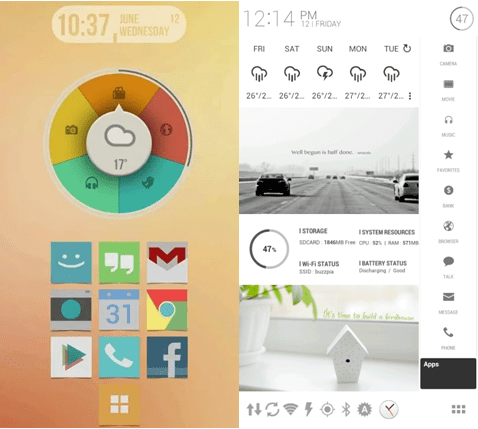 Buzz Launcher is a new entrant to the list of best Android Launcher scene. Buzz Launcher is unique for its ability to apply beautiful home screen themes created by people around the world in a few clicks. Just browse through their gallery, select a theme, and all needed stuff will automatically be downloaded and set up. You can even create your own look, and upload it to Buzz's server.
As of now, over 80000 unique home screen themes are available for Buzz Launcher. Apart from that, Buzz is compatible with custom widget maker apps like MinimalistText , Zooper Widget, UCCW etc. Buzz Launcher also has its own custom widget designs, gesture control support, icon modifying support on per-app basis etc. Another unique feature is the ability to set a different wallpaper for each home screen.
Buzz Launcher is completely free.
Price: Free
Requires: Android 4.0.3 ICS and above.
9. MiHome Launcher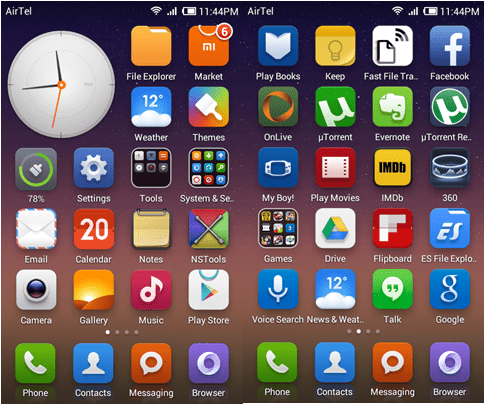 Not many people have heard about this great launcher, but most people using Android have heard about MIUI ROM. MiHome Launcher is basically the MIUI Stock launcher, except that it is available for all Android devices. MiHome Launcher doesn't feature an app drawer, instead, opts for the more iOS-like approach, with all app icons on the home screen. Unlike iOS home, MiHome goes another step and allows widgets on the home screen too. MiHome comes with a few inbuilt widgets, like a clock widget, a task killer widget. MiHome also comes with an inbuilt lock screen app, again, the same one as in MIUI ROM. However, the coolest thing in MiHome is its theming capabilities. There are 100000+ themes for the MiHome Launcher and lock screen, available through an included Themes app in the launcher. These change everything from icons to background, widgets, dock, lock screen UI and what not?
The negative, MiHome is quite heavy on the hardware and not many people like the removal of the app drawer. MiHome is completely free of cost and supports all phones running Gingerbread v2.3 or above.
Price: Free
Requires: Android 2.3 Gingerbread and above
10. 360 Launcher
360 Launcher is a powerful, highly customizable launcher. It includes personalized icons, wallpapers, lock screen, folders, widgets, and an online theme directory, which allows you to download and choose between 10000+ themes. 360 Launcher has very cool theme effects, a nice RAM cleaner, power saver widget included. One of the unique additions to 360 Launcher is a small pull-down the knob, which when pulled down, changes your wallpaper to one from an online directory. It's really cool, especially for moments when you don't have a good wallpaper to set, so you can let the launcher do it for you. 360 Launcher also has a cool app heart feature, essentially a widget, which allows you to stack quite a number of shortcuts for quick access. 360 Launcher also has a small button, which allows you to change the total theme of the launcher at a single touch, making it very user-friendly.
As always, it's not always positive and positive. Like others, 360 Launcher has its weaknesses. Its made by a Chinese company, and not translated very well, so you can see places where the text is still in Chinese, and this can be baffling to many newbies as well as experienced users. 360 Launcher is a fully free launcher, supporting all phones running Éclair v2.1 and above.
Price: Free
Requires: Android 2.1 Éclair and above.
So there goes the list of the best Android Launcher available. One is bound to like at least one of these launchers; one which fits his/her needs, both in the speed and usability, as well as in the customizability department.