Whether you are in USA, UK, Canada, or any part of the world, now you can enjoy a well-written, neat, and error-free blogging using numerous blogging apps available on iPhone or iPad devices. Let us have a quick look at few of them.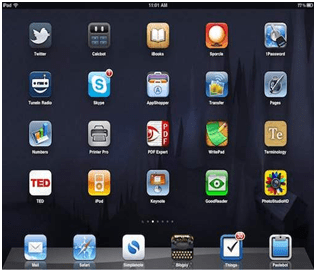 Here is a List of Blogging Apps for Bloggers:
1. Blog with iBlogger
It is a superb blogging application, which is not free but costs only $10 to users and that is quiet affordable. It supports platforms i.e. WordPress, Blogger, ExpressionEngine, TypePad, and lots more. Normally, it is known as a home based blogging application, which is perfectly designed especially for SEO experts and daily blog writers.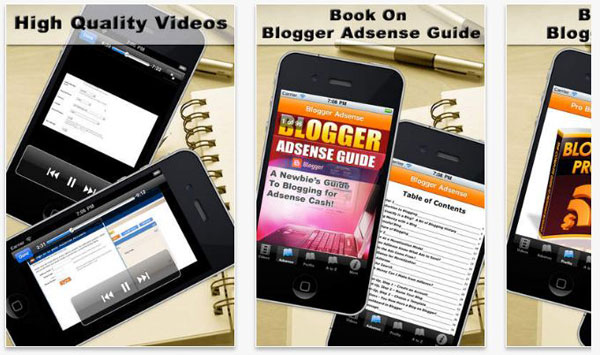 2. BlogTouch Pro (for Blogspot Blogger) for iPhone
BlogTouch Pro is a powerful Blogger/Blogspot editor for Apple products. It can be downloaded for just $4.99 from iTunes/iStore. This blogging app can be used on iPhone, iPad, iPod and Mac! Blog Touch devices. It makes blogging easier for you by helping you manage multiple blogs – publish, edit and delete comments, post and pages.
BlogTouchPro enables you to blog directly from your phone when on the go. Have you ever come across something you must share with others – now!! Well, you can do it with BlogTouchPro – just start typing wherever you are. On foot, in a train or even in your home – fire up BlogTouchPro and get it down and online in almost no time at all! Text, pictures or just your thoughts!
3. BlogPress
It is easy to use the app and offers bloggers almost everything they need. They can upload files, videos, images, anchor texts, hyperlinks, etc. using this app. Besides this, many other features are also provided to the users by this superb application. It is available in both iPad and iPhone devices. The platforms BlogPress supports include Blogger, MSN Live Space, WordPress, and much more. It is paid for bloggers and costs $3 only.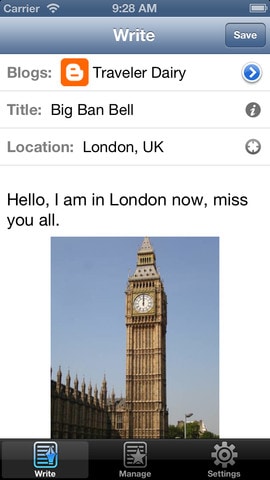 4. Weebly Mobile: Easily Create Blogs and Websites
Weebly is a well-known simple website creation tool. You can download the app free from iStore. Weebly mobile enables to you blog log and edit your blogs directly from your iPhone or iPad. You can use photos you have just taken on your iPhone and immediately publish them on your blog.
It allows almost instantaneous publication of anything you have on your iPhone or iPad. The only issue is that, like any other free application, it can fold at any time. You will also have the Weebly advert on your site. If you want to pay for no Weebly ads, more storage and functionality, fees for begin at $14/month – or $96 for one year in advance.
5. Posterous
It is a completely free application designed for iPhone users where bloggers can email a single post along with complete data, pictures, text, images, and all attachments. The best part is that via using this amazing tool, the blogger can post his blog on different social media sites including Facebook, Twitter, etc. in one go.
6. Tumblr
Bloggers can have this application on their iPhone to post blog posts, share images, communicate, share a quote, or post anything funny they wish to. Moreover, bloggers can also view shared stuff, which is a great convenience for them.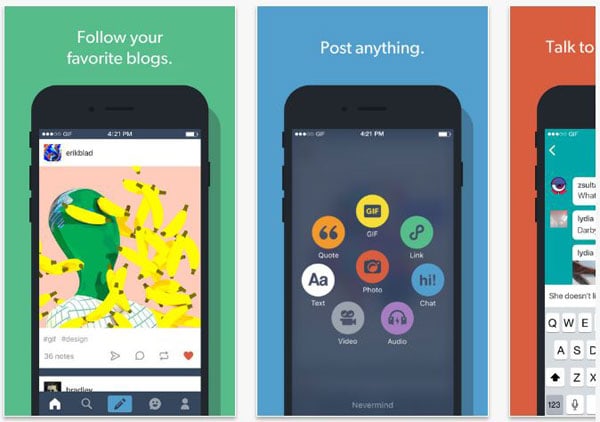 7.Blogo Blog Editor App for iOS 9.0 Devices
Suitable for iPhone, iPad and iPod Touch with iOS 9.0 and above, the Blogo blog editor gives you all the tools you need to create amazing blogs. The Pro version works with WordPress and other blogging software. You can list, edit and update existing or new posts, pages or drafts. Plus a lot more.
The Pro version allows you work with multiple blogs simultaneously. The Free version is packed full of features, but if you want more then the Pro version costs $2.99/month.
8. WordPress
WordPress is the most amazing and interesting application provided by iPhone. WordPress bloggers can have all features, which they normally acquire from desktop or laptop devices while blogging. They can post, edit, create, delete, manage, anchor, share, and tag their own blog posts with best alignment features. The best part is that the bloggers can enjoy a complete access of their data through this application and most surprisingly, this WordPress application supports WordPress platform as well.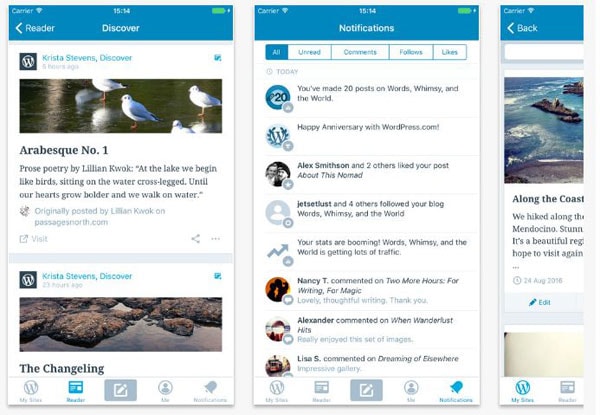 9. Adobe Express
This is a free application available to both iPad and iPhone users. Fast photo editing, manipulation, cropping, or image correction can be done using this superb Adobe Photoshop Express application. It widely supports all blogging platforms and is the application of choice.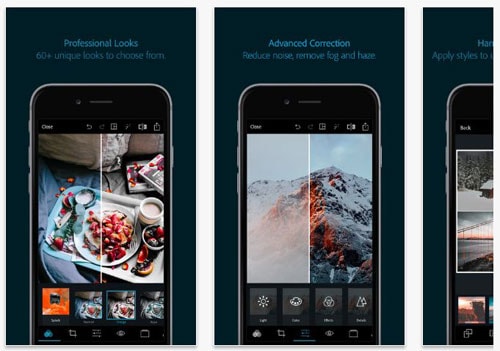 10. Picasa Photo Albums
You can manage all your photos, images, and personal visual data through this application. It costs only $2 to both iPhone and iPad users and supports almost all blogging platforms as well. Hence, one must have a Picasa account for better results.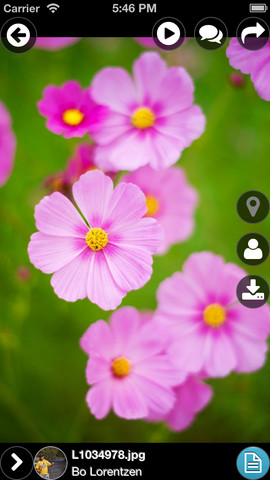 Blogging Apps – Conclusion
To sum up; numerous blogging apps exist, which are being used by various bloggers. Now, blogging is included in Microsoft's collaboration product, SharePoint, and recent versions work great with mobile devices. The above-mentioned applications are those ones, which are primarily used nowadays by the most expert and experienced bloggers on their personal iPad or iPhone devices. Last but not the least; the choice is always yours but one must go through the latest trends in the market. Especially with reference to SEO or content writing, one needs to take better care regarding the use of such applications.