iPhone Voice to Text is one of the coolest features every Apple iPhone comes with. Indeed, as you know, there are many other features you find, from iCloud to Siri. However, this particular features — which is meant to convert your voice input into meaningful text content — will surely be a lifesaver if you carry the device around all the time. Let's image a scenario that many of you would have already experienced.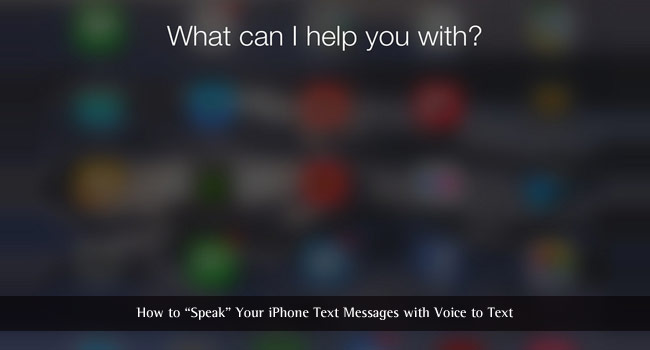 You receive a Text Message from your loved one, something that is lovely and worth replying. But, you don't reply because you hate the process of typing the content on the iPhone keyboard. It's a matter of fact that Apple brings perhaps the best keyboard layouts with each iOS Releases. That having said you may not be able to click on individual words to form single words. To put it simply, imagine that you don't like to type on your smartphone. Despite your hatred towards typing using smartphone keyboards, there are times you would have to send text messages. And, that's where the Voice to Text feature comes handy.
In this article, we will tell you how to speak your iPhone Text Messages using Voice to Text. This way, you can escape from the task of typing those L-O-N-G messages. Before we move on to the step-by-step tutorial, we should have an overview on the iPhone Voice to Text feature.
What's iPhone Voice to Text Feature?
As we said, iPhone Voice to Text is a feature that is included in all the iPhone devices you come across. It's been integrated into the OS level of your device and you can have a seamless voice-to-text experience without any glitches. This feature has often been referred to as Speech to Text as well, and it requires a dedicated engine for language processing. Your voice will be recorded, sent to Apple's servers and will be received as text content. This text content will be visible on text space in no time.
The Voice to Text feature of iPhone is so effective that it can detect even the minute nuances of language. Regardless the speed of your talking, the iPhone will be able to detect individual words, one by one. You can try speaking 'Happy Labour Day' or 'I'm at my friend's home' to iPhone Speech to Text feature. It can be noticed that all the apostrophes are placed with proper care. And, suppose you need to add some punctuations such as comma, period or dash. You can mention these words in-between your dictation and the engine will understand your requirement.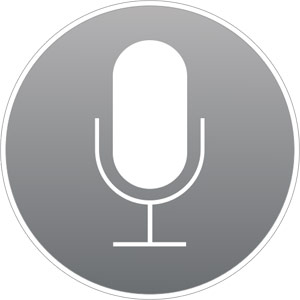 What's more, you can even bring some acronyms, smileys etc into the text content that you're dictating. Suppose you like to bring the 'winking' smiley into text; you can simply say 'winkey' and the emoticon will be placed there instantly. To do all these things, what you need is a good internet connection with your iPhone. It's preferable if you can have a 3G, 4G or Wi-Fi connection to use this. If you are on a slower connection, there may be glitches in text recognition. And, of course, the process will take a few minutes.
How to Use the Voice to Text iPhone Feature in Messages?
Now that you have a clear idea about the Voice to Text feature as well as the way it works, we can move on to the tutorial. In different steps, we will see how you can use the Voice to Text technology to speak your text messages instead of writing.
Step One: You have to go to the 'Messages' app on your iPhone. To do that, you can use the icon from your Home Screen.
Step Two: In the Messages interface, there will be an icon for creating a new text message. It will have a picture of a pencil in it. Click on that icon to proceed further.
Step Three: Instantly, you can see the 'Create Message' section in the iPhone screen. The cursor will be on the 'Address' field and you have to provide the address there. It can be seen that the iPhone keyboard is active on the same page.
Step Four: On the bottom part of the keyboard, you can see an icon of 'Microphone'. It will be placed left of the space bar. You have to tap on that icon to active Voice to Text in the iPhone app.
Step Five: Now, you can dictate the name of the recipient contact. For instance, if you are sending the message to 'Joe', you can say that to the microphone. If there are two Joes in your contact list, you will be prompted to select one from the list. Similarly, if Joe has two or more phone numbers, you will have to pick one from the provided list. Indeed, you will be picking the Mobile number.
It means that you have successfully added to the recipient. Now, you can hit the 'Done' button and move on.
Step Six: You have to click on the text area you see on top of the Keyboard layout. Once the keyboard appears, you can click on the Microphone icon once again. And, as you know, start speaking what you want to be written.
Once you are finished, you can hit the 'Done' button. By now, everything you have dictated will be shown in the text area of the Messages interface. And, that's how we bring Speed to Text for typing content for you, as you speak.
Final Step: It's a fact that Voice to Text in iPhone is pretty effective. However, depending on your accent, connection, etc, there may be some errors. So, it is necessary to proofread the content before sending the 'Hit' button. There may be some unwanted spaces or unintended punctuations. In short, it makes enough sense to get the job done of proof-reading.
By now, you would have typed the content into the text box without actually typing. Well, all thanks to Voice to Text.
iPhone Voice to Text Feature – Conclusion
So, we have shown you the step-by-step guide to speaking your iPhone text messages with the Voice to Text feature. As we'd told you earlier, this particular feature is useful in several situations. If you are someone who hates to type on mobile, this could save a lot of time of yours, needless to say. It needs to be noted that Apple Voice to Text is being improved to have the best, but there may be errors. So, every time you use the Speech to Text iPhone utility, it's a good thing to have proof-reading thereafter. As you know, Text Messages are still quicker than many methods and reliable when you don't have an internet connection. And, this cool feature is a reason to bring back the good things.