Getting traffic to your site is one thing – one very tricky thing to do!
Optimizing your 'on-page SEO', making sure your website is fast and mobile-friendly, paying for an SSL, building links to your site with amazing content and investing time, effort and money into Google and Facebook advertising.
It's a big effort to generate high levels of relevant traffic for your website – that's why so many companies hire agencies to do it for them.
It is important, however, not to get blinkered into generating traffic for the sake of it. The main goal of any business website is to make it profitable.
Even personal blogs want to drive and engage relevant traffic, rather than just drive a set number of visitors to their site each day.
Have the Right Software Goal and Events Setup
Start with the end in mind.
What do you want people to do on your website?
Write down and establish your website's goals also know as "Conversions". Conversions typically include a phone call, a live chat or form submission for a lead-generation website, whilst an eCommerce website will typically have the goal of selling products.
Once you have the goals established, it's time to set up the correct software so that you can track these goals. There are lots of options available but typically people will use Google Analytics and Google Tag Manager to set up their goals.
Setting up conversions can get relatively complicated. Tracking live chat and phone calls can be done in the Admin section of Google Analytics, whilst tracking form submissions is easily done using Google Tag Manager.
You may also want to make a list of 'micro-conversions'. These less valuable conversions typically include actions such as signing up to your company newsletter, adding a product to cart (but not actually purchasing) or viewing a specific number of pages.
Finally, to test the effectiveness of the changes that you make to your website in an effort to increase the conversion rate, use a platform such as Google Optimize or VWO. 
You can easily change colors, sizes, text, etc and then test these changes against the original design to see which is most effective.
Finally, Hotjar can record how your visitors interact with your website. This can be very useful – if you have the time to view what people do on your site and what issues and frustrations they may encounter. Something that's not always obvious when looking at statistics in Google Analytics.
Use Your Header
When a visitor lands on your webpage, you only have a few seconds to make a good impression and grab the user's interest.
The header area of your webpage is the first thing that they will see – make it count!
Once you have got the attention of the visitor within the header, support this with concise and clear information within the rest of the page, above 'the fold' (the area of the webpage that is viewable without any scrolling).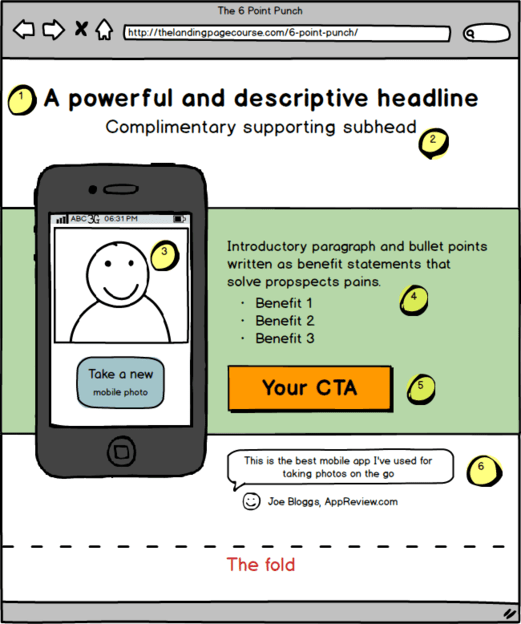 1. Use a concise, yet powerful headline that highlights the benefit of your product or service.
2. Follow this up with a subheading that continues on from the headline. For example, this landing page for Moneypenny's answering service uses a strong product proposition to grab visitor's attention – "never miss a call again".
3. Use a powerful "hero image" or video, within or near the header too. Something that showcases the benefits of what you are trying to sell. The hero image could feature someone using your product or service, or enjoying the benefits of it – for example, an image or video of someone relaxing on a vacation could be used to enhance sales.
4. Support the information and interest garnered with the header and ensure that visitors can scan read the main benefits of your product or service. Using bullet points is usually the best way to do this.
5. Create a clear "Call to Action" (CTA). Ensure that this stands out and actually make it look like a clickable 'button'. If the goal of your website is to generate form submissions, then experiment with a CTA button that leads to a form on a separate page or below the fold; and a form that is above the fold.
6. Use case studies to promote trust so that people are more willing to submit their details or make a purchase. More on this later!
Keep It Clean
When your site is designed, your conversions should be front of mind.
Consider what action or actions you want your visitors to take and don't distract from these. For example, if you want to generate leads with form submissions, then do not clutter the webpage with links to other pages, with CTA buttons that take people to the blog or with annoying pop-ups to sign up for a newsletter. Virtually everything on the page should be there to support the main goal of getting as many users as possible to submit a form; whilst providing a good user experience.
Carrying on with the form submission example, you should experiment with placing the form below and above the fold.
Wherever you decide to put the form, make sure that the rest of the website doesn't distract from the form completion. If visitors are given too many options, it can often lead to 'analysis paralysis'.
The "paradox of choice" dictates that if people are given too many options, for example too many navigation options on the homepage, then people get confused and will often not make a choice and not take any action at all.
"Humans have limited capacities for processing information and often choose the path of least effort, even though an alternative path would result in better outcomes. Users often take shortcuts and may appear lazy, but their actions are ways of protecting themselves from information overload and fatigue." – — Quote Source
Avoid clutter and don't give your visitors too many options.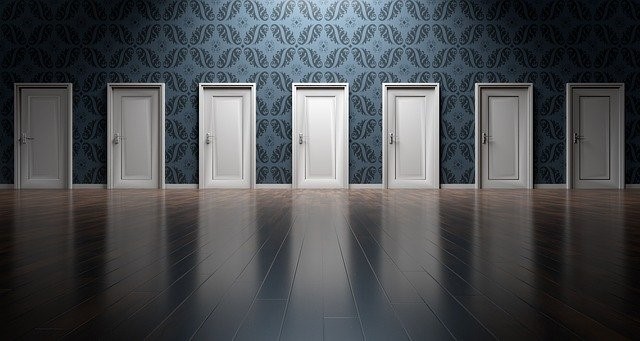 Images Are Everything (Well, almost)
Images almost always, make the difference between a professional-looking website that creates a feeling of trustworthiness and a website that lacks professionalism. The rest of the design can be top-notch, but if the images are poor, then the visitors are less likely to convert.
Avoid stock photos or at least obvious stock photos as these can also look really unprofessionalism. Whenever possible, use genuine photos of you, your product and your service. If people can see who they are potentially going to be dealing with, transparency generally creates a greater feeling of trust.
Ensure that the images are of the highest quality possible, without damaging the page speed. Check this with Google's Page Speed Test and consider using a CDN such as Cloudinary to keep images of high quality without killing your site's speed.
Keep It Quick
Site speed is an official Google ranking factor and people are very impatient. If your site takes more than a few seconds to load, then many of your (potential) visitors will leave your website and go directly to a competitor.
Images have a huge impact on site speed. As mentioned above, consider using Cloudinary or use 'Lazy Loading' to defer the images that reside below the fold, from loading before they are required.
If your website uses WordPress, you can use a plugin such as Smush to optimize images for you without having to add any code yourself.
Online speed evaluators/tests such as GTMetrix will give specific insights into how you can improve your website's speed. Tips will typically include 'deferring Javascript' and optimizing your cache. Again, there are plugins that can do this for you on WordPress if you don't have the skills of a backend developer.
Trust Metrics and Social Proofing
People trust the views of other people. Reviews, for example, have been leveraged by the likes of Amazon and eBay are were arguably instrumental to their initial success as eCommerce platforms. It is quite amazing that 80% of shoppers trust online reviews as much as a personal recommendation.
With this in mind, it is important for CRO to gather positive reviews and then display them on your website. To do this, you can sign up to a review platform such as Trustpilot and invite customers to provide feedback. You should then display your overall review score (provided that it's 4.5/5 or higher) above the fold on your landing page.
In addition to reviews, other trust metrics and signals including awards and logos that represent or show that you are a member of certain industry associations.
Individual case studies and testimonials from well-known industry leaders also have a strong impact on social proofing and conversion rate.
Gain Feedback and Test Everything
To get ideas regarding CRO and how to tweak and adjust your website to improve bother user experience and conversion rate, you can look at user behavior.
To do this, you can get feedback by studying any live chat conversions that may occur on your site – are people looking for a specific product or having a specific problem?
You can also look at the searches done on your website if you have a search function. What are people searching for? Do people that search, typically go on to make a purchase?
You can also look at your competitors and the industry big-players. What type of customer journey and what type of social proof is your main competitor using? What are the likes of Amazon, eBay and Walmart doing that you're not?
Whatever changes that you make, make sure that you test everything. For example, if you decide to change the color of your CTA button from blue to the 'Amazon orange', then use Google Optimize or VWO to change the color and conduct a split test. Once you have a significant amount of data, compare the results and see which color performs best.
Make data-driven decisions like this by testing and adjusting, then testing again.