It is a common perception that Android devices are perfect for carrying out various tweaks when compared to the iPhone. This is largely due to the fact that the Android devices are open source with a huge number of options in terms of hardware and iPhone is seen as a closed system. But there are reasons why the iPhone is actually a better option than the Android. Let us see why Jailbreaking an iPhone is a better option than rooting an Android device.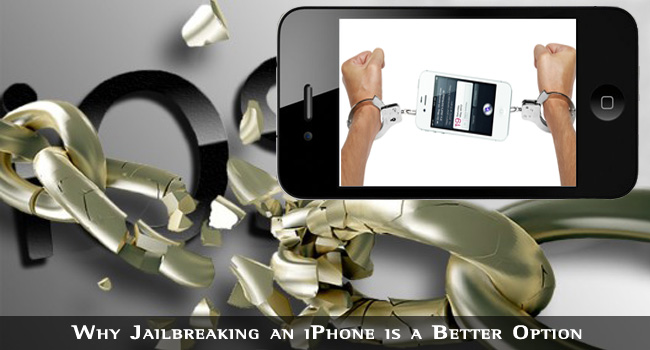 Jailbreaking an iPhone versus Rooting an Android device
Although there is no doubt that Android gives you more options to explore the OS, the iPhone still is a far better smartphone when it comes to tweaking and customization. 'Rooting' an Android device may open up an entire world of possibilities, but it is not as hassle-free as 'Jailbreaking' an iPhone. Let me explain why.
There are scores of Android devices which are as different as chalk and cheese whereas the iPhone has remained more or less the same (across its generations). Thus, there are a number of rooting methods that developers have to explore on the Android devices and this leads to a situation where developers can target only some of the popular Android phones. This also means that the available rooting guides target just a limited number of phones.
On the other hand, the jailbreak guide for the iPhone is simple and consists of few steps only, such as "plug in" and "click this button". Even newbie developers can easily jailbreak an iPhone using these simple steps. After Jailbreaking, they can perform any number of tweaks on the iPhone with much less hassle although a Jailbroken iPhone is not as powerful as rooted Android phone.
Recommended Reading: Android Vs iOS Which One is the Best for Personal Use
The Same Environment Supports More Tweaks
Another downside of Android (for tweaking) is that it has too many OS versions alongside the number of devices. This limits the developers as the tweaks are specific to either a certain device or a ROM. So rooting on thousands of device separately to accommodate the tweaks, becomes a headache for them. For instance, tweaks that function with Sense ROMs will definitely not work with AOSP ROMs and Ice Cream Sandwich ROMs will not work with Honeycomb or Gingerbread ROMs.
Also, there are only a handful of developers to work on the platform specific tweaks on each Android device, whereas on the iPhone, all the developers need to concentrate fully on one single device and target the same platform. Thus, the iPhone gathers much more tweaks in less amount of time than the devices powered by Android OS.
Cydia – One Stop for Your Jailbroken iPhone
Cydia is basically an application that allows you to add third-party applications to your jailbroken iPhone (and other Apple devices). The users can get scores of apps and tweaks using Cydia and the Cydia Store (akin to App Store). Android on the other hand, does not have a consolidated place to get the tweaks and apps from.
You have to literally search for various places to get your tweaks for the devices. For this you can find multiple forums like Rootz Wiki and XDA developers, get the tweaks/apps and then load them on your device using Dropbox or USB. This is a tedious process when compared to Cydia, which requires two easy steps – 'search' and 'tap to install' to get tweaks or apps instantly in your device.
SEE ALSO: The Top Free Cydia Apps for Jailbroken iPhone.
Thus, looking at the above pointers, I am sure that you'll agree with me that Jailbreaking an iPhone is actually more feasible than rooting an Android device.