For most people, Shooting Games are not just games! They are about the unique feeling, of perfect timing, aiming and the rapid actions. As it turns out there, there is a huge fanbase for First Person Shooter games, which are known as FPS. You can literally be a part of the game, shoot people and earn points. These all work with an awesome flow that you are made to love it. There was a time when you needed PlayStation or Xbox to play those nostalgic FPS Adventures. Now, if you have a decent Android smartphone, there are many shooting games for Android you can choose to play.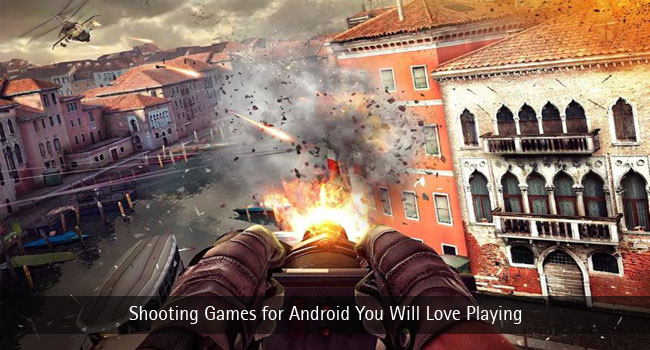 Some games are noted for the accuracy. At the same, some Shooter Games attract through the solid storyline they have. Either way, you won't have to compromise the gaming feel, given that you pick one of the best choices. In this article, we have a curated list of the best shooting games for Android you will love playing. We have selected the games from various categories and you'll find your cup of tea here, for sure. Also, it's worth noting that most games in our list are completely free to play, with a few in-app purchases.
Shall we start? Majority of these games offer high-end graphic detail. Therefore, you need to have an Android device with a bigger screen and good specifications.
Shooting Games for Android You Will Love Playing
1. Modern Combat 5: Blackout
Modern Combat 5: Blackout is one of the most played and well-acclaimed FPS Shooter games for Android. Developed by Gameloft, this shooter games offer extensive graphic experience and a smooth gameplay. It's also one of the finest games to bring the power of dynamic multiplayer and customizability into gameplay. Before you enter the battlefield, you can create your own squad and pull in your friends. Then, it's all about your rapid actions and well-aimed targets. However, you need to have a high-end device with better graphics to play Modern Combat 5: Blackout at its peak.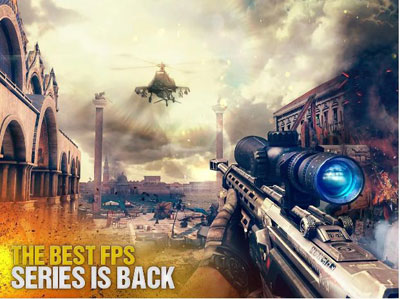 USP of the Game
The game goes quite in detail into the playing, with a bunch of selectable weapons, suites and abilities.
You play more and unlock more.Of course, there are many features that make Modern Combat 5: Blackout one of the best shooter game for Android.
For instance, you can customize the different classes, in both solo and multiplayer modes. Depending on your taste, you can choose the Play-Style too. The available playstyles include Assault, Heavy, Sniper, Support, Sapper etc. Due to customizable controls, you can play it your own way.
Modern Combat 5: Blackout – Review
Pricing: Free with In-App Purchases
Play Store Rating: 4.0 / 5
Developer: Gameloft
Requires: Android 4.0 and Up
SEE ALSO: Best Entertainment Apps for Android »
2. Into the Dead
Into the Dead isn't a common First Person Shooter game with warfront and killings. So, if you need a shooting game with a difference, you can go with Into the Dead. It's actually a zombie-killing, endless-runner game, where you can use various weapons to take down zombies. With a small installation size and offline availability, it's one of the best offline shooter games for Android too. Just like any other shooter games, Into the Dead comes with levels of customizability. You can choose the desired weapons, modes and start hunting.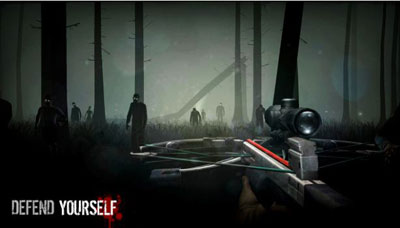 USP of the Game
The gameplay is pretty ambient and impressive. You run all the way you can, killing as many zombies as you can. In the end, when you're caught by a zombie, you can get the scores and move ahead.
By default, there are four gaming modes. Regardless the mode you choose; the gameplay is dope. Built with immersive sound effects and suitable graphics, Into the Dead takes you into the world of zombie hunting.
You also have leader-boards and social media sharing to get the fun of group gaming.
Into the Dead – Review
Pricing: Free with In-App Purchases
Play Store Rating: 4.4 / 5
Developer: PIKPOK
Requires: Varies with Device
3. Dead Trigger 2
Another high-rated shooter game for Android, Dead Trigger 2 is one of the best zombie-shooter games you can get. Dead Trigger 2 is an amazing combination of well-developed storylines, accurate controls and the superb background. Ever once and while, the storyline is updated with new content. So, you never get bored while playing Dead Trigger 2 on your Android device. To play this game, you may need a constant internet connection. That having said, the graphics quality you get is up to the mark, for the effort you take. So, even with a huge download size, people love playing this awesome shooting game.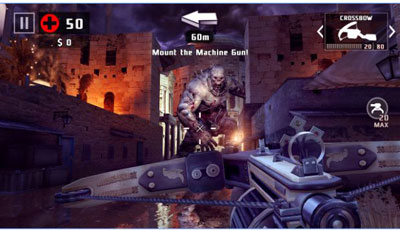 USP of the Game
As we go to the gameplay of Dead Trigger 2, it's spread in 10 regions across the globe. So, it is up to you to choose one of the 33 unique playing environment and start killing zombies.
To make the hunting less boring, the developers have added 37 kinds of weapons for killing zombies. And, when we add the 600 gameplay scenarios, Dead Trigger 2 becomes one of the best games you can get your hands on. In light of all these, we can say without a doubt that this is one of the best zombie Android shooter games you can play.
Dead Trigger – Review
Pricing: Free with In-App Purchases
Play Store Rating: 4.5 / 5
Developer: MADFINGER Games
Requires: 4.0 and Up
SEE ALSO: Racing Games for Android »
4. Critical Ops
In our fourth position, we have Critical Ops, yet another popular shooter game for Android devices. It's basically an action-packed FPS Game, which needs you to use accurate aims and tactical ideas alike. One thing to be noted here is that Critical Ops is still in the Alpha stage. Even now, you can have an awesome gameplay with, thanks to dedicated developers. So, as it turns out, you have an ever-developing shooter game with you. In case if you get bored with it, you can expect new and new features with every single update of Critical Ops. Of course, when compared to the other shooter games here, Critical Ops have a bunch of features too.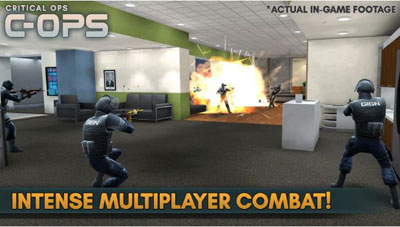 USP of the Game
First up, we have the power of Multiplayer Gaming.
You can invite your friends into the gameplay and feel the true team spirit all the way. Also, the game offers an impressive collection of weapons as well as weapon skins and all tactical squad actions. You can just look at the screenshots to see how amazing the graphics environments.
And the best part of Critical Ops gameplay is that you need the skill to move on. If you are ready for these, Critical Ops is the best FPS Game for you.
Critical Ops – Review
Pricing: Free with In-App Purchases
Play Store Rating: 4.2 / 5
Developer: Critical Force Ltd.
Requires: 4.0.3 and Up
5. NOVA 3: Freedom Edition
NOVA 3: Freedom Edition is another awesome First Person Shooter Game from Gameloft. Unlike the others in our list, it comes with a science fiction plot, of humans coming back to earth after years of exile. It's also one of the coolest games in terms of the immersive gaming experience offered. Just like all other games from Gameloft, you can find state-of-the-art graphics richness in every single part of the game. If not for the immersive gaming, NOVA 3: Freedom Edition can be loved for the attractive plot that needs you to help the mankind from alien forces.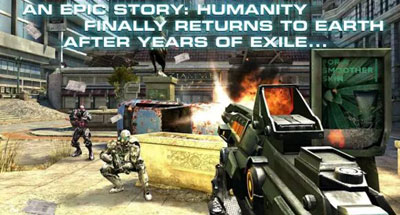 USP of the Game
The whole gameplay of NOVA 3: Freedom Edition is spread in 10 different levels, which are spread across the Galaxy. You then move onto the collapsed earth and the Volterite city.
In short, the game lets you travel in the environment as if you are a part of it.
The game offers a bunch of awesome weapons and powers.
For instance, you can run and shoot the alien members while driving vehicles to travel into other areas. And, if you are looking for a versatile, multiplayer, free shooting game for Android, this is the best choice.
You can choose from 7 types of Multiplayer Modes in NOVA 3: Freedom Edition.
Nova 3 – Review
Pricing: Free with In-App Purchases
Play Store Rating: 4.5 / 5
Developer: Gameloft
Requires: 4.0 and Up
6. LONEWOLF
Are you looking for a free FPS Game with offline support and something different? LONEWOLF can be an excellent choice if you need an awesome storyline ahead. This isn't the typical shooting game you have seen. On the other hand, this game comes with a neo-noir story inside. As you keep moving through the levels, you get to know the real story. Your mission is pretty simple, though. You have to be a silent assassin and kill people without being harmed. In comparison, LONEWOLF is one of the lighter Android games with shooting experience. You can simply install it and it will work offline.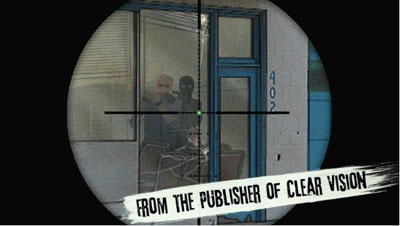 USP of the Game
Coming to the gameplay of LONEWOLF, there're more than five hours of Story Mode.
This opens you up to the collection of 30 Missions, which you can choose as per your taste. Before you begin taking down your enemies, however, you can listen to the impressive plot behind all these.
To make things much realistic, the developers have included high-definition graphics and immersive sound alike. You can really feel the Weapon Sounds and all, as you play.
Personally speaking, the game is quite addictive for most people. So, even if you're not much into FPS Games, you can try LONEWOLF.
LONEWOLF – Review
Pricing: Free with In-App Purchases
Play Store Rating: 4.6 / 5
Developer: FDG Entertainment GmbH & Co.KG
Requires: 4.0 and Up
SEE ALSO: 10 Best Android Apps fro Students »
7. Hitman: Sniper
Are you ready to be the lone assassinator? Hitman: Sniper brings the top-notch gaming experience through its FPS Shooter gameplay. You are the only player in the game and you need to assassinate the target, as silently as possible. That having said, Hitman: Sniper won't bore you with the same levels and all. There's huge room for customization and selection when you are in the world of Hitman: Sniper. According to what users say, this is one of the finest shooter games for Android if you are into the alone aspect of assassination. And, you won't have to miss the features either.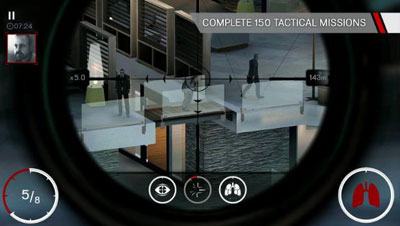 USP of the Game
Hitman: Sniper offers 150 missions in total, and you can target 11 different things in these levels.
Also, you can choose a weapon from the huge collection of 17. Each weapon has its own abilities, but you have to use your tactics as well.
Despite not having multiplayer system, you can connect your social media profiles and create leaderboards.
In short, Hitman: Sniper lets you enjoy the freedom of playing with friends. Altogether, if you are ready to pay for the experience, this is an awesome FPS Game with some adventure stuff.
Hitman – Review
Pricing: $0.99 with In-App Purchases.
Play Store Rating: 4.5 / 5
Developer: SQUARE ENIX Ltd
Requires: 4.1 and Up
Let's Conclude – Shooting Games for Android You Will Love Playing
Well, this our list of the 7 Best Shooting Games for Android you will love playing. Most of the games are completely free to download, though there are in-app purchases available. The only premium choice is Hitman: Sniper, which offers more of an exclusive experience. At the same time, there are First Person Shooter adventures with various plots and storylines. LONEWOLF is, for example, one of such free shooting games too. The best part is that you don't need a data connection to play these. So, depending on your taste and requirements, you can pick one from these 7 game titles.