Business intelligence is concerned with enterprise information management. A business intelligence analyst works with raw data from multiple sources i.e. big data and transforms it into actionable insights using advanced data mining and analysis tools and techniques. Business Intelligence Analysts are necessary for all companies, especially those that collect a lot of data. They are interdisciplinary and work closely with all teams to ensure all divisions of the company such as logistics and planning, product development, sales, and marketing, to help them improve their operations and make decisions from an informed viewpoint. Top leadership also relies on insights drawn by BI Analysts. 
The Roles and Responsibilities of a Business Intelligence Analyst
The complexity of your job as a Business Intelligence Analyst, as well as your roles and responsibilities,  will depend on your skills and job level within a company. As an entrant BI Analyst, expect to work as a team member on BI projects of low complexity. As your skills advance, you will work on more complex projects sometimes as a team member and other times as a project lead. At an advanced skill level, you will be a project leader, guiding and directing teams of other Business Intelligence Analysts to create and implement complex software and systems.
Some responsibilities that are common for all Business Intelligence Analysts include:
Participating and supporting Work planning processes 
Supporting business requirements. Analyzing business requirements and customer needs and translating them into actions
Development and implementation of data solutions  
Data collection, analysis and report sharing, aimed at improving business metrics and shaping the customer experience 
Developing BI and report automation tools
Handling data import, export, and conversions
Looking for relationships and trends (including anomalies) in data 
Taking part in the production process, including troubleshooting BI systems and software, tracking performance issues, issue escalation and implementing improved solutions.
Ensuring data quality
Training and assisting other team members on system use, report generation and report interpretation
Why Become a Business Intelligence Analyst
Business intelligence jobs are ever increasing in importance as more companies continue to adopt data-led decision making. BI-Survey gathered the opinions of 2679 professionals in business intelligence about the most important trends in the profession. Self-service BI, data-driven culture and data visualization rated among the highest trends.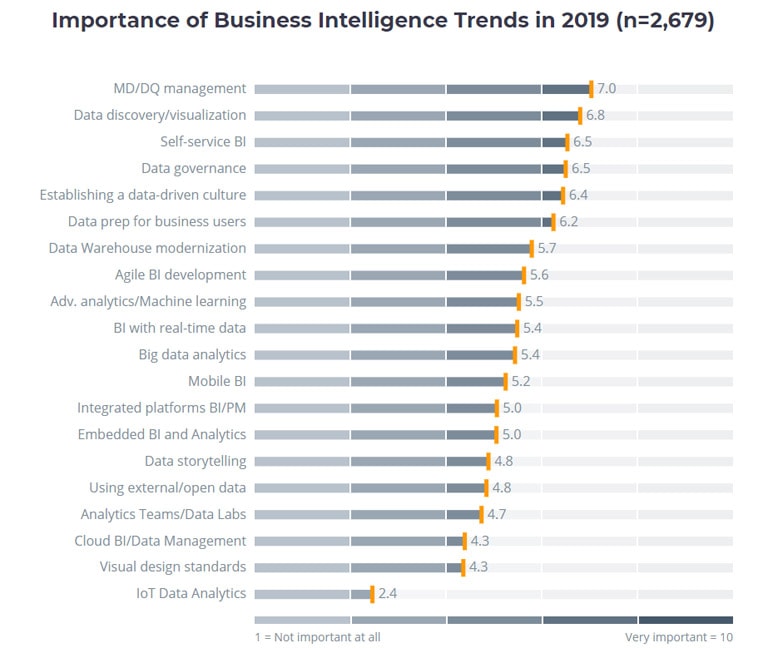 Data visualization, for instance, improves how companies perceive the information presented to them. A study conducted by Cornell University showed that trends in data are more believable when presented in graphical format. This is because visualizations make it easy to digest large or complicated sets of raw data.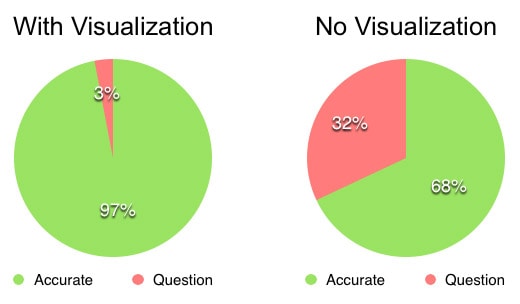 These facts, in addition to the lucrative business analyst salary that you will earn, go to show that investing your time and resources in learning about data is the right move. Estimates show that Business Intelligence Analyst makes $80,154 on average per year in the U.S.  
With the right skills, you can work in notable companies such as Google, Amazon, Facebook, IBM, Deloitte, Ernst, and Young, LinkedIn, among others. But these are hardly the only ones. There are a lot of opportunities available in medium and small-sized businesses for anyone with business intelligence and data analysis skills. 
Who Can Become a Business Intelligence Analyst?
If you like looking for trends and patterns in data and enjoy applying technology solutions to do so, you are a good fit for a Business Intelligence Analyst role. You will need to develop certain skills (which we cover below), but as BI is multi-industry and multi-disciplinary, you can become a Business Intelligence Analyst even with a history degree. 
People with work experience and transferable skills fit well into the business intelligence world. If for instance, you have project management and business strategy skills, you have what it takes to succeed in BI. If you have an IT background, you possess the technical savviness necessary for the field. 
In addition, if you possess these Personal Competencies, you are well placed for a career as a BI analyst: 
Strong communication skills 
Ability to interact with clients and teams
Self-motivated 
Leadership qualities
Critical thinking and problem-solving skills
Curiosity about data
Ability to work in an agile environment 
Skills Required to Become a Business Intelligence Analyst
A relevant course will equip you with the knowledge, skills, and proficiency required to be a successful BI analyst such as:
Proficiency in different databases such as SQL, MySQL, Oracle, among others. 
Data processing, with ready-made tools or custom scripts 
Knowledge of Python 
Resolving technical challenges 
Design and maintenance of data warehouses 
Knowledge of statistical data processing techniques
Recommended Courses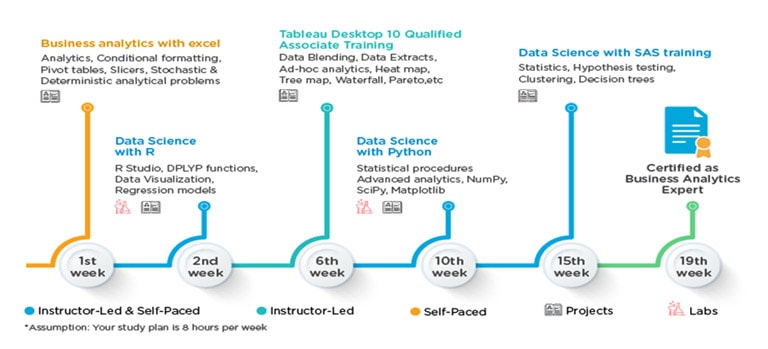 Each course in this master's program is designed to equip you with a combination of skills that will define you as an expert in data and business intelligence. These include Excel, programming languages like R and Python, SAS and tableau, in addition to over 40 other skills and tools. If you are new to data analysis, the Excel course is a great way to break you into the field. 
You will learn from instructors and course advisors with industry experience in the field of data science, and test your skills on more than 15 real-life projects.
You will develop advanced skills in: 
Data visualization with Tableau 
Learn how to apply statistical methods to analyze and visualize data with Microsoft Excel and Power BI.  
Web scraping, machine learning, analytics with python 
Predictive and descriptive analytics with R
Predictive modeling, statistical data analysis and data optimization with SAS
Certified: Yes
Cost: $749
Microsoft recommends taking the MCSE after the MCSA to improve your proficiency in business intelligence with SQL. 
The MCSA course will equip you with ETL (extract, transform, and load) and data warehouse skills, in addition to teaching you how to use OLAP cubes and different data models to implement BI solutions. The MCSE (Microsoft Certified Solutions Expert) course will equip you with data management, database design, SQL administration and Analytics skills required to leverage onsite and cloud-based business data. 
Before you take the MCSA course, you should have foundational skills in IT. You can pursue a Microsoft Technology Associate (MTA) certification to improve your skills. Microsoft also recommends exploring additional courses to expand your understanding of working with data. BI Development, BI Reporting or Data Engineering with Azure are all relevant to a Business Intelligence Analyst career path.
Certified: yes 
Cost: Available upon enrolling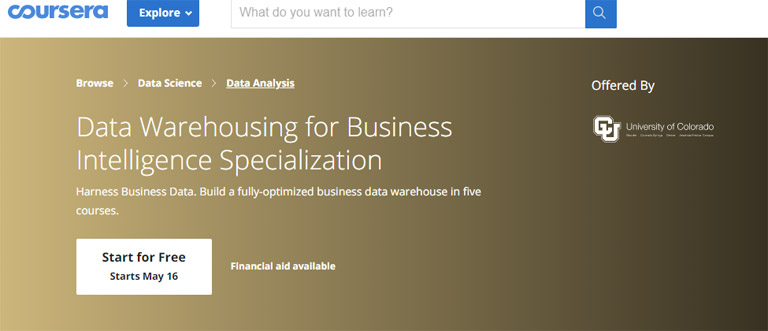 This specialization is a series of courses that explore a range of data architecture topics that will enable you to work with data warehouses, manipulate data and perform visual analytics with tools such as OLAP and MicroStrategy. By the end of this specialization, you will have an in-depth understanding of SQL, Data Visualization, Data Warehouse and Pentaho (DataViz) and how to apply these to data modeling and evaluate business needs. 
Your hands-on project will allow you to test your skills by building a data warehouse and work within it to create dashboards and visualizations from raw data. 
Certification: yes
Cost: Available upon enrollment (financial aid available)
Conclusion
You now know what it takes to become a BI analyst. If you want to build confidence in your skill level while still searching for your dream job, try out an internship at any notable data-oriented company. You can also try out some freelancing jobs. This will immerse you into the business world and give you hands-on experience in dealing with data.