Life is unimaginable without an internet connection. The network speeds are now mind-blowing, the hardware is ever more capable and smartphones have become increasingly accessible. With all of these factors in place, it might certainly seem as if the browsers have outlived themselves and there's practically no need for them.
Now that it's clear that browsers are here to stay. Let's talk about two of the most popular browsers as of this writing and see how they stack up against one another. We're gonna take a look at Firefox Quantum vs Chrome.
To disrupt the segment and to take the throne of the most popular browser away from Chrome, Mozilla recently released their brand new iteration to its homegrown browser Firefox and they're calling it Firefox Quantum. Let's see how they stack up.
We're gonna take a look at a handful of metrics to gauge the performance of both browsers to give our final verdict.
Google Chrome vs Firefox Quantum
The above mentioned 6 tests are more than enough to gauge the performance and prowess of a modern web browser and by the end of it all, we shall have crowned a true winner for Firefox Quantum vs Chrome, so let's get started.
Energy Consumption
When it comes to real life usage, energy consumption by an application is what determines how long will a device hold up in a typical daily usage situation. If you use an ultra-portable computer like a MacBook Air which touts an all-day battery life, it would be sad if you start holding Apple accountable for a degraded battery life when it's actually the complete fault of a third party application.
In the energy consumption department, Chrome has always had a bad reputation for draining away a massive percentage of a device's juice. Agreed that it offers some crucial features like cross-device syncing and advanced security and what not but if your device is dead at the end of the day, what good is all that anyway?
Rant aside let's leave it to numbers to speak for themselves.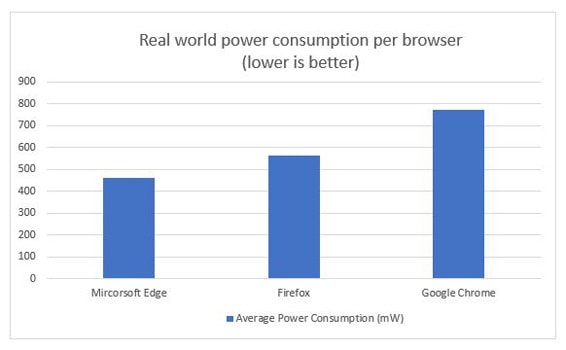 As you can see above, Google Chrome is clearly a battery hogger. On average, Chrome uses ~270mW more than Firefox on a daily use case scenario. Now, Google has publicly admitted that this is an issue and a fix is in the works but it's gonna take a long time before an update is issued. Till that happens, we have to give this one away to Firefox.
Memory Usage
Things take a turn for the worse when it comes to memory consumption for Chrome. Memory consumption was a highlight for Firefox Quantum when it was launched. Across all major platforms, Firefox Quantum shows an extremely low memory profile. This is credited to how this new browser is architected.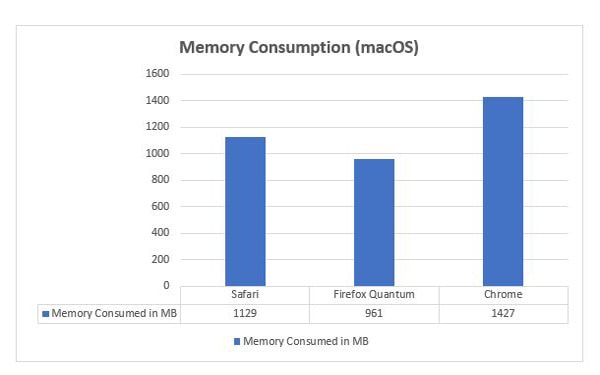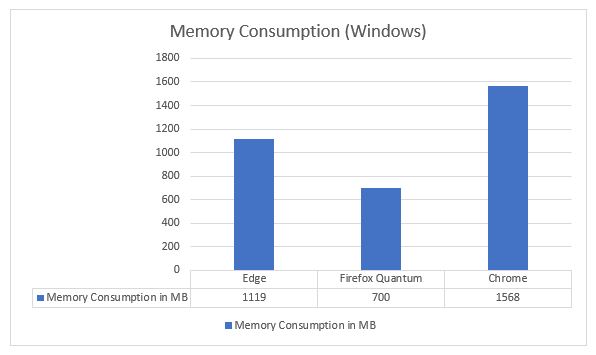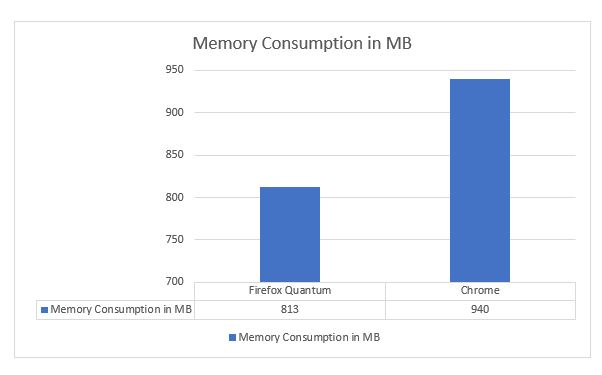 For most modern computers, 4 or 8 GB of RAM is a standard these days and it's critical for an application to make sure that they make the optimal and only necessary allocation of memory. Historically the way in which Google Chrome is architected, it hogs down memory irrespective of the fact if there are multiple applications are also active or not.
Chrome opens a separate content process for each tab that is opened, in comparison Firefox only opens 4 content process at any given time. Which strikes the ideal balance for most users out there
Startup Time
Startup time isn't that breaking of a metric to pick or not pick a browser but since we're going into the nitty-gritty details of things, we might as well account for the startup time. It's a synthetic metric sure but it does give an overview on how an application would perform in the long run.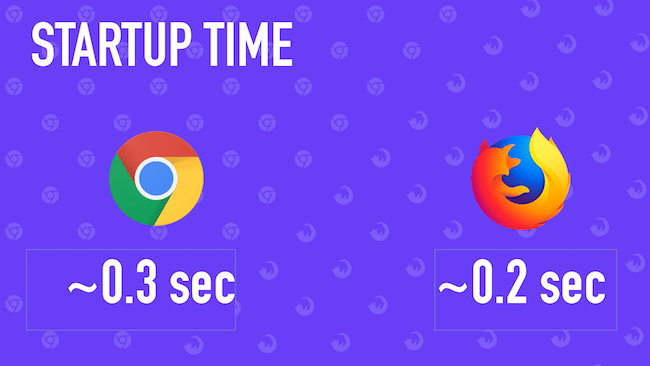 For this test we performed a simple analysis, we checked how long it takes to open and close 50 tabs of each browser. With an average time of 0.2 seconds, Firefox Quantum took a lead here, Chrome came in a close second with 0.32 seconds. Not a huge difference by any means but still accountable.
Synthetic Benchmarks
Alright now, let's get into a more systematic and industry grade performance check. Benchmark suites have always been the go to check for analyzing the upper bound performance of any hardware or software application. It let's potential users know what's the maximum performance gain they can expect on choosing the new product. For hardware products, GeekBench and Antutu are the more popular suites to check against but things are a little different for browsers. Since browsers mostly render web pages and stream media, the only way to stress test them is testing them against a load of rendering web pages. That's what we're gonna do now. We've picked 2 of the most popular browser benchmarks. Let's start!
Ares 6 Test
Ares-6 is the most used benchmark test for browsers to check their JavaScript performance. The test will check a browser's execution time against newest JavaScript features like, including symbols, for-of, arrow functions, Map/Set/WeakMap, let/const, classes, proxies, string interpolation, destructuring, default arguments, spread, tail calls, and generators.
The test is divided into four subtests Air Basic, Babylon and ML. The specifics of how these tests work are beyond the scope of this post but you can read about it on the Ares-6 website.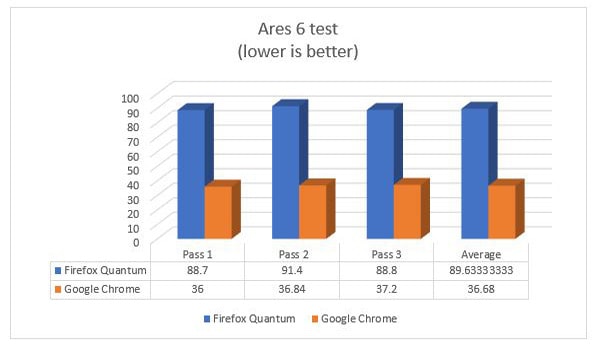 As you can see above Chrome absolutely crushes Firefox here. Most of that is attributed to the low-level performance optimizations done to the V8 engine that Chrome uses.
JetStream Test
Moving on, we have JetStream. JetStream is a browser benchmark that's designed to compute a browsers ability to run things under advanced workloads and different programming techniques. The score reported by JetStream is a mean of results obtained under different tests under the JetStream suite. Instead of having to run Benchmarks like Octane 2 and SunSpider which happen to be some of the leading JavaScript benchmarking standards, you can run JetStream in isolation and receive an aggregate result on how a browser performs across these tests.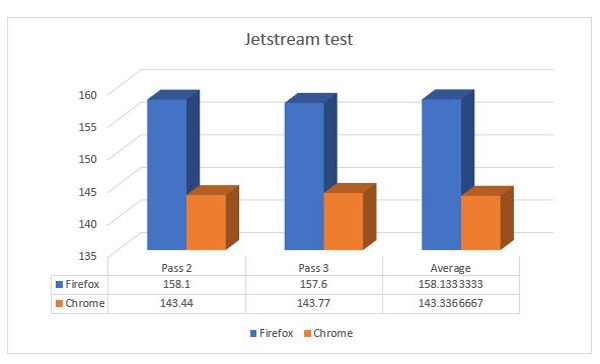 As you can see from the results above, Firefox Quantum takes a lead here but not by much. Still, it does say that Firefox is your go-to browser.
Real World Tests
Alright, now that we have gone through all the formal testing procedure, let's discuss a more realistic metric. How do these browsers stack up on an actual daily usage? I'm a developer. I own a late 2015 MacBook Air which sports 8 gigs of RAM and an Intel Core i5 CPU. On most days this is what my setup looks like.
I typically have Android Studio running at all times, alongside Spotify desktop client, maybe Sketch and then definitely a browser with at least 10 tabs open.
Now you may be wondering why I'm describing my workflow here. Well here's why. For the most part, the applications I use and the number of Applications I use at a given time stress test my machine to its limit. So if I give you my perspective on performance it should certainly fit your needs as well.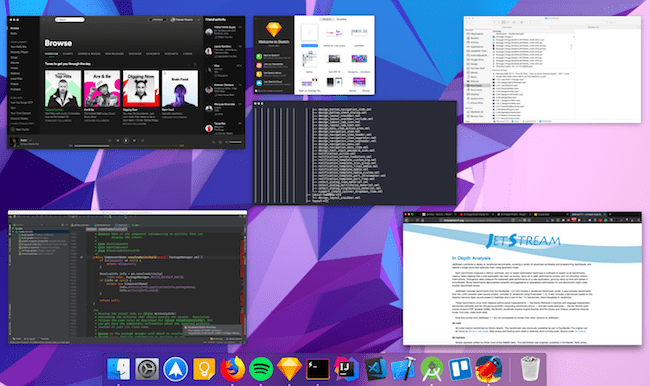 Until fairly recently (before Firefox Quantum was launched) I had to close one of the memory hungry apps to have my machine run fine. Since Android Studio is where I do most of my work, the one to be killed was always Chrome. Simply because it was overloading the system.
Battery consumption doesn't count here in my case because I anyways do most intensive tasks while plugged in. But if that were another factor, Chrome would certainly shed a few more points there.
All of this changed radically after switching to Firefox Quantum. I still have 10+ tabs open and the same applications running in the background but no longer is the browser my main source of a memory choke. It takes significantly fewer resources and pages open faster too. Thanks to the Mozilla team working on making the browser work well on multi-core configurations.
Sure it's not a joyride with Firefox, one of the biggest gripes I have with this browser is the lack of extensions that I used on Chrome and most importantly incompatibility and instability of most extensions.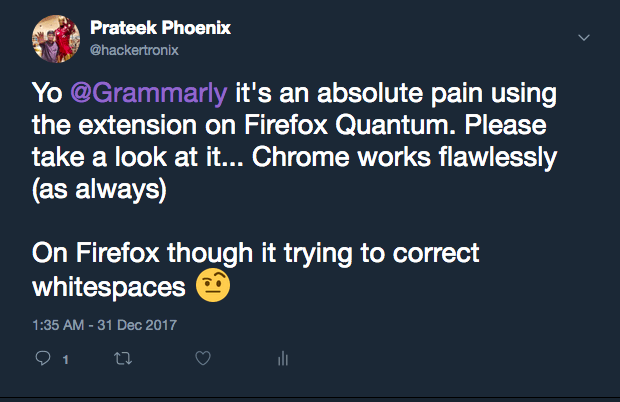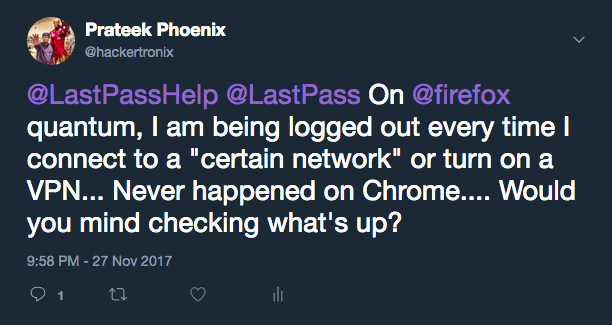 This is mostly because Firefox Quantum has so many underlying low-level changes that developers are still working on it to adopt it in their products without breaking it for others. These things will definitely change in the coming weeks and months but for the most part as my daily driver, I'm switching to Firefox full time.
Conclusion
Despite the fact that Chrome has a better experience and stability (right now) I'm willing to make that trade-off just for having the ability to multitask alongside other heavy memory use applications.
This is my biased opinion and I am not promoter or hater of either camp (Google or Mozilla). This verdict is from an average (power) user's perspective and if you still cannot make the call despite all the metrics that I illustrated above, I would highly recommend you to give both of them a shot in parallel, the experience will be radically different.