Google Chrome is mostly the thing you're using right now to find and read this. Chrome is one of the best browsers in the market right now and Google has made sure there are some chrome hidden features that always lets the user get the most of their browser and one such feature is the Chrome Flags. Chrome Flags is a hidden chrome setting that most people haven't figured out yet.
Chrome Flags or chrome://flags is an experimental feature hidden in your chrome that acts as a set of advanced chrome settings and allows you to tinker and learn more about the browser. It gives you access to features that will allow you to tweak your chrome so as to get a better experience out of it.
These advanced chrome setting are very experimental and you should take some caution before you change anything on the browser as they might crash your browser. Google warns it's users that, this might delete all your browser data and also compromise your privacy and security. There is "Reset all to default" button that you can use to bring your browser setting back to normal once you're done tinkering with the settings.
How to Enable Chrome Flags – chrome://flags Guide
Here are a few steps to get you started on your journey to having more power over your browser
Step 1: Now that your interest in finding these advanced chrome settings has spiked, you can go to "chrome://flags/" or "about://flags/" in the Chrome Omnibox or Address/Search Bar.

Step 2: This directs you to a page with a long list of features and you can use the "Ctrl + F" finder feature to find what you are looking for on the page.

Step 3: There is a short description of the features are written below them. You can change their state by clicking the "Enable" button or by changing it from "Default" to "Enable" or "Disable".

Step 4: After you change the defaults of the browser by pressing the "Enable" or "Disable" button, there will be a "Relaunch Now" button that will appear. This will relaunch your browser after saving your settings.

Step 5: Once you are done tinkering with the Chrome Flags feature and want to continue with the normal browser experience you can use the "Reset all to default" button on the top to bring your Google Chrome back to its original state.
After you've made the changes you've wanted and restarted the browser you can resume using your Google Chrome with those features. It's necessary to know what features exist at your fingertips as this Chrome Advanced Settings list has a lot to offer. Here is a list of features that you might find useful while trying to tweak your browser experience.
1. Smooth Scrolling – For Smoother Browsing Experience
Chrome seems to be a drag when it comes to having many tabs open and scrolling through pages can be a little sluggish. As the name suggests enabling the "Smooth Scrolling" option lets you have a smoother experience on your browser.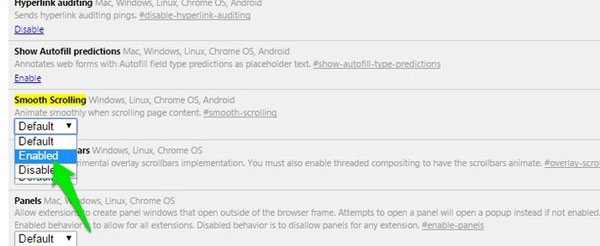 2. Quick Mute Button
When there is audio playing on a tab chrome automatically shows a tiny speaker icon on the right side of the tab. In order to mute these tabs, you might have to right-click and select mute. But when you turn on the "Tab audio muting UI control" flag on you can directly mute the tab by clicking on the tiny speaker instead of going through all that trouble.

3. Fast Tab/Window Close – Save Time on Closing a Tab
When you have a lot of tabs open or even a lot of windows and try to close your tab/window the browser takes a lot of time to actually close it. It is a sluggish process sometimes but this is where this flag can come in handy. Enabling the "Fast tab/window close" helps you to get this process done faster by hiding it and taking care of the process in the background.
4. Experimental QUIC Protocol –  For Speed Browsing
Google has been developing their QUIC Protocol or Quick UDP Internet Connection Protocol since 2012. This developmental protocol tried to establish a stable connection in a single connection to the server. This protocol aims to increase the overall browsing speed and data exchange speed and this can be used by enabling this flag.

5. Password Generation – Unique Strong Passwords
When certain password fields have a weird number of requirements to complete the process. With this flag enabled Chrome automatically sets a strong password fulfilling all the requirements. Google Chrome always sets a strong password so that you don't have to go through the process of coming up with one every time.
Wrapping Up – How to Tweak chrome://flags for Better Browsing Experience
This is not the end of it, there are a lot more of these experimental chrome tweaks you can apply and check out for yourself. These should be done with caution as this might make your browser a little unstable. But you can be sure that these chrome hidden setting will boost your browser experience and will help you get the most of your system. Chrome Flags is helpful especially for developers to test their apps before the release and have a good knowledge of the outcome in every situation. Happy Browsing!