Even before a decade back, having a Facebook account was a privilege. You needed to have a speedy internet connection and some kind of advanced knowledge of computers. Fast forward 10 years and Facebook is the best place to search for and find people. We even came across the concept of digital stalking, where you can know almost everything about a person by looking at their Facebook profiles. Although included under the umbrella term social media, Facebook has something unique to offer, if not for the highest number of active users. It's the same reason why you need to secure Facebook account of yours from hackers.
At least for some of you, it might sound silly. But, you should have a look at the number of Facebook account hacking attempts that happen every day. In the course of time, hackers have improved their techniques for having unauthorized access – it's not about password-guessing, folks. Even some of your slightest mistakes would open up huge gateways for enhancing privacy-loss and unsafe social network environment. And, it'd take just a few seconds for an experienced attacker to get hold of a vulnerable account. At the same time, a bunch of security tips can help you secure your account from possible attacks.
In this article, we have a brief guide on how to secure Facebook account from hackers. It needs to be noted that the term hacker is inclusive of all types of attacks. Be it phishing, profile hijacking or anything else, we've covered some steps to fix them all. We'll also share some general security tips that will keep you safer in the long run.
How to Secure Facebook Account from Hackers
Table of Contents
#1. Change your Account Password, Right Now, to a Stronger One
You might be having a somewhat strong password currently, but that's never enough. You must change your Facebook account password at regular intervals – at least, once two months or so. Every time you change it, go for a stronger password, which consists of upper case or lower cases characters, special characters and numerical characters. It's always secure to keep your password non-guessable. That is, even your best friend shouldn't be able to guess your Facebook account password. Also, we really condemn the use of commonly used sequential passwords like 123abc and your-name-date-of-birth.
When it comes to tough passwords, you have two options. First, you can rely on your own memory to create and remember passwords. Second, you can use a password manager utility like KeePass or LastPass. These tools will help you create an ultra-strong password and offer advanced features like automated log-ins and multi-device syncing. Personally speaking, I use such tools for keeping track of secure passwords for digital accounts. Even in this case, make sure that you change your passwords regularly, thus protecting from many risks.
#2. Set Up Extra Security on Facebook
In addition to normal username-password combination, Facebook offers some additional security features. Enabling the following three features will really help you to keep your account more secure. While it's surely your choice and convenience, these features have been proven to be quite helpful. You can find the settings by going to Settings and choosing Security and Login.
Get Unauthorized Account Login Alerts
Facebook normally keeps the record of the common device that you access Facebook from. Facebook offers an option to alert you upon unauthorized login attempts. That is, if anyone let it be a hacker or someone else tries to log into your account from another device, you will be notified. You can get alerts via different mediums like Messenger, Facebook Push Notifications and Email. According to your convenience, you should enable them. If you think there's an account breach, you can instantly revoke the session.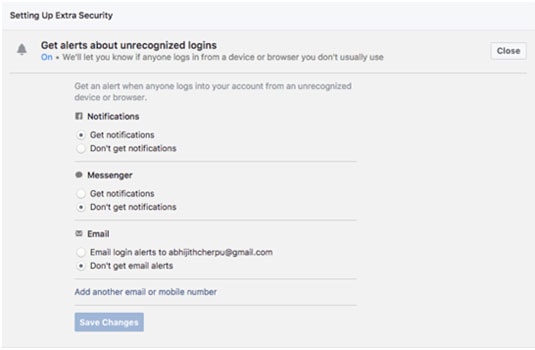 Enable Two-Factor Authentication
You would have heard about Two-Factor Authentication in other services, and Facebook too offers it.
If enabled, Facebook login requires your password and a code that will be sent to the registered number. It means that, even if someone manages to steal your password, he/she needs your mobile phone to log into your account. Plus, if someone tries to log into the account, you'll receive instant messages too. It's easy to set up and works with almost all numbers, for that matter.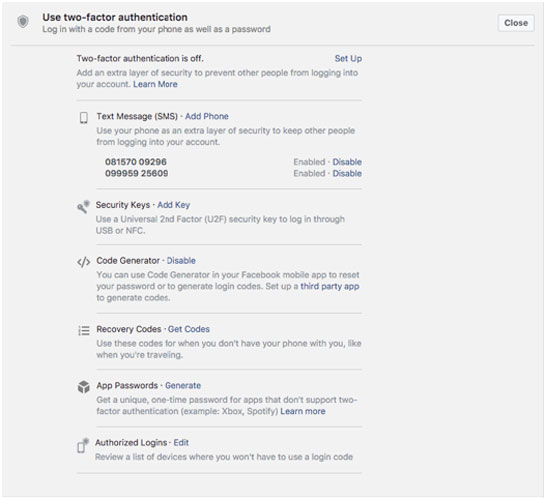 As you can see, there are additional methods to enhance security and convenience. For instance, you will be able to set up authorized devices where Facebook won't ask for log-in codes. Similarly, there are options for Code Generators, Recovery Codes and Third-Party apps. We know, it can be a pain in the ass if you are in a place with no network coverage. But, even then, you can use the Recovery Codes for logging in. Altogether, this feature will protect your Facebook account like never before.
Choosing Trusted Contacts
Trusted Contacts are your effective solution if you lock yourself out from Facebook account. In case of some urgencies, 3-5 people can help you regain access to your account. In the same Settings tab, you can choose 3 to 5 people that you really trust. And, in case if you're not able to access your account, these people would send you a link. It's a superb way to overcome almost all types of difficulties.

#3. Optimize your Privacy Settings
In this age, privacy and security are quite interconnected. To prevent the misuse of your content and other types of data, you should optimize your Privacy settings. It's always recommended to restrict access to your friends and colleagues and refrain from giving access to the public.
To manage all these at once, you can go to Settings and choose Privacy from the sidebar. In the upcoming section, you have different options to control who sees your updates and other content. For instance, you'd be able to control who sees your future posts and who can see your friends list. There is also an option for limiting visibility of your older posts. It's cool if you don't want your current friends to meddle with updates from the past.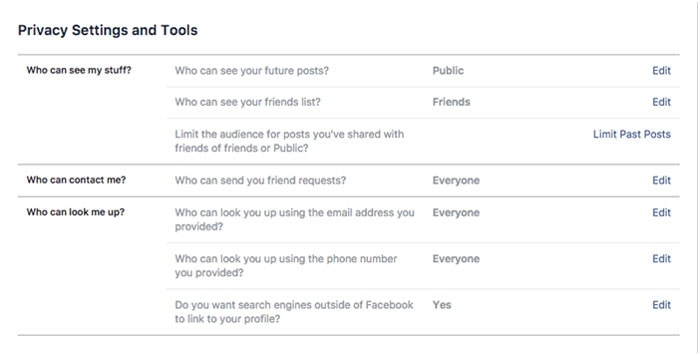 You can also decide who can contact you via Facebook, by sending requests. Other options include the access to the mobile number and email address you have provided. Last but not least, Facebook also lets you decide whether your profile would be listed by third-party search engines like Google. As you can see, all the three options have to deal with your level of convenience and level of exposure you need. If you want to be found via Google, you can simply enable them.
In all other cases, it's wise to keep your data to yourself. We hope you understand the point here.
#4. Be Careful While Using Third-Party Facebook Apps
You might be using a lot of third-party Facebook apps that have access to your data. Some apps just need a bunch of basic data while others ask for complete profile control. If you value your privacy and security, you should check the asked permissions before granting them. It's always recommended to disable public update unless you really trust the app. Similarly, don't share confidential data like email address or phone number unless you think they're necessary.
One thing we have noted is the presence of some seemingly-okay apps. For instance, there are some apps that let you find 'the best friend of yours'. Do you understand that these apps have full access to your friend's list? Similarly, each app has some privacy-breaching points. We understand that you can't completely stay out of those apps peer pressure, you know. So, at the least, be careful about what you are sharing with an app.
This can be quite helpful for your privacy, at least in the long run. Personally speaking, I don't use much of these fun apps, especially when I doubt their authenticity.
#5. Some General Yet Effective Security Tips
The steps we have covered above are quite dedicated. That is, if you don't pay attention to them, a Facebook account can be in trouble, within no time. For instance, privacy optimization and Two-Factor Authentication have become so common among security-conscious users out there. So, you can keep an eye on all the steps for your own betterment. Apart from those, however, there are some miscellaneous security tips that you'd find useful. We are listing some of the most effective ones so that you can have the best protection from all sorts of Facebook account hacking attacks.
Always make sure that you are browsing Facebook through a secure channel. That is, always look for an HTTPS sign, next to the URL bar.
Pay attention before you click on certain links and app messages. Some of them can be directing you to a phishing website, and thus cause a lot of issues.
Once in a while, check who has access to your posts, photos and everything. Unless necessary, it will be recommended to keep your updates restricted to your friends.
After using public computers, take a minute to log out of your Facebook account. Simply closing the browser window won't be enough if you had enabled 'Remember Me' option while logging in. Also, be sure that the browser won't save your password automatically.
Your system must be malware-free and there should not be any kind of spyware or adware. If that is the case, all of these precautions would go in vain.
Last but not least, educate yourself. Not all websites that have Facebook logo are Facebook. You have to check the URL before you submit your username or password. This is a common habit that can get you out of hacking attacks and other troubles.
These are seemingly simple, but you can see the awesome results so soon.
Wrapping Up – How to Secure Facebook Account from Hackers
Well, above, you have a brief yet comprehensive guide to secure Facebook account from hackers. We have also included some steps to enhance your privacy, which should now be included in the world of security. In the long run, however, these tips will surely help you protect your account from hacking accounts and more issues. You should also make sure that you follow the miscellaneous tips we'd covered in the last section. By the way, do you think we missed some effective tips? Do let us know through your comments.