Here are Facebook tips to enable you to use Facebook to your best advantage. Some of the Facebook tricks are standard and available if you look for them. However, many people do not take the time to learn all there is to know about Facebook, and if you need any of the services, functions or tricks and tips below they are presented for you to use.
1. Show Only One Name on your Facebook Account
Facebook normally requires your first and second names, and shows these as your account name. However, some people prefer only their first or second name to show, and there is a way to achieve this.
Click on this Proxy Link and you will find it set to Indonesia. Facebook allows Indonesians to register with just one name, since many in that country only have the one name. You will see a number of proxy IP addresses, of this is just a small part:

Change the proxy on your browser:
a) On Firefox go to Options -> Advanced -> Settings ->
b) On Chrome go to Settings -> Show Advanced Settings -> Network.
Under Network click to 'Change Proxy Settings' then click on LAN Settings to get this section:

Clock the box "use a proxy server . . . " then copy the proxy from the Indonesian IP Address and paste that into the relevant fields thus:
The IP address goes into 'Address field' and the Port number goes into the 'Port' field.
Click 'bypass proxy server. . .' then OK.
Now go to your Facebook Account 'Settings' and change the language to Bahasa Indonesia. Facebook now thinks you are Indonesia. Remove the last name on your Facebook name and Save. No go back and change your language to your original, e.g. English US. You will now have only your first name showing on your Facebook account and posts.
2. Connect to More than One Facebook Account at a Time (Chrome and Firefox Users)
Normally it is not possible to be logged into more than one Facebook account at a time. If you are using Chrome or Firefox, it is possible to create another user profile.
So: Go to Chrome -> Settings -> Users or People -> and click on 'Add New User' or 'Add Person' depending on your version of Chrome.
Choose a profile picture and add a name for the new 'user' or 'person'. Click 'Create' or 'Add' and a new window opens. You can then add a new name to use as a second user. Login to Facebook and you can create a second account using a second user thus: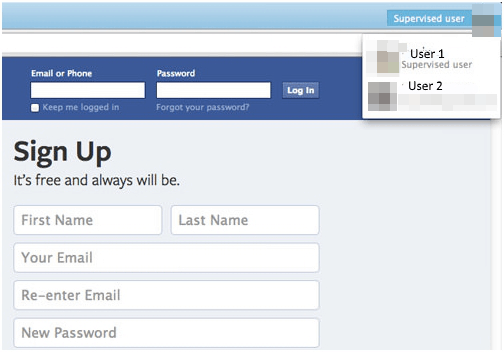 You can do the same using Firefox. When you login, you will see both users at the top right on Facebook and you can choose either. Login for each user and you have two users open on your account at the same time. Both of them you of course!
3. Make Your Profile Picture Part of Your Cover Image
Using this tip, you can come up some amazing profile images that are also part of your Facebook Cover photo. Go to Tricked Out Timeline to find out how you merge your profile and cover photo, take a section of your cover to be your profile picture or even zoom your profile picture up to create a cover.
Here's one example of what's possible: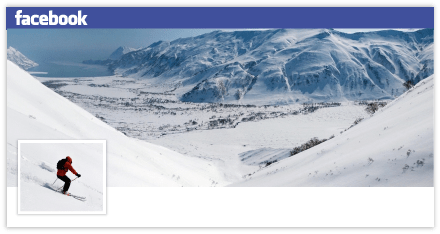 4. Sync Your Facebook Events with Your Google Calendar
If you use the Facebook Events feature you will know where to find it – click 'More' under your cover image and scroll down to 'Events'.  If you also use Google Calendar, then you will likely find it useful to sync your events into your Calendar. This is not difficult to do.
First, Login to Facebook, go to your 'Home' page (Not Timeline) and click on Events on the left hand side.  At the bottom right you will see links to 'Upcoming Events' and 'Birthdays'. Click on each to get a link address. Copy these.
Second, access your Google Calendar page and find 'Other Calendars'  on the left of the page. Click on the Down arrow button, and select 'Add by URL'. Paste the first link and click on 'Add Calendar'. Do the same with the other link and you have now synced the two calendars so that any new event added to Facebook will also be added to your Google Calendar.
5. How to Accept Multiple Friend Requests at Once
Sometimes Facebook users get a load of Friend requests over a short period of time. To deal with these one at a time can take a long time, but there is a way to accept them (if you want to) all at once. Here's how:
Go to your Friends Request Page and make sure all the requests are loaded. Scroll right down to the end of the page if you have a lot of them.
For Firefox: Ctrl+Shift+K
For Chrome: Ctrl+Shift+J
You must then copy a Java code to paste it in console section on this Friends requests page. This code is:
javascript:for( i = 1;i<document.getElementsByName("actions[accept]").length;i++){document.getElementsByName("actions[accept]")[i].click();}void(0);
Some browsers will remove the 'javascript:' automatically, so make sure you add this manually before proceeding.
Click on Enter and you should see that what you want to happen does happen!
6. How to Block Specified Friends from Seeing Your Status
When you share your status on your Facebook wall you may sometimes want to hide your post from certain members of your Friends list. Here is how to do this:
After creating your status or post, click on the Friends or Public button under the post (depends on how your Settings are configured).
You will get a drop-down menu that should read Friends, Public, Custom and More Options.
Click on 'More Options'
Now you get another drop down menu with several options: click on 'Custom' again.
You now get two windows – use the one titled "Don't Share with this" to add the names of the Friends you want blocked from seeing your post/status.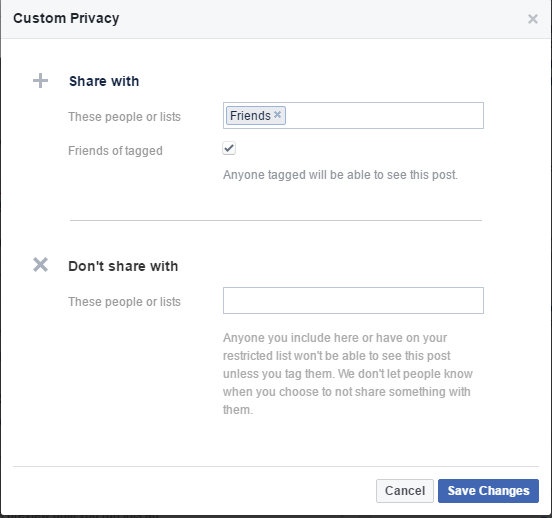 7. Login with Your User Name or Phone Number
You usually login with your email address and password. However, it is possible to also login with your username or phone number in place of your email address. Visit this link: FB User Name to find your Facebook username or create one.

8. Turn Off Sounds Associated with Facebook Notifications
Facebook notifications are not silent! They make a noise when they arrive, and you may want to remove that annoying sound if you tend to get a lot of notifications, particularly if you have a young sleeping baby in the house. It's easy to turn them off – the sounds, not the notifications – and here's how.
Click on the top right down arrow and go to Settings.
Click on Notifications on the left-hand menu.
You can now see a menu such as this:

The top Facebook option might read differently according to which sounds are on and off. Irrespective, click on that 'On Facebook' link and you get something like this:

You change both to OFF or to ON or have one OFF and one ON by clicking on the relevant buttons.
9. Prevent Facebook from Tracking You
Facebook can track your browsing history on your main site, or on those sites that use Facebook Connect. This tracking can then be followed by Facebook giving you adverts that are related to what you have recently been browsing!
If you use the Google Chrome browser, you can stop this by going to the Google Chrome Webstore and searching for Facebook Disconnect. If you're a Firefox user then add-on is there for Firefox.  Follow the simple instructions that come with the app and you will have stopped Facebook from being able to track your browsing.
10. Display Animated Gifs on Your Facebook Status Update
It is easy to display animated Gifs with a play button on a status update.  Simply go to giphy.com and you will a huge selection of Gifs to choose from.  Pick the one you want to post and simply share it like any other Facebook Update.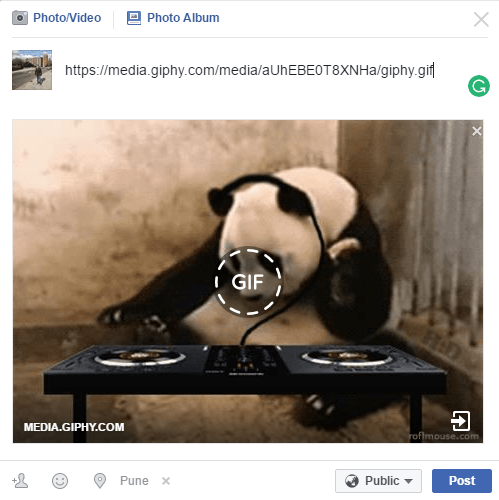 11. How to Create a Fake Facebook Status Conversation
It is possible to create a fake Facebook conversation using The Wall Machine. Check this one out: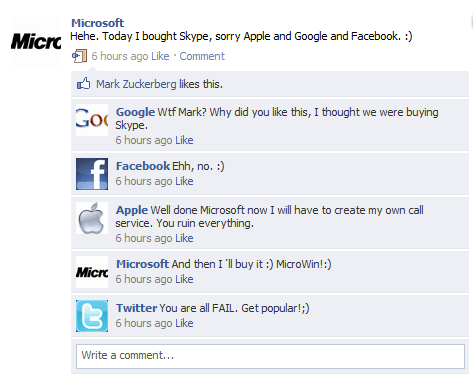 You can create your own conversation; Stalin with Hitler, Obama with Cameron – whatever you like using The Wall Machine. You can forge Comments, Likes, Statuses, Event Attendance and so on using this service. Go to The Wall Machine for full instructions.
12. How to Blur Profile Pictures and Names on a Shared Status
Sometimes you may want to blur out the name and profile picture of a shared status. If you are using Chrome as your browser, there is a software app that can do this for you: Status Snapper. Once downloaded and activated, go to Facebook and you will see a square icon to the right of the address bar of your window.
When you are checking out your feed and see a post you want to share, then click on that icon in the URL address bar. You will then see icons with the word SNAP attached to each status or post. Click on that related to the status you want to share, and the Image and Name will be blurred so the original source of the status cannot be identified.
13. Download Your Facebook History or Recover Deleted Messages/Media
Facebook users often lose important messages, videos and other media they would desperately like to recover. Here is how you can achieve that.
a) Click the top right down arrow and click on Settings -> General
b) Click on "Download a Copy of Your Facebook Data" then enter your FB password when requested.
c) You will now be sent a 'verification' email – access that and click the verification link it will contain. Your data will now be compiled and delivered to your email address.
d) Download the file in the link and unzip it. You then have all your old and latest data.

14. Maintain Quality When Downloading Images From Facebook
If you want to save images directly from Facebook, you tend to lose quality, particularly of gif images. You can maintain the original image quality by using the following steps:
a) Open the image you want to download
b) Click on 'Options'
c) Click the 'Download' button.
The image will then be downloaded in the same quality as the original.
15. Stop Getting Games and App Requests
You often get annoying notifications for games and apps on Facebook. They can be very irritating, yet most people don't know how to stop them coming. It is actually very simple to do. Here's how:
From your Facebook account click the top right small down arrow. Then click on Settings -> Notifications -> Edit against 'App Requests and Activity.'
Now, Deselect the apps and games that you no longer want notifications about then click 'Close'. You will now not receive notifications about the apps and games you have deselected.
16. How to Prank Your Friends
It is easy to prank your friends on Facebook if you know how. There are many pranks you can carry out on Facebook, but an interesting one is when they click a link that redirects then to their own Status page. Use this link with the message: https://www.facebook.com/profile.php?=73322363
For example: I have found a great source for free advice on using Facebook to make money. Click this link to find it: https://www.facebook.com/profile.php?=73322363
Use your own message. Try it yourself and you will find it leads to your own Facebook page. You can use any catchy or interesting message you want that will make the recipient click the link.
17. Increase Photo Size by Hovering
If you are using Google Chrome as your browser, there is an extension available that zooms the size of Facebook timeline photos and thumbnails by hovering the cursor over them. Get Photo Zoom for Facebook here. If you are using Firefox, you can get that plus a lot more on Social Fixer for Facebook.
18. Download Facebook Videos to Your Computer
One of the issues with videos on Facebook is that there is no way to download the videos you like to your computer. Here is a good free software application that makes that very easy to achieve. Check out this great site that enables you to paste the video URL into a box to download it: http://www.fbdown.net/

19. Turn Off Chat for Selected People
You may occasionally have the need to turn off Chat for selected people. There can be a number of reasons for this, and Facebook recognizes that by permitting you to so. Many people are unaware of this feature, so here's how to use it.
a) Open the chat box of the friend in question – do this by clicking their name in your chat box.
b) Click the gear wheel Settings icon.
c) Click to turn off chat for that person:

As you can see, you can also delete a specific conversation from chat history or even report specific messages as being spam or abusive. It pays to check the 'settings' icon on any of Facebook's features, because they often provide options you didn't realize were available.
20. Turn off Birthday and Other Notifications
If you get annoyed with notifications such as birthday notifications, and notifications about past memories or posts, then Facebook enables you to turn these off. To do this click on the top right down arrow, then click on Settings then Notifications. You get a page like this: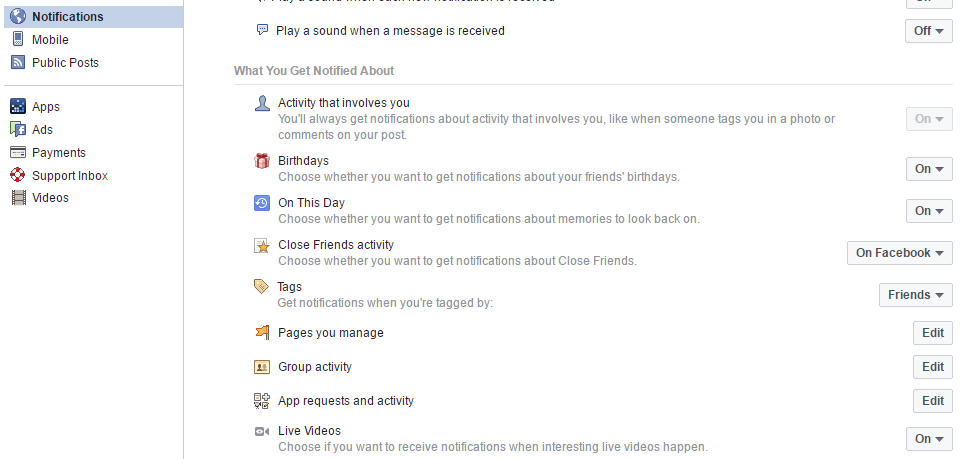 You can then turn off such notifications by clicking the appropriate link.
21. Turn off Automatic Playing of Videos
Many find it intensely annoying when videos automatically play whether you want them to or not. All need to do is click the top right down arrow -> Settings -> Videos and get these options:

Click the appropriate option to change the auto-play function on Facebook. Note: you can also change the video quality from this page.
24. Update Your Facebook Status from a Cell Phone
It is possible to update your status using a mobile cell phone. Simply press the top left down arrow -> Settings -> Mobile and you will see this screen or something similar: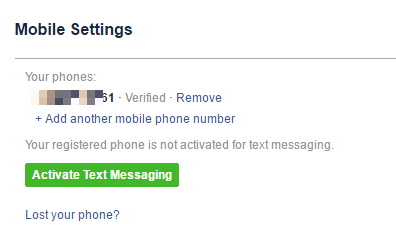 If you have not yet registered your phone number then do so here. Press the green button to activate text messaging and you will sent an activation code. When you receive that, enter it into the box provided to the right of the above image:

You will now be able to update your Facebook status by sending a text message to your FB account.
25. Facebook Keyboard Shortcuts
Like many other social media sites, Facebook offers users a list of keyboard shortcuts to make life a lot easier. Each type of computer: PC and Mac, has its own shortcuts, and they also change according to the browser you are using.
Here are the options for each. We are using the hash # in place of the shortcut keyboard key. Simply replace # with the Keyboard keys given. For example, on a PC using Firefox you would enter Shift + Alt + 0 for Facebook Help, while on a Macbook with Firefox it would be Ctrl + Opt + 0.
Here are the relevant lists:
Internet Explorer for PC: Alt + #, then Enter
Firefox for PC: Shift + Alt + #
Safari for Mac: Ctrl + Opt + #
Firefox for Mac: Ctrl + Opt + #
Chrome for Mac: Ctrl + Opt + #
Chrome for PC: Alt + #
Keyboard Keys:
0 – Help
1 – Home
2 – Timeline
3 – Friends
4 – Inbox
5 – Notifications
6 – Settings
7 – Activity Log
8 – About
9 – Terms
Keyboard Shortcuts
News Feed
j and k – Scroll between News Feed stories
enter/return – See more of the selected story
p – Post a new status
l – Like or unlike the selected story
c – Comment on the selected story
s – Share the selected story
o – Open an attachment from the selected story
/ – Search
q – Search chat contacts
? – Open a list of these keyboard shortcuts while in News Feed
Web Messenger:
CTRL + g – Search conversations
CTRL + q – Show/hide keyboard shortcuts
CTRL + Delete – Archive/unarchive conversation
CTRL + j – Mark as spam
CTRL + m – Start a new message
CTRL + i – Go to Inbox
CTRL + u – Go to Other
Here are some other options for a Mac using Chrome:
Ctrl + Opt + m – New Message
c – Comment on a story in News Feed
j and k – Scroll between News Feed stories
i – Like or unlike a selected story
q – Search for a friend to chat with
p – Focus on the text box when making a post
/ – Search
Ctrl + g – Search conversations
Ctrl + q – Show/hide keyboard shortcuts
Ctrl + Delete – Archive/unarchive conversations
Ctrl + c – Mark as spam
Ctrl + c – Start a new message
Ctrl + i – Go to inbox
Ctrl + u – Go to other
Finally:
Finally, just a quick tip about nicknames. Facebook generally doesn't let you use a nickname, but if you go to Settings -> General and click on Name you get to add other names – use your nickname, click to have it show on your profile and your nickname will appear alongside your real name on your profile. So friends who know you by your nickname will be able to identify you.