We talk a lot about controlling your PC or other devices using Android smartphones or tablets by means of some productive applications. However, have you ever thought about controlling your smartphone using your PC? Let us first tell you how this feature can be useful to you.
Suppose if you are busy with some important works but also want to check SMS from your friends or dear ones, then you can try accessing your smartphone via PC so that you can do both things together. As you do in all cases, Android applications are there for your help. You can use the apps that are listed below to control your Android device at different extends of use. Keep it in mind that you can use this for bringing Android exclusive applications and features to PC, though they could not bring native property.
MightyText
MightyText is a free Android Application available for both Android and Desktop (Precisely, it's a web interface, created via browser extensions). This Application is made for sending SMS and MMS messages from your Smartphone using your PC. In addition, the application also allows you to get alerts when the battery level is low, Smartphone notifications in PC, attend calls via PC, etc other than just messaging. For using this service, you should have a computer, where Google Chrome or Mozilla Firefox or Internet Explorer installed and an Android Smartphone running on v3.1 or later. We must say MightyText is a truly practical application.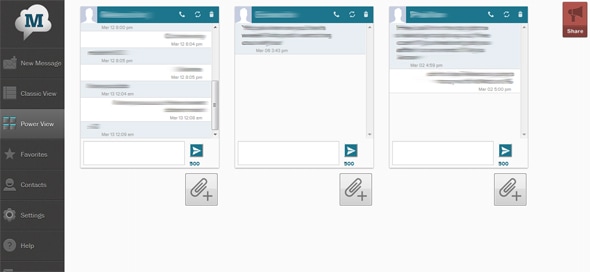 You have to install the extension in your Web Browser to use this service as well as the MightyText Application in your Android device. In the Android Application screen, you will have to sign in using your Google Account and the application will start running background. From the next moment you have set up the Application in your browser, both of these interfaces will start working through a wireless connection. Using the application, you can browse your SMS messages in two modes.
Classic: You can select a specific conversation and listen to the updates made.
Power: You can see your all conversations in a grid-like interface.
When a new message is received on the phone, you will get a pop-up notification on your PC. You can easily reply to SMS messages by typing the text and hitting the 'send' button. If you want MMS to your friends, you can also attach files to it. Using the web interface is quite simple and is available for Google Chrome, Mozilla Firefox and Internet Explorer. A dedicated Web Application for tablets is also available so that you can be updated to SMS messages on your Smartphone while you are working on your iPad, Android Tablet or Kindle Fire.
3CX Remote Android Desktop
3CX Remote Desktop is a free Android application available for devices running on v2.2.3 or earlier. Suppose you have forgotten to take your phone from home but need to get important data from it, then 3CX Remote Desktop is a better choice for you rather than MightyText. Just as you did in MightyText, you have to install an application in your preferred Android device. This application will also start working background and will provide an IP address. You have to enter that IP address into your web browser, which will lead you to a clean web interface.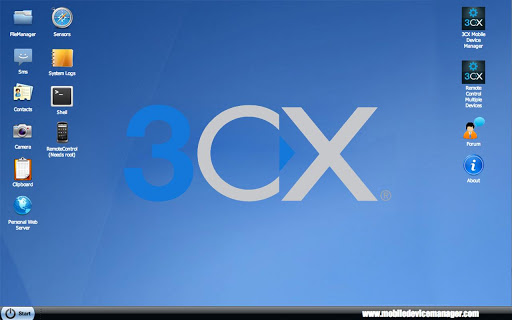 The web interface may look like a clean Linux based desktop screen and you are ready to control your Android device via your computer. As specified earlier, you can control various things in your smartphone such as SMS Message management, Phone Contacts, Camera, Responding to calls, pop-up notifications, File Management, A Private Web Server, and sensors as well. There is also a feature to remotely control your Android device only if you have a rooted device. Even if you are not able to use a wireless connection, you can use the USB interface of 3CX Remote Android Desktop.
AirDroid
AirDroid is a combined cum beautiful solution for controlling your Android device via desktop. We would have to say that AirDroid enables complete control in your device when compared to the rest. Like the former ones, AirDroid needs you to install the application on a device as well as using the web-based interface for remote control. Once you have installed the application, you will be getting a web address or IP address. In the address, you can see a desktop with many options. You need an AirDroid account, which will be used for login purposes in both PC and Android devices.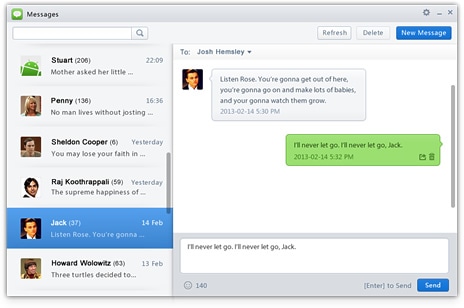 Unlike the former Applications, AirDroid offers a compact control of SMS Messages along with the threaded view. You can transfer your files in between PC and Smartphone even without a USB connection. Using this application, you can manage applications installed in the device, attend voice calls, find your phone if you have lost it and even get the camera and clipboard access. Therefore, at any angle of view, AirDroid will be ranked first on this list. Of course, the feature to find lost phone and file transfer is very useful even though it is made for just remote access.
Conclusion
Although there are several apps offering these features individually, these apps seem to be best since they offer a bunch of useful features in the single package. Which one is your favorite? Do let us know via comments.