There is a new upcoming trend of light and fast applications for Android devices. A lot of major companies are releasing feature stripped, barebones, but fast and snappy "lite" versions of their applications. These applications offer a great middle ground between features and functionality and are a good way to go, for speeding up your aging device.
10 Best Low Storage Apps for Android
Table of Contents
What are Lite Apps?
Light and barebones "lite" applications were initially developed geared towards the developing markets. Companies like Google, Facebook and Microsoft wanted their users to experience their services, and yet not be limited by their data plan or their phone's performance. Not to be confused with the so-called "lite" apps which are essentially website wrappers, these are full-fledged native applications, designed ground up to be tiny and eat fewer data. Some of these are under one megabyte in size and can speed up your device exponentially.
Why should you use these Low Storage Apps?
Even though these applications were designed for the older phone, or for less robust cellular networks (even 2G or 3G networks), they still offer a great value proposition to the general user. Mostly, these apps are created by omitting the extra fluff and ridiculous features that most people do not even require. The chances are, you, as a regular user, might not need Facebook stories, or theme support in Skype, or advertisements on web pages, but well, you still get them in the full app. If you have an older Android device or reside in an area with poor network connectivity, these apps can inject new life into your user experience, without spending money on a new phone.
10 Best Lite Apps for Android to Save Storage Space
Facebook Lite
Who doesn't know what Facebook is? Heck, who does not use Facebook? Facebook represents the quintessential "social media" experience in most of our lives.
Over time, the Facebook application has gotten really bloated and resource hungry, and here is exactly where Facebook Lite comes in. The full Facebook app can eat up as much as 200+ MB of storage, while Facebook Lite comes in around just 3 MB.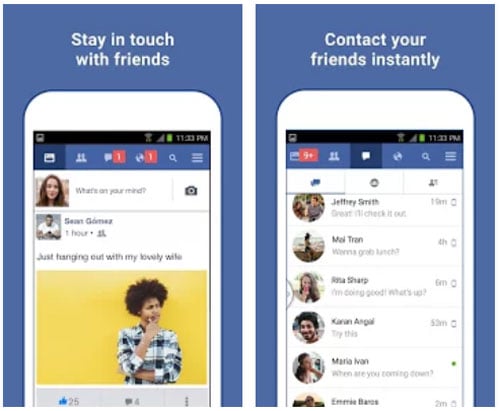 Facebook Lite contains all the essentials of Facebook, including posts, groups, messages, reactions, tags, photo and video support and it also includes push notification support. You won't be able to use some features like Facebook Live and Facebook Stories, but for everything else, you're good to go.
It is rated 4.3 out of 5 and has amassed over 500 million downloads on the Google Play Store.
Messenger Lite
Similar to Facebook Lite, Facebook has also released a light and zippy version of their Messenger platform.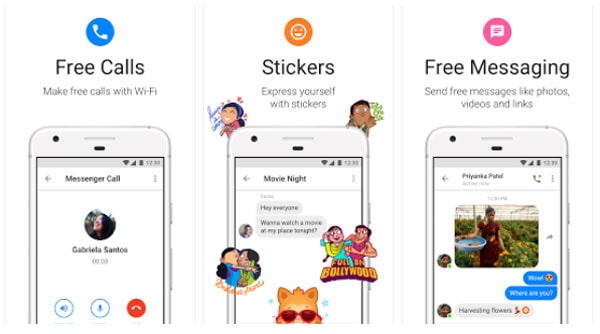 It supports all the basics, including chats, group messaging, voice calls, stickers, emojis and push notifications. You do miss out on video calls, chat heads and messenger day, but that is a small loss, considering that Messenger Lite is barely 1/5th the size of the full messenger application.
It is rated 4.4 out of 5 and has amassed over 100 million downloads on the Google Play Store.
Opera Mini
The next big "light" app in our list comes from the browser company Opera. Opera Mini is possibly the first application to create the lightweight app trend. Opera Mini has existed since the time of Nokia feature phones and has grown to occupy a fond place in our hearts.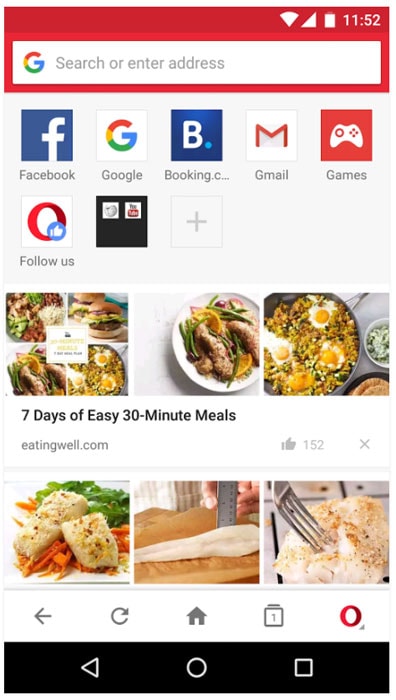 As the lighter brother to the full Opera browser, Opera Mini offers a comprehensive set of features, including data saving, ad blocking, and video boost features. It is designed to navigate the world wide web with limited data connectivity in mind.
It is rated 4.4 out of 5 and has amassed over 100 million downloads on the Google Play Store.
Google Go
This one comes straight from the creators of Android themselves. Google Go, simply put, is a lighter version of the Google search app. A new entrant to the lite app bandwagon, Google is pushing their Go services towards the new Oreo Go platform for low powered budget Android phones.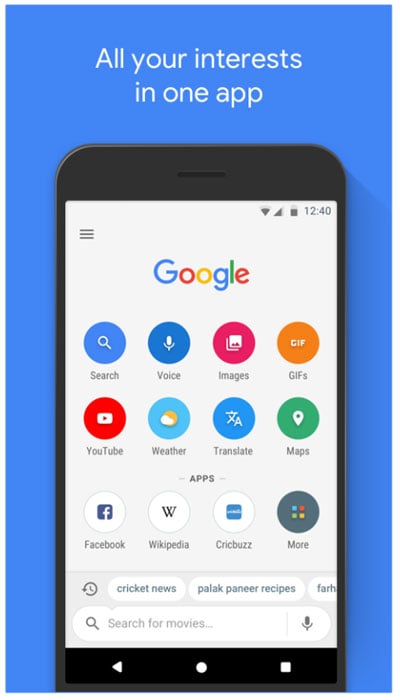 However, unlike most of the applications in this list, Google Go makes a significant compromise in its feature set, by totally eliminating the Google Now feed. This reduces its functionality to just searching the internet, quick links to your favorite services, weather, translator and so on.
Still, its quite capable of what it promises to do, and as such, it gets a big recommendation from us.
It is rated 4.6 out of 5 and has amassed over 500 thousand downloads on the Google Play Store.
Skype Lite
There are a lot of great video chat platforms out there, but the first one to come to mind has always been Skype. Now owned by Microsoft, Skype is THE video calling app.
Skype Lite is a recent entrant, and it's surprisingly full. It supports high-resolution video conferencing and voice calling, instant messaging, SMS integration and even a data monitor and data saver.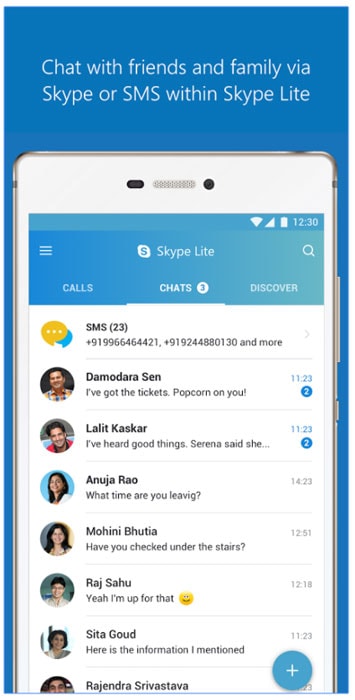 It is rated 4.2 out of 5 and has amassed over 5 million downloads on the Google Play Store.
Twitter Lite
Twitter Lite is one of the unknown applications on this list. It is essentially a repacked version of their brand new website, and the result is a sleek and feature loaded Twitter experience without having to deal with the weight of the full app.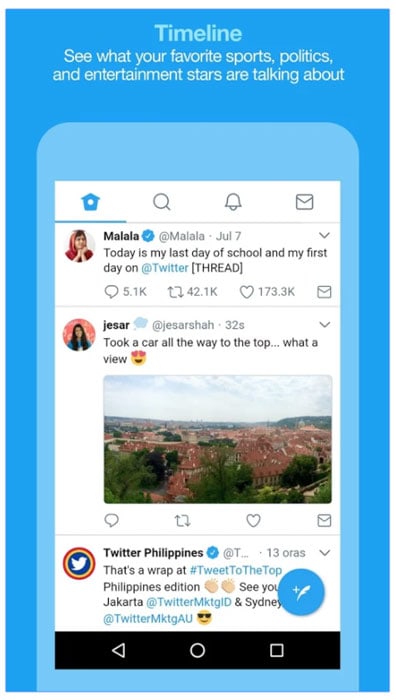 It supports every major action on Twitter, including Tweets, Retweets, Video and Image shares, push notification, direct messages. Basically everything you can find yourself doing on Twitter, you can do it in Twitter Lite as well. And it will save your data as well.
It is rated 4.2 out of 5 and has amassed over 100 thousand downloads on the Google Play Store.
Shazam Lite
Shazam is a favorite among music lovers. I mean, what's not to like about an application which can tell you what music is playing. Believe me, most people have been in the situation when they hear a killer track in a restaurant or at a party, and they want to know what it is. Shazam solved an essential thing which people wanted, and they deserved the praise they get.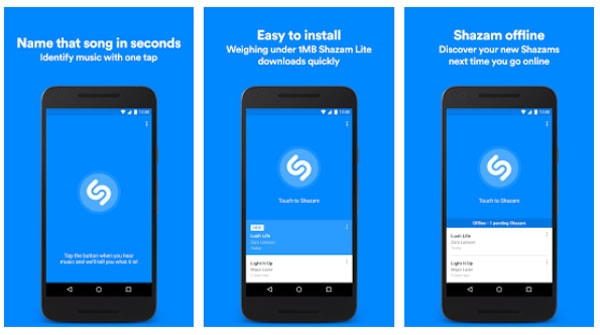 Shazam Lite weighs less than a megabyte and does exactly the bare minimum. It can recognize your songs for you, that is it. Open the app, press the big Shazam logo and ta-da. It also has an offline mode, which can store recordings while you do not have connectivity, and identify the songs later.
It is rated 4.4 out of 5 and has amassed over 100 thousand downloads on the Google Play Store.
YouTube Go
Another entrant from Google's Go lineup of apps is YouTube Go. Designed with low data usage in mind, YouTube Go is the answer if you find the full YouTube experience to be a bit bloated and slow.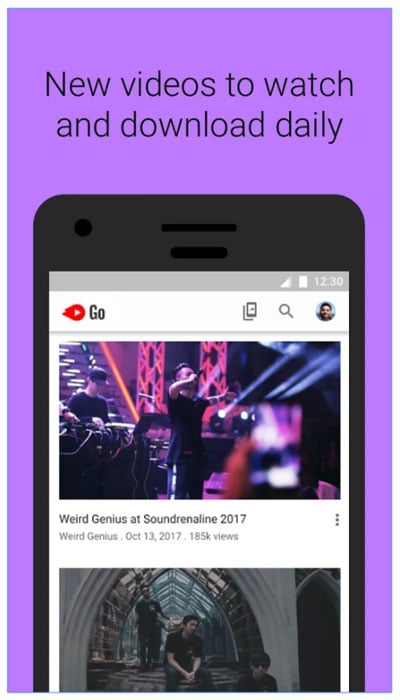 YouTube Go is one of the better examples of how a lite app should be. Its super fast, designed exquisitely and allows exactly what it promises. Users can view videos, download them for later watching, and can even share the videos offline to other YouTube Go users. However, one of the things we sorely miss is the personalized feed from our YouTube accounts. YouTube Go only shows a list of popular videos based on your region, not your own preferences or subscriptions. It also misses on the subscription and comments features.
It is rated 4.4 out of 5 and has amassed over 10 million downloads on the Google Play Store.
Files Go
This is yet another of Google's new app lineup. Files Go is a storage manager, cleaner and file sharing solution right from the elephant of the Android world, Google themselves.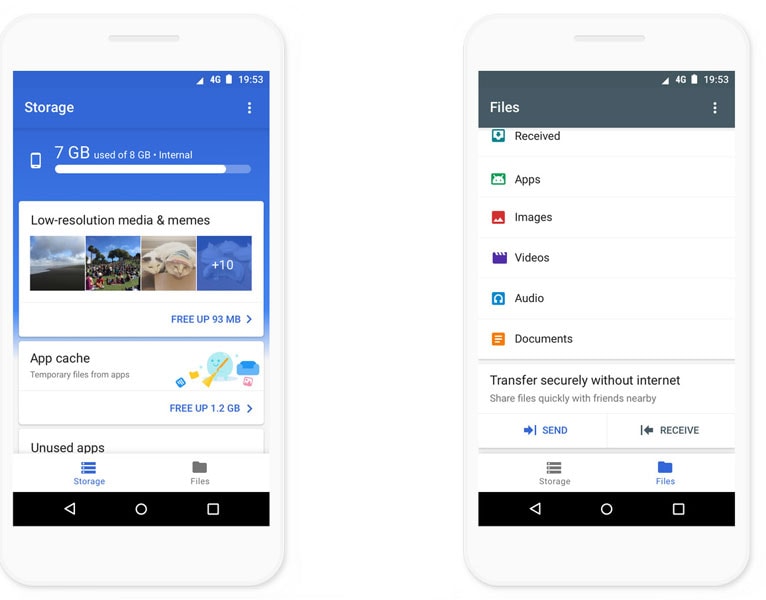 Designed for low powered Android Oreo Go devices, but available to any phone, Files Go is a storage manager, which allows users to analyze their files, clean up residuals and big files, and share files over Wi-Fi to other users. It supports cloud backups to Google Drive, OneDrive and DropBox. and encrypted file sharing and the app is completely ad-free. The whole app comes in under 5 MB of storage and is a good alternative to applications like Share It and Xender.
It is rated 4.6 out of 5 and has amassed over 10 million downloads on the Google Play Store.
Focus Go
The last app on our list is a lightweight picture viewer and gallery app. Focus  Go is developed by Francisco Franco of Franco Kernel fame. People who tweak their devices and spend their time on XDA forums will be familiar with the developer.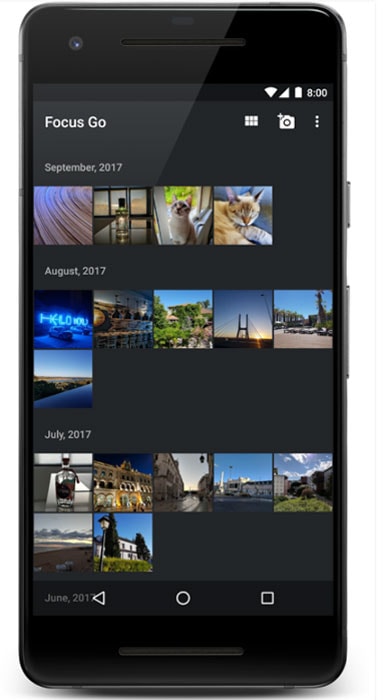 Focus Go brings Gallery apps back to the basics. Gallery apps should be a simple canvas to show off your pictures. That is exactly what this app does. It lists your pictures in a chronological order, you click a picture, it shows up. That's all it does, and it works perfectly. The cherry on the cake is the tiny 1.4 MB size of the app.
It is currently unreleased, so it doesn't carry a rating yet. It has amassed over 50 thousand downloads on the Google Play Store.
Conclusion – Low Storage Apps for Android.
That was a list of the best low storage apps for Android. These applications waste less storage, eat fewer data and use less processing power. Your phone will thank you for that and will run faster and last longer.
To pique your interest further, why not check out some must-have Android apps too?
Hopefully, more and more applications will follow the lean and mean path soon. With better-optimized apps, it's a start towards a more optimized Android operating system in general.
Let us know if you have any questions or suggestions. And don't forget to list your favorite applications in the comments below.