Android is a ubiquitous operating system used on everything from phones to smartwatches to refrigerators, cars and any other device you can imagine. It's open nature promotes enterprises and enthusiasts to build unique experiences on top of it. A good example that illustrates this would be the custom ROM ecosystem. The community is so active around this that even devices like the Nexus 4 have still recieved the latest edition of Android via a Custom ROM.
Every major company hosts an annual conference where they showcase what they've been working on in terms of upgrades to their products. In 2017 Google took stage at I/O to talk about all of the great new features that are coming to the Android platform. They did release a beta before the conference but that was just a quick glimpse at what was in store for the users. Over the course of several months Android 8.0 was refined and it finally manifested into what we know as Android Oreo. Oreo focuses on security and reliability and builds on top of everything Android 7.0 Nougat had to offer.
In this article, we'll take a look at what's new in android 8 has to offer. So without wasting any time, let's get started with the list.
Android Oreo Features
Table of Contents
1. New Quick Settings Design
Quick Settings are one of the most used UI element on Android. It quickly gives users access to the most used toggles on your Android device. In Android Oreo, the Quick Settings section has a new design unlike previous versions of Android which had a darker notification shade and Quick Settings section, Android Oreo opts in for a more lighter look. The shade is now white and light gray compared to the dark gray counterpart available on older Android versions. This is probably the most significant UI change in Android Oreo but it has been received with mixed feelings. Let us know in the comments if you like the look.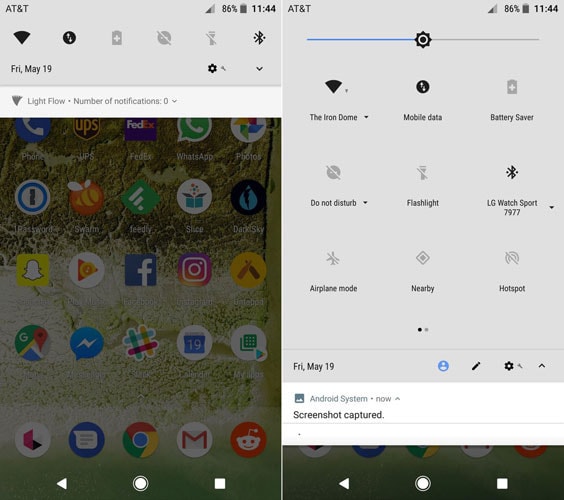 2. New Settings App
Android Nougat introduced a navigation drawer in the Settings app for allowing users to jump from one section to another without an inconvenience of an extra tap. Android Oreo ditches that change and rolls back to the standard Settings app without a navigation drawer. Instead, Google has redone the subsections to be more informative. The individual setting sections now provide a quick overview about the toggle and other handy information. You can see this redesign in multiple places but probably the most prominent one would be the battery section. It now has helpful information like time of last charge and time remaining right on top to allow for a quick glance. Over all, not much has changed radically in here.
3. New Easter Egg
One of the most anticipated pieces of any Android release happens to be the easter egg. It's a tiny little feature hidden inside the about section of the Settings app. Sometimes it's a game and some times it's just a banner. Like all its predecessors Android Oreo also comes with a new easter egg. Head over to the Settings app and scroll down to about. Then tap on the Android Version a bunch of times to be greeted with a giant material design O. Tapping on it further would launch the actual easter egg, the octopus. It's an Android Octopus which you can play with by dragging it around. That's it. Nothing too exciting going for it here. Although since the name was chosen was Oreo I expected it to bring in some sweet Cadbury goodness into the easter egg.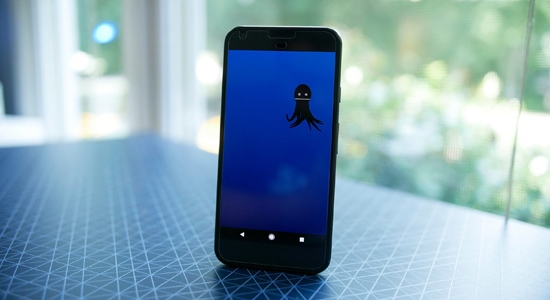 4. New Notifications Shade
Along with the Quick Settings panel, the notifications shade has also received a redesign. The color is again similar to the quick settings section but what's changed here is the way actual notifications show up here. There's a slick new animation whenever a bunch of notifications has arrived and you bring the shade down. It's hard to explain it in the text but the change is pretty subtle. Persistent notifications like the one you receive in Google Maps navigation have also received a redesigned. They're now smaller and a tad bit darker than other notifications to set them apart. Media notifications from apps like Google Play Music now have a more colorful background, picking up from the most prominent color in the album art and it looks pretty sweet.
5. Notification Dots
Notifications are one of the most key things that tie the Android framework together. It allows users to be informed about the activity that's ongoing in their apps. With Android Oreo, notifications have a new way of surfacing themselves. It's in the form of dots on app icons. Nougat introduced app shortcuts for app icons and Oreo is adding new capabilities to that features with Android Oreo you'll be able to see the exact content of notifications by tapping on the app icons. It almost feels like it was created as an answer to 3D touch on iPhones.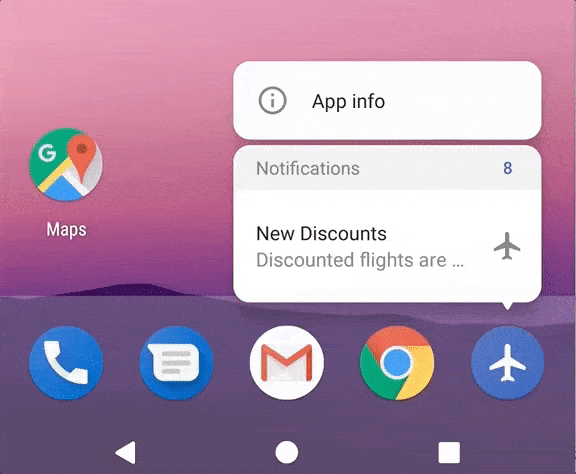 6. Rescue Party
This particular feature has been uncovered only recent. Sometimes due to a faulty updates process or due to flashing an incorrect file, the device enters a boot loop where it is unable to boot into the OS and you're stuck at the loading screen. This is actually more common than you'd expect. There's been an entire lawsuit around this issue on the Nexus 6P. In order to make it less painful, Android Oreo comes with a feature called rescue party which will force a boot looping device to enter recovery mode so that a user can factory reset the device and get the phone back to a working state. According to Google, Rescue Party won't require any additional hardware support from OEMs and they'll still have the option to disable this. But by default, it will be enabled on all Android Oreo running devices. This is going to save a lot of people from the trouble of actually sending in their devices for repair simply because of a software flaw.
7. Picture in Picture
Android Nougat introduced multi window so that you can use 2 apps at once by essentially splitting your screen. Android Oreo adds an extra layer of icing to the cake with Picture In Picture. With Picture in Picture, a video playback app or a video calling app can continue playback on a small section of the screen in a floating window while allowing you to still use your device normally. This will allow you to browse the web while you're listening to the live concert of your favorite band or video chatting with your mate. If you want to take it to a whole different level just use Picture in Picture with multi window mode for a truly productive experience (sarcasm).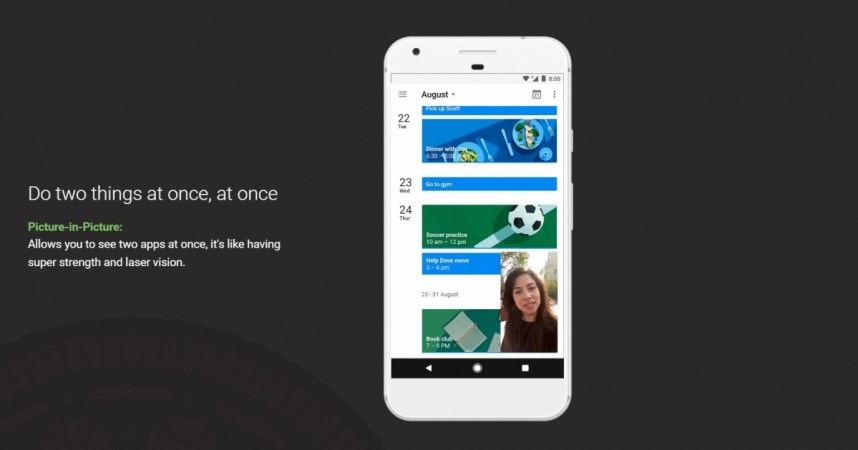 8. Background Limits
On earlier versions of Android, apps could freely linger around in the background, killing the battery and consuming network resources. With Android Oreo, there's a strict limit to background tasks. Apps will only have a small window to exist as a background process before they're killed. In that window, they must make their background services a foreground service along with a persistent notification to inform users that something is going on in the background. Apps like Facebook can no longer keep running in the background, hogging away resources and power. This has been designed to improve the battery health of Android devices which have inherently been inferior to their iOS counterpart.
 Conclusion – Android Oreo Features
There are way more oreo android features that are mostly enhancements under the hood and minor changes which aren't worth covering. Overall, Android Oreo is truly a mature operating system and does end up adding some really useful enhancements to the Android platform. Android has been around for so many years now that it doesn't really need to make a lot of noise or pack in gimmicks to prove it's point and Oreo lives up to this statement. With most enhancements being internal to the system to allow for a more stable overall experience, Oreo is definitely the best Android version so far.