We are very well aware of the reaching heights of Android technology. On an average a smartphone must undeniably work for almost a day or more. This is not the case with Android OS based phones; just a major issue which is a kind of black hole on the brand is the battery. Many Android experts have made it their goal to find the best way to conserve the phone's battery. Presently, what the Android users can do is: trim down and get rid of the stuffs that are all together posing threat to the battery life. Traverse through the tips below and do apply it today itself!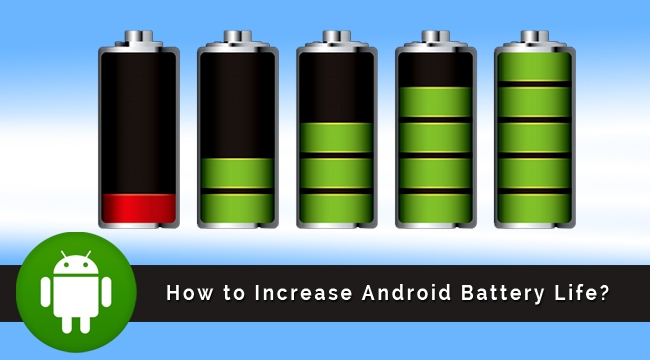 1. Utilize the Built-in Battery Usage Feature
Not all of you may be aware about a feature in Android phones that displays the apps that cause the battery drain. Move into Settings -> About Device/Phone -> Battery usage to see what exactly has been killing your battery life. You can monitor the battery level using a simple at-a-glance meter e.g. Battery Notifier.
2. Adjust the Backlight
After observing the Battery usage screen, you will realize the backlight of the screen to be the biggest offender. Go for Settings -> Display -> Brightness, you can either choose to adjust the brightness automatically or you can just turn it down to the lowest acceptable level. Also, you should make sure that the screen timeout is set to the least possible value. On the other way, keep a habit of reducing the brightness of your phone whenever indoors as too much brightness in a dark surrounding negatively affects the eyes too. Better opt for an app, provided by latest versions of Android, to further low down the brightness level beyond the system's lowest that could be tolerably low enough.
3. Turn off Wi-Fi When Not in Facilitation
Facilitating a speedy flow of access to data, the enabled Wi-Fi will try and scan for a wireless network even though you may not need it. You can easily switch the Wi-Fi on or off with the built-in widget or shortcut. Instead of always turning the Wi-Fi on or off, the best option to quickly get rid of this is to enable Airplane/Flight mode for which you need to head into Settings -> Wireless and networks -> Airplane mode. Also, you can toggle this with a long press of the power button. Switching to this mode will automatically disable the Wi-Fi.
4. Power Control
The recent Android versions includes a built-in Power Widget that can easily switch the common settings on or off by simply long pressing on the background of one of your screens. Then, choose Widget -> Power Control to add it to the screen. This handy widget enables you to turn on or off Wi-Fi, Bluetooth, GPS, and Sync with the touch of a single button. It also enables to you reduce the brightness of your screen. Some of the new 4G phones offer a 4G toggle switch to turn off the power-hungry 4G antenna. It's better to have it turned off until it start consuming tons of data. This one is a preferable way out there instead of always heading to the settings and tuning each and every sub-setting.
5. Disable Bluetooth If Not in Use
Enable the Bluetooth only when in use. It's useless to have Bluetooth running all the time when the wireless headset is not in use or when you are not engaged in sharing any files with other phones. You can turn on/off the Bluetooth by getting into the Setting menu or by simply using the power widget.
6. Diminish Data Usage
The first and foremost suggestion is to use Wi-Fi instead of packet data (3G) to surf internet whenever it is possible. As it is well-known that 3G mode eats up more battery, thus, if not needed, turning to 2G will indeed save you some battery life. For this purpose, go to Settings -> Wireless and networks -> Mobile Networks -> Network Mode and choose GSM only. In case you are using 3G mode, opt for a shortcut type widget (e.g. the 'Data Enabler Widget') to quickly toggle 3G & Packet Data connectivity. Use APNDroid to kill your entire data connection when you don't need it. It'll disable the data but still allow regular calls and SMS.
7. Moderate Widget Usage
Widget displays the information you need right on your home screen. On its negative side, it does drain power most especially if it uses data from the web. However, checking the information using the main app won't make any loss to you. Moreover, the multiple home pages (especially with various Widgets added) consumes in more power since they pull down data in the background all the time. You must remove the ones you don't actually need. When there is a choice, always select light-weight and shortcut type widgets. Look for the in-built 'Program Monitor' widget doesn't consume battery life itself and helps monitoring the running apps.
SEE ALSO: 9 Ways to Improve the Performance of Android Tablet »
8. Manage Sync
Disabling auto-sync even can greatly contribute in extending the battery life. Managing the account sync manually is a much better option. Many social apps like Facebook and Twitter let themselves into your auto-sync preferences. Another way to save some power is to make your built-in mail app check less frequently. Checking for new messages every 15 to 30 minutes makes it power hungry. Let it get manually updated or increase the time. The built-in Email application (not the Gmail that uses Push technology) can suck the battery in huge amount because it syncs on a too-regular basis, especially when you have lots of accounts. The same thing holds true for other accounts, like Twitter clients, which are even less important to update all the time. The Facebook application polls automatically in the background and you can customize the refresh interval for that as well. From the main Facebook screen—the one with the icons—head into Settings –> Refresh interval from the menu.
9. Turn Down the GPS Location
GPS is considered to be one of the biggest battery sucking features of android phones. Moreover, a lot of other applications use the GPS as well. You can change the GPS to use wireless networks and uncheck the option for use GPS satellites which will make it work a little less accurate, but will undoubtedly save the battery. Additionally, you should turn off the geolocation features in your Twitter client, weather application, etc.
10. Task Managers
You must always focus on killing CPU-hungry apps instead of those that are just idle in your RAM. The task manager in your phone rather displays the RAM usage than the actual CPU usage. The one like Watchdog Task Manager (Lite) alerts you when an app goes above a certain amount of CPU cycles so that you can get rid of it. However, using a Task Manager aids you to see what exactly is running repeatedly in the background. Setup an auto-kill list for applications you don't use. You can also configure advanced task manager to show you CPU usage for each app, which is a more useful meter than memory usage when it comes to battery life.
11. Multitasking
Multitasking is one of the striking features in Android phones. Each application takes up some amount of power depending on its function. Keep a practice of periodically ensuring that you don't have apps running in the background when you don't need them. By getting into the settings menu, you can see which apps are currently running and how much processing power they consume. You then have to shut down the applications not in use or ones that are eating up battery life, by tapping the 'stop' button of the respective app. In case you wish to remove the app entirely, move to Settings -> Applications Manage Applications and then you can click the Uninstall button for an app.
12. Disable Animated Wallpaper
The eye-catching animated wallpapers or GIF (Graphics Interchange Formats) images in the android phones have the main drawback of battery drain. The live wallpapers need more CPU cycles to run, thus shortening the battery life.
13. Automatize Your Own Way
There exist numerous apps available that can be used to automatically change the required settings. Some of them are: Juice Defender; an easiest one to use, Tasker; very customizable, Power Schedule; shuts off stuff based on the time of day and Llama; shuts off stuff based on where you are.
14. Cool Down the Battery
Not only in the case of laptop, temperature is a silent killer for the Android phones too. You'll end up needing to replace the battery a lot quicker if you don't. Keeping your phone in a warm place reduces its battery capacity over time. Avoid leaving it on car's dashboard, on top of TV set or PC monitor, and any other such places where there is extreme impact of sun. Also, don't keep your phone in your pants pocket all the time since humans are also the heat source. During charging, utilize a dock or stand to let it cool down faster instead of placing it flat on the table.
15. Back to Black
By reducing the power that the screen needs to operate you will drastically extend the battery life. Basically, AMOLED screens don't use power or resource to display black pixels. If you keep the screen's background as black as possible you will save a massive amount of power. That's why many Android menus have a black background. Hope you jump in to your phone's wallpaper and change it immediately soon after reading this particular point.
Conclusion
Yet there are few minor issues to be taken into account. Enabling Haptic feedback features (vibrate & tone on user actions) won't do any good to the battery. It's desirable to avoid its usage. In fact, what makes the difference is the user-specific phone usage behavior like not switching off Wi-Fi/GPS/data when done, installing unnecessary apps, etc. This varies from person to person and ultimately goes into the user's hand as to how it must be managed to keep the battery life healthy. Well, there's nothing much to say beyond this. Just remember the basic principle: discard all the fancy stuffs that are actually not in use. The entity above will definitely improve and extend your phone's battery life. Some additional tips from the readers will be appreciated. Share with us through comments below. Stay connected!