Knowing how to find a song without lyrics being remembered is one thing that most of us had done at least once. I have a passion for music and a weak memory at the same time. And this has caused a lot of problems too, nothing serious though. So, this is what happens in most cases. I listen to an amazing song while sitting in a cafeteria or as a background score somewhere and really like it. And I try to download the song into a phone or PC, but I can't. The reason is simple enough because I cannot remember the lyrics of the song. Then we start an ultimate search of the century – how to find a song without lyrics.
In this article, we have some solutions that you can use to find the name of a song without knowing the lyrics. None of them are absolutely effective but you still do have some chance of finding that track. Also, some solutions want you to sing while others want you to play the song from somewhere else.
How to Find a Song without Knowing the Name or Lyrics
Method #1 – Use Shazam, the Music-Finding App
We don't know if the founders of Shazam faced the same issue of not being able to find songs. However, it's currently an effective way to find out that unknown song. There are some situations when you don't have a clear idea of the words being used in the song. In that case, you can count on Shazam, which will identify a song based on the playback sound. Although it started as a music-identification app, Shazam is now a huge platform for music artists and listeners.
Shazam app is available for iOS, Android. You can also download it from Amazon app store if you like so. In case if you want to use it as a music listening app, there are dedicated apps for Apple Watch and Android Wear as well. You can also download the official app for Mac, but we're not sure if Shazam can tell the name of a song by listening to it. However, for the time being, let's talk about the finding-song feature of it. We hope that's what you want to know.
Using the app to identify music is easy enough. It should work fine if you are trying to find the song's name from a prerecorded source and not a live performance. For instance, you can use another phone speaker as the song input. Just turn your microphone towards the audio source and wait for Shazam to work with those algorithms. In a few seconds, you can see the name of the song on the screen. It's that simple and works fine with almost every song.
To get started, you can download the Shazam Lite or Shazam Encore app from respective stores. It needs to be noted that the method doesn't work if you are going to sing or hum the song.
Method #2 – Use Midomi, a Music Search Engine
Sometimes, you won't have an option to play the song. You might have heard the song in someplace else and won't have an idea about the lyrics. However, you may be able to sing or hum the tune, right? If that is so, Midomi is the best solution here. Midomi is actually a music search engine that lets you find songs via a sound input. It also needs to be noted that Midomi is available as a web service, which you can use free of cost. All you have to do is to launch the Midomi homepage and follow the steps as asked.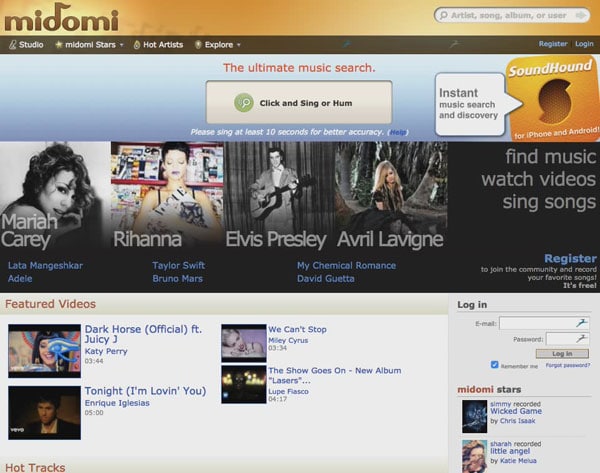 There are a bunch of ways to find the songs you don't know the name of in Midomi. We believe the easiest one is to create a 10-seconds long recording of the song. You can sing the song or just hum the tune. Once it has done the recording, the service will automatically compare your song with its huge database. In a few seconds, it will show you a complete list of matching results. The steps are pretty simple and can be done by everyone. In other words, you can simply load the website and start singing. As you can guess from the interface, the website has been online for a long while.
Wrapping up, Midomi is an awesome option if you can recall the song and hum it. Of course, it's an effective option when you don't have scope for playback.
Method #3 – Use MusicID, Another Music-Finding App
MusicID is another Android app for finding the song you cannot remember. If the first method, in which we used Shazam, doesn't work, you can count on MusicID. When compared to Shazam, however, this one is a lot more simple. You just have to keep your phone near the music playback and open the MusicID app. Give it a few seconds while playback song will be compared with the database. In literally no time, you will be able to see the name of the song.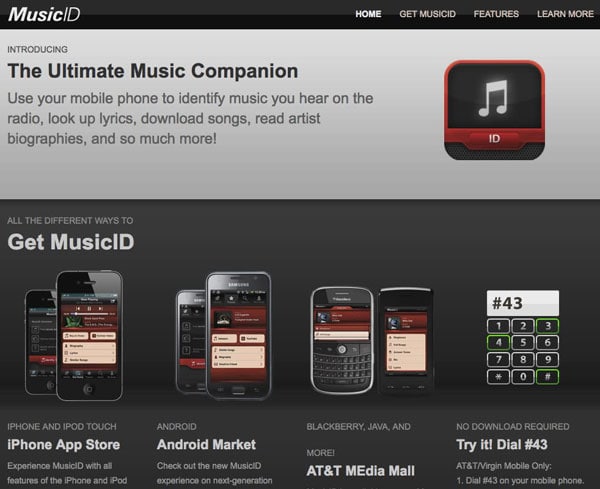 The best feature of MusicID is that you can also find the corresponding album art while finding the song. You can even find the other songs from your favorite artists out there. That is, apart from letting you find out an interesting song, MusicID works as a platform as well. It's more of a music-research app than a music-finding app. Apart from Android, there are dedicated apps for other platforms as well. So, as we said, if you are not able to find the correct song using Shazam, you can try this method, completely free of cost.
You needn't use MusicID just because Shazam couldn't find a song. We mean, there are people who prefer a minimal app to a feature-rich one. If you are one of them, give MusicID a shot.
Method #4 – Use Musipedia, an Open Music Encyclopedia
Musipedia is another option when you want to find another song that you don't know the lyrics of. However, the modus operandi of how to find a song without lyrics is a bit different. In fact, Musipedia supports a different way to find a song. You can search for possible songs using,
– Keyboard Search
– Contour Search
– Flash Piano
– Microphone Input Search
– Rhythm Search
It's completely up to you to choose the method according to your convenience. Among these, microphone search is available in some of the abovementioned services. However, rest of the methods are available via Musipedia only. As you can guess, Keyboard Search and Contour Search require you to have a clear idea of the world of music. And, your device needs Java support for running the web app too.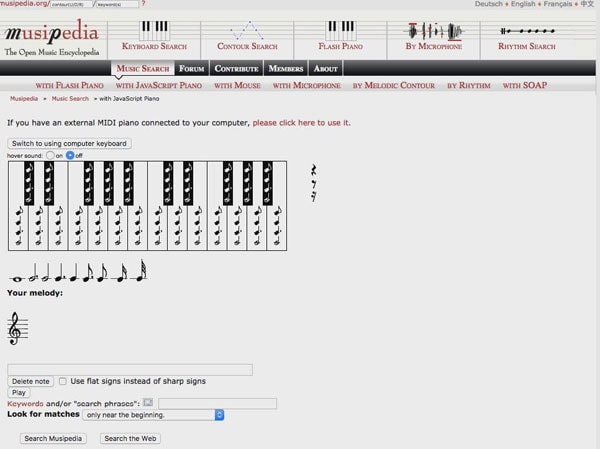 For example, we can take its Keyboard Search option, where you have to provide the tune of the song. Once you have enabled Java in the browser and launched the program, you have two options. You can select music notes using the on-screen keyboard or your system keyboard. Just finish the notes as long as you can and hit the search button. In a second or two, you can find the list of matching songs.
Another impressive option here is to use the Flash Piano mode. If you have the basic idea of using a piano, it is possible to recreate the tune you remember. Just choose the page and you can see a Flash-based piano app on the screen. You can click on the buttons and pick the corresponding tune of the song. Once you are done, you can click the Search button and that's it. The results will be on the next screen as fast as possible.
On the other hand, if you want to go to Rhythm Search or Contour Search, you need ideas about both things. If that's fine, you can go ahead and try Musipedia. Obviously, it's completely free to use and people regularly use it for finding songs they don't know the lyrics of.
Method #5 – Use WhatZatSong.com, a Community Website for Identifying Music
We said in the beginning that we will be covering some digital ways to identify music. However, it does not mean that they need to be digital services or apps, for that matter. WhatZatSong.com is an effective option if you want other people's help in finding the song you are looking for. It's basically a community website that is filled with music enthusiasts like you. So, when you don't have an idea about a particular song, there will be someone who can help you with that.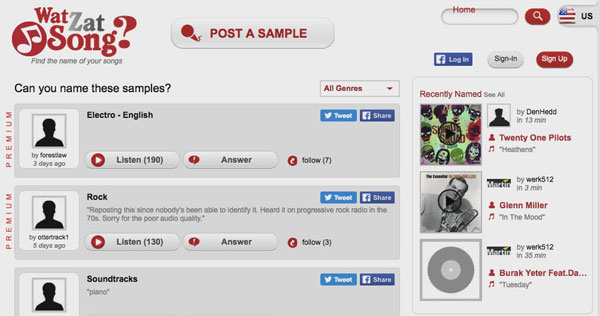 The idea of WhatZatSong.com is simple enough. You can create a free account, after which it's possible to post a query with the song recording. Other users can listen to your recording and answer which song is that. The best part here is that you can upload fragments of actual playbacks or a hummed version of yourself. In both cases, the chances of getting an answer are way too high.
As we said, WhatZatSong.com should be the optimal choice when you need human help in finding songs.
Conclusion – How to Find the Name of a Song Without Lyrics
With these five tools, we come to the conclusion of our article on how to find the name of a song without lyrics. For your convenience, we have added different types of methods powered by algorithms as well as human help. For instance, Shazam and MusicID can listen to your song and find the matching ones. On the other hand, our personal favorite is WhatZatSong.com, which needs human interaction for helping you find the actual song. All the tools except Shazam are completely free to use. So, right away, you would be able to start finding the songs behind the fragments or hummed tunes.