Nowadays, we have countless accounts online on different platforms. Having an account means having a set of usernames and passwords, which we have to remember. While remembering a username is easy, remembering all the passwords can be a herculean task.
You cannot use the same password on multiple platforms since it is a very insecure practice. At the same time, your passwords need to be complex to provide you with proper security.
You need a solution that can store all these complicated passwords and take away the burden off your shoulders. Such a solution is a password manager.
Passwarden by Keepsolid is one of the most popular password managers out there. However, since the app is designed to store all your passwords, you may question if Passwarden is good and secure enough.
This detailed review will answer this question once and for all.
Passwarden Pros

Passwarden Cons

● Easy to use
● Free mode available
● Cheap subscription plans
● High-grade security
● Sharing secure vaults
● Synchronisation of passwords on multiple devices

  Limitations in the free mode
What is Passwarden?
Passwarden is a secure password manager created by Keepsolid. Keepsolid is a popular online security and productivity brand that developed such solutions as VPN Unlimited, KeepSolid SmartDNS, Goals by KeepSolid, and others.
Passwarden comes with a bunch of great features. For example, in addition to passwords, you can also store in it other secure files (such as your identification documents and credit card information).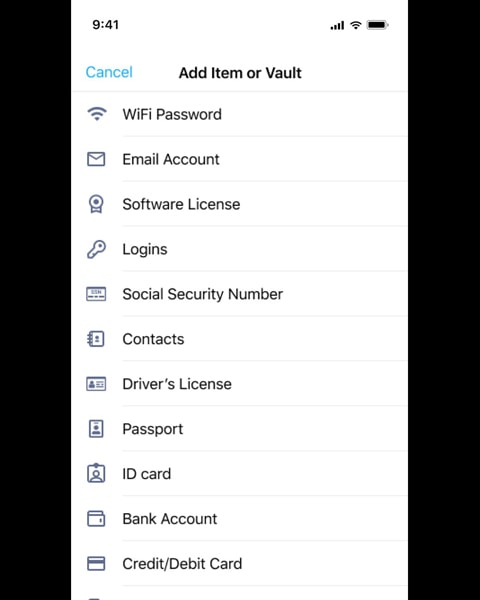 Passwarden is available on Windows, macOS, iOS, Android, Linux, and as a browser extension and web service.
The Master Password
All your secured data in your Passwarden vaults is guarded by a master password, which you create yourself. This master password is only accessible to you, and even Passwarden's team cannot view it.
This means that if you lose this master password, the Passwarden team cannot help you recover it. However, to make things easier for you, there is a recovery key you can note down and use to retrieve your master password.
Password Management and Vaults
You can enter your passwords in Passwarden vaults or use the import feature to get your passwords from Chrome or Firefox.
These vaults can contain any number of files, and you can store any sensitive documents here. The best part is that with a premium Passwarden account, you can even create shared vaults for password sharing.
Vault sharing is a handy feature for professional users as well as family members. All vaults are synced with the cloud, which means that you can have the same data on multiple devices by using your Passwarden account anywhere.
High-Grade Security
When using a password manager, security is the most critical factor to evaluate. Passwarden handles this aspect quite well, employing the most secure encryption protocols in the world.
The service uses an AES encryption with a 256-bit key, combined with EC p-384 encryption. If you are unfamiliar with these terms, you should understand that these security standards are entirely impenetrable for any cyber-attacks.
In addition, there is a duress mode in the service. This feature lets you create a password, which you can use if someone forces you to log in. When you log in using this password, only a few passwords (which you can choose beforehand) will be visible.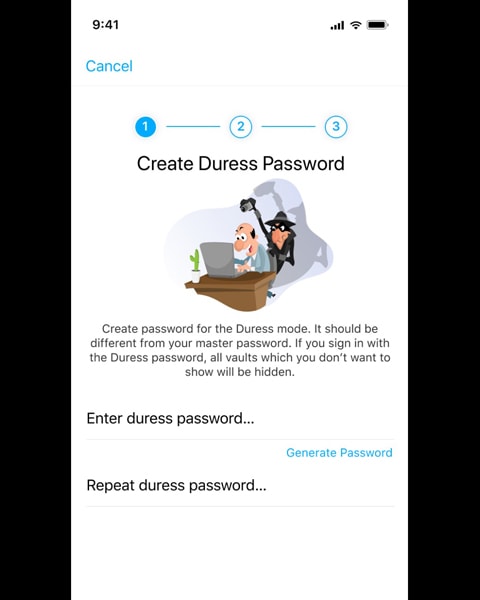 Getting Started With Passwarden
Due to Passwarden's easy-to-use interface, getting started with Passwarden is a piece of cake. Follow the steps below to start storing your passwords on Passwarden:
1. Download the Passwarden app on your device, or use it without an app download.
2. Create a new Keepsolid account with the 'Sign up' button.
3. Set up a Master Password when prompted.
4. Note down your recovery key present on the screen and follow instructions to save it.
5. Start using Passwarden with all its features.
Password Generator
Nowadays, creating a password is a complex task since most online platforms have strict password requirements (such as uppercase, lowercase, number, special characters, etc.).
Passwarden makes the job easier with a built-in password generator feature. Simply set the requirements of your password, and Passwarden will create a solid password for you. Since you are storing the password in Passwarden, you don't have to remember this complex password.
Passwarden Pricing
Something you will like about Passwarden is that you can use it completely free. However, the free mode has some limitations, which you can avoid with the premium plans.
For instance, there is no vault sharing available in the free mode. Additionally, you can only use it on two devices at the most.
The premium plan has two options- Personal and Family. The features of both plans are the same, the difference being that Family Plan provides you with 7 Passwarden accounts.
The subscription to the Personal plan would cost you $3.99 per month or $199 for the Lifetime subscription. The subscription to the Family plan would cost you $4.99 per month or $249.99 for the Lifetime deal.
You can also purchase the MonoDefense package, which includes Passwarden and VPN Unlimited, KeepSolid's most popular product with more than 25M customers worldwide. In such a way, you can both protect your privacy online, and store all your passwords securely. This security bundle costs $10.99 per month or $299 for the Lifetime subscription.
Recent Update
A recent update in Passwarden changed the offerings of various plans. One of the most significant changes came in the Free Mode.
Earlier, you were only allowed to save 40 entries if using the free version of the application. It now allows saving unlimited password entries without buying a subscription. Instead of the limit on password entries, a restriction on vault sharing in free mode is introduced.
The Personal and Family plans also allow storing unlimited password entries. Regardless of which plan you choose, there is no compromise on the high security standard.
Takeaway
In this day and age, you cannot do without a password manager. When it comes to what really matters, Passwarden is the best password manager out there. You will realize it yourself once you give it a try.