Global Reach of CS:GO
One of the most intriguing characteristic of the CS:GO user base is the game's worldwide reach. Volodymyr Huda says: "While the game is popular in the United States and Europe, it is also immensely popular in  Brazil, and China. In fact, it is believed that the CS:GO market in the United States alone is worth more than $100 million."
In terms of age groups, research shows that most CS:GO players are between the ages of 18 and 34. The average age group of players consists of people aged 25. The distribution of players by gender shows that the majority of players are men, but there are also female players. According to the study, more than 85% of players are men. You can find more information about CS:GO statistics, matches, and game settings Profilerr.net
Na'Vi: One of the Best Teams in CS:GO
Na'Vi is a Ukrainian professional esports organization. The squad was created in 2009 and has since become one of the world's most successful CS:GO teams. Na'Vi has won the Electronic Sports World Cup 2010 and the Intel Extreme Masters Season VI World Championship. In addition, the team has finished in the top three in a number of other big competitions, including the DreamHack Masters Spring 2021 and the IEM Katowice 2020.
 Natus Vincere is one of the most professional CS:GO teams that stands out above the others, notably. The most recognizable Natus Vincere's team member is s1mple, whose name is known worldwide. 
S1mple: A Ukrainian CS:GO Legend
S1mple (Oleksandr Kostylev) is a Ukrainian professional player in Counter-Strike: Global Offensive (CS:GO), currently playing for Natus Vincere (Na'Vi). Some consider him to be one of the best CS:GO players in the world. S1mple has been playing CS:GO professionally since 2013 and has won numerous awards. 
Because of his great talent and ability on the server, S1mple is recognized as one of the finest players in the world. He is noted for his aggressive and flamboyant playstyle, as well as his ability to take his team to victory on his own. S1mple has excellent aim and game awareness, allowing him to produce clutch plays at crucial times of the game. He is also well-known for his mastery of the AWP, a formidable sniper weapon in CS:GO.
S1mple's Success with Na'Vi
S1mple has been a member of Na'Vi since 2016, and has contributed significantly to the team's success. Indeed, Na'Vi won their first tournament of 2021, the BLAST Premier: Global Final 2020, with s1mple awarded tournament MVP. S1mple's performance was amazing throughout the competition, with him averaging a 1.40 rating, 90 kills, and 33 deaths in only six maps played. He also had the most average damage per round (ADR) of any tournament participant.
S1mple's Other Teams and Achievements
Notwithstanding his success with Na'Vi, s1mple has also played for a number of other teams during his career. Flipsid3 Tactics, HellRaisers, and Team Liquid are among them. During his stint with Liquid, s1mple assisted the team in finishing in the top three of multiple big competitions, including the ESL One Cologne 2016 and the ELEAGUE Season 1.
S1mple's unique ability and talent are visible in his server performance. He is noted for his aggressive and flamboyant playstyle, and he has the capacity to take his team to victory on his own. S1mple's marksmanship and game awareness are also excellent, allowing him to make clutch plays in crucial circumstances. In CS:GO, he is also noted for his skill with the AWP (Arctic Warfare Police), a strong sniper rifle.
s1mple and Na'Vi's Impressive Roster
In addition to s1mple, Na'Vi has a talented lineup that changed in 2022 and now includes b1t, electronic, Perfecto, and npl. Of course, many events and titles have been won by the previous squad, including the StarSeries i-League Season 4, the BLAST Pro Series Copenhagen 2019, and the Intel Extreme Masters XIV – World Championship. Still, they didn't want to risk their reputation due to a player with a pro-Russian position in the Ukrainian team.
The Epic Grand Finals of the Intel Extreme Masters XIV – World Championship
The grand finals of the Intel Extreme Masters XIV – World Championship in 2020, in which Na'Vi faced off against G2 Esports, were one of the most memorable matchups in recent CS:GO history. The game was intensely competitive, with both sides swapping rounds and displaying remarkable talent and planning.
The Impressive Market Presence of Natus Vincere (Na'Vi) 
In terms of the market volume in which the Na'Vi team operates, we can say that the eSports market in the United States and globally is growing exponentially. According to Statista, the global eSports market reached a value of $1.08 billion in 2020, and is projected to grow to $1.08 billion in 2021.
The Na'Vi team has a significant share in this market, as they play in many tournaments around the world and have a large following and fan base. In particular, in 2021, they were ranked first in the ranking of teams collecting prize money in the history of esports.
Thus, it can be argued that the Natus Vincere (Na'Vi) team has a significant impact on the esports market, and their achievements help to develop and grow this market both in the United States and around the world.
Profilerr: A Go-To Resource for Serious CS:GO Players
Profilerr, a platform that offers a variety of tools and services to help players develop their abilities and measure their progress, has emerged as a leader in the CS:GO community. Profilerr has become a go-to resource for many serious CS:GO players, offering everything from individualized coaching and training regimens to advanced analytics and data visualization tools.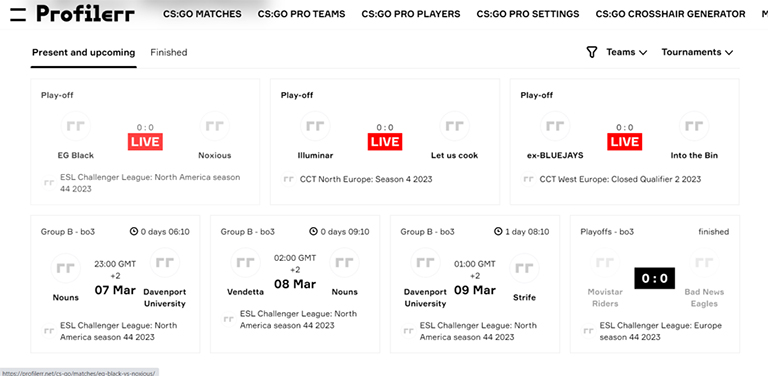 In the end, s1mple and Na'Vi won, with s1mple providing a remarkable performance and solidifying his spot as one of the best CS:GO players of all time. Given his remarkable talent and passion to the game, it's evident that s1mple will be a CS:GO force to be reckoned with for many years to come.