Choosing a security camera for your home or office has become a necessity these days. Even if you live in a safe and secure area, having an indoor security camera adds a lot of confidence. Nowadays, security cameras have become so smart that you can use them for various purposes.
Do you want to keep an eye on your kids with the maid or babysitter or old parents? Or do you want to have an eye on the cash register or office premises? In either case, you don't have to worry. For all these to work, though, you need one of the best smart security cameras from the market. So, we like to introduce a fantastic product that we recently came across: Kent CamEye HomeCam 360.
And we thought we would review the product to provide you with a clear idea.
What Is Kent CamEye HomeCam 360?
Kent CamEye HomeCam 360 is a WiFi-powered, next-gen security camera with 360-degree view support. It is an indoor security cam designed to provide an overall view of your home or office with ease. The biggest feature in the package is probably its support for the 360-degree panoramic view and tamper-proof cloud recording, but there is more.
You can count on this WiFi camera to ensure maximum protection for your home and family.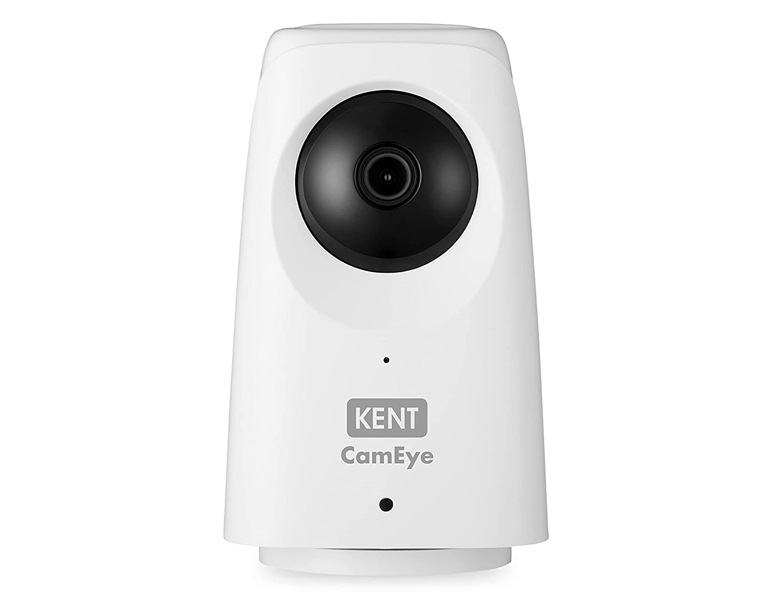 Instead of providing you with a raw set of features, Kent has optimized them for maximum efficiency. Let us take the case of motion tracking. The Kent CamEye HomeCam 360 will automatically rotate to track an object if something is detected within the designated area. Similarly, the Human Detection feature works like magic so that you can stay away from rudimentary notification alerts for every kind of motion. So, you won't be bothered by unnecessary notifications unless something important happens, like you have stepped out of home and an intruder enters your home.
The Kent CamEye HomeCam 360 comes from the House of Kent RO, which has been manufacturing a wide variety of products for the Indian and International market. This latest product from the company is also an impressive blend of cutting-edge tech and optimized features. It is a completely Made in India camera with data and servers within India, and hence it can address many data privacy-related issues.
Kent CamEye HomeCam 360 Specifications
Let's take a look at what the camera packs:
Resolution: 2MP
Maximum video quality: 1080p Full HD
Night Vision: Yes
Field of view: 95-degree horizontal and 120-degree diagonal
Connectivity: WiFi 2.4GHz
Infrared LEDs: 6
Video frame rate: 15fps
Weight: 273 g
Now that you know the basics, shall we check out the different aspects of the WiFi CCTV home camera?
Setting Up and Getting Started
Setting up the Kent CamEye HomeCam 360 does not take a lot of time. Nor does it require prior experience or technical expertise. Instead, Kent has made the process easier than ever before. As soon as you open the Kent CamEye HomeCam 360 packaging, you can find the necessary literature. Alternatively, you can check out the official YouTube videos if you want to get hands-on instructions. Either way, you can complete the installation process in a few minutes.
Once set up, the Kent CamEye HomeCam 360 camera will provide constant access to the live stream from a room, hall, or office space. You also get to customize the features based on the application. For example, if you want to know how well your kid sleeps, you can  Live Stream even in the dark using the Infrared LEDs. Similarly, if you want movement tracking, you can count on AI Motion Tracking. Some features, such as cloud playback and event-based cloud recordings, are available only with affordable cloud subscription plans, though.
Noteworthy Features
Below, we have mentioned some of the great features we found in Kent CamEye HomeCam 360.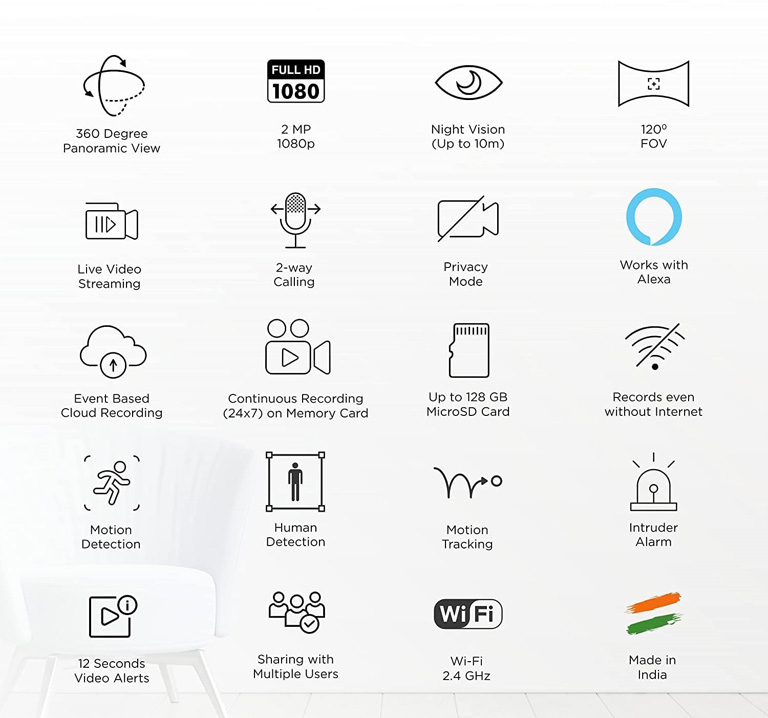 AI Motion Detection
This technology makes sure that you won't be disturbed by unnecessary notifications for motions anywhere within camera's span. Instead, you can set up an Activity Zone and get alerted whenever there is movement in the area. This feature helps you get rid of random notification alerts and unwanted panicking.
2-way Calling & Privacy Mode
You can use the Kent CamEye HomeCam 360 camera to get in touch with people at your home. You can do the 2-way calling via Alexa Echo Show devices, making things more user-friendly than ever. You can set up and schedule the Privacy Mode based on your preferences and routines. You get to use the phone's geolocation and time-intervals as the trigger.
Human Detection
The AI technology of Kent CamEye HomeCam 360 will help you recognize whether it's a human being, or any other object. You can set up the device to send alerts only if humans/intruders are detected. As a result, you would not receive those random notification alerts due to other types of movements, like curtain moving due to fan. On the other hand, the powerful AI system can differentiate between humans and objects almost all the time.
Event-based Cloud Recording
If you have a cloud subscription from Kent, you can also enable event-based cloud recording. It means the camera will store video recordings on the cloud only if it detects motion. It means that you can make the best use of the cloud recording space. Even under non-ideal network conditions, the Kent camera can enable tamper-proof cloud recording with ease.
More importantly, Kent has all its servers located in India itself. You do not have to worry about other countries or organizations having access to your recordings ever again. Once again, we will have to thank Kent for becoming a part of the Make in India initiative.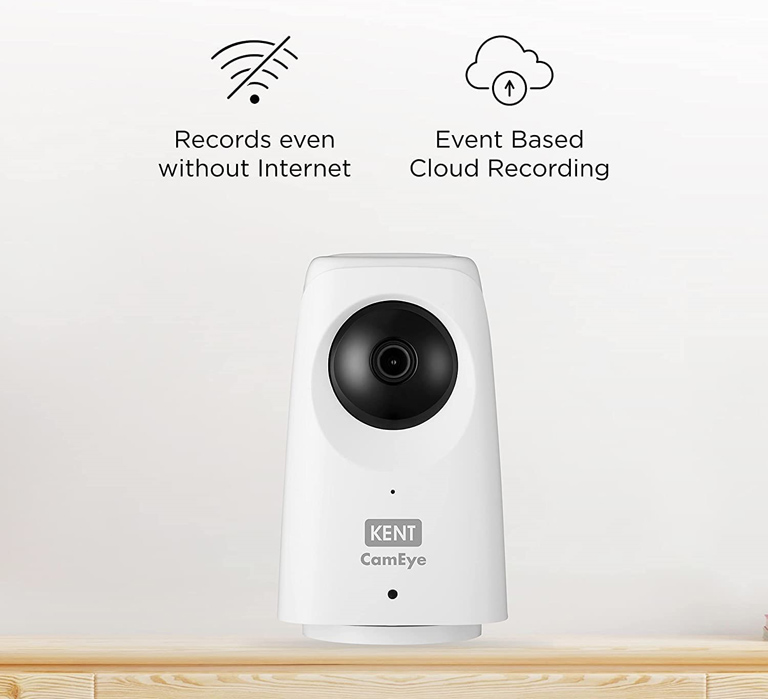 Smart Alerts
Kent CamEye HomeCam 360 also provides you with access to smart alerts. Even when you close the app, you can check out 12-second video snippets, whenever motion, human or noise is detected.
Versatile Installation and Stealth Mode
Depending on your room, the Kent CamEye HomeCam 360 camera can be installed in different ways – on the table, or wall or ceiling. In addition, you can set up a geo-based automatic stealth mode on the device. This feature will disable the streaming and recording whenever camera senses that you are at home. .Not only that automatic stealth mode can be enabled at pre-set time intervals as well.
As we said earlier, these features have been optimized to provide you with the best cloud storage and integration.
Cloud Storage and Integration
The Kent CamEye HomeCam 360 package does not include a cloud storage subscription, but you can get one starting at 150 INR per month. If you want features like cloud-based playback and event-based recording, a subscription is necessary. These recordings will stay on the cloud for 7 days with the starting paid plan, but you can upgrade it to up to 30 days, for which you also need the 400 INR-per-month plan.
Regardless of whether you have a paid subscription, other features like Live Streaming, 2-way calling and Privacy Mode are available. You do not have to worry about data security due to two reasons. One, the product-service bundle comes from a company like Kent, which has decades of expertise and a great reputation. Two, the company has kept all the required server infrastructure in India itself.
When it comes to integration, we really commend what Kent has done. You can integrate the Kent CamEye HomeCam 360 with Amazon Alexa Echo Show devices. So, when you want to see the video stream, you can simply ask Alexa. Two-way calls are also powered by Alexa.
The Kent CamEye App
The Kent CamEye App is available for both Android and iOS, and it helps you get the best out of this security camera. From 360-degree rotation to scheduling, everything is available within a few taps. It also offers an increased layer of security for your streams and notifications. Altogether, we seriously need to praise what the Kent CamEye HomeCam 360 app has to offer.
The Bottom Line
Priced at 2,999 INR, the Kent CamEye HomeCam 360 camera is a goldmine of impressive features. From setup to day-to-day management, everything can be done within a few taps on your smartphone. Its support for cloud recording, AI motion detection, and 2-way calling is also great from a productivity standpoint. Thanks to these features, the device can easily give you peace of mind. You can get the security camera from many stores like Amazon, Flipkart, and Tata Cliq.