Millions of kids around the nation routinely go online and use cell phones today. While in the past this was an issue that parents didn't really need to worry about, now it is. There are potential dangers that can exist, making it essential that parents use internet monitoring software on their iPhone or Android, take steps to help keep their kids safe online, as well as help protect their privacy. The good news is that there are plenty of ways that they can do this! Monitoring software for parents to install on their iPhone or Android is one of them.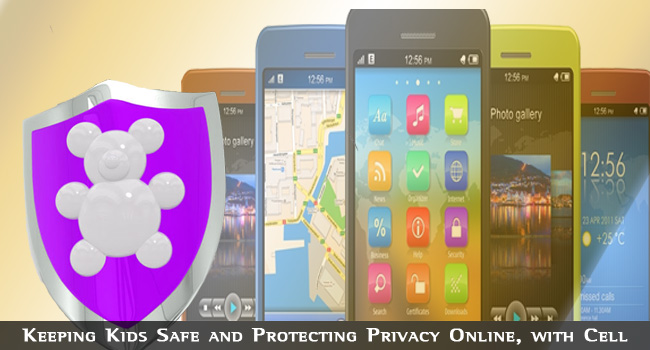 The Numbers
Today's tweens and teens are using the Internet more than ever before. They are going online for entertainment, to watch videos, to chat, and even to do research for their homework. Like the adults in their lives, the Internet has become a normal part of their routine. They are using computers often and they are using them even when their parents are not around.
Cell phone usage is another popular activity among today's teens and even those kids who are younger. In fact, the Pew Research Center reports that around 75 percent of kids ages 12-17 now have their own cell phone. This is up a big jump from the 45 percent that had cell phones back in 2004. Kids having cell phones is on the rise, and so too is the number of ways that they are using them.
When it comes to cell phone usage, the Pew Research Center reports that 88 percent of those under 18 who have them use them to engage in text messages. One out of every three teens who have a cell phone sends an average of 3,000 text messages per month. While boys receive around 30 text messages per day, girls tend to receive around 80 of them on a daily basis.
SEE ALSO: How SMS Over Internet Works: All About Online SMS Sending.
The Problems
There are some real issues when it comes to all the online and cell phone usage that is taking place with kids. Some parents are aware of the issues that exist, while others may find it surprising. For example, many kids engage in sending text messages of a sexual nature, referred to as "sexting." Others engage in taking and sending sexy, or R-rated pictures and videos.
There are other issues that parents need to be concerned with as well, including privacy issues, so that their child's personal information is protected. Another is online predators. The problem with online predators has even been documented on television shows that go undercover to catch predators that prey on youngsters online. Unsuspecting teens may not realize that some of the friend requests or messages that they receive are actually from predators who are seeking easy targets.
The Solutions
There are plenty of noted safety and security problems with allowing kids to have cell phones and use the computer. However, having them avoid using these things all together isn't an attractive option to the majority of people. These electronic devices are a part of our life that is here to stay, making it important to find an effective way for adults to help keep kids safe and secure online and with their cell phones.
Here are some ways that parents can help to keep their kids safe and protect their privacy while using computers and their cell phones:
Discuss Issues: Many kids may not realize that there are safety risks involved with using the computer or their cell phone. Inform them about the potential risks that there are, how they can avoid them, and what to do if they should arise. The more they know about what problems can arise, the better off they will be in helping to address them.
Use Technology: There are computer programs that put limits and filters on the places that your child can go online. By installing one you can block content that you feel should be off limits to your child.
Place Limits: Establish rules regarding what your child can do online, as well as with their cell phone. Let them know that if they are caught doing things you don't approve of, such as sexting or sending racy photos, that there will be consequences.
Keep Tabs: You can use a spy program to help keep tabs on what they are doing online, as well as on their cell phone. Spy programs, such as Mobile Spy, give parents the opportunity to get comprehensive reports about all activity that is done on the phone, or on the computer.
SEE ALSO: Why You Shouldn't Feel Guilty about Using Cell Phone Spy.
Keeping it Safe
There are some advantages to allowing teens to have cell phones and use the Internet. They need access to these devices for research, gaining technology experience, and to make it easier for parents to have quicker communication with them. But it is imperative that parents take the time to discuss appropriate usage, and use some of the tools that make it easier to help keep them safe.