We know you came to know more about Usenet. Before that, we should talk about Torrents. Shall we?
Currently, Torrents are considered to be the easiest and most popular way to share files, right? And it really is a great system. For instance, you can download files from other people all over the Internet and there is no central control over the file's existence and all. Having said that, there are times when you get fed up with the download speeds of torrents. Because you are downloading from other people's computers, the highest speeds you can reach depends on the number of seeders available for the file. So, think about this: wouldn't it be awesome if you could have the best collection of every type of file at the highest download speeds? Well, that is why we have Usenet.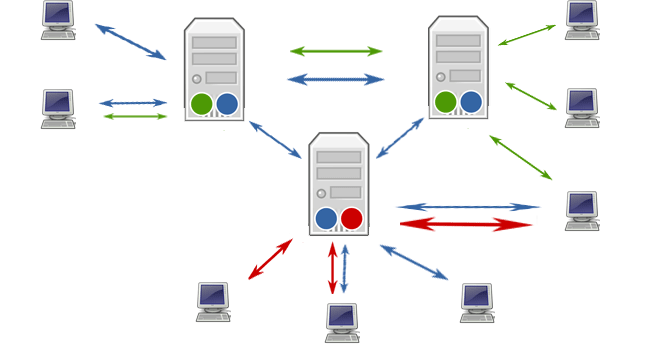 It is difficult to describe Usenet in a single paragraph, due to many reasons. In case you didn't know, Usenet was created long before Email and the World Wide Web came into existence. After all these decades, Usenet is a great place to find, access and download content you want – be it media, books, software or anything.
While you don't have to be a nerd to get started with Usenet, an introduction is mighty helpful. So, in this article, we'll tell you what Usenet is and how to use it. We'll also suggest some of the easiest ways to access content from Usenet so that you can get rid of your Torrent habit too.  ;)
It is normal to include some technical terms, but we can skip most of those. This is going to be an ultimate beginner's guide to Usenet. Shall we start, then?
What is Usenet – an Introduction
As we said, the origin of Usenet goes back to the 1970s, when even the World Wide Web was finding its roots. It was introduced as a Bulletin Board Service, which was used to post text-based messages. The main purpose of Usenet was an unregulated discussion among the nerds from across the globe. So, Usenet was first used as a discussion platform that consisted of text messages — pretty much like a Bulletin board. However, it was in the 1980's that people started using Usenet for sharing files, and it has been part of the deep web since.  ;)
Usenet isn't hosted on a single server, which isn't safe or practical. Instead, the network is relying on a decentralized server system. That is, the whole of Usenet is hosted on a bunch of server clusters, which are spread around the world. There are both mirroring servers and independent ones. It needs to be noted that Usenet isn't a peer-to-peer sharing network. It hosts files on different servers and makes them available for anyone who accesses Usenet.
What You Can Have from Usenet?
We hope you now have a clear idea about Usenet and how it works. In case you are wondering, Usenet hosts the widest collection of information that you'll ever find on any servers or system. Sections or categories of Usenet, called Newsgroups, cover almost every subject in the world. It does not matter whether you are into movies or the world of software; Usenet offers something awesome, every single day. As we mentioned earlier, it is also a great way to get rid of your Torrent addiction — which is, in fact, becoming less secure day by day.
Apart from the fact that you're getting rid of torrents, there are a few advantages to Usenet that you should definitely care about. The first thing is the speed you will be getting. Unlike torrents, Usenet depends on servers and you can download at full speed.  Last but not least, new usually show up first on Usenet before they surface in the world of torrents.
Sounds pretty cool, right?  We will now talk about how you can use Usenet.
How to Use Usenet – The Main Points
During the old days, you could access Usenet from your ISP, but that's not the case today. Currently, there are some content limiting issues regarding common ISPs. So, enter Usenet providers.
Usenet Providers and Choosing a Plan
Usenet Providers are specialized services that offer dedicated access to Usenet. As you can guess, they charge for access and come with a subscription fee per month. Depending on how much you want to store and what download speeds you want, you can purchase one of many popular Usenet provider packages. On average, the subscription would cost you around $15 per month, given that you need unlimited speed with 4-year retention.
The retention period is something you should consider while choosing a Usenet provider. Millions of new files get posted every day, so the storage needed for it is massive. This means that old information is cleared at regular intervals, as new things are posted. Retention period means the number of days (or months) your Usenet service provider keeps files or posts. The longer, the better. Another thing you should consider is the total number of supported parallel connections. If there are multiple parallel connections, your download speed is higher.
With these points in mind, you can choose an effective Usenet provider, probably from the list we mentioned earlier.
Accessing Usenet
Depending on the Usenet provider you have chosen, there are two methods to access content from Usenet — Web-based Interface and Software. We'd recommend going with software, which is almost always included with the package you purchase from your provider. Using a piece of dedicated software, you can get direct access and you will have better download speeds as a result. This is why you should have an all-inclusive Usenet service provider, who also doesn't mess with hidden charges.
Once you have received the Usenet client from your provider, you can install it on your PC, Mac, Android, iOS or other compatible devices. With plenty of tutorials available from each service provider for each software option, searching and finding great content on Usenet is an easy task. If you ask us, we'd recommend Newsbin as the best software for accessing Usenet with ease. Having said that, if you just aren't very technical, you can always opt for a web-based interface, but the availability of content is at stake.
And, did we forget to say that Usenet is COMPLETELY UNCENSORED? IT IS.
Nevertheless, make sure that you select a Usenet provider who doesn't put extra restrictions or censorship. You get everything and anything you want, right from the newsreader. You just have to know how to search.
The Bottom Line
Don't you think Usenet is a great alternative to Torrents? We admit that it's somewhat technical, but that's something you can get used to. Also, given that you have chosen an effective Usenet provider, you don't need to worry about as many details.  In most cases, you get ready-to-use software that can search for, find and download Usenet content as you like it. Last but not least, you have all the benefits of security, anonymity and the maximum speed that your ISP offers.