We make millions of files every year. But a software bug, hard drive failure, or an infected system can erase all your essential documents in a single moment. Looking at the state of ransomware in the years to come and the ever-evolving cybersecurity threat landscape, it's more important than ever to back up your laptop regularly.
Backing up all your documents, photos, videos, and audio files takes a lot of effort. That's the number one reason why most people neglect this step. Nonetheless, there are several easy ways to safely backup your data, like using an external drive or online servers. Here's how:
Use Laptop's Integrated Backup Feature
Whether you're using a Windows or Mac operating system, you can easily back up your data using its integrated backup feature. The nice thing about this tool is that it lets you select the specific files and folders you want to store on a secondary hard drive.
If you're using Windows, you do the entire process with your laptop's File History. Just go to "Update & Security" under Settings. Meanwhile, you can rely on Time Machine if you're using a Mac. Both features let you backup your data every 10 minutes or every day.
Use Cloud Storage Services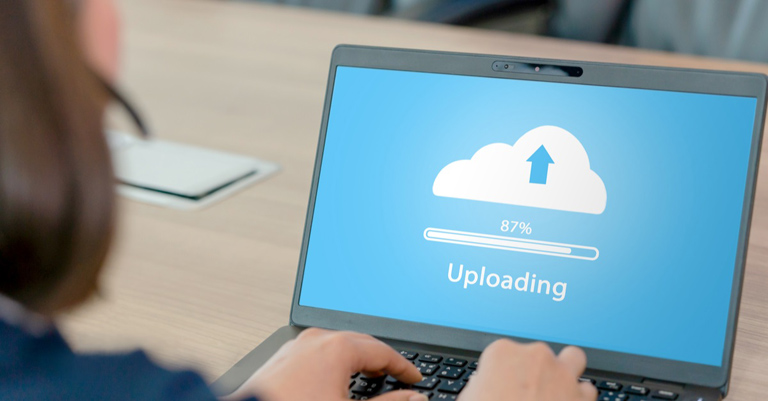 It's common for most hard drives to fail over time. Fortunately, several cloud storage services exist that offer a limited amount of free storage. The most popular platforms you can use include Dropbox, Google Drive, and Microsoft's OneDrive. As long as you have your account logged in, you can drag and drop files or upload them online.
Using cloud storage services is easy and convenient because they not only back up your data but also automatically sync them to your devices. The only caveat with this method is the limited storage space. Most platforms may require you to pay a monthly or yearly fee if you want to upgrade your storage.
Use Online Back-Up Programs 
Another alternative way to safely back up your laptop is using online backup programs like Backblaze and Carbonite. Regardless of the platform you use, these applications will keep multiple copies of your files so you can restore them whenever you need to.
One benefit of these programs is that they can automatically back up your files to the software's web storage while running in your laptop's background. That makes the entire backup process practically effortless. However, these programs usually cost more.
Make a Full Disk Image
You can have a replica of all your data, files, folders, programs, and system files by creating an image or clone of your hard drive. A unique characteristic of this process is that it's similar to restoring your factory settings. That means you can restore your laptop to a better version once it starts acting slowly.
However, keep in mind that your disk image will only contain all the data you have upon cloning. Newly created or updated files won't be part of it unless you regularly create clones of your hard drive. You can use established software such as Acronis, IDrive, or DriveImage XML to create a full disk image. 
Use External Back-Up Tools 
Apart from using cloud storage services and your laptop's integrated backup feature, you can also use external backup tools. These are devices that you plug or insert into your PC. Once connected, you can then upload your files into them for the entire backup process to begin.
Some of the backup tools you'll find include external hard drives, which usually have a storage space of 1TB or 2TB, with some having even more (for a higher cost). But if you want more portable devices, then USB flash drives are your best choice. They're small, inexpensive, and have capacities up to 128GB and more.
But if you prefer the traditional way of backing up files, you can use CDs, CVDs, or Blu-rays. However, this option is less preferable because most laptops no longer have CD drives. These storage options also have limited capacity and slow backup speeds.
Pro-Tip: Use Various Backup Types
Now that you know how to safely back up your laptop, it's always good to have onsite and offsite backups rather than just relying on one. For instance, you can backup your essential files on an external hard drive and cloud storage services.
Other than that, make sure you're backing up your data regularly. This practice provides you with copies of your newly created or updated files. Thus, it also reduces your chances of losing any needed data.
Back Up Your Data Now!
With all the possible things that can happen to your laptop, you can easily lose all your beloved files regardless of hard drive failures, software bugs, or ransomware. But having a backup ready at hand can save you from the stress and frustration of losing all your data.