Tinder is one of the world's most famous online dating websites or applications. It allows the participants to anonymously swipe for liking or disliking other profiles based on their bio information, pictures, and mutual interests.
There are so many pros of resetting. Unfortunately, it appears Tinder has been breaking down on users for a while presently. Previously, the app memorized your account by your Facebook details or phone number for tinder, but that appeared to be just a by-process of logging you in, rather than actively attempting to check your reset efforts. Since version 9.0.0 has released, things have changed.
Why Does Tinder Need Your Phone Number?
There are loads of fish in the ocean — a lot of them are pufferfish, unfortunately.
Till 2018, you could sign up for Tinder with your Facebook account. But a huge number of bots and fake profiles caused Tinder to amend this policy and made phone number verification a mandatory condition for opening an account. The goal behind this was to create a method that would validate that the body behind an account is real.
So, are you single again? Looking to restore your tinder account? Follow these steps for an ultimate solution.
Step 1: Open Tinder
First, open your laptop/desktop or tablet and type tinder.com in your web browser as shown in the picture. Alternatively, you can also download the app from the play store or apple as per your device.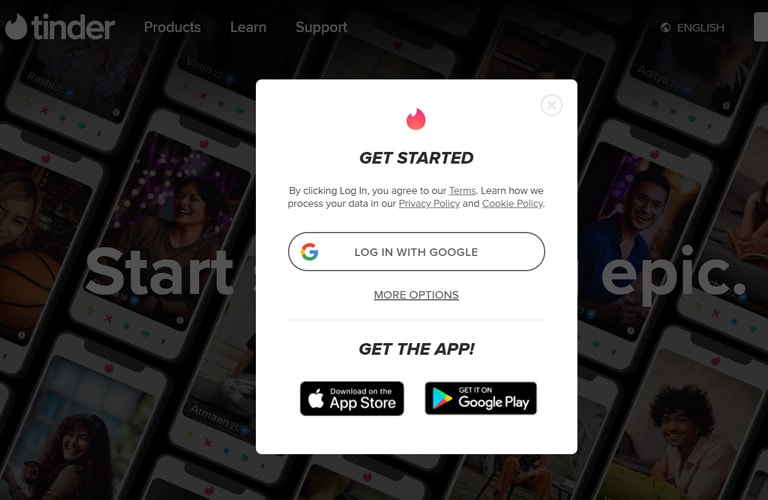 Step 2: Click on Trouble Loggin in
Click on trouble logging in and Tinder will ask for the email linked to your account.
Enter your email address in the box and hit next.
After that, they will send an affirmation link to your email
When you click on that link it will take you to a page where it asks for a phone number for tinder.
Note: Here users get confused. You might be thinking they are asking for your old number or the loft number, but NO! You need to enter a new number so that you can reset your password and other essentials in the future.
This step is very essential if you have lost your phone, lost your sim card, or forgot your old number.
This step is also helpful if you have created a tinder account with a disposable or temporary phone number like the image shown below.
Tinder requires a phone number just for the process of creating an account because they send a text message with the primary access code. They do not use it to send informational or promotional topics, and your account cannot be traced through it—at least not in the app.
What If My Tinder Account is Banned?
Do I need a new mobile phone or a new phone number on the same mobile phone? Should I change my SIM card?
First of all, let me tell you that the Tinder account is linked to your phone number and the email address that you provided on tinder while registering. Tinder identifies you by these two things.
Now, if your tinder account is banned it means you need to change both – that is your mobile number as well as your email address.
Since 2020 tinder started device banning users with the phone's device id. So if you got banned in 2020 or after then you may not be able to use tinder app on the same phone, but you can use tinder on your phone or pc browser.
Also, try to upload new photos and update your bio on tinder with new things and new topics. It should be different than the one you used on your previous tinder account.
If you don't have a new phone number or do not have a dual sim slot you may have to purchase an online phone number for a tinder account.
Bottom Line
You can follow the steps to recover your account. Recovering accounts is as easy as spreading butter in bread.  If you are concerned about privacy or if you don't want to buy a new sim then you can go for an online phone number.