Almost everyone uses an internet browser, email, social media platforms, and even smartphones. However, not everyone is aware that the risk of personal data leakage on the Internet exists practically everywhere. Many students now employ writing services like Grammarly to help them write great and error-free papers online for college in recent years.
When you buy research papers online for college or use the expertise of professional writing services, keeping your personal data safe is essential. The last thing you want is a security breach which may cause you to lose crucial information. Continue reading to discover some insightful tips to protect your personal data when you use online writing services to write excellent essays.
Tips for Keeping Your Data Safe
Use these strategies to boost your safety if you need effective recommendations on securing your data online: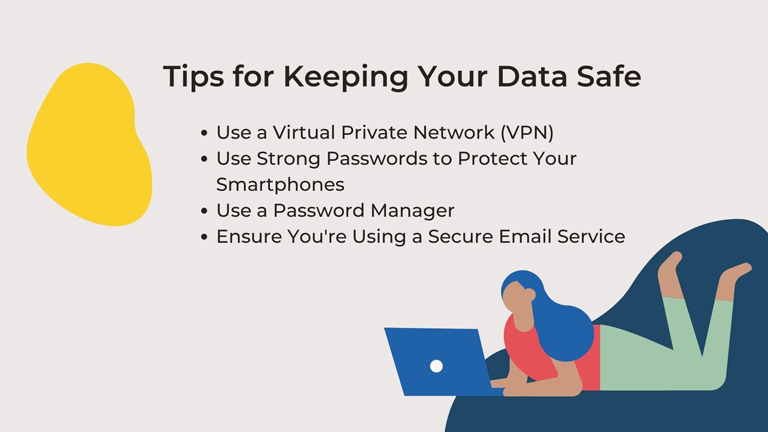 Use a Virtual Private Network (VPN)
A virtual private network (VPN) provides a private connection from a public internet connection, giving you online anonymity and privacy. VPNs conceal your IP address, making your online activities almost undetectable. Cyber attackers will have a more challenging time breaching your digital privacy and gaining access to your personal data if you use a VPN.
Someone may steal a user's data when they log on to the Internet. You can keep your data safe and maintain your privacy by using a VPN. Many free VPN services are available, but it may be more cost-effective to pay for a service from a reputable internet security company if you want the most privacy protection when online.
Use Strong Passwords to Protect Your Smartphones
On our cellphones, many people spend more time reading online, responding to emails, and watching movies than they do on our laptops. As a result, it's critical that we put just as much work into safeguarding our digital privacy on our phones and tablets as we do on our PCs. To begin, ensure that your phone is locked with a password.
Entering codes you want to access your phone's home screen may seem inconvenient. However, if your smartphone is lost or stolen, this password may provide an additional layer of security. It's no secret that many students use insecure passwords. Most people would opt for their birth date or digits from their mobile number. We recommend using strong passwords that comprise letters, numbers, and special characters. Using password generators can come in handy for people who can't think of strong passwords.
Generally, people have a plethora of passwords for numerous websites. Memorizing them all is almost impossible. Everyone understands that writing these things down on a piece of paper and keeping it in your office is not a good idea. That's where a password manager comes in handy; it can safely store all of your passwords and allow you to have access to them when you want.
Ensure You're Using a Secure Email Service
Keep in mind that not every free or well-known email service is safe. Hackers can obtain data from emails in such cases. When you choose a secure service, all your emails are encrypted to keep your information private. To prevent data theft, some companies even offer to delete older emails.
How to Secure Your Credit Card Information When Purchasing Essays Online
When students hire writing services to assist them with their essays, they usually pay with a credit card through the Internet. We've compiled a list of useful tips for securing your credit card information: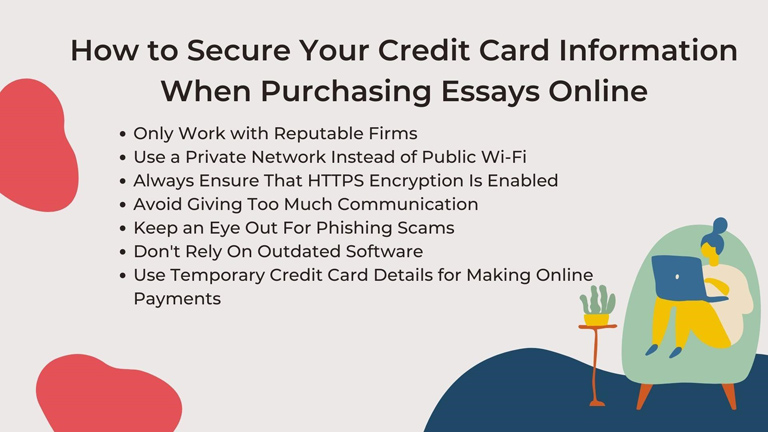 Only Work with Reputable Firms
Only work with reputable and credible writing providers with many positive reviews. Don't be a slacker; learn about the firm before placing your order. The most reputable services provide privacy guarantees to secure their clients' safety.
Use a Private Network Instead of Public Wi-Fi
We know it's free, quick, and appealing; however, when you use public Wi-Fi, anyone can monitor you and see what you're doing online. Avoid making a payment via a public Wi-Fi network. Keep in mind that you can merely read blogs or search the Internet for information. Use a reliable VPN to disguise your IP address and avoid being tracked.
Always Ensure That HTTPS Encryption Is Enabled
On the Internet, HTTPS encryption is a website security protocol. If you go to a website that doesn't have it, avoid making any online payments because it can be risky. Creating a strong password is also crucial. Anyone can acquire your credit card details if you use a weak password.
Avoid Giving Too Much Communication
Consider the kind of personal information you must disclose and never disclose more than is necessary. Sometimes writing services, for instance, require you to provide your residential address, whereas others merely want your email address. Be sure you're just revealing information that you need to.
Keep an Eye Out For Phishing Scams
Hackers may send emails with enticing offers. For instance, it could be a message saying you got a 50% discount on the writing service. When users click on the link, they are taken to a malicious website where a fraudster can steal their personal information. So, double-check the message sender and be wary of strangers.
Don't Rely On Outdated Software
Not every device can keep your information safe. Don't fail to update your software up to date and virus-free. Many hackers choose older software because it is simple to hack. To protect yourself from internet attackers, ensure you have a good antivirus application.
Use Temporary Credit Card Details for Making Online Payments
Banks issue temporary card details that are unique for each online payment. Check to see if your bank provides this service, and you'll be able to protect your credit card information easily.
How Do Writing Services Keep Students' Personal Information Safe?
When you buy a research paper or hire a reputable writing company to write a paper for you, make sure they offer complete confidentiality. Check the following items in their data protection policy: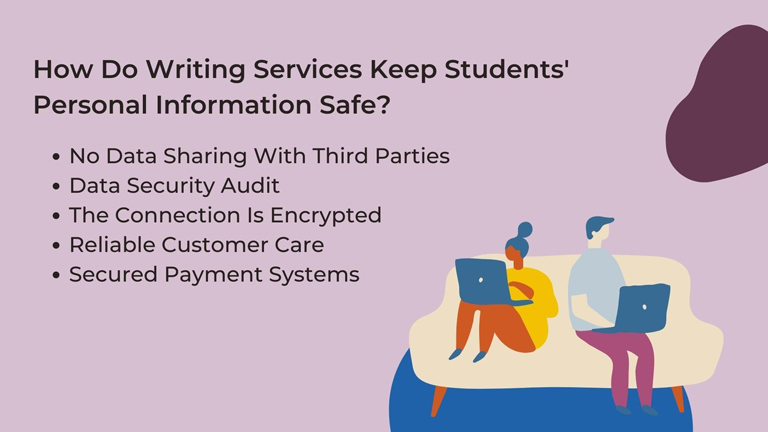 No Data Sharing With Third Parties
Writing agencies, of course, can collect personal information from their clients. However, the organization must certify that this information is kept safe and not shared with third parties from their encrypted servers. Every staff member is given clear instructions on how to communicate with customers. You can only be questioned about the content of your order and your preferred results.
The writer gets no private information from you. You can provide the writer with the school's name if the text needs to be specifically tailored so that the writer has a solid foundation on which to write the appropriate paper. You can, however, leave this information out and add it afterward; this is a better and safer option.
Data Security Audit
Verify that the company performs data security checks to protect clients' personal information. It's usually easier to avoid breaches before they occur.
The Connection Is Encrypted
Since the connection between your device and the company's server is encrypted, no one else will be able to steal your information; this is a good sign if the agency brings it up.
Reliable Customer Care
In the situation of a problem, you can contact the customer care section of any writing service. There's the call or chat option; alternatively, you can send an email to help resolve your concerns.
Secured Payment Systems
Check to see if the writing service only accepts money using secure technologies. Never make a payment unless you're sure it's completely secure. It will protect cybercriminals from spying on you.
Endnote
People can accomplish many things that they couldn't do before they had access to the Internet. However, there is a possibility that your personal information or credit card information will be shared with attackers. Before placing an order on a website and asking pros to write a fantastic essay for you, be sure the firm is safe to work with. Also, we recommend that you use websites with a lot of positive feedback. There are fewer odds of internet security issues if your buddies already have a deal with a particular team of authors. Of course, there's no need to be concerned, but you should read and double-check everything before deciding.