A YouTube channel has become one of the essential things your business should have to attract more customers and maintain its digital reputation. However, while it is easy to create one of these channels, creating enough content to attract and retain viewers is indeed a tiresome task.
These days, you also have to deal with ever-increasing competition, even when you narrow it down to a specific category. Therefore, while you are free to try exhausting methods like creating random videos on random topics, continuous live streams offer something better.
In this article, we shall discuss the actual potential of continuous live streams and how a platform like Gyre.pro can help you make the best out of live-stream content.
Continuous Live Streams: What, Why, and How?
Continuous live streams are something you frequently see, especially on channels that provide current content, such as news. For instance, most popular news channels have a continuous live stream that shows currently relevant content. In some cases, it could be a relay of the actual broadcast. Alternatively, continuous live streams may also contain a compilation of stories from the day or week. Therefore, technically, the term continuous live stream means a live-stream that runs 24×7.
As for why continuous live streams are necessary, the answer is simple: demand for content. As you can imagine, you cannot increase the number of videos on your YouTube channel without compromising the quality factor. Otherwise, you would need a large team, which is not always practical. In this situation, continuous live streams allow you to attract customers through always-running live streams. These live streams are designed not only to retain existing subscribers, but also to attract more viewers based on their interests.
Now, to the important question: how do you create and run continuous live streams? Of course, it is difficult, if not impossible, to conduct a live stream 24/7. Fortunately, this is where a platform like Gyre.pro comes in. It presents itself as an easy yet efficient way to attract more viewers and monetize these views through continuous live streams. The best part? You only have to spend a fraction of what you may otherwise spend on content production.
Therefore, the idea of Gyre.pro must be appealing to many businesses and content creators out there.
What is Gyre.pro?
Gyre.pro is a content-focused service that lets YouTube channels run continuous live videos without all the fuss of running a live stream. Instead, the platform lets you use prerecorded content. So, long story short, you can upload prerecorded content to Gyre.pro, and the content will be played on your YouTube as a looped stream. Here is where things get interesting.
From the perspective of your subscribers or a random YouTube user, these continuous live streams look and feel like actual live streams. Considering that you upload a lengthy enough prerecorded video, they will not understand that it is looped content. So, Gyre.pro lets you reap all the benefits of a live stream—without actually having one.
But the benefits of running a continuous live stream using Gyre.pro doesn't end there.
Why Does It Make Sense to Use Gyre.pro for Continuous Live Streams?
We already said that Gyre.pro makes it easy to run prerecorded content in the form of continuous video streams on your YouTube channel. These continuous live streams will help you with the following things:
Continuous live streams are known for their efficiency in retaining subscribers and increasing the total viewership. Therefore, if you want to attract more viewers who stay with the channel, you can run one of these lives. If the content can spark interest from existing subscribers, YouTube's recommendation algorithm will do the rest.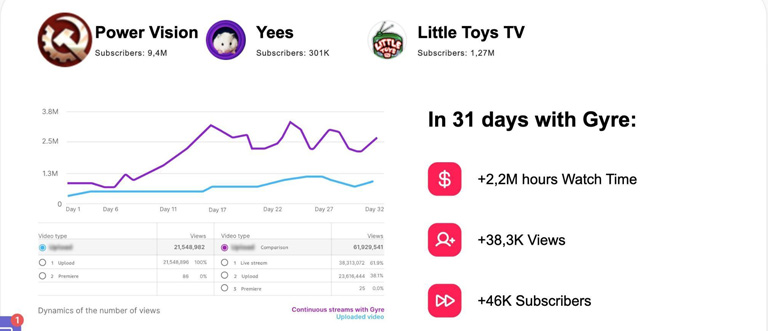 These prerecorded live streams can also be monetized as long as you use prerecorded content that complies with YouTube's content guidelines. In case you may have missed it, YouTube these days prioritizes live-stream content, possibly due to its ability to retain viewers. You can leverage this decision by pushing continuous live streams through your channel.
You also get the other benefits of live-stream content. For instance, live stream content is known for helping YouTubers build an impressive community. It is because the live chat feature next to live streams is a great place to discuss. So, as long as you push relevant and impressive content, it only takes a few continuous live streams to see your YouTube channel go boom!
As it must be clear to you, getting Gyre.pro to help you will be beneficial in many ways. Regardless of what your ultimate objective is—more subscribers, better revenue, or sustainable growth—, continuous live streams are worth giving a shot.
Now, there are more reasons to use Gyre.pro to make these continuous live streams. We won't state the obvious, but we believe the following factors make a difference.
No Channel Access Required
Gyre.pro does not require access to your YouTube channel. Instead, you can stream directly from Gyre.pro servers. It simply requires you to upload the prerecorded content. So, if you are worried about a potential data leak ruining your channel, you can be rest assured.
It does not take more than a couple of minutes to set up Gyre.pro with your channel. And you can start a continuous live stream as soon as you upload the content. So, if you are just starting with YouTube, it is a great option.
Compliant with Guidelines
Here's the best part. Using Gyre.pro is 100% compliant with YouTube's guidelines. Therefore, you will not have a problem while monetizing these live streams. In fact, as we said earlier, you may have an option to put more mid-roll ads in-between these looped streams.
Last but not least, you can use the same service to stream content to multiple channels. So, if you do not want to miss the subscribers from the many channels you have built, Gyre.pro will be a blessing.
Pricing
You get to choose between three plans from Gyre.pro, excluding the free plan. And, for what it's worth, you can use the free trial plan to get 20GB of storage space and stream 24×7. The trial plan is free for seven days, so you can use it to test Gyre.pro.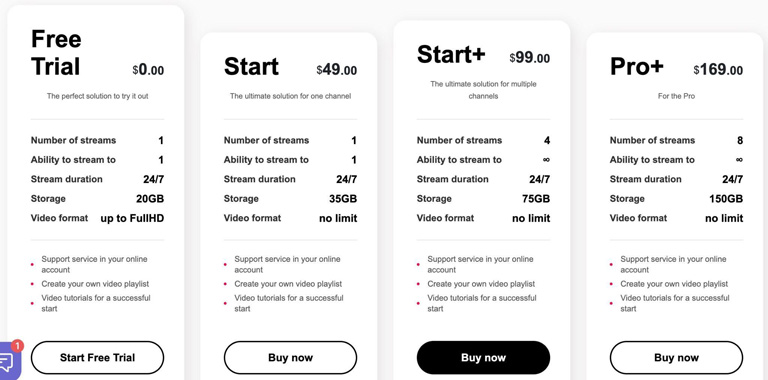 But if you need premium features permanently, you can get the 'Start' plan for $49 per month. This plan gives you 35GB of space with no limit on video quality. The Pro+ plan, on the other end of the spectrum, offers 150GB of storage space and lets you have up to 8 concurrent streams with no limit on the number of YT channels you can stream to.
So, if anything, the pricing plan at Gyre.pro is scalable and reasonable.
Verdict
After all this, we believe it is unwise of all YouTubers not to try continuous live streams with Gyre.pro. Considering that you can test one of these live streams free of cost, what is actually stopping you?