A group of people is more productive and efficient than compared to a single person. Well, it's not the same case, when you start counting inefficient people as part of the group. Let's face it – We are social beings. So, we do need to survive and carry out tasks in groups. In the physical world, we unite to form a group for a cause, to achieve a task, to help people, just to discuss and it includes various such tasks along the way.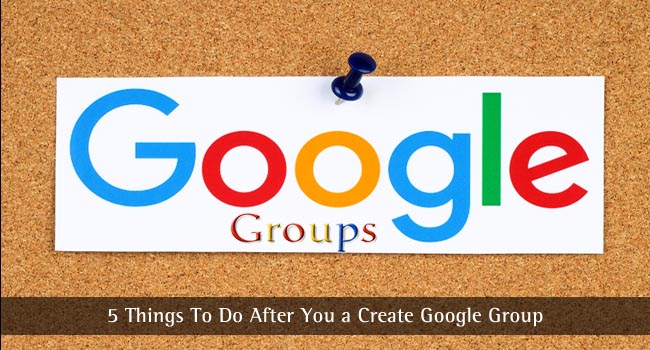 In the digital world, probably the same rule is in effect. For instance, you have Facebook groups, Google+ communities, WhatsApp groups. And, having a group makes it more convenient to achieve things, even if that includes sending an informal message to a lot of people at once.
Here, coming to the scene is – Google Groups – which we had completely ignored. Say what? Why create google group, when you can create a Facebook group or a G+ community? Yeah, you have got a valid thing to ponder about. But, what if I say that you can create google group which would still be having a lot of benefits? In this article, we'll be discussing how to create google group and make a good use out of it. Although, you should get to know about Google groups first.
SEE ALSO: Useful Gmail Tricks »
What is Google Groups?
Well, it's a quite simple service offered by Google to ease up the means to collaborate and discuss. It lets you choose from a variety of discussion groups and also lets you follow up via email. It offers the simplest user interface one can access on the web even with a poor Internet connectivity.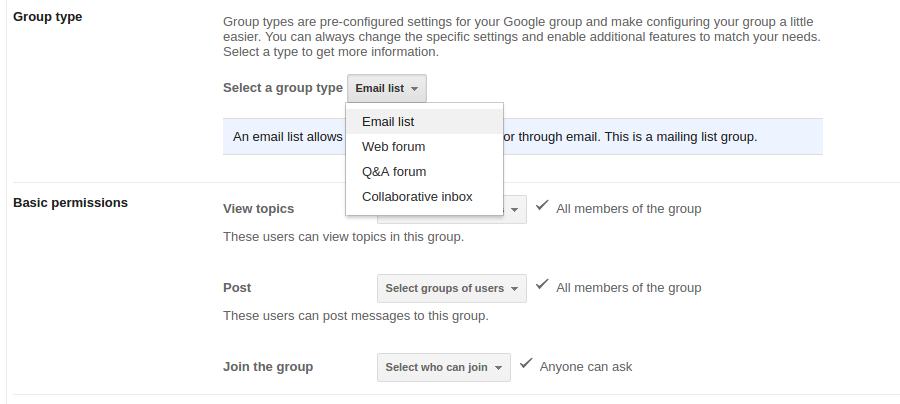 Ultimately, it is a free service. Not to forget that most of the online Google products emphasize on a business model let every user access it. It's just that you'll have to know the right things to get the most out of Google Groups (Of course, here you'll be knowing about 'em).
SEE ALSO: Google Chrome Theme You Will Fall in Love With »
Things To Benefit from After You Create Google Group
1. Engaging Discussions
Discussing things on the go definitely comes handy. But most importantly, you should make sure that the discussions are interactive enough and distraction-free. Moreover, discussions are usually made to get a valid conclusion or solution to a problem. Simply put, Facebook groups and Google+ communities may affect the quality of discussions because the platform offers much more things than just discussing or solving a problem.
The number of people participating in a discussion on Facebook and Google+ groups raises confusions, anger and would probably end the discussion even before getting a valid conclusion out of it. It's most likely that a user was just passing by and joined the discussion for fun.
After you create Google Group to focus discussing on a topic or product, you'll get a fewer number of members to discuss with initially. But, it's completely free from any kind of distractions, which would result in a fruitful and engaging discussion. So, when the members head on to access the Google group, they at least know what they're visiting the group for. In other words, they know the context before starting off and firing up their thoughts.
2. Support Group For A Product
If you have a lot of customers that would seek for help on the product you sell. That calls for a requirement to have a support forum, or a live chat support system, or an email based support system and the list goes on. But what if you don't have the necessary resources in order to make that possible? Here's a free tip that you might use – Create Google Group.
After you create Google group, you can share the link to the group to your customers. You can provide them the necessary support. It would be fast, convenient and easily accessible to your customers.
3. Organize Small-Scale Meetings
Let's say you've a small business to take care of. But you desperately need to arrange a small scale meeting or discussion with your team. However, you've got problems – you don't have an Internet connection fast enough to be able to handle a video conference. Various similar problems might follow with your team as well. That's when creating a Google group would come handy. Google groups are accessible even with the poorest Internet connection, and would be accessible even on outdated mobile devices with a browser on it.
SEE ALSO: Lesser Known Google Search Tips and Tricks »
4. Use It For Creating A Forum For Your Website
Don't have the necessary how-to skills to operate a forum on a website? You're on. Just create google group to act as a forum. Furthermore, integrating it on your site is very easy.
Google offers an iframe code which you can use to embed the forum directly to your webpage. Wherever you want, you can set it up according to your convenience. In addition, you can also customize the look. For more information, you can refer the Groups Help portal
5. Online Collaboration Spot For A Team
Yes, you've got quite a few online collaboration tools for your team. Most of that, not being completely free (Rather with limitations). And, if you want to opt for a premium plan, you would probably end up breaking the bank for simply discussing. Simply, create google group to collaborate with your team members. You can get notifications by email and threaded discussions addressing different topics. It would be a sweet and simple spot with your team.
6. FAQ Section
Frustrated answering the same question repeatedly? You badly need an FAQ section for your product. You can create Google group to maintain a rich FAQ section. Just embed it on your site or link to it to your customers. You won't have to waste time designing and organizing a webpage for a mere FAQ section. Using Google groups would be a much wiser choice.
7. Beta Testing Community
You sure can make it happen at Google+ communities, but you can't experience a threaded discussion. A threaded conversation would make sure that everything similar remains at one place. You won't have to browse for hours searching for a specific type of beta testing feedback.
Things To Do After You  a Create Google Group – Conclusion
Finally, we have known several ways by which we can make the most out of Google groups. And, at the same time, we would be saving a good amount of money as well. Google groups are free, easy to handle and fast to load up even with a poor Internet connection.
Do you have an interesting idea on utilizing Google groups? Let us know through the comments section below.