There are many Google search tips that make it easier to narrow down your search for a specific item or keyword. There are also large numbers of Google hacks that can be used to improve your experience when using the Google search engine. Here are some of these, categorized as best we can, given that many of them are very obscure – yet great to use.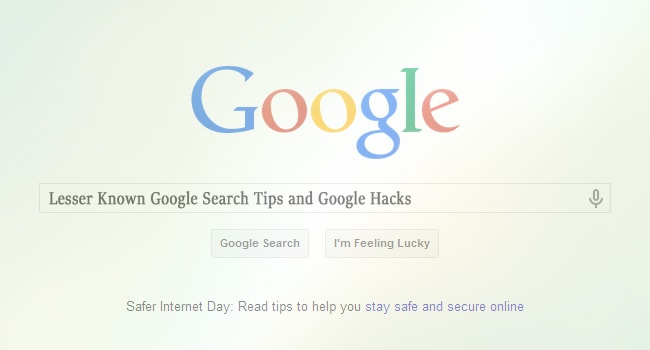 We have categorized these in six sections:
a) Use of Symbols
b) Uses of the colon
c) Use of Text Commands
d) Information Search Tips
e) Little Known Google Hacks
f) Browser Shortcuts
g) Google Easter Eggs and Mr. Doob
A. Google Search Tips: Using Symbols
Using Quotes:
When you use more than one word in your search term, Google will search its index for web pages containing all the words, then two of them, and then pages containing each individual word. It will then list these result in ranking order of relevance to each word set or individual word.
If you use quotes thus: "red ballet shoes" Google will return pages containing only that exact phrase. Break the quotes thus: red "ballet shoes" Google will return results containing the word red and/or the phrase "ballet shoes".
NOTE: From now, text to be entered into the Google search box will be shown in "double quotes and italics". Only the text in italics should be entered, not the quotes.
Wildcard Symbol *:
If you are seeking a term for which you are unsure of one word, you can use the wildcard * symbol. Thus, if you are seeking a book title "The Eagle has ?" you can search for "the eagle has *"and get the result 'Landed' and 'Flown' – the two book titles by Alistair MacLean.
You can also use it to find all results for a certain type of search. For example, a search using "* mountain dogs" will give a list of all types of mountain dogs contained in Google's index.
Within a Range …
Two periods without spaces can be use to indicate a range. For example, "LED TV $1000..$2000" will give a result where the top results consist of LED TVs within that price range.
Search a Domain site:
The term site plus a colon can be used to carry out a search within a specific domain. For example, "tornado site:usatoday.com" will list references to tornados on the USA Today website. There are no spaces between the colon and the two terms when the colon is used.
B. Other Uses of the Colon:
The colon can be used in a number of other search operations, many of which are very useful in analyzing your online competition. Here are some of the more useful of these:
URL Backlinks:
You can find a list of backlinks to a specific URL or web page using the 'link' operator. Thus: "link:domain.com or link:domain.com/page" returns listings of pages containing a link back to the specified URL. You can analyze a competitor's backlink sources using this facility.
Specific Filetypes:
You can search for a specific file format using the 'filetype ' operator. For example: "SEO reports filetype:xls" will return a list of SEO reports available in XLS format. "Chetan Bhagat books filetype:pdf" will return a list of Chetan Bhagat books in PDF format.
Locate Keyword:
If you want to find website or blogs containing a specified keyword in certain locations, you can use the terms "intitle:", "inurl:", "intext:", and "inanchor:" to find pages where the keyword is contained in the Title tag, the URL, the body text or in anchor text on the page.
Thus: "intitle:SEO Tricks" with return all web pages or blog posts containing the keyword "SEO Tricks" in their Title tag – that is the title shown in the Google listing. This is a very useful competitor analysis tool.
C. Google Search Tips Using Text Commands
The following Google search tips involve the use of text commands rather than operator symbols. Google is very intuitive and it can frequently understand what you are looking for by the terms you use in your search. Thus:
Finding Alternatives:
There are several ways you can find alternatives when carrying out a search. For example, if you like Michael Jackson and want to find more artists like him, then you could simply search for "artists like Michael Jackson". However there are neater ways that include people's opinions. One of the best is to use 'vs'.
Try "Michael Jackson vs" and check how Google auto-completes that in the search window: it will likely include a number of popular alternatives to Michael Jackson. You can do that with anything for which you want to find viable alternatives, e.g. "iOS7 vs" or even "Google vs".
Google Image Search:
Just below the search window, or to the side of the page, you will find a number of search options. You should try these because they offer a number of useful search alternatives. One of these is Images.
You can use the Google Image search facility in a number of ways, but one useful way is to find information. For example, if you see the term 'alpaca' but have no idea what one looks like, then use "alpaca" in the Images search box and you will find a number of photographs of them. The same for a "sharon fruit" or a "dirndl dress". This can be a very useful search tool.
Unit Conversions:
To convert units simply tell Google what to do, so: "2.15 kg in lb" gives the result 4.73994. If you want that in pounds and ounces, you then have to ask "0.73994 lb in oz" and get 11.8384. Another example is "750 hp in Kw", the answer provided being 559.274904 Kilowatts.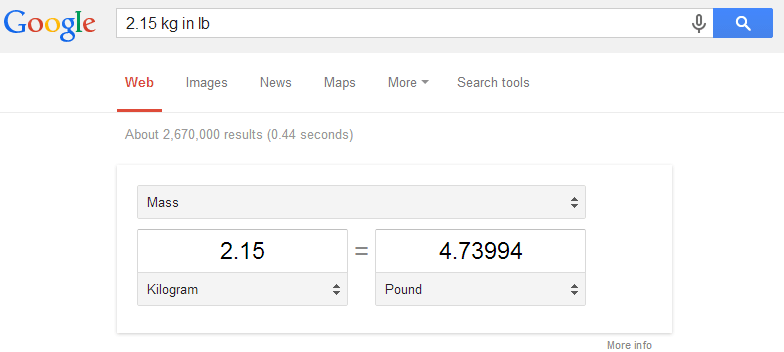 Calculations:
To carry out a mathematical calculation, don't go for an online calculator. Simply type the calculation into your address bar. Thus: "5*2.8-5" gives the answer 9. Use parenthesis to make sure the correct calculation sequence is followed, so "5*(2.8-5)" gives the answer -11.
When using trigonometric functions you must state if you are using degrees, otherwise the calculation uses radians. Thus "sin 25-cos 30+sqrt 16" gives the result 3.7133968, while "sin 25 deg-cos 30 deg+sqrt 16" gives 3.55659.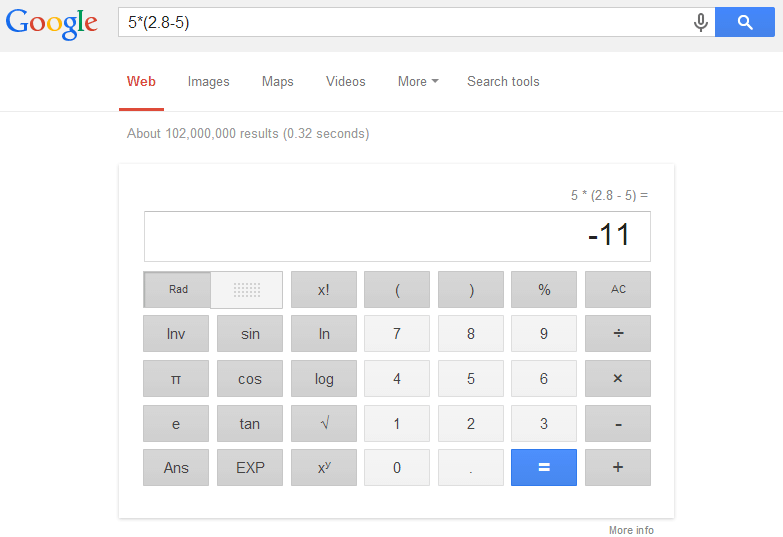 Currency Conversion:
If you know the international currency codes, then simply write them down in order. For the exchange rate from US dollars to UK pounds: "USD UKP" – this gave 0.61 when we tested. That is all that is needed, just the first currency, a space, then the second currency.
If you do not know the code, then "US dollars Thai baht" will do – gave us 32.98. For a specific sum, then "32 USD UKP" also works, as does "32 US dollars Thai baht".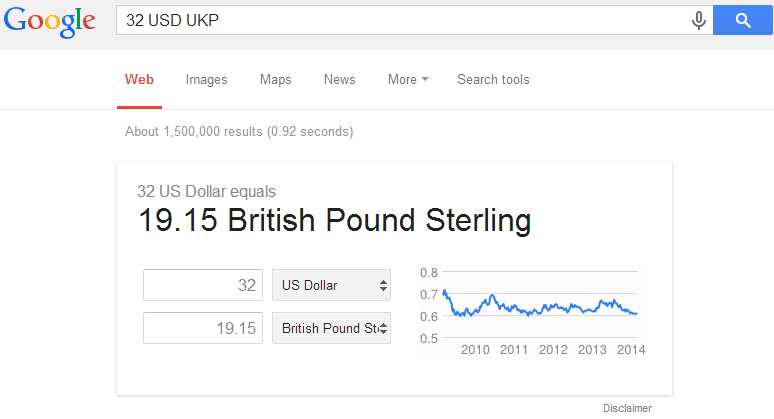 Alternative Numerical Systems
To convert a number to binary or vice versa, use this format in the Google search box: "52 in binary" gives the correct answer (00110100). You could simply state "52 binary" and although Google does not formally provide the answer, you will see it in the list of search results.
The same is true of any other system: "52 in hex" (34) and "52 in octal" (64). To do the reverse, simply reverse the requirement: "binary 00011101 dec" is enough to provide the result 29.

D. Information Search Tips
Outside of websites and blogs, most people use Google to find personal information. There are dozens of Google search tips that can be used to facilitate this. Many are obvious, such as using the minus (-) sign to omit specified keywords from the results. Others are obscure, and rarely used. Here are some of the more useful operators and techniques that you can use.
Find the time: Simply enter "time city" and you will find the local time in that city, e.g. "time Melbourne".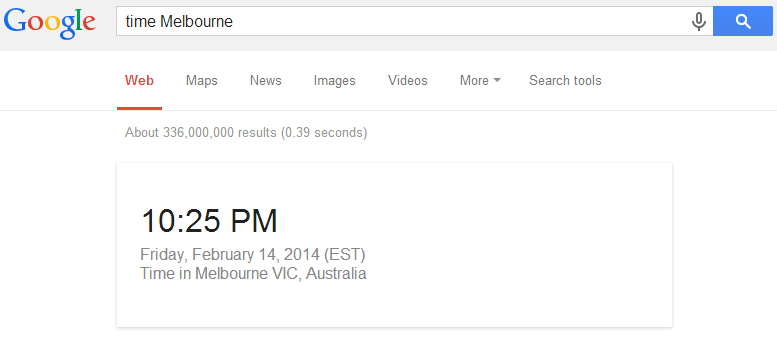 Weather: Same as above: enter "weather Melbourne" for the current weather in Melbourne (usually hot!)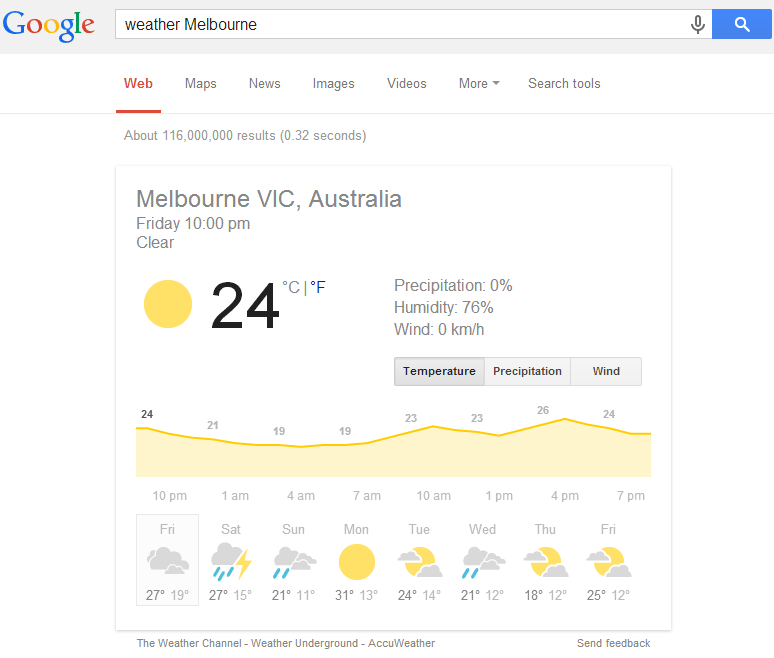 Sunrise/Sunset: Same – "sunrise Mumbai" or "sunset tokyo".

Flight Times: Simple enter the flight number into the search box for latest departure and arrival times for that flight number. Thus, "AA21" gives the departure and arrival time of the current American Airways flight from New York to L.A. The results list also provides details of previous flights and future schedules.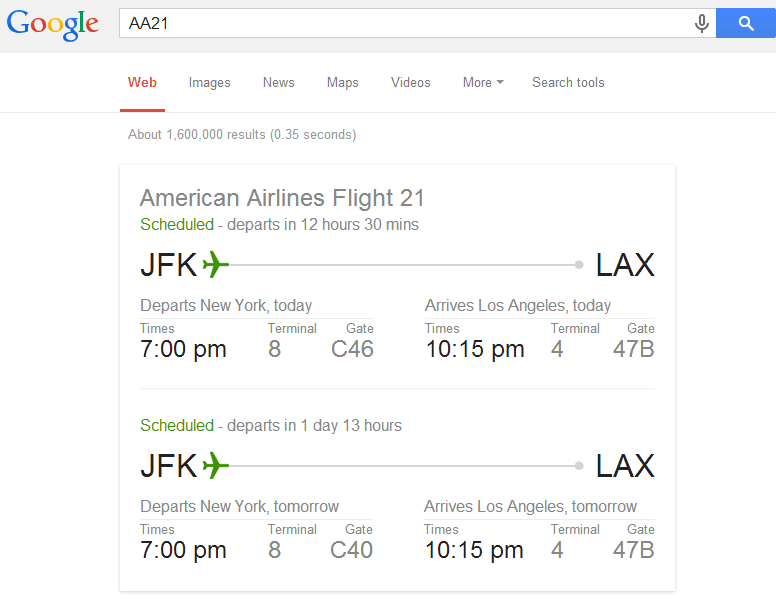 Movie Times: "American Hustle London England" will return the cinemas and showing time of that movie in London. The same works for shows, plays and individual artistes. Thus, "Taylor Swift Los Angeles" will list any appearances due in LA by this singer.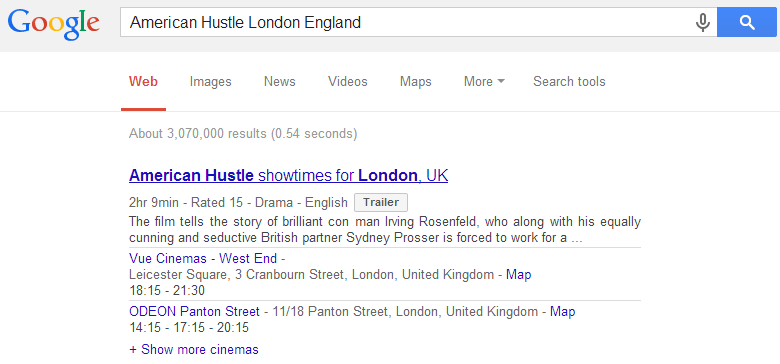 Either-Or: if you want to include options in your search, you can use the pipe (|) symbol. For example, "Phantom of the Opera|Les Miserable New York" will list showings of either one or other of these shows. So if one is not showing, they other may be.
Local Search: If you want a list of the movies or shows local to you, enter your zip code or post code or city name: "movies 10457" or "movies NP4 9AG" or "movies Mumbai" will list all the movies being shown in the Central Bronx or Blaenavon, Wales regions or Mumbai, India. You can do this for any type of search, anywhere in the world, not only local to you.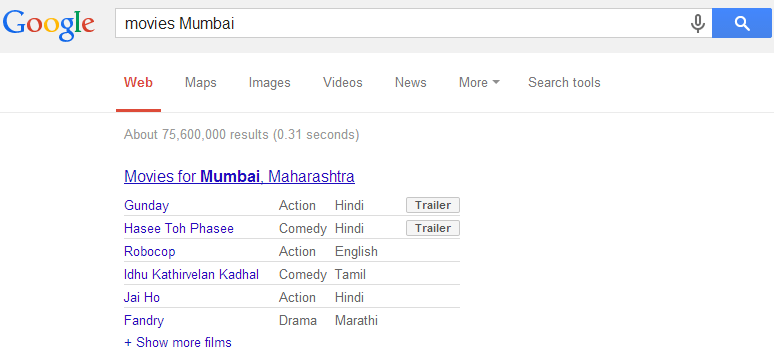 Movie Release: if you want to know when a specific movie is to be released, or when a current movie was released, enter "Dhoom 3 release" – and you will find it was first released on December 19th, 2013 in Kuwait.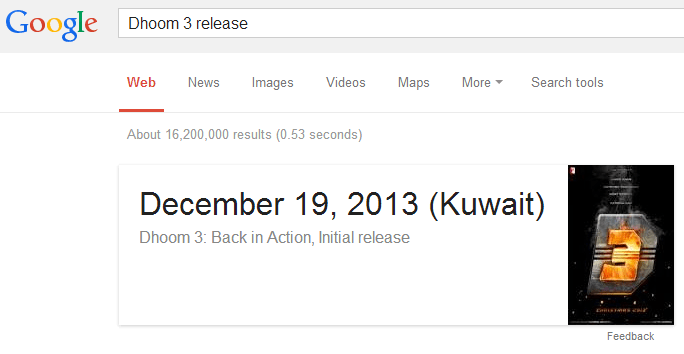 FedEx Tracking: You can track FedEx, UPS and USPS packages simply by typing the tracking number into the Google search box. Google recognizes the format and will provide you with the appropriate tracking record.
Telephone Numbers: If you are getting annoying telephone calls, copy the number into the search box. If there are any records of the number having been reported, or if it appears anywhere online, then you may be able to find its source.
F. Some Browser Shortcuts
Before we discuss two very useful lesser known Google hacks, here are a few shortcut keys you can use to save time when using your browser.
Alt + Enter opens the contents of the address bar in a new tab. This has many uses, such as opening a website in two or more different tabs to have quick access to different pages.
Alt + D moves your cursor into the browser address bar and highlights what is already there. This makes it easier to enter a new address. It is also useful if your cursor has gone AWOL! In that case, press Ctrl itself and you will find the cursor!
Ctrl + B opens your bookmarks menu.
Ctrl + D bookmarks the current page.
Ctrl + N opens a new browser window.
Ctrl + P prints the current page.
Ctrl + S saves the current page.
Ctrl + W closes the current browser window.
Ctrl + T opens a new browser tab.
Ctrl + Enter adds WWW to the beginning and .COM to the end of a domain name and opens the domain. Thus, type "website" into the address bar, and Ctrl + Enter will open www.website.com. A good time-saver.
Ctrl + '+' or '-' increases or decreases the text font size. Hold the Ctrl key own and the text increases in size each time you hit the + key, and reduces each time you hit the – key.
F3 opens the Find/Search box so that you can search for text on the current page.
F5 refreshes/reloads the web page you are on.
F11 goes full screen, and hitting it again goes back to normal.
E. Little-Known Hacks
Hacks are not the same as hacking. Hacks are ways of making life easier, as those shown here will explain.
Bypassing a Block: Using Google Cache
Sometimes you will have the need to bypass a block placed on a specific website or IP address. Such blocks are generally applied by schools, colleges and employers, and work by preventing that IP or web address to be used to access the relevant website. Once you are in, however, blocks no longer apply.
You can do this in several ways, such as using a proxy server to hide the IP address you are accessing, or by using Google Translate in the same way. The easiest way however, is to use Google's cache of web pages. Simply type "cache:blockedsite.com" and you will get in.
Google will provide you with a cached version of the website from google.com which you can then use to login and use in the usual way. Because the site was accessed through google.com, and not its own IP or web address, the block does not recognize it as a flagged address. The only time this does not work is if Google has never visited the website – a highly unlikely situation.
Google's "I'm Feeling Lucky" Feature
Google offers a feature known as "I'm Feeling Lucky." When clicked, this opens the top web page in the listing for the search term used. Many people like to use this when they know it gives them the page they want. It is convenient and it saves time. The link is found either below the search box, or appears when you hover over each Google auto-completed search option.
However, the feature often fails to appear with certain versions of Firefox, and it might disappear when you upgrade Firefox to the latest version. It can also disappear if the Home Page (search engine) of your browser is changed from Google to something else, such as Ask or Amazon.
This can happen when you download certain types of free software. Changing your Home Page back using your browsers the Tools -> Options facility doesn't always result in a permanent fix. The next time you open Firefox, it can back to the revised version again.
Here is how to fix and replace I'm Feeling Lucky and return Google as your default search engine:
Clear the address bar and type in about:config – then hit Enter.
You will now be given a warranty warning. Click on "I'll be Careful, I Promise" – It's OK, you will not be doing any damage with this procedure.
You will now be in the configuration area of Firefox.
Scroll down till you reach the string keyword.url:

The section beginning 'http: //' will not look exactly like the above, since this is in the correct format.

If you want to use Google and its 'I'm Feeling Lucky facility then copy this string below to the box and click OK:
http://www.google.com/search?btnI=I%27m+Feeling+Lucky&q=
Now, when you open the browser, it should default to Google with the facility activated. You can do this every time you lose the "I'm Feeling Lucky" option after upgrading Firefox versions, or when your browser is hijacked to default to another search engine.
G. Google Easter Eggs and Mr. Doob
Finally, we finish with a bit of fun. At certain times of the year Google issues what are known as 'Easter Eggs' – hidden spoofs that only appear when certain text is typed or actions taken. To start, and to give you an idea of what these are about, carry out a search for "anagram".
Another one is Atari breakout. Go to Google Images and carry out a search for "Atari Breakout". Rather than just the image, you get a playable version of the original game. Another Easter egg.
Carry out a Google search for the following:
"Do a barrel roll"
"tilt"
"zerg rush"
"recursion"
Doobs are graphics effects created by cutting-edge designer, Ricardo Cabello (Mr. Doob). To view them type or copy any of the following into your browser search window and then click 'I'm Feeling Lucky' – they do not work using the ordinary search option.
Google pond
Google gravity
Google space
Google sphere
Internet Explorer 6: Click here for this one.
Good luck with that last one. People have fun searching for Easter eggs at times of popular anniversaries or festivals.
These are a selection of the more useful Google search tips and a few Google hacks to improve your search experience. They may not only speed things up, but can also give you access to search results that you may not otherwise have come across.