Before we present our best laptop cooling pads, let's first look at why they are necessary. Laptops are well on their way to matching desktops for their processing power. However, heat dissipation is one problem that has not yet been adequately solved. This is where a laptop cooling pad is useful. They provide cool air to reduce the temperature of critical components and prevent the laptop from shutting down. You can find out more about the need for a cooling pad in a computer maintenance post.
There is a large choice of cooling pads available on the market, and it is important that you choose the right one for your specific needs. We have chosen what we consider to be the ten best laptop cooling pads for 2023. Each has its own unique benefit. You are sure to find one that suits your needs from the following laptop cooling pad reviews.
10 Best Laptop Cooling Pads to Buy in 2023
| | | | | | | |
| --- | --- | --- | --- | --- | --- | --- |
| No. | Laptop Cooling Pad Name | Laptop Size | Dimensions | Fans | Weight (Lb) | USB |
| 1. | | 15.6″ – 17″ | 11 x 14.9 x 1.2 | 3 | 1.5 | 2 |
| 2. | | 15.6″ – 17″ | 12 x 16 x 1.5 | 4 | 1.6 |  2* |
| 3. | | Any | 3.26 x 3.14 x 1.4 | 1 ** | 0.5 |  1* |
| 4. | | Up to 17″ | 12.2 x 15.7 x 12.8 | 1 | 1.98 | 1 |
| 5. | | Not Stated | 12 x 15.1 x 2.2 | 2 | 2.0 |  1* |
| 6. | | 14″ – 17″ | 11.8 x 15.87 x 1.34 | 5 | 1.8 | 2 |
| 7. | | 12″ – 14″ | 11 x 14.2 x 1.8 | 2 | 1.76 | 2 |
| 8. | | Up to 17″ | 11 x 20 x 3 | 2 | 4 | 1 |
| 9. | | 12″ – 17″ | 11.81 x 14.96 x 1.38 | 5 | 2.52 | 2* |
| 10. | | 12″ – 17″ | 13 x 15.9 x 2 | 5 | 2.85 | 2 |
* USB hub is available for adding other USB ports.
** The OPOLAR cooler has 13 fan speeds.
1. HAVIT HV-F2056
The HAVIT HV-F2056 Cooling Pad is a slim, portable laptop cooler with three very quiet fans. It can also be used as a stand that is adjustable for the most ergonomic height for you. It also offers a multi-directional metal mesh that enables to safely carry your laptop. It comes with an extra USB port and its integral dual USB hub enables you to connect extra USB devices. It may feel uncomfortable on your lap due to the metal mesh.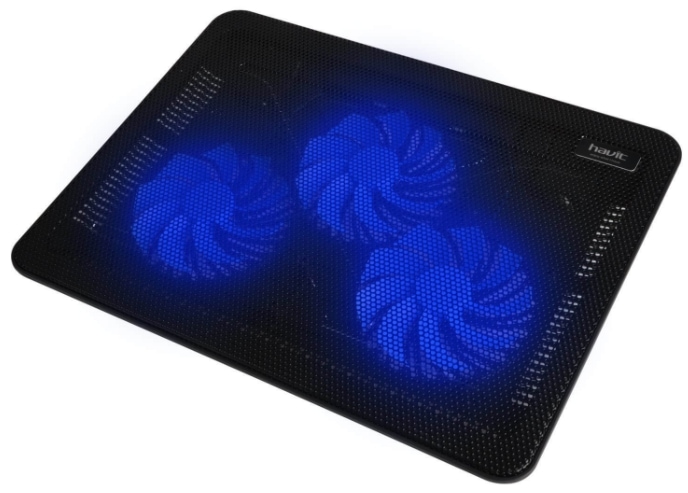 Pros
Very slim.
Ergonomic stand.
Sturdy mesh construction.
Cons:
May feel uncomfortable on your lap.
Purchase this Product on Amazon
2. Tree New Bee 
TNB-K0025
The Tree New Bee cooling pad is great for gaming and has excellent noise reduction features. It is practically silent in use. It also allows you to tilt your laptop in use while preventing it from overheating. The fan speed is adjustable, enabling you to balance performance and fan noise.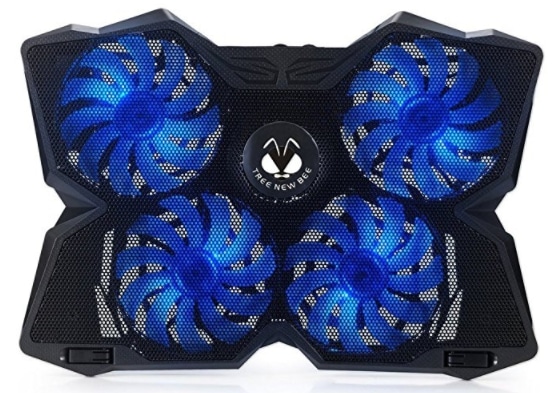 Pros:
Best choice for gaming.
Very low whisper soft fan noise.
4 1200 RP fans.
Cons:
Holding clips seem weak.
Best for laptops below 17″ in width.
Purchase this Product on Amazon
3. OPOLAR Laptop Fan Cooler
If you want a laptop fan cooler that has a temperature display, then this is your best buy! The OPOLAR Laptop Fan Cooler has 13 fan speeds for maximum control over noise and cooling. The LED screen displays the temperature of the air coming out of the laptop air vent. This suits many laptops, but it must have a side or back vent that does not exceed about 4.6″L x 1.6″H in size.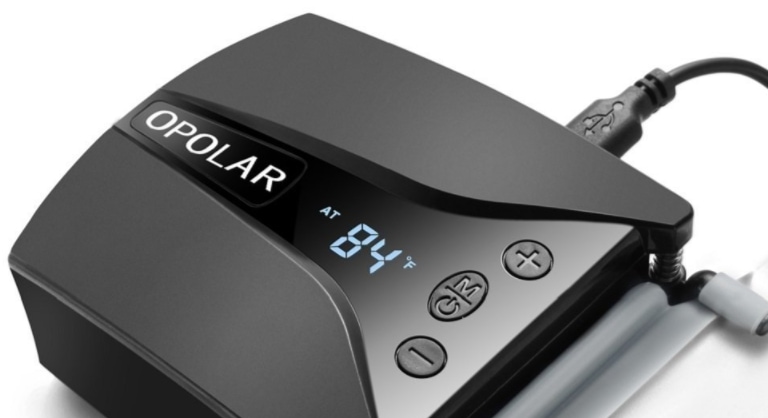 Pros:
13 Adjustable fan speeds 2,600 – 5,000 RPM.
Good for gaming do the fast fan speeds.
Small and very lightweight at only 0.5 lb.
Cons:
Not recommended for Macbook or other ultrathin notebooks.
Limited to certain laptops with side or back vents of certain dimensions.
Cannot be used to hold the laptop in certain positions – it is not a 'holding' pad, but a dedicated laptop cooler.
Purchase this Product on Amazon
4. Cooler Master NotePal X3
The NotePal X3 comes with just one fan – but that is a massive 200mm fan. It also has a built-in dial wheel fan speed controller to adjust fan speed, fan noise and cooling efficiency. The front vent provides a cool breeze to keep your hands cool and dry when gaming. This is the best cooling pad for laptop gaming use we have reviewed.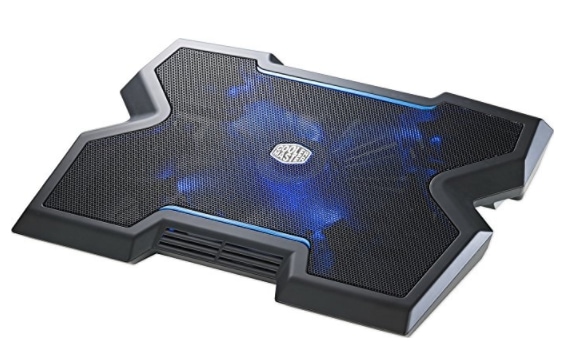 Pros:
Keeps your hands cool when using it – particularly with intensive use.
Adjustable to your best viewing angle.
Fan speed can be controlled.
Cons:
A single fan may not conform to the design of your laptop. Some complaint about the fan not directing air to their laptop vent. Make sure this design is suitable for the air vents on your laptop.
The fan may be too close to the top of the pad – any excessive pressure might bring the two together.
Purchase this Product on Amazon
5. Targus Lap Chill Mat
The Targus Lap Chill Mat has a soft neoprene base for added comfort when you rest your laptop on your lap. The dual fans disperse the heat from the laptop for use on your lap, pillow or comforter. It tilts the laptop for a good ergonomic angle of use. The Targus Lap Chill runs quietly and keeps you and the laptop cool.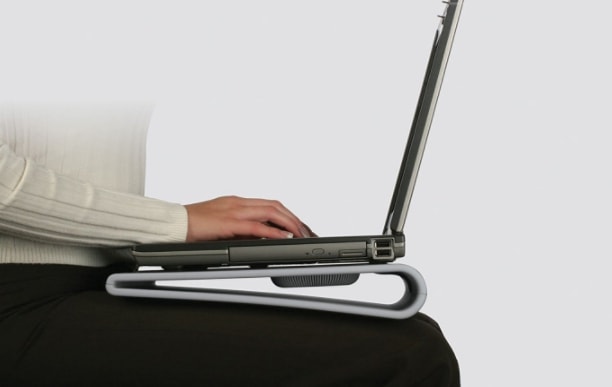 Pros:
Soft neoprene cover makes this laptop cooler good for using on your lap. That is what then term 'laptop' means after all!
Runs quietly and is good for everyday laptop use.
Cons:
The fans are great for normal use, but all-day gamers might find this not enough.
The two fans might not direct cooling air to the vents of some laptops.
Purchase this Product on Amazon
6. HAVIT 5 Fans Cooling Pad
The HAVIT 5 Fans Cooling Pad has, as it says, 5 fans: One large fan and four smaller fans. They are quiet and offer a maximum level of heat dissipation for 14-inch to 17-inch laptops. A red LED light indicates the cooling effect – the brighter the LED the faster the fans will be running. The height level is adjustable and it comes with two USB ports.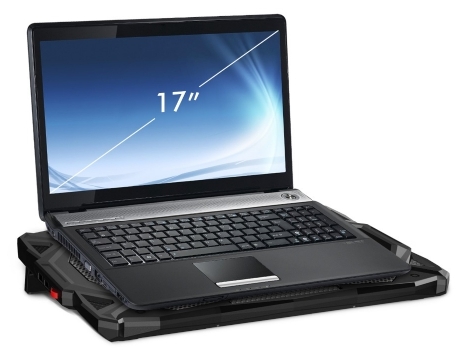 Pros:
Two USB ports to enable you to plug in other devices.
Good for all sizes of laptops up to 17″.
Lightweight and almost silent.
Cons:
A plastic grid that protects the fans could be stronger.
Purchase this Product on Amazon
7. TekNet Portable Cooling Pad
The TekNet portable cooling pad is ideal if you have a number of different sized laptops such as Apple MacBook Pro, Air, HP, Alienware, Dell, Lenovo, ASUS, etc. Its two fans are fairly quiet in use and can be used on any surface. It is one of the lightest and most portable laptop coolers we have reviewed that can be used for laptops less than 15 inches.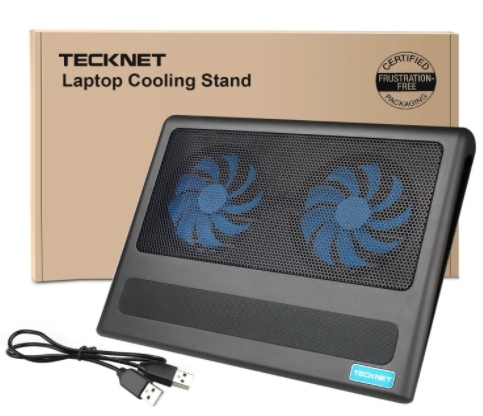 Pros:
The dual intake vents and curved shape allows the pad to get its air supply no matter what surface it is lying on – your bed, lap or on a desk.
Good for any 12″ – 14″ wide laptops.
The extra USB port allows you to plug in other devices.
Cons:
The fans can be slightly noisy, although not as noisy as some of the other best laptop cooling pads we have reviewed.
Cannot be used effectively with laptops wider than 14 inches.
Purchase this Product on Amazon
8. Pwr+ Portable Laptop-Table Cooler
The Pwr+ laptop table cooler is the best laptop cooling pad that can also be used as a breakfast table! You can use it for anything – as a gaming table, keyboard stand and even a writing stand. It is an aluminum table supported on independently adjustable folding legs. The two fans keep the laptop cool and can adjust it to any angle or height you want.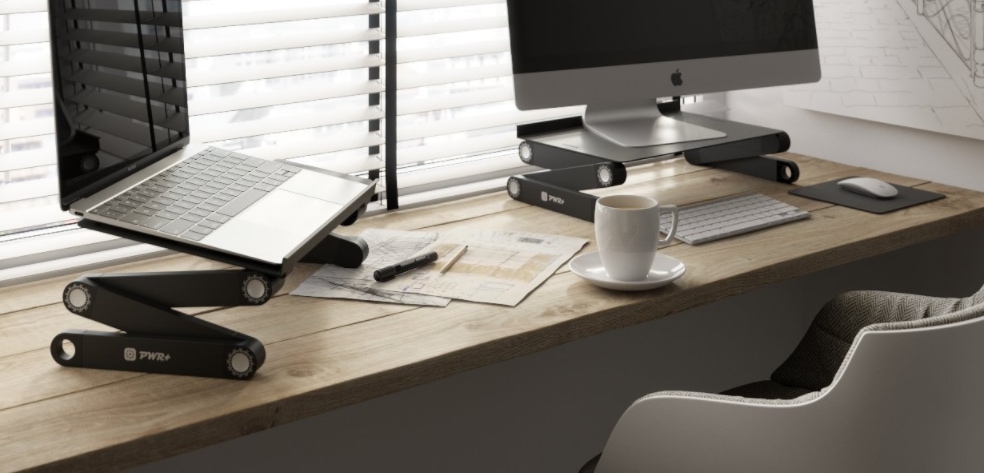 Pros:
Adjustable to any angle of view of your laptop.
Can also be used as a writing or reading desk.
Totally adjustable legs to any angle or orientation of each individual leg.
Suitable for use anywhere – in bed, on your lap or in a train.
Cons:
Bulky.
Slippery painted surface.
Too big for a computer bag.
Purchase this Product on Amazon
9. Kootek Laptop Cooling Pad
If the Pwr+ stand is too large for you, then the Kootek laptop cooling pad is great for watching movies and gaming. You can adjust the angle of view, and the cooling fans keep the laptop cool. The 5 fans have blue LEDs, and you may choose to have 1, 4 or all 5 fans working. Its cooling effect is more than adequate.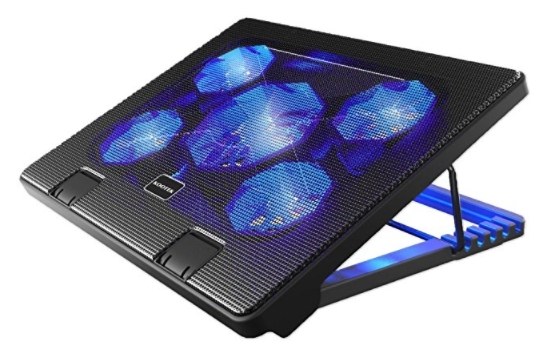 Pros:
Good for movies and gaming.
You can control the function of the fans – to an extent as explained above.
Six height settings for the stand – suitable for viewing movies and gaming.
Cons:
Fans can drain your battery if you are not connected to the main power source.
The fans may not be very powerful – though most are happy with them.
Purchase this Product on Amazon
10. Otimo Laptop Cooling Pad
The five fans that keep your laptop cool are very quiet in operation and very effective in their cooling effect. Its 6-point adjustable arm enables you to set the screen to whatever angle you prefer. This is an extremely effective laptop cooling pad, and like the TekNet it can be used with laptops from 12″ to 17″ wide. It has a 6-point adjustable arm to raise or lower the stand to your desired height for the greatest flexibility.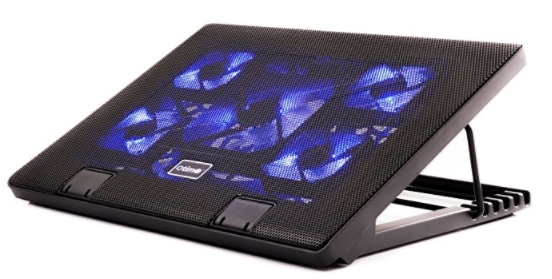 Pros:
Good adjustability for multiple viewing angles to your laptop.
Slim and portable.
Extra USB port can be used as a hub.
Five effective cooling fans.
Cons:
Fans seem loud at lower settings.
Purchase this Product on Amazon
The above are our 10 best laptop cooling pads 2023. They cover a range of potential uses for your laptop. For example, gaming can use a lot of processing power, so needs a quicker acting cooling system that a laptop used mainly for browsing and word processing.
Dangers of Overheating
With the protracted use of a laptop, or any other form of computer, the device will heat up – and perhaps overheat Excessive heat can slow down performance and even damage the more sensitive internal components. The CPU and GPU can be affected by excessive heat, slow down and hang the machine up. Your laptop has a fan to help prevent this, but fan issues can lead to overheating.
That's why you need a laptop cooling pad: to prevent overheating and extend the efficiency and lifetime of the important components. So how do you choose which pad is best for you? Here is a short Buyer's Guide to provide you with some tips on choosing the best laptop cooling pad for your use.
Buyer's Guide to Buying a Laptop Cooling Pad in 2023
Buying a laptop cooling pad can be a very confusing task, particularly if you are unsure what you need. However, if you consider the use to which it will be put, you can narrow your choice down significantly. All ten of our picks above are excellent at what they have been designed to achieve, and here are some tips on what to look for.
1. Laptop Size
If you have a 15-inch wide laptop, then it will not fit #1, 2 and 7 so you can ignore these three. That narrows your choice to the other 7 in the list.
2. Angle and Position of Use
How you use your laptop is another important factor. A cooling pad should be ergonomic, enabling it to hold your laptop in your favored position: at a specific angle, on your lap or against your legs. Make sure that the cooler you choose is sufficiently adjustable to meet your needs – and that it would be comfortable in your lap.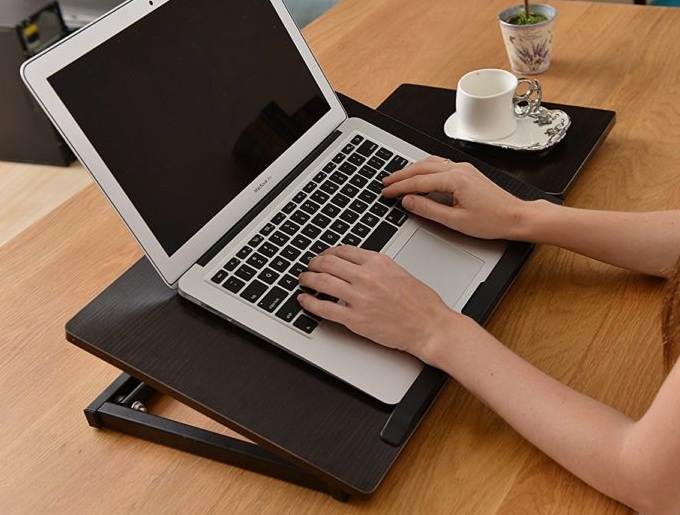 3. Fans
All the best laptop cooling pads have one powerful fan or a number of smaller fans. Check that any you purchase has at least one fan – some have no fan, but rely on heat-resistant materials to keep them cool. All our top 10 have at least one large fan.
4. Noise
Check the noise level of the fan. Most manufacturers will make some form of reference to noise in their listing. We have selected 10 of the best laptop cooling pads with the lowest noise levels we could find.
5. USB Ports
Laptop cooling pads operate by means of a USB connection from your laptop. This removes a USB port from your laptop. Check the number of USB ports on the cooling pad – some have more than one or a USB hub, making up for the one you have lost to run the fan.
6. Air Vent Location
Check the position of the air vents on your laptop, and make sure that fan outlets on the cooler you have in mind corresponds. There's not much point buying a pad where the fan blows onto the casing of the laptop rather than into an air vent!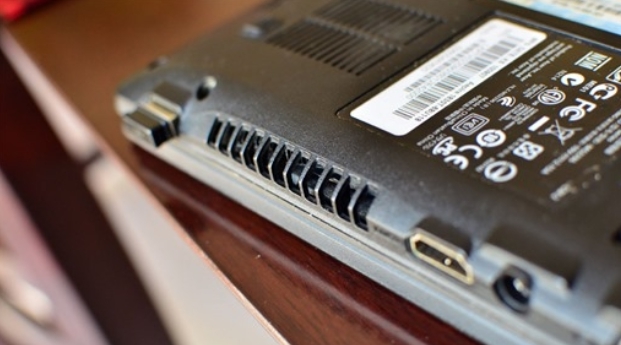 These are the fundamental factors involved in buying the best laptop cooling pad for your needs. You may still find it difficult to choose from our Best Buys, so simply click the link to find out more about those that interest you.
Best Laptop Cooling Pads: Conclusion
We have explained the need for laptop cooling pads, and provided you with a list of our top picks. We have also explained how they operated and the salient features of each, together with a link to their online listings where you can find more comprehensive information. Our Buyers Guide should help you to make the correct choice to meet your needs from our list of the 10 best cooling pads for laptops 2023.