A workflow is a method of organizing and controlling a series of operations and activities. Businesses rely on them to get things done, whether that's making a product, offering a service, processing information, or something else entirely.
Oftentimes, these operations and activities are repetitive tasks that take up employees' time that can be used much more productively. So, to save time and effort, many business owners are turning to automation and introducing workflow management tools in their companies. This allows businesses to streamline their processes without wasting time on unnecessary activities. 
The demand for workflow management systems is expected to expand as a result of rising interest in streamlining internal operations and the widespread adoption of cutting-edge technology across a wide range of business sectors. In fact, the worldwide market for workflow management systems is expected to grow at a CAGR of 33.3% between 2023 and 2030 from its 2022 valuation of $9.540.0 million.
Now that you understand what workflow management tools are let's look at some examples of software solutions that can help you streamline your processes.
Enterprise Resource Planning Software
Enterprise resource planning (ERP) software can help small businesses increase efficiency by standardizing and computerizing formerly manual procedures. ERP software helps consolidate your company's most important data in one place, from accounting to HR to inventory management. Accessing data in real-time like this can cut down on the amount of research and deliberation normally needed before making a decision.
For example, if you're running a business in the fashion industry, then ERP apparel software can help you manage the complete supply chain, from raw materials to finished items, by tracking inventory levels, automating order processing, and managing production schedules. This has the potential to enhance customer satisfaction by decreasing the number of mistakes made and the time it takes to complete an order.
A workflow management solution like an ERP can help small businesses become more effective and profitable by reducing repeated manual activities and offering real-time insights into business operations.
Project Management Tools
If you are juggling many tasks at once, you should consider investing in project management tools.
These types of tools can automatically send reminders for upcoming tasks, including details such as deadline and budget, keeping everyone in the loop on the project schedule. The programs provide boards, lists, cards, and other user-friendly tools that can enhance team cooperation and productivity. 
Through the use of editable templates, they make it possible to see clearly how a project is structured, who is responsible for what, and how much money will be needed. They also provide clear company-wide operations and simple tracking of results. 
CRM Software
Customer relationship management (CRM) is a powerful business tool that gives small businesses a single hub from which to monitor and improve their interactions with customers at every stage of the buying cycle.
You can monitor who visits your site and who opens and clicks on your emails. A well-implemented CRM system will also assist you in maintaining an orderly database of client information that is available across several channels. 
Workplace Communication Software
Your company will require up-to-date digital communication solutions to keep your staff connected as it expands. Instant messaging apps like Slack, Skype, and Whatsapp allow you to quickly share text, videos, and image files with coworkers. Video conferencing is another professional communication alternative, especially for remote workers. It's a great alternative to in-person gatherings for maintaining team harmony and getting everyone on the same page.
When it comes to fostering teamwork, Microsoft Teams is hard to beat. Its main feature, live video chats, is complemented with data and screen sharing as well as extensive personalization options.
Human Resources Management System
As a small business owner in charge of a smaller workforce, you might think an HR solution is unnecessary spending. However, no matter how big or small your team is, human resources tasks will still need to be taken care of, which may eat into your time and efficiency. In addition to streamlining the recruiting process, HR software can also help with new hire paperwork, training, and benefits administration. 
You can keep tabs on your staff with the help of a professional HR solution's personnel database, payroll functions, time-off tracking, and attendance monitoring.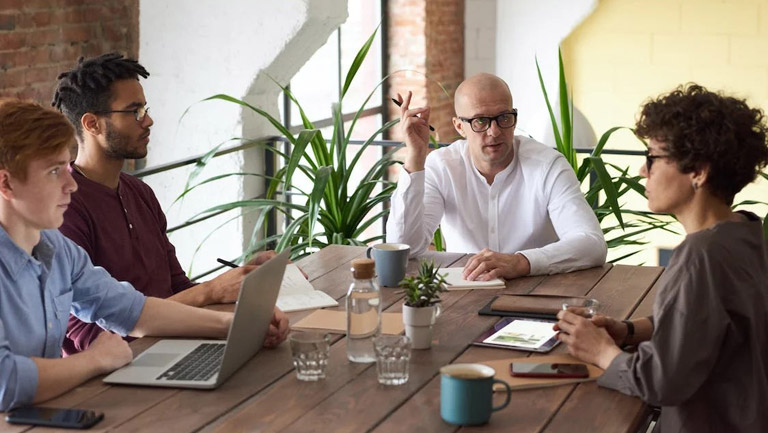 Final Thoughts
Workflow management tools can help you work smarter, not harder. Implementing technology to free yourself and your team from mundane, non-essential tasks is a smart move. This way, you can focus on developing new strategies for your organization, putting them into action, and expanding your operations.
Simply choose the solution that works best for you, then sit back while it takes care of tedious, low-paying tasks. You need to shift your focus from working "in" your company to working "on" your business.