In the bustling world of business, efficiency, cost-effectiveness, and security reign supreme. For small businesses, every minute and dollar counts, making it vital to leverage tools that can streamline operations and give them a competitive edge. Amid the myriad technological advancements available today, one stands out with its transformative potential: electronic signature software. 
No longer are businesses tethered to the tedious processes of yesteryears. Instead, they're poised to embrace a digital future where transactions are swift, costs are optimized, and documents are safeguarded with state-of-the-art measures. 
Dive in to explore the multiple benefits of electronic signatures and their revolutionary impact on small businesses.
Boosting Efficiency in Transactions
Reflect on the age-old practice of sealing business deals: the agonizing wait for mailed documents, the idle hours or even days anticipating a signature. Today's business landscape offers a dramatic shift from that model, thanks to electronic signature software. This digital tool doesn't just speed up transactions—it revolutionizes them.
Dispatch a document, secure a signature, and have it returned to you all within a remarkably short time span. This eradicates the hindrances of postal snags and the dread of mislaid documents. This newfound efficiency not only propels your business activities at an unprecedented pace but also amplifies your ability to clinch deals swiftly and cater to your clientele more effectively.
Cutting Down Costs Dramatically
When you think about traditional paperwork, numerous expenses come to mind. There's the constant need to replenish paper supplies, the ever-increasing postage costs for mailing documents, the physical spaces or storage units required to archive those countless files, and the regular purchases of ink. And it's not just the tangible costs; consider the time and manpower needed to manage, organize, and retrieve these paper documents. Over time, these seemingly minute expenses cumulatively create a significant financial burden on businesses.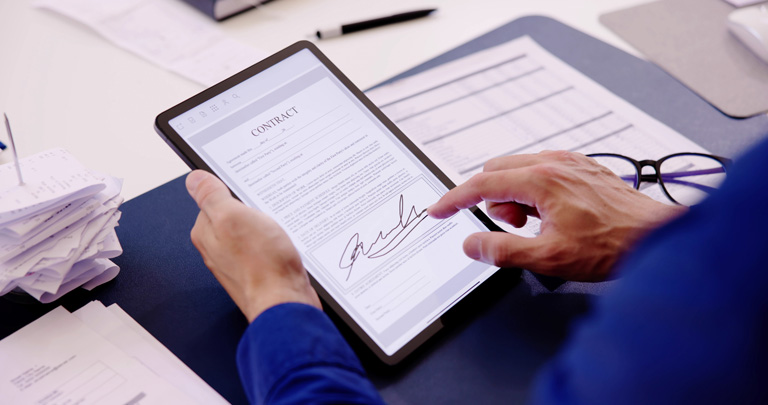 This is where electronic signature software steps in, offering a transformative solution. By transitioning to digital signatures and using the best electronic signature software, businesses can drastically reduce these recurring expenses. Not only do they eliminate the need for physical storage spaces—resulting in substantial savings on rental or purchase costs—but they also streamline operations, making them more efficient. 
While there's an initial outlay to set up an electronic signature system, the savings and benefits in the subsequent periods make the investment well worth it—it's about more than just cutting corners; it's a strategic move to make business operations both cost-effective and forward-thinking.
Enhancing Document Security
Traditional paper documents carry inherent vulnerabilities. They can easily be misplaced, accessed without authorization, or, in worst-case scenarios, altered fraudulently. Now, compare this with the robust defenses offered by electronic signature software. Such platforms are embedded with high-level encryption and secure authentication methods, safeguarding each document's integrity.
Every signature executed through these systems is backed by a detailed audit trail, noting the signer's identity, timestamp, and device used. It's not merely about transitioning to a paperless model; it's about granting businesses a fortified layer of protection, ensuring that every transaction is as secure as it is efficient.
Offering Greater Flexibility
The business realm has grown increasingly dynamic, with many operations expanding beyond the confines of traditional office spaces. Under such evolving circumstances, flexibility emerges as a coveted asset. The constraints of having to be physically present to authenticate a document can be limiting. However, electronic signature software reshapes this narrative, offering a solution that keeps pace with today's agile business needs.
With this technology at one's fingertips, documents can be signed from virtually anywhere, be it a bustling airport lounge or a serene beach getaway. This means deals aren't put on hold, and business continuity remains unhindered, no matter where you find yourself.
Promoting a Greener Business
In a world increasingly attuned to environmental sustainability, businesses are under the spotlight to adopt greener practices. The traditional method of handling paper documentation, with its associated printing, couriering, and storage, leaves a significant carbon footprint. Shifting gears, electronic signature software presents a sustainable alternative that dramatically reduces paper consumption. 
Embracing this technology promotes less deforestation, reduced waste, and a decrease in energy consumption linked to paper production and transportation. By making this simple switch, businesses not only align themselves with eco-friendly practices but also send a powerful message to clients and partners about their commitment to preserving the planet.
Conclusion
In an era where efficiency, security, and sustainability are at the forefront, electronic signatures have emerged as a powerful tool for small businesses. They streamline operations, cut down costs, ensure security, offer unmatched flexibility, and pave the way for greener business practices. For a small business aiming to thrive in today's competitive landscape, adopting electronic signatures isn't just an option; it's a necessity.