Computers are capable of doing wonderful things. They have the ability to do things that nothing else in history is capable of. This includes performing the same movement over and over without fail, or bringing up arbitrary dates and facts without fail and error. Whenever you purchase computers, it's as if you are hiring a person to go around at your every wish and whim, capable of putting your thoughts and ideas into action. However, when something wrong happens, how do you know it's the not the computer, and it ends up being you.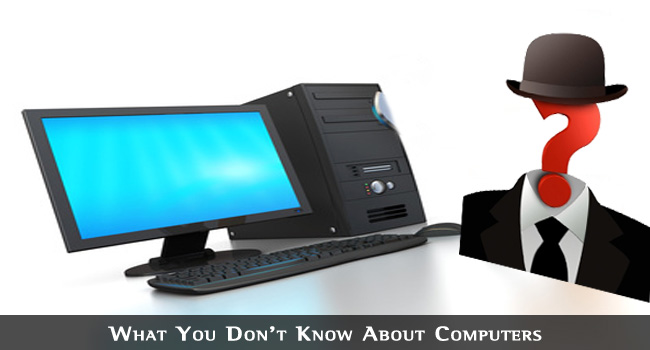 Computers Errors
Whenever something goes wrong with your computer, how do you know that you're the reason for the computing failure? The computer, by design, performs the correct process all the time every time. This is what makes it as curious as to why sometimes bugs prop up and cause problems. For example, when you're unable to open a certain file or document and it cannot be opened, how certain are you that it's a computer fault or virus fault. And much of the time it is a virus that is ruining your day, changing code in your computer. And causing your computer to behave erratically and oddly at best.
This change in the way your computer makes its decisions causes great displeasure to the person using the computer during this point of the computers life. Especially since the computer only knows of one way to do anything, and this method is programmed by the designers of the application you're trying to run. The computer NEVER tries to troubleshoot anything on its own. It just knows the one way of doing it, and if you decide to take matters into your own hands and try to get a result which you desire you will need to change the settings. For example a very popular way of doing this is by changing the configuration files, and changing the properties and elements of an execution to bring about the desired result.
Use for Games
If you play video games, you will notice this quite frequently. If you play popular games you will notice that the video game will animate certain gestures time and time again flawlessly. However, it will not animate a gesture it has no framework for. A clever design that computer programmers have come up with is ragdoll physics, which allows for the body to fall in place with respect to their immediate surroundings. For example, instead of just their body slumping to the ground after receiving a significant hit, it would now be able to fall upon a nearby table just moments before proceeding to fall on the floor. This creates a much more realistic feel, and brings to the forefront the interaction between the player and the map.
Computer and the Internet
What computers do know how to do, however, in respect to troubleshooting, is that they can do it when it's been pre-programmed with a certain check and balance system which would determine whether or not the desired outcome is even attainable because anything in the computer world is plausible. What is truly great however is that the computer can be fixed, it just takes a little know-how and access to the internet? Because Google is your friend and will help you when times are tough and you need an answer right now. The internet catalogs so much information and the ability to bring up a problem and its solution at your whim is fascinating. And is also made possible by computers churning away at some facility half way across the world to make sure you can find that special cake recipe.