Personal brand photography is a kind of business photography.  These photographs are essential for entrepreneurs and small business owners (and maybe the people who work with them) to help market their personal brand and create an identity.
They may be photos of the entrepreneur or small business owner themselves, their team, them at work, or the products or services they provide.
What makes personal brand photography different, and why is it important?
A key difference between personal brand photography and more traditional formal portraits of business clients is that they are more intimate and authentic.  
Marketing like this is more personal because it shows a client's or company's personality, and the images are ones that the audience can relate to. 
All this is done to make your audience feel more connected to your brand and feel that r brand and make the audience feel they can trust you, so they are more likely to choose your business.
And no small business owner or entrepreneur should underestimate the importance of marketing their brand with visual content.
It has been shown that articles with a visual element every 75 to 100 words achieve double the social media shares when compared to text-only content.
In other words, strong visual elements can help your brand stand out, help you build trust with your audience and get them to spread your message, and improve your bottom line. Strong visuals not only include photography, but things like illustrations and graphics and great logo design from a logo maker online.
Who should use personal branding photography and why?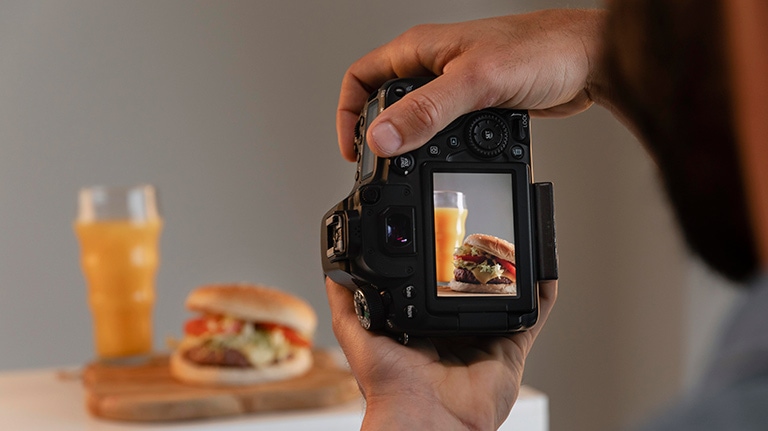 We have already mentioned that personal branding photography can help market small business owners and entrepreneurs. That includes professions such as: 
Models
Food bloggers
Fitness experts
Life coaches
Business coaches
Social media influencers
Public figures
People in roles such as these should view themselves and their business as a brand, and market themselves as such. The image that they present to the wider world will impact their turnover and profit.
If you get your brand image wrong, it can ruin your reputation, hold you and your business back and prevent you from reaching your goals. Other kinds of business photography are used in marketing.
What should you aim for in a branding photoshoot?
Whether you are hiring a brand photographer for your brand photoshoot or plan on doing it yourself, it will help if you know what kind of photography you are aiming for.
The keyword here is "authenticity."
Today's world is full of people trying to sell something.  There is nothing wrong with that, but an audience can be quickly overwhelmed by all the marketing out there.  
A quick search on Google for any product or service will show you thousands of choices in less than one second.  So how can you market yourself and show your target audience you are the brand to go with?
This is where the right image can help.
To put it quite simply, the more authentic you, your team, and your product or service appears to your audience, the more likely they are to trust you, and the more likely they are to want to buy from you.
Images that appear stiff and formal – or worse, staged and fake – will not earn the trust of your audience and can even harm your brand.
But a business owner or entrepreneur who appears genuine in their brand photography will earn that trust.
And that trust is the basis of your entire relationship with your audience.
What makes an "authentic" image?
As we have already mentioned, it is important to know what kind of photography you are after. 
Here are some ideas to aim for and how you should prepare for your shoot.
Decide if you will use a professional photographer or do it yourself 
The advantages of using a professional brand photographer may seem obvious.  They already have the knowledge and equipment to produce images of a much higher standard than any amateur.
However, you should always make sure that the photographer's style is right for your brand. They may be great at producing authentic photography for a particular age range or a specific type of client, but that doesn't mean they can do it for you.  
Always look at the portfolio of the branding photographer – make sure you brief them on what you are after and check that they can provide you with it. After all, you are the client.
If you have a clear idea of the kind of image you want, you may want to shoot your photographs yourself.
It is undoubtedly less costly than hiring a photographer.  
But you should ask yourself, "Do I know exactly how to achieve what I am after?"  After all, knowing what you want and knowing how to get it are two very different things.
And although smartphone cameras have come on leaps and bounds in the last ten years or so, they have lulled us into a false sense of security.  Many people think they know how to take a professional-looking photograph, when in fact, it is their smartphone that "knows."  Brand images need more than just a few filters stuck on them.  
It may be worth your while just talking to a professional branding photographer and seeing the difference between their photography and yours.
However, if you've checked and still feel confident you can do the job, then there is nothing to stop you!
Make sure you have the right outfit, props and location
Professional-standard photography requires a lot of preparation.  You can waste a great deal of your (valuable) time running around on the day of the shoot, sorting out things like props and clothing. 
Where will you be shooting?  The office might feel too formal, but it may be suitable if that is where you do most of your business.
And remember, if your team is being photographed, they will also need to be prepared.
Do more than headshots
You are not after formal images here.  You need images that show the "real" you. 
The atmosphere on a brand photoshoot should feel relaxed.  That is only the way you are going to capture authentic images.  
Again, it is worth mentioning the value of an excellent professional photographer. They will put you at ease long before the day of the shoot. However, if you don't feel a connection with them, they probably aren't the one for you.
Are you ready for your photoshoot?
By now, whether you are a client looking for a photographer or planning to do your photoshoot yourself, you can see the challenges and opportunities of personal branding for trying to market yourself.  
But if you are still unsure, have a look at some of the most famous celebrities out there. You will see that a personal brand can literally be worth millions – if you get it right.