To get started and develop your B2B commerce project, you need to choose the right job and learn as much as you can about this type of commerce. Keep reading this article to learn how to scale and grow your B2B business.
What is B2B e-commerce?
Simply put, B2B e-commerce is also known as wholesale e-commerce. This is business-to-business e-commerce, not business-to-customer (B2C). B2C is a completely different direction, an example of which can be purchased in any online store.
B2B e-commerce offers sellers many different benefits, such as the ability to reach a whole new group of customers (businesses), streamline sales processes to make your business more efficient and profitable, and leverage big data. You can reap a huge number of benefits and opportunities with the right approach and work in this direction.
What types of e-commerce exist?
Now you know more about B2B e-commerce. To work on this system, you need to choose a good platform and know how to do it right. B2b e-commerce consulting will help you with this.
B2B is an acronym for Business to Business. In simple words, it is the sale of goods from one company to another. This is what happens when a company buys resources or the product itself from a supplier. Resellers and distributors also belong to this niche. It is also worth mentioning service companies, which are types of B2B businesses.
B2B e-commerce is the one that has all these commercial relationships but through e-commerce. The B2B e-commerce platform offers shopping strategies, performance metrics, and the ability to reach new audiences.
There are shops that work on B2B and B2C. If we talk about B2B, then usually on such platforms there is a separate closed section, access to which is available only to some clients. This can usually be done with a special password. After that, you can see a catalog of goods at pleasant and more favorable prices. You can also discuss and agree on individual terms of cooperation. This model is very flexible.
Characteristics of a B2B business
B2B transactions have characteristics very different from consumer transactions. Since this is a sale from one company to another, the level of demand changes, as does the operating level. Let's take a look at the main features you need to know.
Higher sales volume: B2B trading is often associated with a higher volume of products. For example, instead of buying a pen, a company will buy a package. This large-scale purchase also concerns process equipment, maintenance or even contracting with suppliers. Consequently, the cost of these transactions is also much higher.
A more stringent level of requirements: Companies must follow a set of standards and requirements regulated by law, which are verified through audits and control processes. Thus, the purchased products and services must meet the same quality standard, which leaves no room for instability, defects, or low quality.
Excellence in Risk Management: Transaction risk assessment needs to be even more accurate as B2B business requires large sums of money and a large number of staff. For example, a data breach on a failed email platform can result in large losses. Therefore, this management must be strict and always in the process of improvement. Entrepreneurs should devote special time to security so as not to lose their customer base and not give fraudsters access to other people's data.
B2B in e-commerce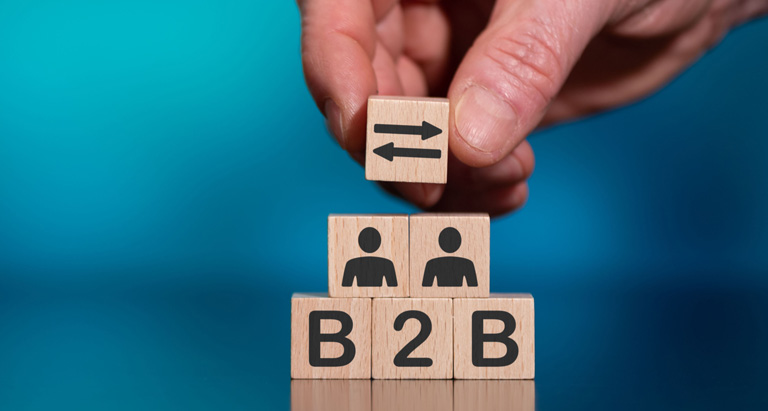 Having a B2B e-commerce business further expands your business opportunities. By applying a virtual sales strategy, your brand reaches new audiences and can sell more since e-commerce platforms are usually open 24 hours a day. Therefore, you should take advantage of these opportunities.
To set up e-commerce and create your online store or any other project, you need to choose the right platform. There are a very large number of them today. Depending on your needs, one or the other option will suit you. To make the right decision, you should consult with professionals such as Elogic.co.