Virtual offices are a viable option for start-ups working from home, offering the services of a fixed address without paying the overheads of actually having one. Providing most of the facilities of an actual office, including bookable desk space, conference rooms, a reception desk and administrative support, at a fraction of the normal cost, virtual offices are perfect for those who need lower overheads, flexibility and higher productivity.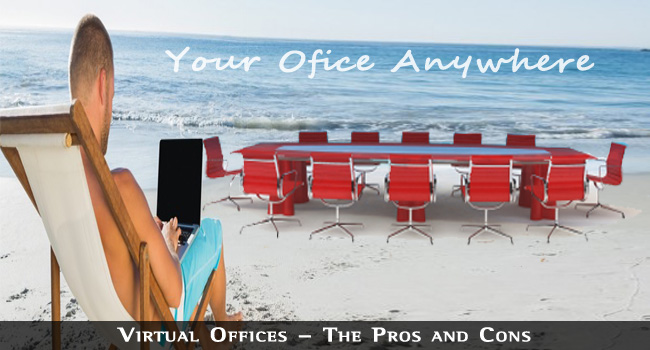 That said, virtual offices – like most other business options – have their advantages and disadvantages. Here, we take a look at the major pros and cons of virtual offices:
Virtual Offices Pros
1. Lower Costs
One of the major benefits of a virtual office is the drastically reduced overhead costs. You need not lease out an entire office or a dedicated administrative staff. The only expenses you'll incur will be the virtual office company's monthly fee. Since you do not have to pay for either real estate, or staff, costs are significantly reduced.
2. Increased Productivity
A virtual office helps you save time and increase productivity by cutting out all travel time and offering extensive administrative support. Running an actual office is not only expensive, it also requires administrative input for the day-to-day running and maintenance. Virtual offices eliminate these hassles so you can focus more on getting things done.
3. Better Technology
Keeping a regular office up-to-date with the latest technology, be it in the shape of printers and copiers, or office software and applications, can pose a major strain on your bottom-line. Since virtual offices serve many clients simultaneously, infrastructure and technology become a priority. Consequently, you'll find most virtual offices staffed with the latest software and hardware.
4. Administrative Support
A virtual office can serve as a reception desk for handling customer enquiries, collecting and forwarding mail, as well as fulfilling administrative duties such as making copies, printing documents, etc. This is an invaluable service that can help retain customers and improve productivity.
5. Prime Business Address
The cost of leasing office space in a prime locality in a major city can be enormous. A cheap virtual office and other service providers offers a prime physical address at only a fraction of the cost.
Virtual Offices Cons
There are two sides to every coin, and virtual offices have some negative points as well.
1. Lack of Discipline
Driving into an office every day can instil a sense of discipline that entrepreneurs working from home often struggle with. A virtual office only offers a physical address; it cannot instil the work ethic that comes with going to an actual office every morning.
2. Lack of Professionalism
You cannot always receive customers at your virtual office (it often varies depending upon the service provider). Consequently, a virtual office can give off a lack of professionalism, even if it is not true.
3. Lack of Social Interaction
One of the great things about working in a real office is the daily interaction with colleagues. A virtual office cannot give you the same experience, even if it solves your business problems.
Virtual offices are not right for everybody. Some businesses are better off with an actual office, while others can reap many benefits from a virtual one.