If you're the boss of a business, you've no doubt had staff telling you they can't possibly do their jobs at 100 per cent efficiency without a shiny new tablet PC. Or if you run your own business, the temptation to write one off as a business expense is probably pretty tempting.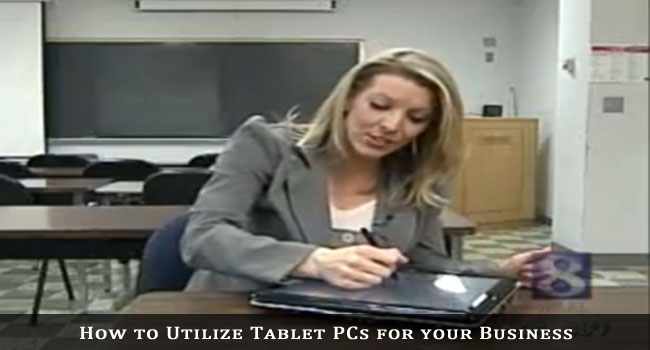 But are there genuine justifications for picking up an Android or BlackBerry tablet, or an Apple iPad? Here are three reasons that may persuade you to go that extra mile and kit your business out with the latest gadgets on the block.
3 ways to Utilize Tablet PCs for your Business
1) The 'wow' factor
When it comes to giving presentations – be it at an internal briefing, sales pitch, conference or client meeting – it can be hard to stand out. Everyone is expecting a Powerpoint presentation on a crusty overhead projector, or a battered laptop that doesn't fit on the table that couldn't be any less fit for purpose.
Here, tablet PCs can shine. Slick, modern and adaptable, they can lay flat or be put on stands while offering a talking point in and of themselves. They're new enough that not everyone has 'had a go on one' yet, while at the same time being simple to use and having the familiarity of both a smartphone and laptop in functionality.
2) Portability
Compared to a laptop, a tablet PC can often be lighter and generally more portable. But in most cases they can be used for exactly the same things – getting online to check out websites, getting directions and checking your email/social networks.
Of course, if you want to do a lot of typing, the onscreen keyboard of a tablet probably won't be an option you'd lean towards. But if you're typing the odd message or clicking around and searching on some websites, this is hardly going to be an option. Instead, you're going to get better battery life, more room in your bag and a much easier device to use on a train's annoyingly small tray table.
3) Cost saving
Reports have shown that many businesses have already replaced laptops with tablet PCs for many of their staff, while many more are considering it. So why are board rooms and IT departments so eager to go for new technology? One of the key reasons is obviously cost.
If you or your staff only use laptops for email and the Internet, it is certainly worth considering a switch to low-end tablet PCs. Android devices can be picked up for well under £100 already, with prices expected to drop further. It may seem strange to think of a new and trendy technology as being one that will save your company money, but in this case it's true.
In addition, tablet PCs are very simple to use and teach others to use. Laptops are designed to operate just like mini computers, where tablets are more like oversized smartphones. This means you'll have a few simple icons on the front page which simply direct staff to the exact functions they need.