Many top-class software development houses exist in the market today. And you may sometimes feel lost without knowing what company to hire and how to arrange your work with them. First of all, you should know that you are not alone. There are tens and even hundreds of entrepreneurs like you. And we have created a short checklist of the crucial features a good software development company should have.
#1 – Technology and Innovations
A top software development company that excels in their field is equipped with the most up-to-date software. They constantly work on improving their skills and the level of technology that is used in their products. This is done to ensure that their client's software is always updated and improved.
In this case, software development is highly technical; hence, it should only be performed by professionals that are trained and knowledgeable about technology. As a client, it's your best option to seek assistance from, such as software development company to ensure your project is successfully completed.
#2 – Communication and Time Management
Good software development agencies understand that their clients have different needs, which can differ from company to company. Therefore, they should ensure that their services cater to all their clients, no matter if it refers to deadlines, software development quality, project features, etc. Their communication and time management should be one of their key services, as it ensures that clients get all they need and that the solution provided will serve them the best.
#3 – Service Efficiency
A top software development company should always offer solutions that are efficient, scalable, and easy to adjust. The best companies use cutting-edge technology that ensures that solutions are fast to deliver and have all the needed features. They keep all their clients informed of any developments that are taking place with their work.
As a rule, top software development companies can create a solution for a business in less than three months. They use the latest technology and best practices to ensure that the project they deliver is of the highest quality. They can also update their software within a few days, thus, ensuring that the solution is always new.
#4 – Cost and Price
The best companies are always ready to provide services at affordable rates, ensuring that they do not put a strain on their clients. Apart from that, they also offer different payment schemes, depending on the type of software a customer needs. To protect their customers, they also offer a money-back guarantee on the services they provide. Thus, they ensure that their clients are not charged for something that is not going to be useful to them.
#5 – High Level of Service Quality and Reliability
Although it may sound obvious to many, a top software development company provides high-quality services to its clients. This is possible through constant training of the employees and ensuring they are always updated on the latest developments in the field. What is more, they have dedicated QA specialists who thoroughly check software quality and help to bring it to perfection.
The best software development companies will always ensure that their solutions are of the highest quality. Through their training and knowledge, they can always come up with innovative ideas for their clients' projects, ensuring that the best solution for them is always on the table.
#6 – Quality Assurance
Software development is not only a technical job but it also entails quality assurance. It means that a company should be able to provide a solution that will benefit its clients. A quality assurance service ensures that the solutions that they are offering to their clients are designed to fit their needs. Thus, instead of sending a raw project to a customer, a company needs to ensure that the project is thoroughly tested, contains zero bugs, and meets all the requirements outlined in the technical task.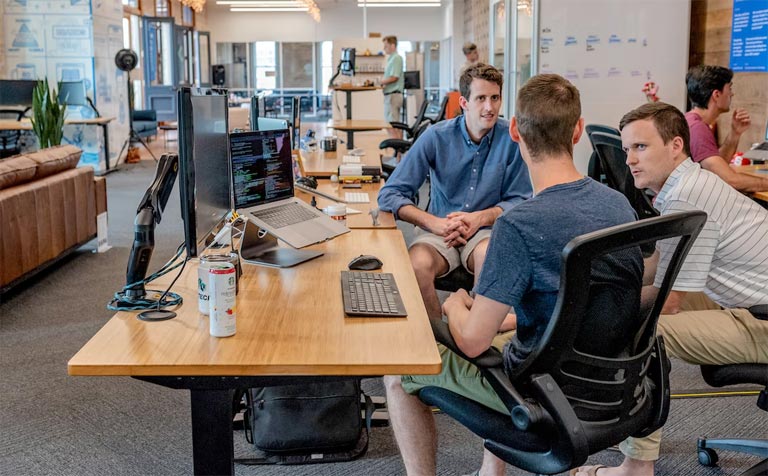 #7 – Proven Experience
A company that has been in business for many years has more chances of being able to offer their clients the best solutions. Of course, it is not always the case, and there are many exceptions. But what we want to say is that the more experience the company has, the better.
A software development agency with proven experience can provide their clients with the best solution designed to fit their needs. Their solutions are always in-sync with the latest technology and are done according to the best practices. You can always check customer reviews on dedicated forums to know whether the company is proficient in what it is doing or if there are some pitfalls to be aware of.
In most cases, experienced companies have a lot of clients and have developed solutions for a lot of businesses, even in various domains. They should be able to design the best solutions for you and your business. Companies that are new in the market are usually struggling and cannot deliver the desired results. You can also consider whether the company has any relevant certificates and awards for their past projects.
#8 – Resources
Another crucial attribute to look out for is the availability of tools and software. The development team should be able to offer you complete support and advice to ensure that the software development processes do not have any issues. It should be able to provide you with software solutions that will make the business more effective and improve productivity.
Wrapping Up
With the advancement of technology, every company is in a race to compete with the other. In this race, software development has become a vital component for all to succeed. If you are one of those who wish to compete with others and grow your business, then you must need a top software development house to help you out. A software development company is one of the best options to take your business to the next level. So, if you want to know what the basic factors to look for while hiring software development houses are, the above points are for you.