Post published on: February 4, 2013.
It has been around 2.5 years since I began my blogging journey starting with Namase.com and had shifted to this blog – TechLila one year ago. Yes, you are right, today TechLila is one year old :) We've gone through two redesigns since we started with the Mystique theme and thereafter moved on to the Genesis framework with different customization. With 2000+ likes on our Facebook page, 700+ Google+ follows, 400+ feed subscribers and a thousand more twitter followers, we are gradually emerging as a very popular Tech Blog. We have primarily concentrated on providing unique articles and theme modifications to our users and not being "Just another Tech Blog". Spoiler: We are about to release theme modifications of another famous new theme quite soon. Can you guess the name? ;)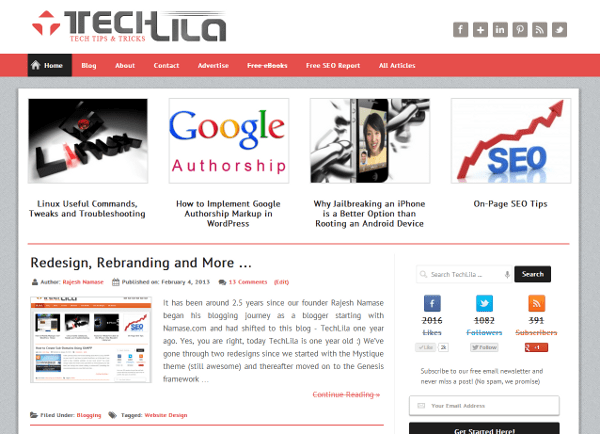 We have undergone a redesign with a new theme based on the Genesis framework designed by Bharath. We were earlier using the Streamline child theme upon the Genesis framework and we have decided to use custom Genesis child theme for TechLila. This latest theme is following the web standards and also we've added various functionality to it, so now no need to use several plugins. You'll straightaway notice the color difference as we find this to be pleasing to the eyes and being a not-so-common color also. As you might know, 1366* 768 has overtaken 1024* 768 as the most common screen resolution and our new theme is also better optimized for that screen size. Also, we've tweaked a site logo little bit. Well, find out the other changes yourself and do let us know your feedback on the theme in the comment box below. We're still working on theme to fix some things.
Other changes at TechLila
We were also joined by two other members, Andor Nagy and Vedant Kumar who contribute heavily to our blog. Andor and Vedant, both are school students and it's interesting to see interest in blogging in school students. Also Henry Conrad is contributing articles on different subjects, he's not our official team member, but we can't ignore his contribution.
SEO Tool
This year also marked the launch of our SEO tool – SEORobotics.org which analyses each and every aspect of your blog to produce an SEO Report. This site's algorithm is still being tweaked and optimized and you'll see a great site very soon.
Well, it's all from our side, enjoy the new design and let us know about any feedback about the theme, content or even why you think the sky is blue in the comment box below. Don't forget to subscribe to receive latest updates from us.