In today's digital world, presentations are critical in conveying ideas, making sales, and persuading audiences. They act as pillars of communication and can open doors to opportunities for individuals and businesses.
Have you been given a presentation to curate and deliver at your organization? Do you need help with where to begin and the best practices you must follow?
Well, do not worry, as we have compiled a set of comprehensive tips that will help you create and deliver the most memorable presentations using Google Slides. Google Slides is a powerful tool for online presentation creation that has gained immense popularity in a short time span. It offers various user-friendly features that make it a preferred choice among global presenters.
Let's delve into the article!
1. Pick the Right Theme
Selecting an appropriate theme for your slides is exceptionally crucial. It sets the stage for the rest of the presentation and allows the audience to comprehend your content in an intended manner.
Thus, you can begin by picking a theme that complements your subject and goes well with the audience. For instance, if you are presenting to a group of corporate employees, go in for neutral or monochromatic colors. However, if your audience is a group of students, you can pick a palette of vibrant and joyous colors that would resonate more with them.
Your theme should add value to your content and enhance readability. The fonts, colors, and elements should not hinder the texts or diagrams. Make sure that your selection does not overshadow your message. Instead, it should be a foundation for your ideas to flourish.
To select the theme for your presentation, click on the 'Theme' option on the menu bar.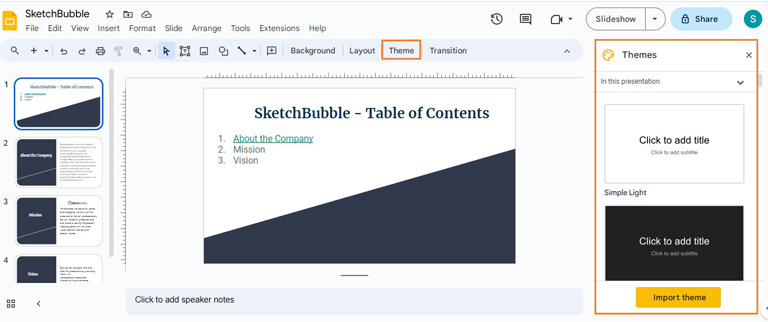 Choose the relevant theme, and click on 'Import theme.'
In case you don't find relevant themes in the library, you can download pre-designed Google Slides themes from expert online presentation template providers and incorporate them seamlessly.
2. Harness the Power of Transitions and Animations
Slide transitions and animations can keep your audience engaged throughout the presentation. They can add an extra layer of dynamism, reinforcing the key points.
However, using animations and transitions appropriately is vital to avoid making the presentation flashy. Every transition must create a smooth flow from one idea to the next and should facilitate movement from one slide to the other. Therefore, using the correct transition is necessary.
Remember that consistent animations aid the audience to fathom information better. While it is tempting to experiment with multiple effects, it is also vital to prioritize coherence.
To add animation to slides' design elements, select the element you want to animate and click Insert > Animation.
A panel will get opened from where you can select the desired slide transition and object animation effects.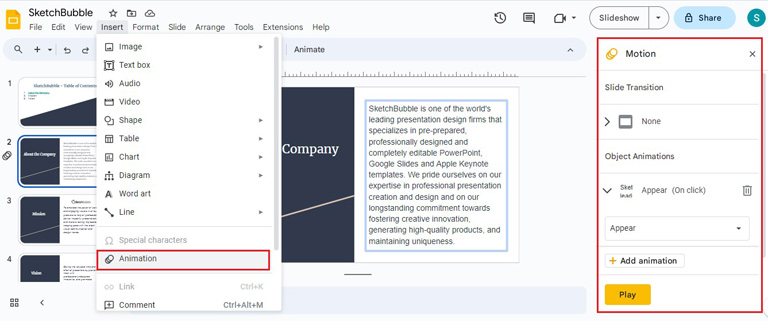 3. Invite Collaborators and Work in Real-Time
One of the most intriguing features of Google Slides is its ability to invite collaborators in real-time and work on a presentation together. This feature transforms the curation process into a collaborative experience, fostering a more synergic environment.
Teams can feel more confident and accomplished by collectively gathering, refining, and putting together slides. They can gauge the contributions made by every member and seek feedback from each other.
This feature is extremely handy for those working remotely or from home. It bolsters the barriers of physical distance, allows collaboration, and increases efficiency.
To share your Google Slides presentation, click the 'Share' button adjacent to Slideshow. Add people and groups and decide on the access level for each. Then click on 'Done.'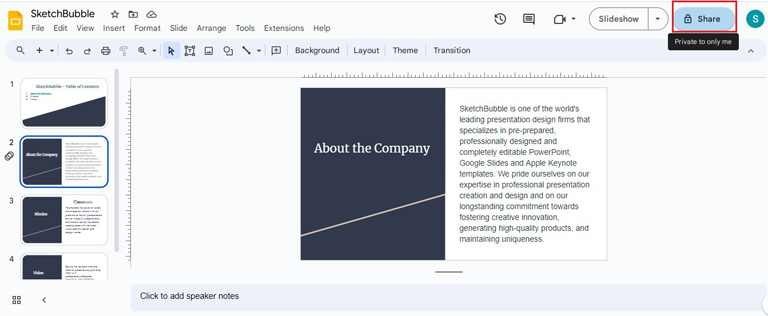 4. Avoid Text-Heavy Slides; Use Bullet Points
Simplicity is the key to winning your audience's hearts. Thus, it is essential to embrace the power of conciseness and keep your slides clean, neat, and spacious.
We are often tempted to use too much text and include humongous amounts of information on our slides to provide the audience with more data. It not only makes the presentation seem incredibly dull but also makes the audience lose their interest.
Thus, rather than crafting text-heavy slides, it is better to show your information in bullet points and illuminate the crux of each idea. These can act as guiding points for the audience and take them toward the core message.
5. Content is King – Incorporate Images, Videos, and Graphics
Visuals serve as dynamic conduits for enhancing understanding and engagement. They not only allow you to convey ideas effectively but also strike an emotional connection with the audience.
However, harnessing the full potential of visuals requires a thoughtful approach that extends beyond mere aesthetics. You must start by selecting images that align with your content- they should serve as a bridge between your thoughts and the audience's imaginations.
For instance, if you are presenting a project on the Water Crisis, use visuals such as droughted lands, people struggling with water collection, etc., to convey the gravity of the situation. Such visuals will fill the gap between you and the audience.
You must also include charts and diagrams to explain quantitative data, as they hold the power to distill complexity into digestible pieces. For this, various types of graphs and bars can be used.
For example, suppose you want to depict the growth of rainwater harvesting plants over the past few years. Here, you can use a line graph to showcase the data. However, if you wish to draw a comparison of water levels in different areas, you can use a bar graph.
Using the correct format and well-categorized data sets can increase your graphics' effectiveness. You can even use annotations to highlight necessary information.
However, the impact of your visuals depends directly on their quality. High-resolution images and videos ensure that details are crisp and vibrant, preventing pixelation that can mar the viewing experience. Proper formatting guarantees that visuals are seamlessly integrated into the slide's design, avoiding misalignment. Additionally, strategic placement is pivotal; visuals should complement the surrounding content and contribute to the slide's overall harmony.
You can click on 'Insert' to add images, audio, video, shape, table, charts, diagrams, etc.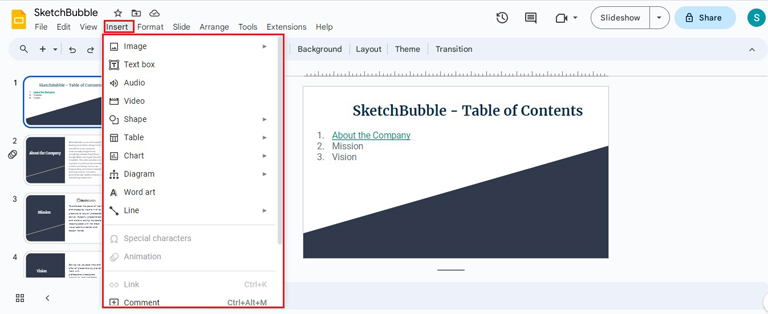 Conclusion
Mastering the art of creating effective Google Slides presentations requires attention to detail, a clear understanding of the objective, and a focus on delivering value to your audience. By incorporating these presentation tips, you can create impactful, engaging, and memorable presentations. Remember, a well-prepared and skillfully delivered presentation can leave a positive impact on your audience.