When doing online market research, surfing privacy is essential. Browsers such as Chrome and Firefox cannot provide it, as they are not anti-detect browsers. Octo Browser steps in at this point to ensure the security and privacy of your surfing sessions.
Octo Browser makes it simple to set up several profiles and browse the Internet anonymously without being detected because, at the moment, it is the best in class anti-detect browser. In this post, you'll learn about this browser's features and how it can help you.
Let's get started!
What is Octo Browser and What Makes it Better?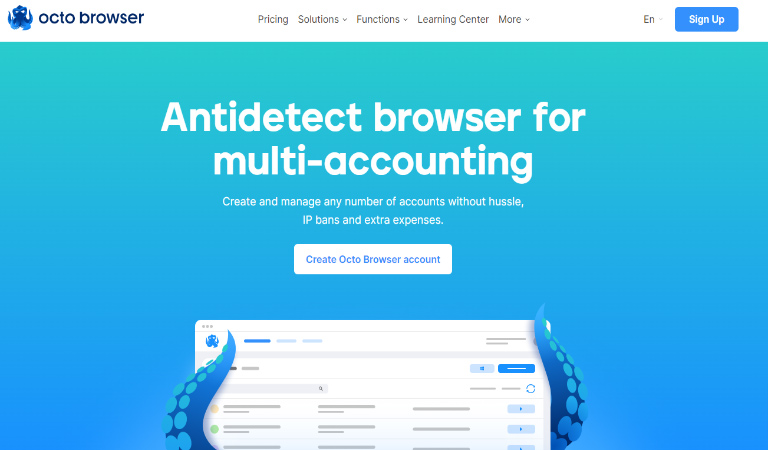 Octo Browser is a marketing tool that can assist you in raising awareness about your goods and services. Plus, it is a Chromium-based multi-accounting browser. It is now one of the greatest solutions for managing an unlimited number of online accounts across many platforms.
It's undeniable that there are a lot of other great browsers or marketing tools, but most of them are either obvious or don't offer the marketing solutions that Octo Browser does. In other words, you should consider Octo Browser if your main objective is to locate the ideal marketing tool for yourself while also enjoying safe browsing.
You can use numerous accounts with Octo Browser without worrying about being blacklisted or banned! It supports popular proxies. And unlike Octo Browser, some of the top marketing tools with comparable features are incredibly pricey.
What is Octo Browser used for?
1. Affiliate marketing
Effective affiliate marketing requires a huge number of accounts, yet major media outlets forbid multiple accounts and closely monitor their potential use. With Octo Browser, you can boost your revenue, expand traffic, and prevent any potential bans.
2. e-Commerce
It enables you to safely manage a large number of accounts on all major marketplaces, including Alibaba, Amazon, eBay, Shopify, and it enables you to expand your business to any level.
Also, you can create multiple free accounts with Octo Browser and post 10 to 50 free ads on each of these platforms to post hundreds or thousands of ads for free.
3. Crypto Trading, Bounty, and Airdrop
Through the use of Octo Browser, you may take part in more giveaways and drops, improve your chances of being added to token sale whitelists, and boost your earnings.
You can also use sites like CoinList and Glam, which enable you to win or get cryptocurrency coins that have just entered the market in exchange for carrying out specific tasks.
The value of these currencies may rise by hundreds or perhaps tens of thousands of times in the next three to twelve months. Because of this, cryptocurrency traders use several accounts to boost their probability of winning and receiving their coins for free, enabling them to make investments that will eventually result in actual money.
4. Data Scraping
Octo Browser is an all-purpose tool for speedy and secure online scraping that gets around website security measures that guard them against data collection.
5. Bonus hunting
Enables you to develop a fresh, distinctive digital character that can withstand any scrutiny from bookies or online casinos. The detailed digital fingerprint settings enable you to earn with multiple accounts without fear of bans.
6. Anonymity
The best approach to remain anonymous online is to alter both your browser fingerprint and IP address, which are both tracked by websites. You can utilize as many virtual profiles as you like with Octo Browser, a versatile and quick multi-accounting browser. It is incredibly difficult to trace your actual fingerprint with these.
7. Digital Agencies
It protects media agencies against shadowbans or multi-accounting restrictions and ensures that they function efficiently and securely on behalf of their customers' advertising campaigns.
How to Install the Octo Browser?
It is simple and quick. Before trying to install the program, it is recommended to disable your antivirus and firewall software to avoid potential alerts.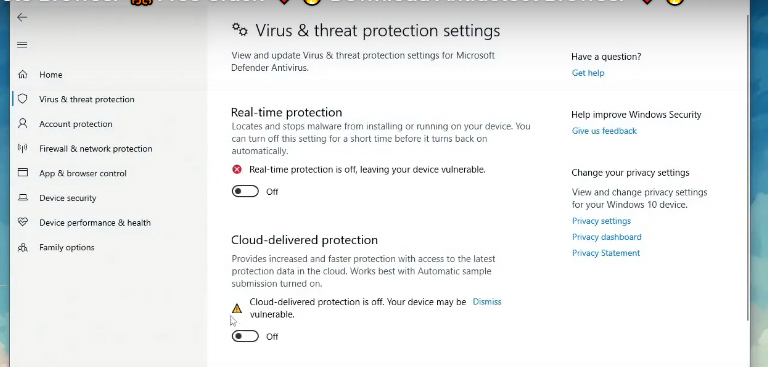 You must install Octo Browser's most recent version. To access the official website, click here. Download the appropriate installer for your operating system.
Tap on the downloaded installer.
Install the browser at the specified location. For the browser to function properly, you shouldn't change the path or directory.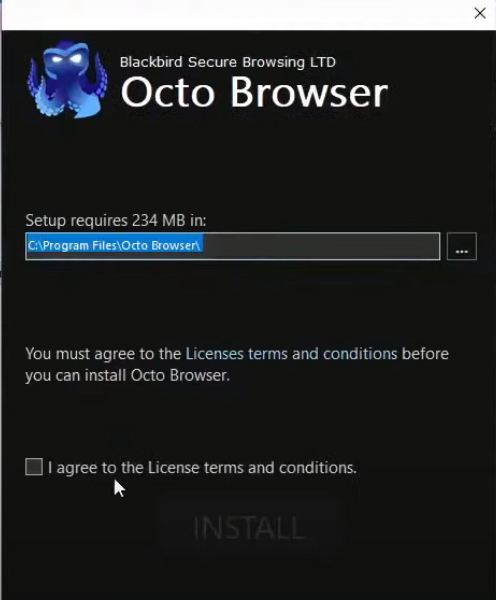 Accept the terms and conditions, then hit the Install button.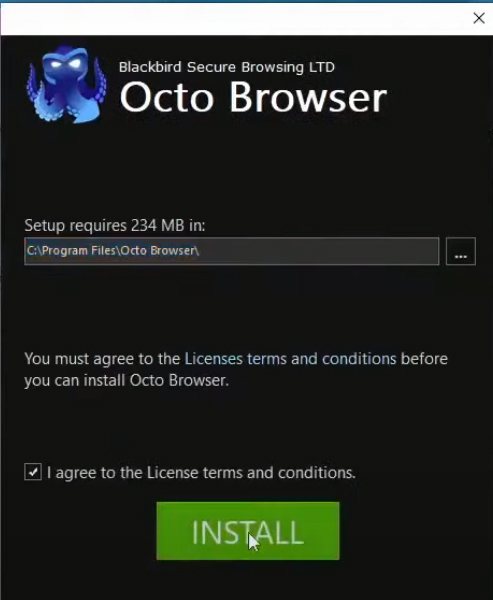 Allow the installer to finish the installation.
Promo Code
Follow the directions below to use a promo code if you have one.

Use your credentials to log in.
In the top right corner of your screen, click the Avatar icon
select "Billing" from the menu.
Select "I have Promo Code" from the menu on the following screen.
Add your discount code – TechLila now, then press the Check button.
Setting Up Octo Browser
You can view the home page after successfully logging in. You can view all the primary features and the profiles you've previously createdon the home page.
Use tags to quickly discover the profile you're looking for. Plus, you can check a profile's history and modify, copy, transfer, export, remove, and clone existing profiles. Cookies can also be imported and exported using Octo Browser.
Create a Profile
You can create a profile either automatically or manually using one of two methods: standard profile creation or manual configuration. Just select "Quick Profile" from the menu in the top right corner of the home page to immediately establish a profile.
You have complete control over the profiles you create. In addition, you can adjust the following profile attributes with manually generated profiles: profile name, start page, user agent, Geo-location, time zone, screen resolution, languages, etc.
Proxy setup
You can install proxies either one at a time or in bulk under "Proxy." The browser enables users to add, check, and save proxies. If you want to add a new one, you must enter: Host and Port.
Secondly, you can add proxies in bulk  by dragging the file into the appropriate area. Don't forget to include the prefix for the proxy name as well.
Templates
Users can build profile templates for later use with almost every subscription plan. The number of provided templates is determined by the subscription plan you've chosen.
Octo Browser Features
1. Fingerprint Management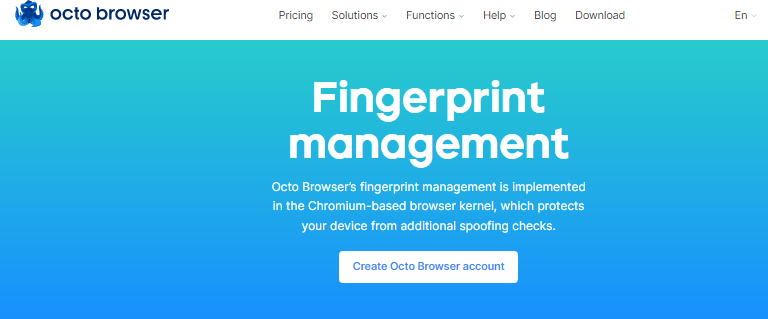 With a Chromium-based browser kernel, Octo Browser shields devices from further spoofing tests. The fingerprint spoofing enables users to bypass Pixelscan, Whoer, and BrowserLeaks checks. Also, you have unrestricted power to produce digital fingerprints. For the highest level of authenticity, Octo Browser offers you fingerprints collected from actual systems.
To offer its users flexible profile customization, it also permits customizing more than 50 aspects of the browser fingerprint.
2. Multi-Accounting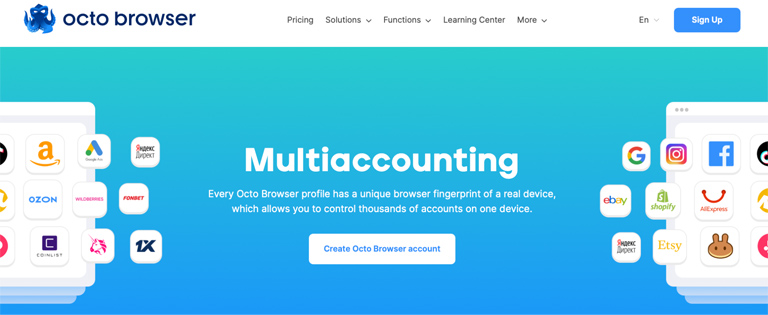 You can manage thousands of accounts on a single device since each Octo Browser profile has a distinctive browser fingerprint of a real device.
Your PC's resources are the only restriction on how many profiles you can run at once. Create customized profiles with only one click.
Octo Browser allows you to clone, export, and transfer ready profiles with their associated data in bulk or separately. To easily access various account types, group your profiles using tags.
3. API Automation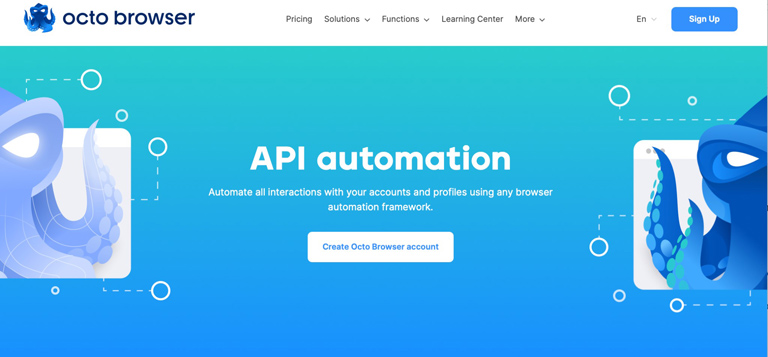 Octo Browser's API automation feature allows you to automate communications with your accounts and profiles. API automation also supports account and profile task optimization.
You may finally say goodbye to manual tinkering and tedious procedures by automating basic tasks. With Octo Browser's current API version, you can make, edit, get rid of, and get profiles with the required proxy settings, cookies, tags, and fingerprints.
You can also use it to start and, if necessary, stop the profiles. The browser currently supports : Ruby, Python, PHP, and Go.
To manage jobs with particular requirements, the browser's hybrid work mode combines manual mode and API automation.
4. Teamwork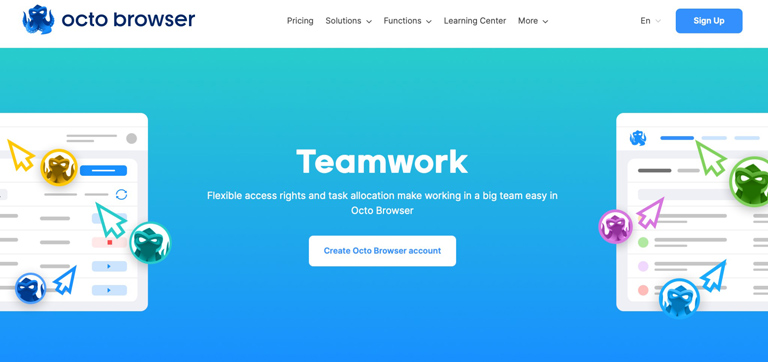 Octo Browser makes collaborating simple with its adaptable access permissions and task distribution. You can manage profiles with various devices and IP addresses in this browser's shared workspace.
Checkpoints and multi-accounting bans do not apply to multiple profiles that are present in the browser's shared workspace. You can also use Octo Browser to share data like proxies, profiles, and cookie files.
Using a variety of role parameters, you can manage each team member's output. Control who has access to create, edit, delete, clone, and transfer profiles.
Octo Browser's activity history feature makes it possible to keep track of the history of profile interactions, which is essential for keeping track of teamwork. Additionally, the tags feature streamlines team management.
Different profile categories can be created using browser tags, which aids in organizing teamwork. The entire workflow is also be kept private.
5. Profiles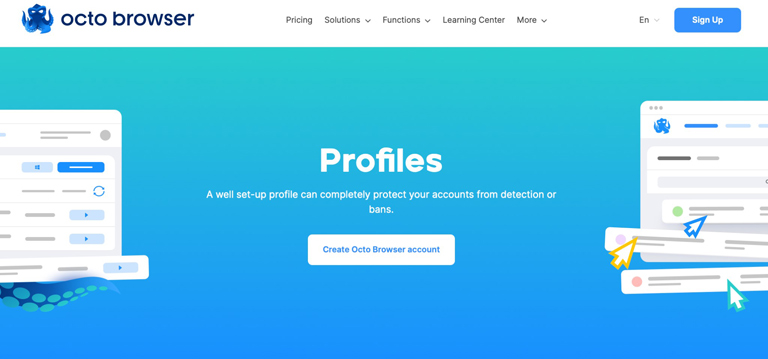 With Octo Browser, you can make profiles with distinct browser fingerprints. Such profiles can be made, and they can also be copied, exported, and transferred as needed. The .octo file format is used for both the import and export of the profiles.
Not just any profiles will do; we're talking about safe profiles that shield your account from being discovered and banned.
To keep all of your data secure, Octo Browser also offers encrypted cloud storage. Last but not least, Octo Browser offers a robust profile history feature that lets users keep track of their 100 most recent profile actions.
6. Proxy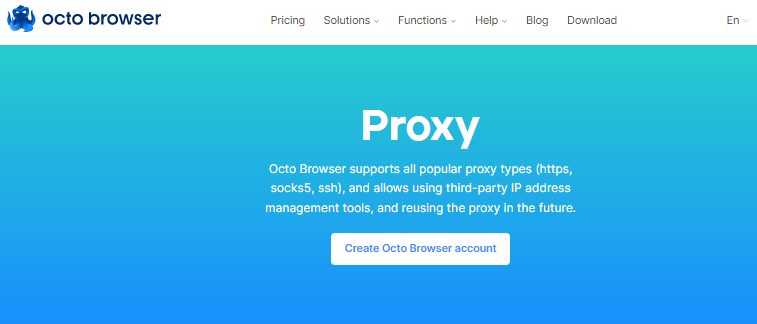 Popular proxies like Https, Socks5, and Ssh are supported by Octo Browser. Octo Browser integrates profiles and proxies with a powerful user interface. You can save proxies and import them in bulk using this connection.
There is also a built-in proxy checker that is supported by the browser. In the browser itself, you can use it to evaluate the proxy connection quality. In addition, users have editing access to the proxies they save in the proxy manager.
You can utilize its proxy autocompleting option with the assistance of a template if you want to automatically add a proxy to a profile. Furthermore, there is no restriction on how many temporary proxies you can add to a profile. Octo Browser offers limitless internal proxy sharing in addition to limitless temporary proxies.
7. Cookies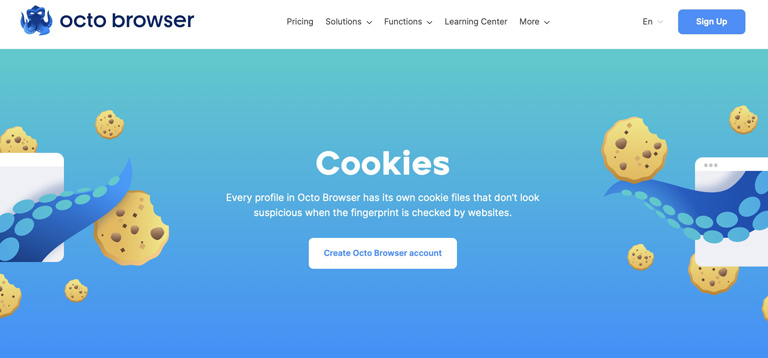 Each Octo Browser profile has its own set of cookie files. Therefore, the cookie files don't appear strange to a website when it examines the fingerprint of an Octo Browser profile.
When importing cookie files, the browser's cookie robot can automatically harvest cookies to improve profile security. Both Netscape and JSON cookie file formats are available. You may also import and export cookie files by dragging and dropping them.
The Octo Browser's cookie robot is also helpful for:
Unlimited storing of imported links
Verifying the link's legitimacy
Removing broken links
You can enable or disable cookies in your profile settings based on your needs.
Pricing Plans
Let's discuss the Octo Browser subscription plans. Octo Browser comes with 5 different price plans, beginning with Starter all the way up to Custom, which includes all the features Octo Browser has to offer.
Regardless of the package you select, you can access your account using multiple devices.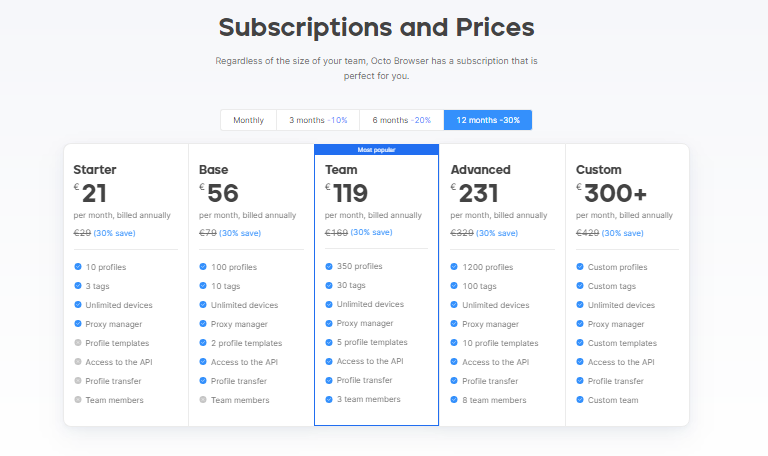 Starter plan — 29 Euros per month
Base plan — 79 Euros  per month
Team plan — 169 Euros per month
Advanced plan — 329 Euros per month
Custom plan — 429+ Euros per month.
Payment Options
Octo Browser offers an incredible array of payment options:
Visa;
GooglePay;
Crypto (BTC, ETH, LTC, USDT).
MasterCard
Benefits of Using Octo Browser
In short, Octo Browser is a one-size-fits-all solution. Octo Browser, in contrast to the majority of anti-detect browsers, is used by affiliate marketing, iGaming, and crypto trading businesses in addition to webmasters.
Anonymity: All data that can be fingerprinted is controlled by Octo Browser. In other words, if you don't want your digital identity to be tracked, this is an option for you;
Security: Octo Browser employs real device fingerprints to secure the data of its clients. Also, the browser passes tests from BrowserLeaks, Pixelscan, and the like;
A limitless number of profiles: The fact that you can run as many profiles at once without any restrictions is one of the best aspects of this service. The only restriction is your device's capabilities ;
High-performance speed: In contrast to other anti-detection software, Octo  Browser responds quickly and does not lag or crash.
It's simple to use: It is simple to set up and use even for beginners because the browser looks a lot like Google Chrome from the outside. You may also make a profile in just one click. Tags are also available for easy navigation.
Compatibility: Both Windows and macOS support Octo Browser. Plus, it supports socks5, HTTP, and ssh proxies;
Dedicated help desk: Octro Browsers support staff offers quick and effective assistance through a variety of methods. Users can also schedule remote Teamviewer consultations with experts.
Frequently Asked Questions
Does Octo Browser have a mobile version?
No, as of right now, only Windows, macOS, and Linux (Beta version) devices are supported by Octo Browser. It is not compatible with smartphones.
What does the proxy limit in the subscription packages refer to?
The amount of saved proxies is the proxy limit in various subscription plans of Octo Browser. However, you can make and utilize as many temporary proxies as you'd like.
Does Octo Browser have a free subscription?
No, Octo Browser doesn't currently provide a free subscription. Starter, which costs 29 Euros per month, is the most affordable package. It includes a proxy manager, three tags, limitless devices, and ten profiles.
Is it possible to switch the subscription?
Yes, you can upgrade your subscription at any time. The only time you can change to a lower-tier subscription, though, is when your existing one expires. Before converting to a lower-tier plan, keep in mind that all additional resources must be deleted.
Wrapping Up
Octo Browser is one of the top browsers on the market for ensuring anonymity right now. There are also no limitations on the number of concurrent profiles you may run on it.
It works on practically all platforms and is available for Windows, Mac, and Linux. Users who engage in data scraping, affiliate marketing, and e-commerce find the browser to be of great assistance.