Movavi Screen Recorder is a fast, easy-to-use tool for capturing any screen activity. Whether you need to record a video call with friends or an online conference – Movavi Screen Recorder is a perfect choice.
Without any further ado, let's look at some of the features that make Movavi Screen Recorder one of the best screen recording options.
Key Features of Movavi Screen Recorder
1. Intuitive Interface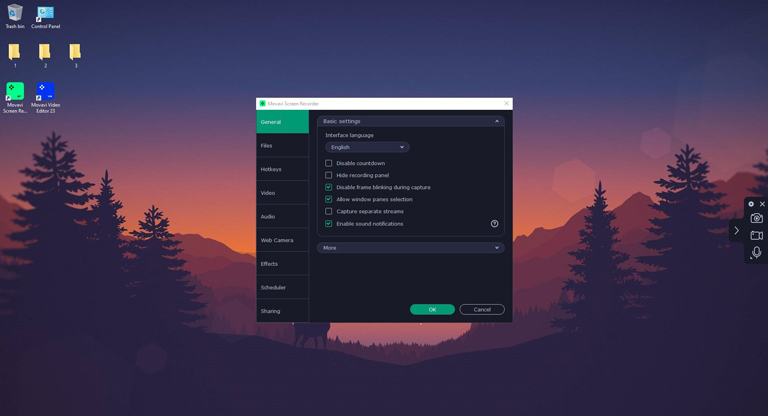 Movavi Screen Recorder comes with an intuitive, user-friendly interface. You don't need any prior knowledge or experience to get the hang of it. On the side of your screen, you'll find a small control panel that allows you to adjust all the settings. This includes grabbing screenshots, starting recording sessions, and switching between webcam and audio recording modes.
Clicking on the standard cogwheel icon will open up a settings window, allowing you to adjust the following components:
Basic recording settings launch option, a folder for recorded files, sound notifications, etc.
Separate hotkeys for quick actions (take a screenshot, start/stop/pause screen recording, start/stop webcam/audio recording)
Video and audio quality settings (frame rate, audio sample rate, etc.)
Webcam settings (resolution, frame rate, shape, and preview)
Effects and cursor settings
Scheduler for timed recordings
Sharing options
All of these settings can be adjusted with just a few clicks, making Movavi Screen Recorder one of the most accessible tools for screen recording.
2. Multiple Recording Modes
Movavi Screen Recorder offers four recording modes: grabbing a screenshot, screen recording, webcam recording, and audio-only recording. Depending on your needs, you can choose the one that suits you best.
This feature is self-explanatory. With this mode, you can take a snapshot of any area on your computer's display. You can further edit it with basic tools like drawing arrows, titles, and colored shapes. Moreover, there is a scrolling capture option that's ideal for websites and bulky documents.
The standard screen recording allows you to capture anything that appears on your computer screen. You can record in full-screen or capture a specific area: select the frame size you need, and the program will record it. Additionally, you can add webcam footage, system audio, or your microphone to the video.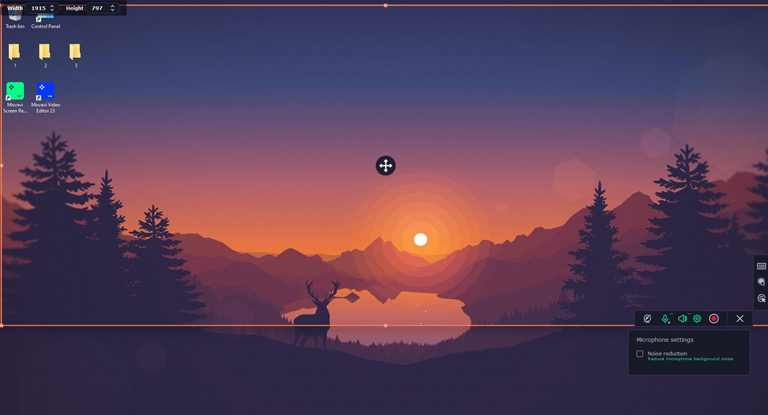 Webcam recording is perfect for creating tutorial videos and vlogs. Select the desired frame size, adjust your camera's settings (resolution, shape, etc.), and hit 'Record'. You can also grab a quick snapshot before or during the recording session of whatever is displayed on your webcam.
Audio-only recording mode
The ability to capture sounds only is great for recording podcasts, lectures, and interviews. You don't need any visuals; simply plug in your microphone and hit 'Record' – Movavi Screen Recorder will do the rest. If you're not willing to invest in a quality mic, the program also has an advanced noise-removal feature that will help clean up any background noise.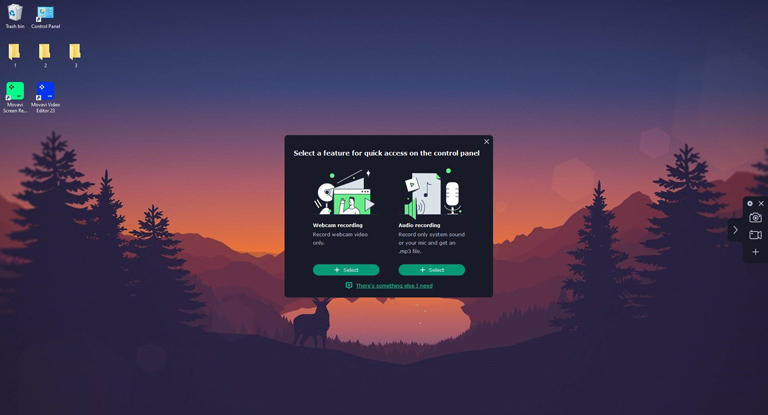 3. Advanced Tools
Movavi Screen Recorder also has some other advanced features that make it stand out from the competition.
A built-in scheduler allows you to set up timed recordings. To add tasks to your schedule, go to the "Preferences" window and add the desired number of recording sessions. You can set up the direct time and date, pick the duration of the recording session (hours, minutes, or seconds), and pick between the full screen or the last captured area. Decide whether you want to turn off your computer, put it to sleep, or take no action after the recording session is over – Movavi Screen Recorder will take care of everything else.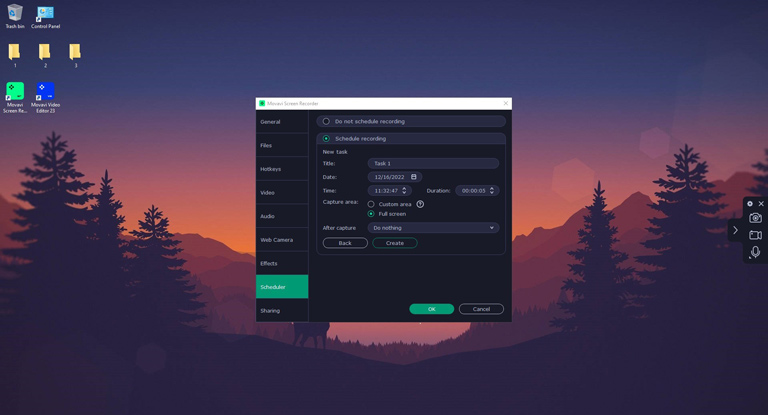 Use it to polish the recorded video before saving or sharing. Although the program is not as advanced as a dedicated video editor, you can still use it to make small adjustments like trimming out unnecessary parts and adding captions. For more advanced editing, you can export the video file directly to Movavi Video Editor or save it to open in other video editing software.
The feature enables you to draw on the frame while recording or taking a screenshot. This is extremely useful for creating tutorials and annotations. With this feature, you can highlight certain areas, draw diagrams, add notes or just create more engagement.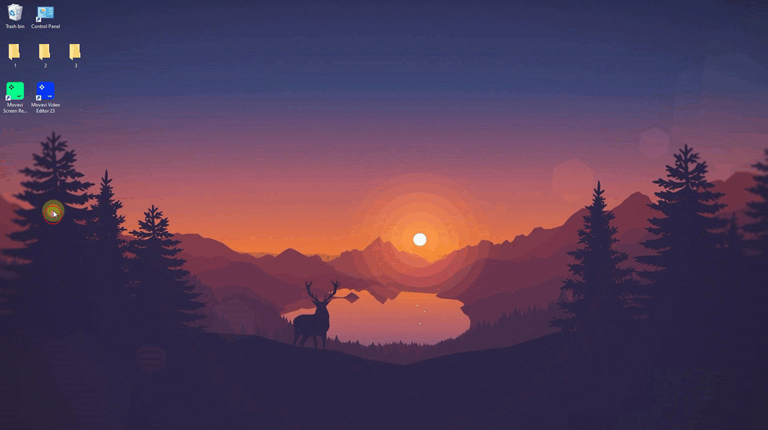 SuperSpeed mode allows you to process video recordings faster if not changing the output format. Movavi Screen Recorder also supports Intel, Nvidia, and AMD hardware acceleration, depending on your system configuration, so you can enjoy more speed with no quality loss.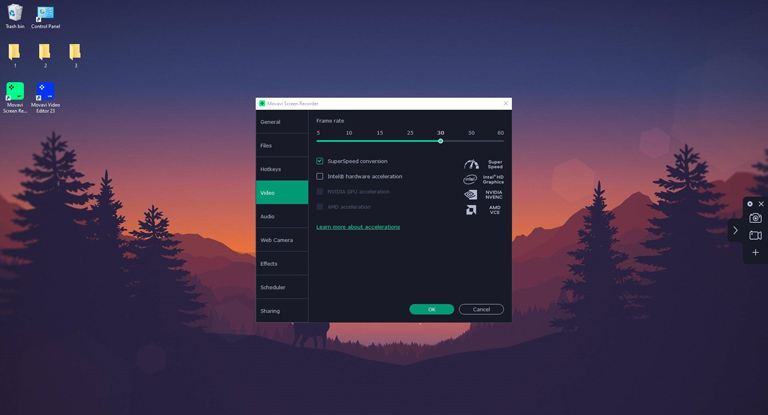 4. Sharing Options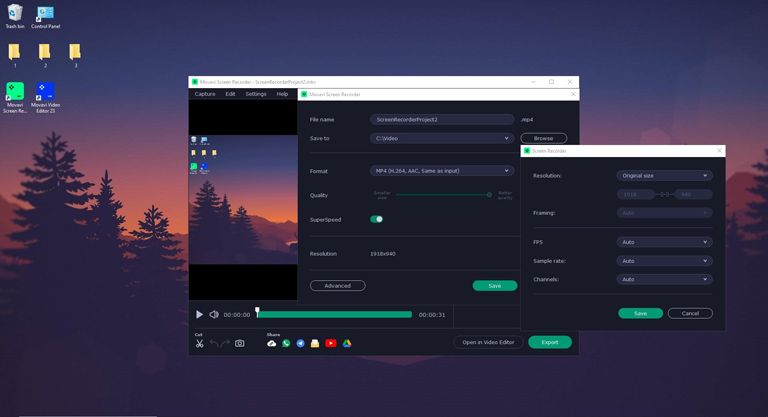 After your recording, a sound will notify you, and the program will give you the option to save or share your video. With Movavi Screen Recorder, you can save files to popular formats like MP4, MP3, MOV, AVI, GIF, MKV, and WEBM as well as adjust settings like FPS, framing, sample rate, and quality.
You can also post your video directly to popular social networks or send it via email. Just click on any of the social icons and share your content. Export it to YouTube, Google Drive, WhatsApp, Telegram, or any other platform with the link created by the program.
Pricing of Movavi Screen Recorder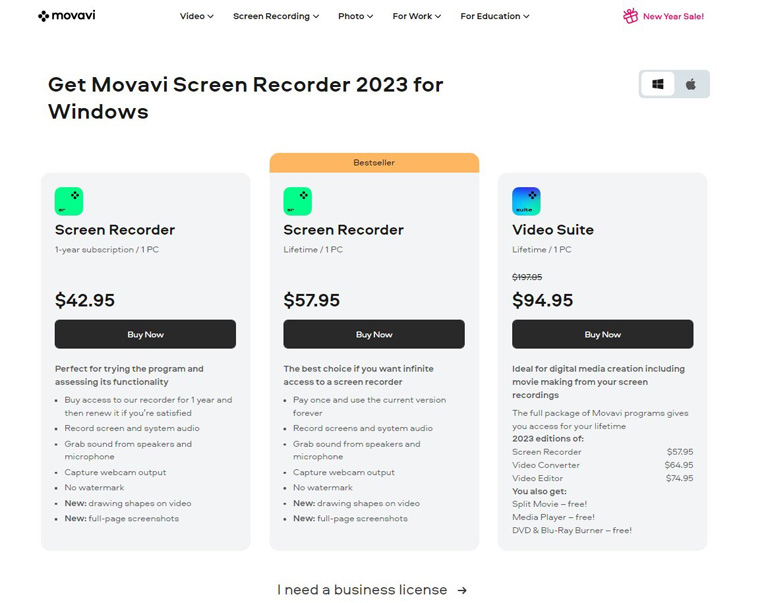 Movavi Screen Recorder has a 7-day free trial version with basic features and some limitations like a watermark on the output video. If you decide to purchase the full version, there are two license options: a 1-year subscription and a lifetime license. Both licenses are available for Windows and macOS.
1. A 1-year subscription includes unlimited access to all features and updates including both minor and major ones.
For personal use: $42.95
For business use: $85.95 (contact sales for volume pricing)
2. A lifetime license includes the same features but is a bit limited when it comes to updates. You will receive only minor updates and bug fixes. On any major update, you will need to renew your license.
For business use: $57.95
For businesses: $129.95 (contact sales for volume pricing)
There is also a great option to buy Movavi Video Suite, which includes a screen recorder, video editor, and video converter. This suite is significantly cheaper than buying all the programs separately. The personal use subscription costs $94.95, and businesses can purchase it for $189.95 (contact sales for volume pricing).
Wrap Up
Movavi Screen Recorder is a reliable and user-friendly way to record your screen. Whether you want to capture streaming video or create a tutorial, this tool will help you get the job done with ease. Plus, its multilingual support makes it perfect for users of any language. No matter what your needs are, Movavi Screen Recorder can help you achieve the results you're looking for.