Microsoft recently launched its much-awaited latest operating system, Windows 8. As reported, it takes a significant departure from previous versions such as Windows 7 or Windows XP. The new platform requires a steeper learning curve; it also has a bunch of new features including a dramatic change in UI. Plus, Microsoft has embarked on a dramatic re-branding of Windows 8 editions (goodbye old Home Premium, Ultimate, etc.) to condense the different versions suitable for different types of consumers.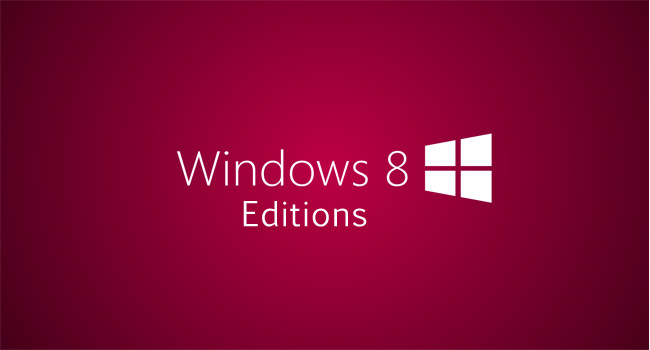 Take a look at these four versions of Windows 8 and find out which one is ideal for you.
Windows 8
Windows 8 is the "vanilla" version or the most basic edition of the new Windows OS ideal for x86 Intel and AMD computers. This version is targeted towards home users and provides basic Windows 8 features like the Start screen, live tiles, Windows Store, Internet Explorer 10, and more. It is for those who only use their computer for basic web browsing, email checking, and using Microsoft Office. Since you can switch the keyboard and the entire interface into the language you need, it is also ideal for basic users who speak more than one language or travel in different countries. Additionally, you can hook it up to another Windows 8 system using Remote Desktop or a VPN.
SEE ALSO: Weighing the Pros and Cons of Windows 8.
Windows 8 Pro
This edition is targeted towards enthusiasts and business users, since it includes all the important features of Microsoft's new flagship OS. If you do a lot on your computer aside from the basic web and email browsing like watching movies and TV shows, then this one is for you. Take note though that Windows Media Center functionality is offered as a separate software package or add-in that will require you to pay extra. For the hardcore Windows users who dabble in geekery of some kind, there are other extras you can savor in this version like the ability to boot from a virtual hard drive (VHD), join a Windows domain, encrypt entire drives through BitLocker, and create Group Policies, among others.
Windows 8 Enterprise
If your company is going to issue a do-everything laptop for you, you'll probably end up with Windows 8 Enterprise. This edition is only available to businesses that sign multi-computer deals with Microsoft for volume licensing. Essentially, it is identical to the full retail version, Windows 8 Pro, but it is said to have more business features like AppLocker, Windows To Go, DirectAccess, BranchCache, and RemoteFX virtualization. It is very ideal for businesses that need additional features for IT assistance and administration.
Windows RT
Windows RT is a special version available as a pre-installed OS meant only for ARM-based Windows devices such as tablet PCs. You can buy it in the open market as you would the other versions. It is designed to run apps downloaded and distributed via the Windows Store, and it won't run usual x86 Windows programs or other legacy apps. Meaning, if you buy a Microsoft Surface (a Windows RT-powered tablet), you can't download and launch the RingCentral call controller, browse using Firefox, or play movies using VLC Player on it. Similarly, machines that run RT can't run Windows 8, since the computing power of these machines are fairly limited and running Windows 8 would require more resources that would bug the system down.
SEE ALSO: 8 Key Differences between Windows 8 and Windows RT.
So after weighing down your four options, which Windows 8 edition do you think best suits you?