A Unified Endpoint Management solution is more than a blessing when you want to manage multiple servers, desktop devices, and smartphones in your organization. With the right UEM, you can establish proper control over different aspects of the devices you own.
As it happens, ManageEngine Endpoint Central claims to offer beyond the basics you would expect. We wanted to know if it is true by reviewing the UEM solution from the provider. In this review, we shall explore what ManageEngine Endpoint Central offers, what it does not, and whether you should get it.
Why Get a Unified Endpoint Management Solution?
A Unified Endpoint Management solution, better known as UEM, makes it easier to manage many endpoint devices in an organization. For instance, let us imagine that you have quite a few desktops, tablet PCs, and smartphones being used in the organization. Making individual changes to these devices can be quite hectic and time-consuming, and the chance of errors is high. A UEM solves this issue by streamlining the process of device management.
Typically, a Unified Endpoint Management solution would make it easy to manage patches, deploy software changes, enable remote control, and ensure security. But all these are possible only when you have the right Unified Endpoint Management solution with the best set of features.
What is ManageEngine Endpoint Central?
Endpoint Central is a popular UEM solution from ManageEngine, a company currently owned by Zoho Corp. One of the most trusted names in the industry, Endpoint Central presents itself as an advanced solution for desktop and mobile device management. It can help you manage a variety of devices running Windows, Mac, Linux, Android, iOS, iPadOS, tvOS, and Chrome OS. In other words, you can use ManageEngine Endpoint Central to manage almost every device you may have in your organization.
The UEM from ManageEngine is used by organizations like Ikea, Xerox, IBM, Honda, and UNICEF. It is on top of the thousands of organizations that rely on ManageEngine for their day-to-day endpoint management needs.  It is worth noting that ManageEngine Endpoint Central offers more than the basic options. It comes with a variety of options that can help you manage devices and their security with ease. Over time, the UEM tool has acquired more features as well.
Now that you know the basics about a UEM solution, we shall explore the different aspects like features, ease of use, onboarding, compatibility, etc.
What Does ManageEngine Endpoint Central Offer?
First, we shall explore the core features offered by Endpoint Central from ManageEngine.
Patch Management helps you deploy software patches to devices running Windows, macOS, and an immense variety of Linux distros. You can use the feature to handle patches for third-party apps as well. It can be a real time-saver when it comes to keeping your devices up to date.
Software Deployment means you can install software on all your endpoint devices with a single click. Thanks to more than 4500 templates from ManageEngine Endpoint Central, you can simplify the deployment process even further.
OS Deployment is available on Windows devices, but it can help you update the OS on all your PCs in a single click. The system will also take care of necessary hardware drivers.
Mobile Device Management is also made easier with ManageEngine Endpoint Central. You can configure, manage, and secure the Android and iOS devices within your organization from a single dashboard. This option works with not-on-premises devices as well.
Endpoint Security creates an additional layer of security that can keep your hardware and software on the safest edge. Among other things, this layer will monitor activities across devices, diagnose the vulnerabilities, and act.
Remote Control options are also available in the package. You can easily set up remote control across devices and enable features like video recording, file transfer, and multi-user collaboration. It can be more secure than third-party remote-control systems.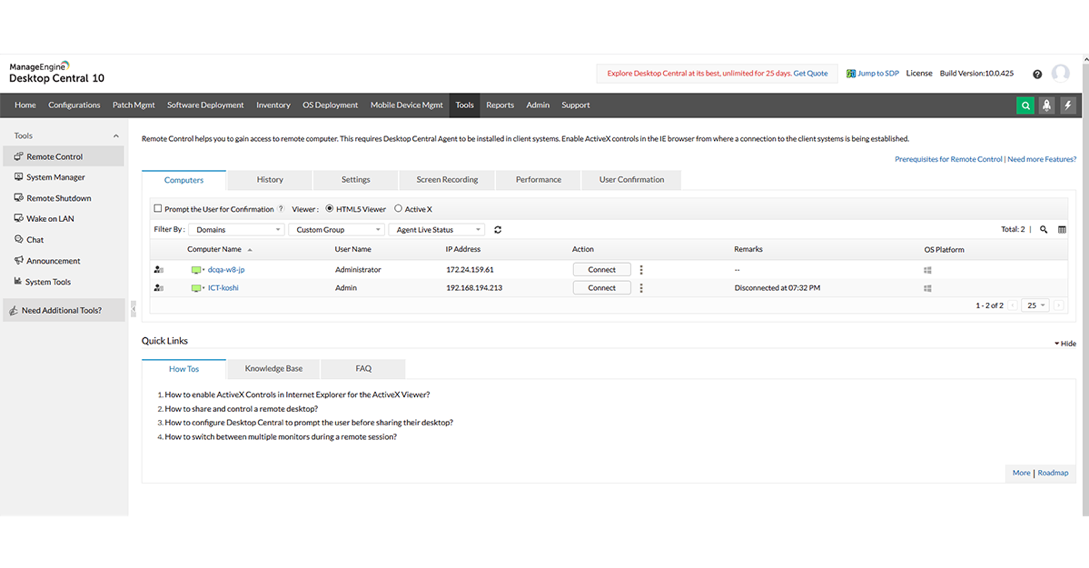 IT Inventory Management from ManageEngine Endpoint Central lets you create a unified inventory of software and hardware assets in your organization. The options include software metering, license compliance, a variety of control options, and warranty management.
A variety of configurations are also available from ManageEngine Endpoint Central. You can use these configurations to manage different aspects of your endpoint devices, including USB devices, power management, security policies, etc.
As you can see, the UEM from ManageEngine allows you to control every possible aspect of the endpoint devices in your organization. The best part? Most of these features are available on both desktop and mobile devices, including Chrome OS and tvOS. In terms of compatibility, it is a great step, indeed.
Setup and Getting Started
Easy setup and onboarding are one of the major reasons for the increasing popularity of Endpoint Central from ManageEngine. Even if you have no prior experience with UEM solutions, getting started with ManageEngine will not be difficult. On the other hand, you can get started by installing the required software on the device you want to use for UEM.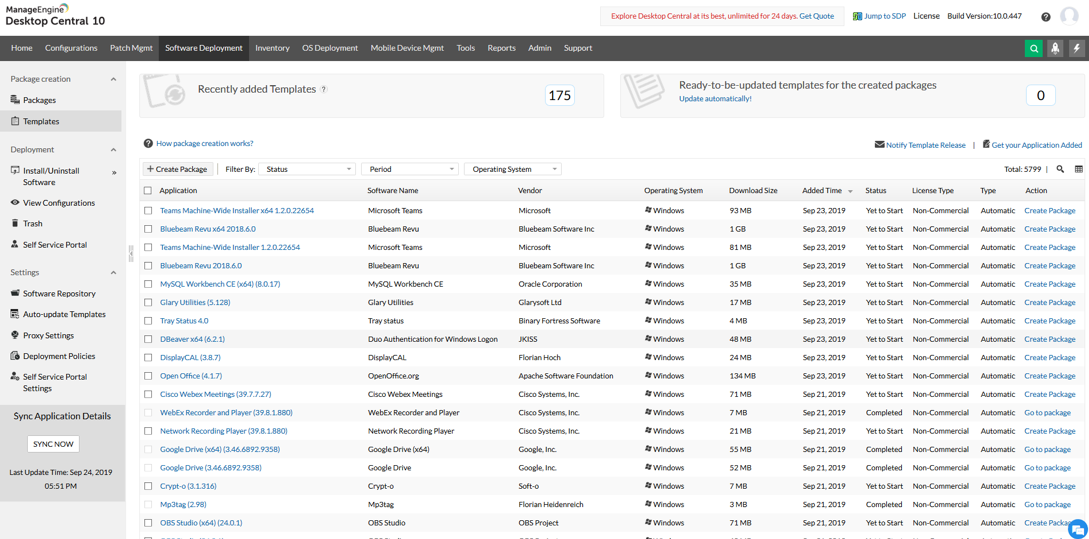 Once you have set up the necessary software, you can move forward to configuration. Of course, the steps would vary based on the type and number of devices you have in the organization. Fortunately, you can rely on the variety of support resources and documentation from ManageEngine. We also loved how detailed its Knowledge Base is.
Altogether, getting started with Endpoint Central should be the least of your worries while choosing this UEM over others.
UI and Ease of Use
A simpler UI is something you naturally expect from a good UEM, correct? Well, the ManageEngine Unified Endpoint Management solution does not disappoint you in this sector. Once you have configured the tools on all your devices, you can use a single dashboard to manage the different aspects of your endpoint devices.
The dashboard has been split into different tabs: such as Configurations, Patch Management, Inventory, and Admin. You can shift between these tabs based on what you want to manage. For instance, if you want to deploy patches to the endpoint devices, you can go to the Patch Management tab.
It is also great that each tab can provide you with a better idea. For instance, if you visit the Patch Management tab, you will get to know the status of all your device. There are sub-tabs for actions like deployments. When it comes to reports, ManageEngine goes a few steps further. You can have detailed statistics from all your IT resources, including software and hardware assets.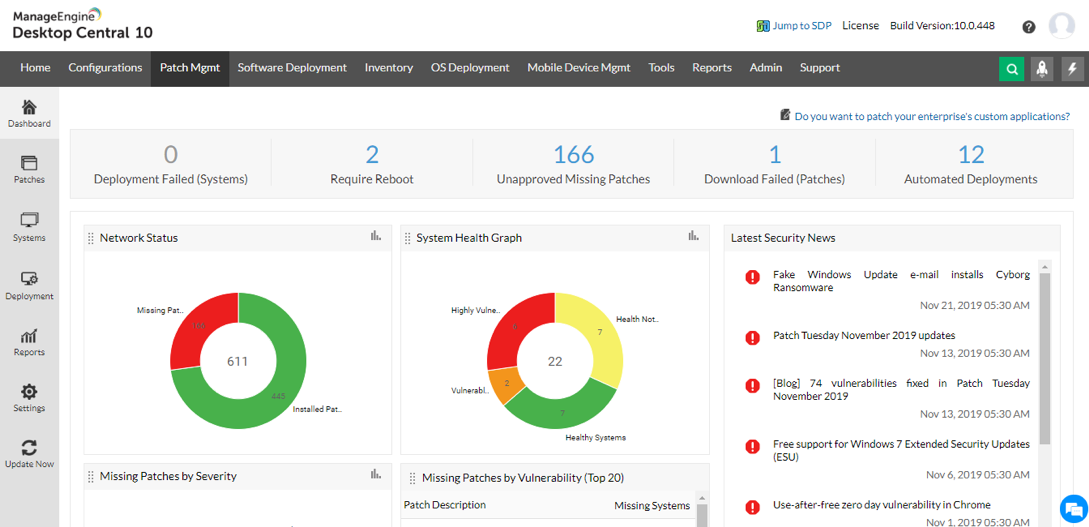 Despite all these, some users complain that there may be too many tabs on the screen at times. It can be a little problematic in some instances.
Endpoint Security
We believe the Endpoint Security from ManageEngine requires a special mention. It is an inclusive package that offers peace of mind from a logistics point of view.
Endpoint Central takes a multi-layered approach toward security management. On the first layer, it keeps a detailed repository of vulnerability and CIS compliance benchmarks. Devices are checked against this data to diagnose and take the right steps. On the second layer, the system deals with automated management of patches and application control. It means the security sector will take care of malicious apps and monitor all devices.
However, if you would like to customize everything, you can do that. For instance, you get to manage various endpoint privilege levels. Similarly, the device controller section will protect your devices from insider attacks as well. Last but not least, you can enjoy browser security options and BitLocker security on most devices. In the end, you can expect the best combination of security features and controllers from the UEM. And it does not seem like rocket science, either.
Integration
The ManageEngine UEM actively works with other products as well. You can integrate the management tool with other products from ManageEngine and third-party solutions. For instance, you can connect Endpoint Central with Servicedesk Plus, a help desk software from ManageEngine. Similarly, you can create possible integrations between Endpoint Central and tools like Zendesk and Help Desk. If you have to deal with multiple user support tickets and issues, these integrations will come in handy.
Pricing
You can choose between four editions from ManageEngine UEM. These editions are made for different use-case scenarios.
Free Edition; suitable for small businesses with up to 25 desktop and 25 mobile devices
Professional Edition; costs $795; suitable for basic desktop and laptop management via LAN
Enterprise Edition; costs $945; suitable for all-round desktop and laptop management via WAN
UEM Edition; costs $1095; suitable for complete Endpoint Management solutions across WAN
By the way, you may have to pay extra for add-ons like Failover Server, Secure Gateway Server, and multi-language support. Additional charges may apply for cloud and on-premises versions as well.
The Bottom Line
In the end, ManageEngine UEM is one of the best Unified Endpoint Management tools, indeed. It does not cause any trouble to even those who have gotten started. It is also impressive that you get all the features you need for smooth management of all your devices, on WAN and LAN alike. Compared to the security, competitive features, and other options it offers, ManageEngine Endpoint Central is priced reasonably as well. And it is great that you can test the solution using the free version.