When you check out the list of processes whilst digging through the task manager, you often find a lot of processes that you actually don't know about. But, if you have ever wondered what is jusched.exe, you've come to the right place to get informed about it.
It is really a very simple process that unnecessarily consumes memory and acts as an overhead for other active processes. If you get to know what is jusched.exe, you can decide whether to let it run on your PC or not.
In this article, let us get to know about it and how can it be stopped/configured.
jusched.exe – What is it?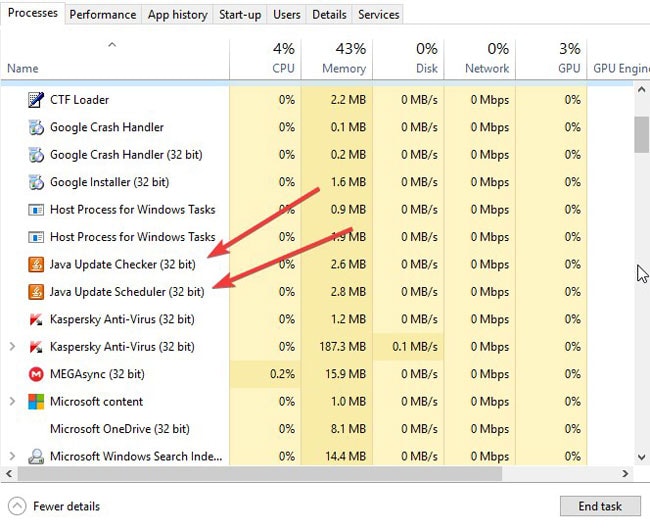 If you think jusched.exe is a virus, first and the foremost clarification is – it is not any kind of virus injected nor a malware affecting your computer. It is a legit process.
The process is related to the JDK/JRE (Java development kit or Java Runtime Environment) you did install at some point in time. Of course, at the time of installation, you weren't prompted that such process would be running in the background – but it's there.
However, if you don't have Java installed – then the process might be a backdoor Trojan posing as a legit process to run malicious codes on your system. If that's the case, you can utilize VirusTotal web portal to upload the concerned file. You can find the file by heading to the process in task manager and going to the file location – as shown in the image below.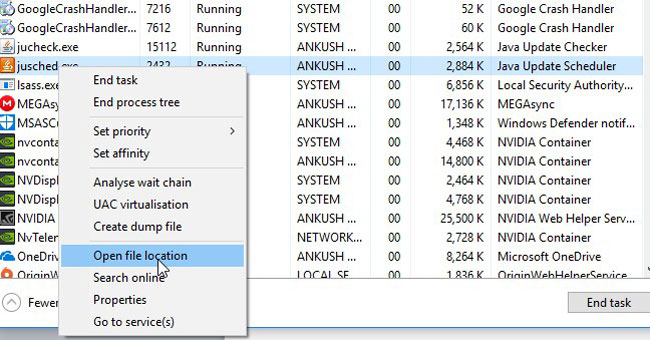 In essence, the jusched.exe process ensures regular (scheduled) check up for updates on Java. It's that it.
Why is jusched.exe Running on my PC even if I did not Initiate it?
When you install the JDK/JRE – irrelevant of the version – it is set to automatically invoke the java update scheduler startup program.
So, whenever you boot up, the process kicks in to check whether there's an update to it or not.
The jusched.exe is usually not needed – unless you know that you have a very old version installed onboard.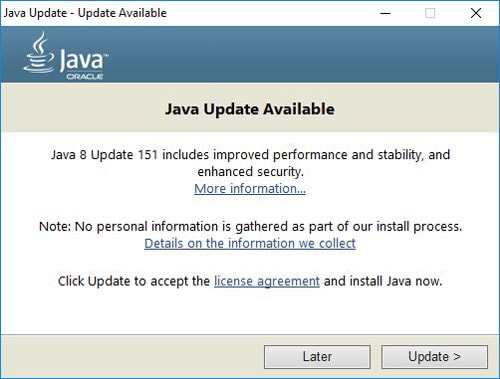 Will jusched.exe impact Performance? How can I Stop it?
Yes, it does have an impact on the performance depending on the configuration of your system and how much resources your task consumes. The impact focuses more on the startup than while you actually play a game or browse the web (it's almost negligible).
Still, if you want the process to be stopped, you can head on to the task manager->start-up and disable the Java update scheduler.
However, this may not be the most efficient method. The configuration of startup programs could change while you utilize a tune-up software utility or similar. So, you will need to completely disable the scheduler by configuring the Java platform installed.
To do this, you need to follow the steps below:
Press windows key + S to activate the search bar.
Now, type in "Java". You will observe an option – "Configure Java" as shown in the image below.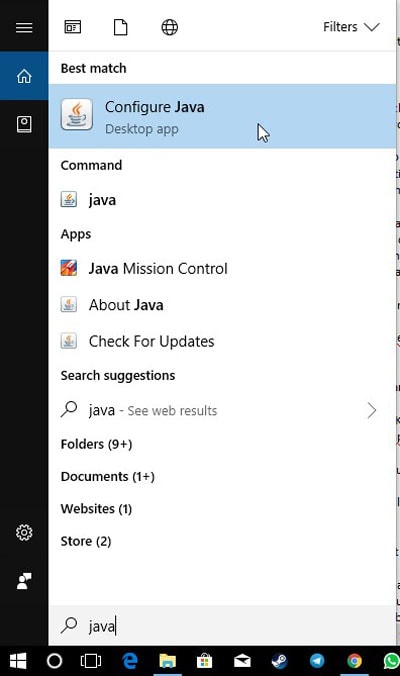 Simply click on it. You will observe to start off with the general tab. But, you need to click on the "Update" Tab.
Finally, you will notice the option to check Java updates automatically being checked by default. You need to uncheck the option to stop the processes from kicking in. When you do uncheck, you may be prompted to check it on a weekly basis or never check for updates.

As per your choice, click on the right option.
If you've selected to never check for the updates, you won't be looking at that process running in the background.
Wrapping Up – The Java Update Scheduler: jusched.exe
Now that you've known what is jusched.exe – you've done everything you should stop it from showing up. There's nothing more needed to be configured if you have opted to never check for the updates again.
In case you need to check for the updates again without needing the jusched.exe active, you can do so by heading to the Java control panel to the Update tab (As we did above) and then click on "Update Now" – an option you will find at the bottom of the control panel to start the update.
P.S. This article is part of our ongoing series to explain different processes and problems you might face on your PC such as the Windows Shell Experience Host Process, Host Process for Windows Tasks, Windows Bootloader Problem and the Windows Startup Repair. If you are unaware of these services and problems, you should better start reading them because precaution is better than cure.
Let us know in the comments below if you had any trouble following our guide.