Many small business owners dream of the legacy they will leave with their thriving companies. Some picture their organization becoming a family business that grows with each generation; others are happy to envision the enduring success of their memory as an industry pioneer and savvy business leader. Yet, none of this is likely to come true without a solid plan for corporate sustainability.
Corporate sustainability plans involve financial, societal, and environmental strategies that allow a company to grow and thrive in the long term. There are five critical steps to developing an effective corporate sustainability plan for a small business.
Step 1: Learn
Before small business leader begins developing and implementing sustainable strategies, they need to understand more fully what corporate sustainability means. Enrolling in a corporate sustainability program from one of the world's top business schools can provide deep and valuable insight into what sustainability means, why it matters and how it can be implemented with success. Perhaps the most important lesson for small business leaders to take away from sustainability education is that old ways of thinking and acting must change for sustainable programs to be effective in the future. Learning more about sustainability can help to deconstruct wasteful corporate patterns and replace them with more sustainable practices.
Step 2: Assess
Effective business leaders understand that making changes to the business strategy can be dangerous when leaders do not fully understand the implications of those changes. When it comes to corporate sustainability, small business leaders need to be certain that the effort they put into sustainability projects will have positive effects on profits, people, and the plant, which means they need to assess current business practices and identify areas that could be improved. It might be useful to use existing laws or standards as a guide for making sustainable improvements, but businesses can also go above and beyond to deliver sustainable solutions.
Step 3: Imagine
To help guide innovation and practice later in the corporate sustainability journey, business leaders should create a vision of what they hope to accomplish with their sustainability plan. Leaders can utilize existing elements of the corporate culture, like shared values and mission statements, to help lay the foundation for the sustainability vision. It might be useful to receive input from employees and customers about what sustainability means to them and what kind of sustainable practices they would appreciate from the company. Then, with the help of the vision, leaders can develop more concrete goals for their sustainability program.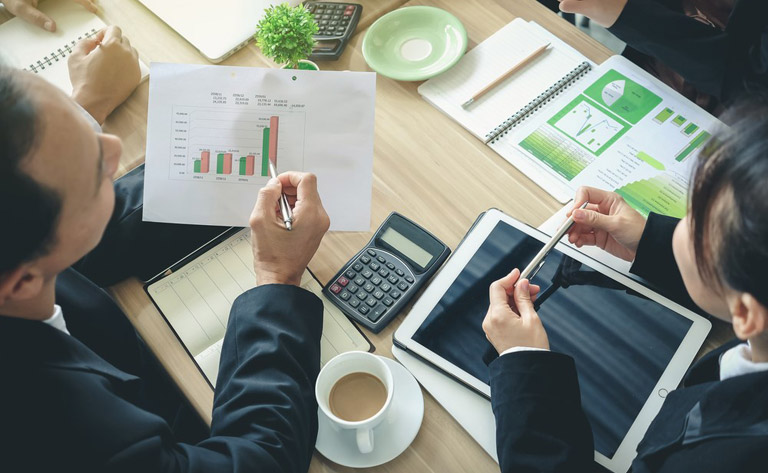 Step 4: Investigate
Once small business leaders have a good sense of what needs to be improved to achieve greater sustainability, they can go about devising solutions to achieve their sustainability goals. Generally, small business leaders will need to be innovative, as they will need to replace their existing outdated and wasteful practices and products with options that contribute to sustainability objectives, like reducing waste or energy consumption. Small business leaders should leverage the creative problem-solving capabilities of their staff, encouraging employee input into issues impacting corporate sustainability. Initially, leaders might welcome any and all suggestions, but through research and consideration, only the best options should be implemented.
Step 5: Act
It might take weeks or months to move through the previous four steps of small business sustainability, but the such groundwork is essential for the success of the fifth and final step: implementing changes. As leaders begin to roll out the changes necessary to achieve sustainability goals, they should communicate often and clearly with their staff and audience to set expectations and eliminate confusion. Leaders should keep track of implementations and review the effectiveness of existing policies and practices to ensure that the company is maintaining a consistent course toward its sustainability goals. Finally, leaders should continue to accept feedback from employees and customers, as they might recognize issues with the sustainability strategy sooner and give leaders more opportunities to make changes and achieve success.
Most small business leaders are eager to build a business that outlives them but to do this; they need to think critically about sustainability. Fortunately, by putting effort into understanding sustainability and developing a sustainability strategy that suits their unique business, leaders can implement sustainability programs that help their organization thrive.