Choosing the right company to work with no matter the industry requires a considered decision. To minimize the risk, it is worth getting to know the opinions of previous clients. Thanks to the power of the Internet we can check it in a few minutes. Visit the Clutch.com platform and choose the enterprise you are interested in. What is Clutch and why is it important to build the credibility of your company on this portal? I will try to explain these questions in the following article.
What is Clutch.co?
Imagine you are about to buy a new smartphone. Before you choose it you will spend a lot of time looking for user reviews on products. You look for information in many places to make the best decision. Such a place that gathers opinions on working with companies is Clutch.co.
Clutch.co is an independent platform that collects customer feedback on cooperation with a particular company that has a profile on the site. Opinions based on in-depth interviews with clients and customers. Feedback concerns the quality of cooperation, communication, as well as the final result. On the basis of all the collected feedback, the service gives the companies an average grade. Companies are selected by location and groupings based on daily activities.
Why are reviews on Clutch important?
It is an ideal tool for those who are looking to set up a business relationship with web development agencies, top developers, or solution companies. On Clutch you will find a solid dose of information about the company to which you want to entrust an order. The more substantive opinions, the easier it is to create an image of a partner for cooperation.
This is also known by companies that are more and more willing to join the group of platform users. Everyone is aware of how time-consuming and demanding it can be to look for specialists, especially in IT. That is why Clutch may turn out to be a pass to new orders for many companies. It is also an excellent marketing channel. The entrepreneurs can be perceived as professionals worth cooperating with. On the website, you will find professional opinions on thousands of Web & Mobile Developers, Software Developers, Marketing Experts or IT Consultants.

A big advantage of Clutch.co is professionalism and individual approach to each user. This eliminates the possibility of intentional positive or negative reviews. All opinions of people who have not before interacted with the portal cannot be published. It is also not allowed for such people to change the rating.
How does Clutch work?
Just type the company you are interested in into the search engine or select it based on the available categories. As an example, we will use the profile of Railwaymen. It is a software house from Kraków, which deals with creating web and mobile applications. By reading the discovered profile, a potential client has all the information that is useful to start cooperation with the company. With Clutch.co, you have access to knowledge that can serve as initial research.
Company profile in details
After entering the profile, the user can read a description of the company. This includes basic information such as the year of establishment, the number of employees, and a map of the location.

Clutch also shows the percentage distribution of factors carried out by the company. In this way, we can check in the Focus section some criteria such as Service Lines, Client Focus, Industry Focus, Application Platforms, Frameworks and CMS, Mobile Focus, Mobile Platforms and also Programming & Scripting. Based on our example, we can see that Railwaymen's main focus is custom software development. This represents 60% of all projects. On the other hand, according to statistics, the company undertakes frequent collaborations with Midmarket customers (80%).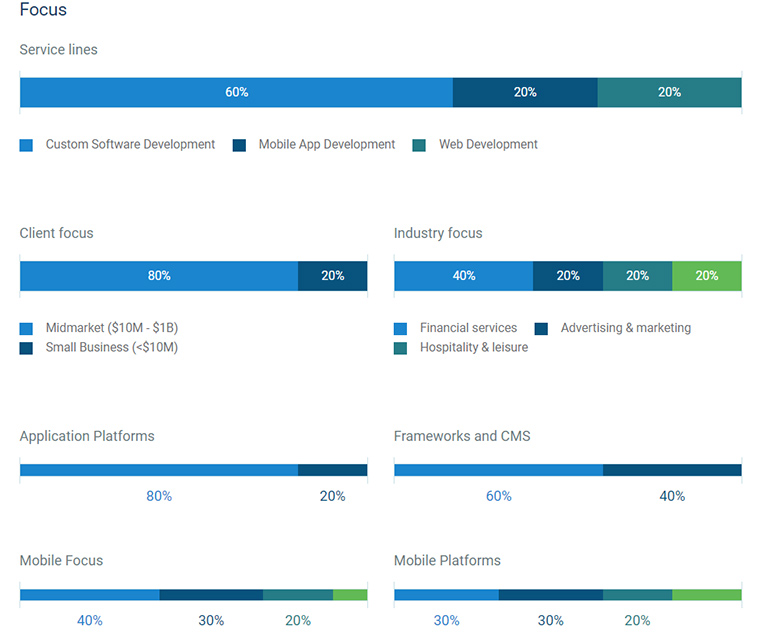 The platform also provides a sample of the capabilities of individual brands through the portfolio tab. It contains information on key customers, as well as presentations of completed projects.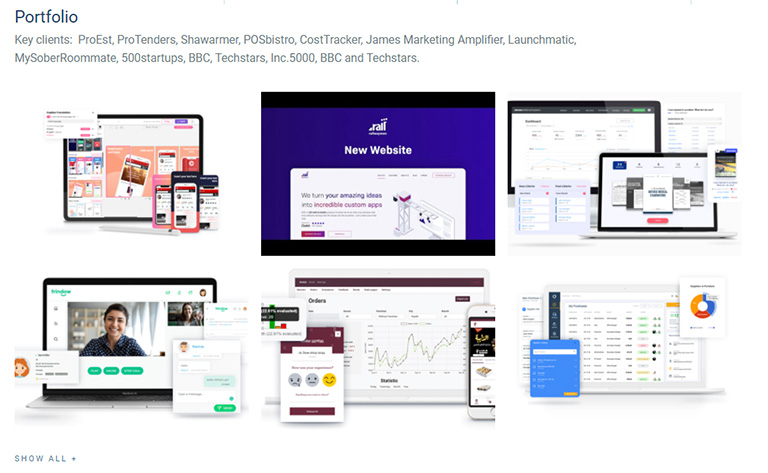 The last and at the same time most important part of each company's profile reviews. In them, all the necessary details are described, such as project description, time of realization, type of project, budget, information about the reviewer, as well as ratings. A company's evaluation takes into account quality, schedule, costs, and willingness to refer. Users can also read a brief summary of each review or have a look at the full interview. Railwaymen boast a high level of satisfaction among existing customers. Their overall rating is 5.0. Thanks to Clutch.co, any company interested in working with the software house can see what influenced such high trust.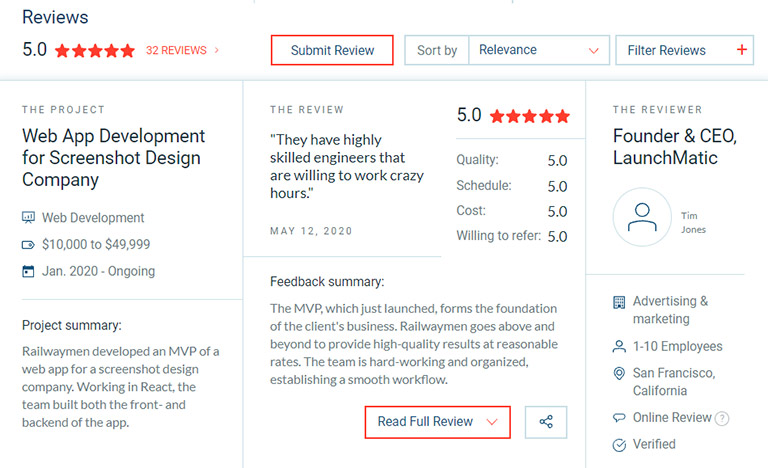 In what way does the portal rate the companies?
Clutch evaluates companies using the Leaders Matrix Methodology. The assessment is the result of an analysis of the companies' focus areas and their ability to deliver. The Leaders Matrix is created based on the most important service markets that require special skills. These include Ability to Deliver and Areas of Focus. The first factor includes References and Reviews, Customers and Experience and Market Presence. For the second, the data in the Focus section I mentioned earlier is taken into account. With the Leaders Matrix, you will see what the leaders in your industry stand out for. Additionally, you'll gain a full view of what actions need to be taken to keep your
business moving forward.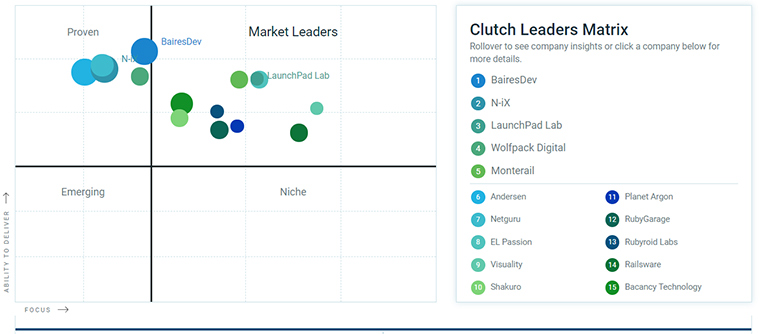 Is it worth creating a profile on Clutch.co?
Yes. Having a profile on this portal is a big advantage for businesses. It allows you to open up to potential customers and show them that you have nothing to hide. What's more, your past projects will speak for you. Clutch is the right choice if you've done a good job so far and your clients agree with it. Positive reviews and feedback can put your company in the top 15 for a particular category.