To know how to block ads in Android is one of the most frequently asked questions in order to get rid of the ads from your smartphone. Web Browsing is an essential part of being online, we spend approximately 70% of our time online visiting websites and for those not new to the Internet, you are greeted with (annoying) ads.
Ads are intrusive and obstruct our ability to consume content without distractions. While on the desktop scenario we have a lot of options for Ad Blocking via browser extensions, the latter half of computing devices or mobile devices in simpler words don't exactly enjoy the flexibility of modifying the browsers both due to security reasons and device restrictions.
However, if you are an Android user, you have some amount of control over your device. Android has been popular for the control it offers to its users. And this feature comes to light yet again. Basically, to block ads on Android there are two cases we'll consider in this post, a user having root access and a user without root.
How to Block Ads on Android
#1. For the Folks without Root Access
If your device lacks root access it's most likely you can't mess with the internals of the software stack. This is both good and bad, good for the device security, bad for customizability. Anyhow to block ads on your Android device without root access you have limited choices. One of which is using Adblock Browser.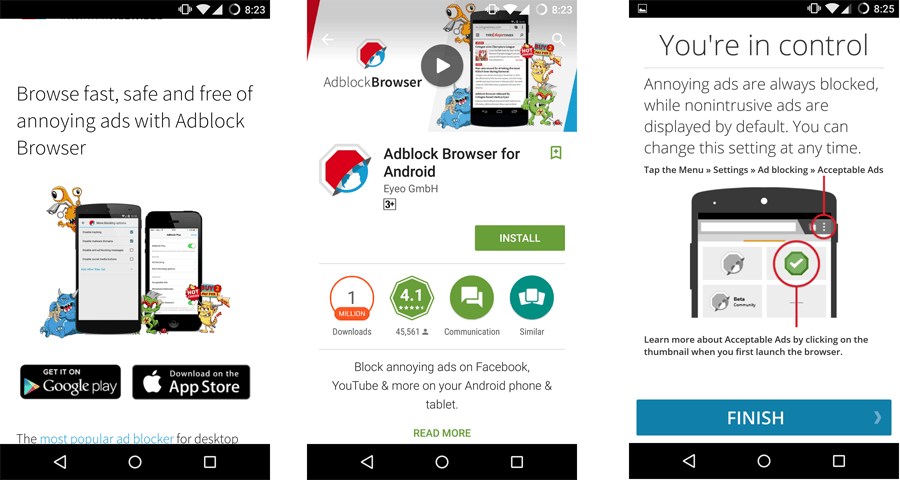 Adblock Browser is by the same folks who wrote the AdBlock Plus desktop extension for the browsers and boy it is efficient. The app is available on the Play Store and throwing in some love for the fruit company and iOS version is available as well on the App Store. There's not much to talk in terms of UI and design, it's just a simple browser that works. You can head over to the settings and change if you want to view "some" ads or none at all. Once we're done configuring sit back and browse. The experience is close to desktop i.e. content consumption sans ads.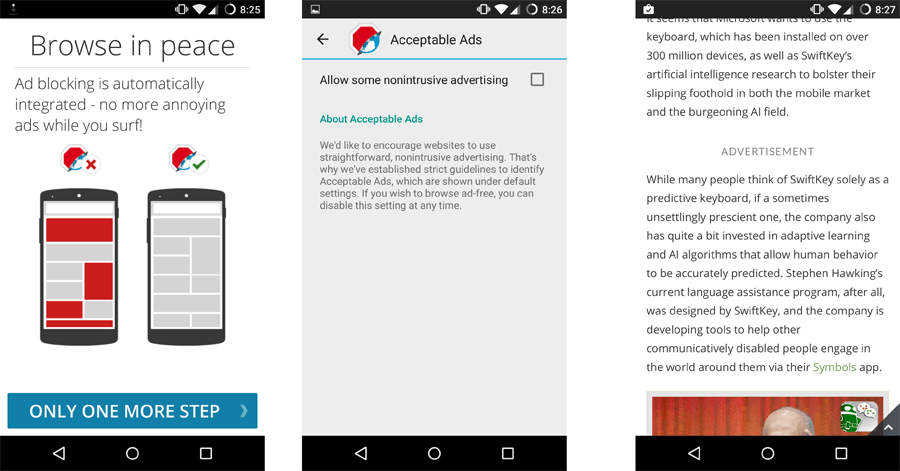 The browser does lack a lot of the functionality of a modern web browser which may end up in you switching back to Google Chrome. But for the ones who just can't take ads anymore, this happens to be a solid choice.
#2. Brave
For the folks who are aware of the happenings in the Android community, you might be aware of Link Bubble, a web browser which was sort of a hybrid between Google Chrome and Facebook Messenger. Didn't get me? Well, Link Bubble was a browser that lets you open web pages on bubbles, on top of other apps sort of like Chat Heads on Messenger. Well, the browser was recently rebranded to Brave which aims to provide a minimal (in terms of ads) experience to users. You can also end up earning a few bucks for the ads you are presented with.
The idea is really simple, a browser that presents a small number of ads but in a non-intrusive manner that means, the ads that you might see will almost be a part of the content of your web page which is pretty sweet. Also, their policy says you can choose the ads you see, by that you can actually allow certain types of ads and end up earning some revenue, which can be used for finding your favorite websites hence making those websites ad free. This is great not just because it takes a whole new approach to adblocking but also because it does it in a way that it is good for both the users and the publisher. You can read more and get access to their beta on this link it's a cross platform solution so all smartphone users can rejoice unless you use Symbian.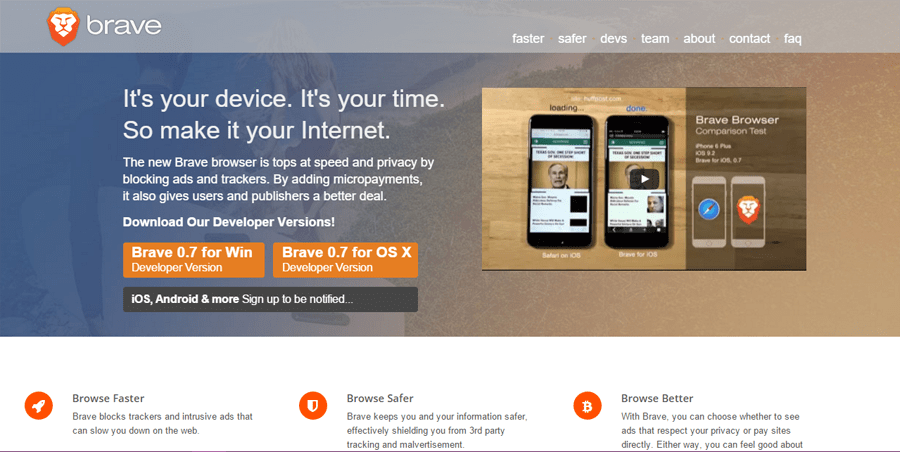 #3. For the Folks with Root Access
If your device is rooted I assume you're well aware of the good and bad sides of rooting. Either way, by Rooting you unlock a whole new level of customization. Let's see how. The Adblock folks have created an app which you can download from their website by clicking here.
The app requires root access so make sure first you fall into this category and second make sure you have enabled "Unknown Sources" installation from the security settings for your device. Once that's done download the app and launch it. Grant root access.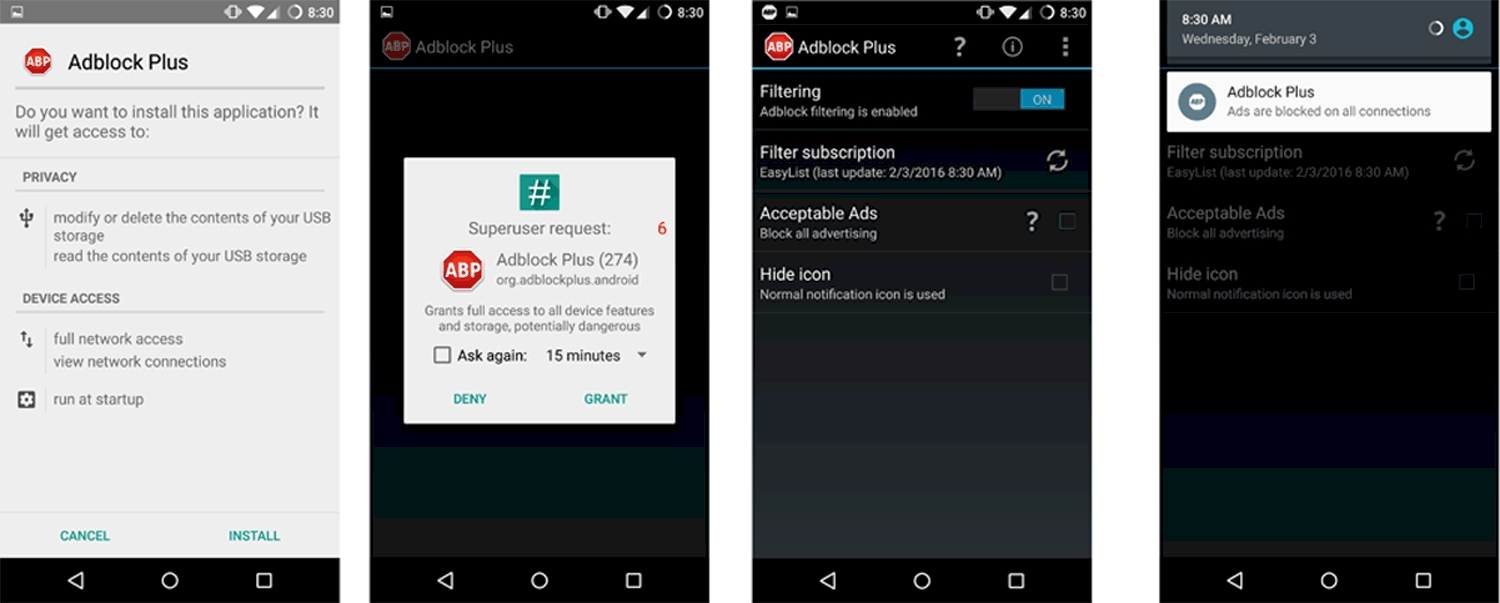 That's basically it, you can modify the settings to see some ads or none at all and the app will block ads from browsers and within other apps as well. The way it does this is by creating a VPN and forcing the traffic through it hence no ads.
Conclusion – How to Block Ads in Android
Ads are going to be around till content creators and publishers come up with a different revenue model and removing ads from quality content has been a prevalent problem at least on mobile. While there are lots of vague and fake solutions, it's tough to find one that works.