A business-to-business (B2B) marketplace is a website where suppliers offer their services and products. Unlike the business-to-customer (B2C) websites that aim at end consumers, these marketplaces focus on other enterprises. Do you wonder how a B2B marketplace can make a profit? 
This article will show you the most widely-used monetization strategies which online marketplaces use to generate revenue. These are seven strategies you should take into account when you decide to create a B2B marketplace. So, let's dive into each of them.
1. Commission
A commission-based model is a model when a commercial transaction happens on the platform. It is about cutting a piece of each payment. 
The digit of the commission depends on the selling item and may vary from 1% to 50% when it goes about the exclusive selling product. Notably, keep in mind that a commission on services is much higher than a commission on physical products.
The key advantage of the commission business model is that it starts to work immediately and scales very well. This monetization strategy is considered to be one of the most popular online marketplace models.
For example, a popular freelance platform Upwork uses this strategy. It charges freelancers a percentage on their lifetime billings. Furthermore, when clients hire freelancers, they also pay a fee.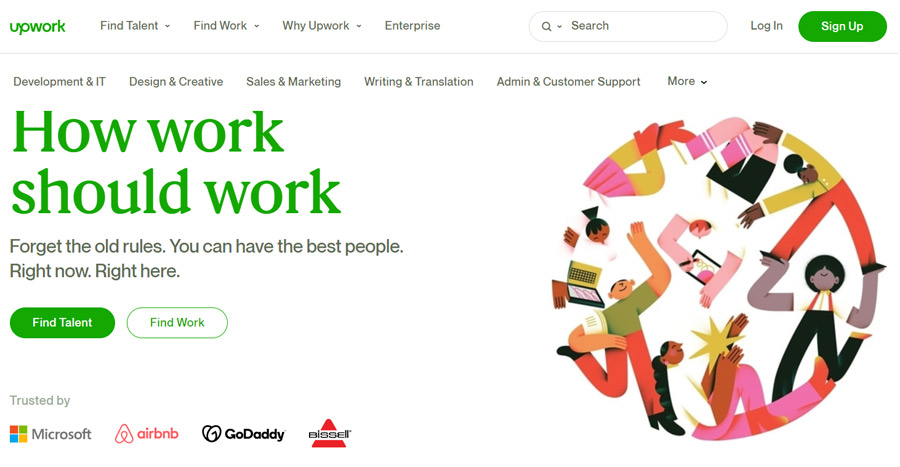 2. Listing Fees and Premium Listings
Listing fees is a popular business model used by online marketplaces. Let's take a closer look at it.
A listing fee is a sum collected from the supplier when they place their services or products for sale. However, it is not suitable for all types of online platforms.
Besides, a marketplace needs to be significant and recognizable for users to be ready to pay listing fees. Before you start charging a listing fee, you need to attract a big audience of consumers to your B2B marketplace. So, the suppliers will be sure that their listings will be placed for a vast audience.
Premium listings serve as indicators. They make sellers' offerings more visible, ranking them to the top. 
So, how does this revenue model work? As a rule, sellers start with listing fees for specific fees. Then, it is possible to update them to the premium listings' version to achieve better results. 
By the way, premium listings are mostly used by horizontal online platforms. These are platforms that are intended for a wide audience of users. 
3. Subscription Fees
A subscription fee is a revenue model where either some or all users are charged a fee to get access to the website. It comprises monthly or yearly payments for a specific set of features.
For example, such a B2B giant as Alibaba charges sellers per subscription basis. By subscribing, suppliers receive additional services for promotion. 

eBay B2B platform is also a great example of the subscription business model. Being scalable, they charge the fees for the fact of being present on the web platform.
4. Selling Fees
Selling fees is one of the most used business models among online marketplaces. With these fees, you get a share from each transaction, before the payment reaches the seller.
It should be mentioned that selling fees grow as your business scales. They really work in large retail on sites where quantity matters.
5. Transaction Fees
With this business model, you receive a small percentage of all transactions that are made on your online platform. It helps your site to get more money when gaining popularity. Unlike selling fees, you get the profit from promotions and ads, membership payments, etc.
The transaction fees business model is rather hard to implement, but it is surely worth considering. Remember that the more payments happen on your site, the more revenue you receive.
By the way, this monetization strategy simplifies the cooperation between purchasers and service providers. Users will pay a transaction fee if they receive a great value from what you place on your marketplace platform.
The marketplace Uber for Business also apply this monetization strategy. This B2B platform charges service providers.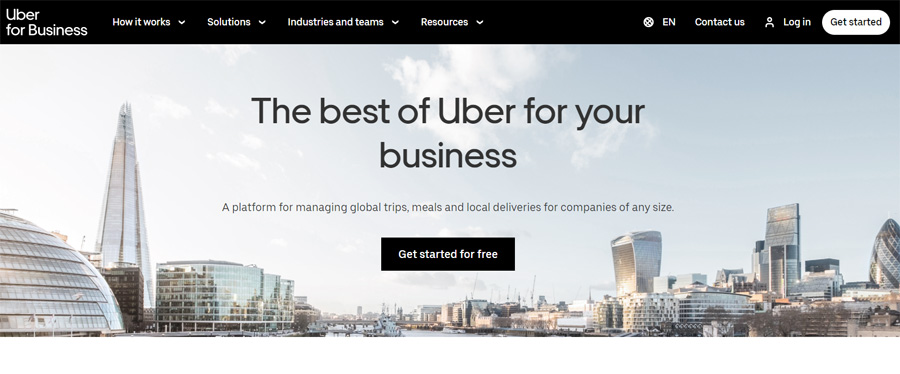 6. Data Monetization Fee 
Although substantial data amounts collected by some platforms should be valuable to many enterprises, there are not many projects which use this type of monetization. For example, a B2B marketplace working with CPG (Consumer Packaged Goods) wholesalers and retailers can sell business reports about sales potential and market shares. 
A B2B marketplace can also sell reports about certain products based on anonymized and aggregated transactional data. So, it is also a good variant of how to monetize your B2B online marketplace. 
7. Advertising
This business model allows third-party advertisers to promote their goods, services, etc. It means they pay to publish the advertisement on your site.

The ways to advance products:
Banners and graphics,
Text advertising,
Mixed advertising.
Pay attention to the drawbacks. You can't control the quality of advertising third-party sellers' promotion. Why? Because many users are tired of annoying advertisements. Thus, such an approach may push them off your web platform. 
The solution is to make these advertisements more personalized and tailored. Generally, the monetization strategy mentioned above best suits niche marketplaces targeted at one industry. In this case, the advertisements will be relevant to most users.
Choosing the Right Monetization Model
The choice of a monetization model is one of the critical points in a product's life, on which product strategy, marketing, a set of features, and other vital parameters depend. By the way, many marketplaces use a mixed monetization model, which combines several payment methods.
Of course, the product should bring money. Otherwise, the resources will be exhausted, and the product or the company will fail. At the same time, the ways of making money should change, be supplemented, and evolve. 
Sometimes, while developing a product, you can see that the monetization model does not fit, and the economy does not converge. In that case, try to take a step back and revise the monetization model. You can always roll up a product. 
In Conclusion
Launching your marketplace will allow you to reach a new level and get many customers, new partners, and additional income from third-party transactions on the platform. But before starting it, you need to consider how to monetize your B2B marketplace. 
Choosing the right monetization strategy is a point you should pay special attention to. It plays a critical role in generating a profit in your B2B marketplace.